If you don't know what a naked sportbike is, you are probably a new entry in to the world wide list of sportsbike fans. So what is naked sportbike? A sportbike or a racing bike is a well decorated bike. It is decorated in order to achieve best aerodynamics for minimum drag. Well, all that extra body decorations are missing on a naked sportbike. A naked sportbike has all the power and performance characteristics of a sportsbike but with less clothing and also it has better riding position. It has the minimum clothes on its body to covers its frame. In most of the cases, frame on a naked bike is clearly visible. So, here we present you the top 10 naked sportbikes in the world that you can purchase in 2022.
Top 10 Naked sportbikes in 2022 – The list
Kawasaki ZH2
Yamaha MT-10
Ducati Streefighter V2
Suzuki GSX-S750
KTM Duke 890 R
Triumph Street Tripple
Aprili Tuono 660
Yamaha MT-07
Kawasaki Z400
Yamaha MT-03
#10 Yamaha MT03
Read Also: 2021 Yamaha FZS 25 Specs, features variants, and price
Let's get started with the smallest naked bike for 2022 the Yamaha MT03. Is it the best-naked sports bike in the world? Definitely not! But what it is, is an excellent entry point into the world of motorcycles. A lot of people say that they want to get started on a grom because it's a small, cheap, light motorcycle that they know isn't going to get away from them. But the problem with starting out on a grom is, it's not gonna teach you any of the habits you need to master to be safe on two wheels. The grom is too underpowered to be on most highways and for just a few hundred bucks more you can get a full-sized bike that's just about anyone can flat foot. Let's start with some specs. the MT03 is packing the tried and true Yamaha 321cc parallel-twin putting down 41 horsepower and 22 foot-pounds of torque. What's fun about this bike compared to other little beginner bikes is that the powerband more closely resembles an actual sportbike where you need to wind it out quite a ways to feel the power. In that sense, it's more fun than something like a Z400. Feather in the cap of the 2022 Yamaha MT03 is its 30.7-inch seat height which Yamaha expects to be one of the lowest available on a full-size naked bike meaning that just about anyone can ride this thing. It's also dirt cheap costing only $4799. You're not going to get a bunch of advanced features but it's your beginner bike so you don't really need those anyway. It's got abs and that's all that really matters. Ride it, drop it, beat the crap out of it, then flip it a year later that's what it's for.
#9 Kawasaki Z400
Next up we've got the Kawasaki Z400. This is for those who want a little bit more grunt down low as comical as it is that. Yamaha calls the MT03 a hyper-naked. The Z400 is actually the torque gear of the two bikes. You've got a 399cc parallel-twin putting down 45 horsepower and 28 foot-pounds of torque and while it might not sound like. It just a few extra foot-pounds really does matter on a bike like this one. The reason we're recommending this over a duke 390 or a smart 401 is, it got everything you need and nothing you don't. While it is cool that the Duke has the TFT dash and the supermoto mode and all those other features we really do think that for your first motorcycle you should just be focusing on learning the skills you're gonna use for the rest of your riding career. It's also just $4999 which is really hard to argue with. Besides the torque one thing that separates the Z400 and the MT03 is the physical size of the bike. You've got a very similar 30.9-inch seat height but if you're spit-sized you might find MT03 a little bit cramped due to the shape of the tank and the overall ergonomics. A Z400 doesn't have any of those wings or humps in the tank and you'll have a little bit more room to spread out and be comfortable which is something you might overlook when you're picking out that first motorcycle. moving on up to the beginner-ish bikes these are motorcycles you could start on but in most cases, you're going to want to move up to them as a second motorcycle
#8 Yamaha MT07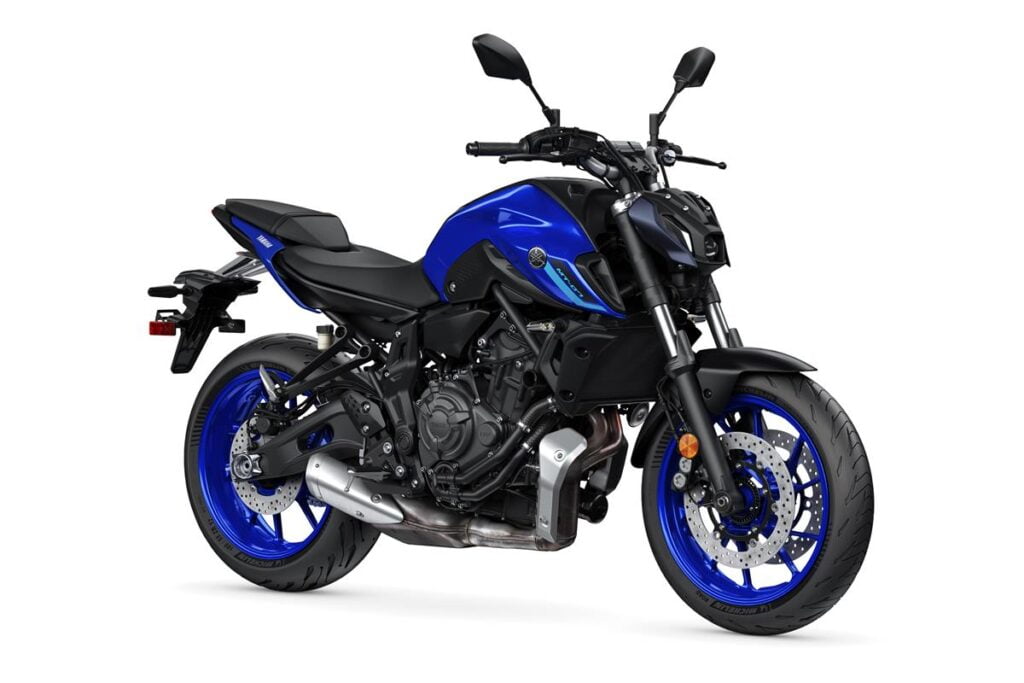 Number eight goes to the 2022 Yamaha MT-07. This is a bike that Yamaha just got right the first time around and then kept printing them out year over year. For 2021, they updated it a little bit but there are no real major changes year over year. For 2022 but why mess with success if you've been living under a rock since 2014. It's packing a 689cc parallel-twin putting down 75 horsepower and 47-foot pounds of torque. Thanks to that 270-degree crank, it makes it a much better sound than the typical parallel twin. It's an absolutely wheely happy hooligan bike. If you whack the throttle open in first or second gear, it'll pop a nice little power wheelie on you. Sources tell us that it'll clutch up in third gear if you're willing. One slight issue with the MT07 is, it's been getting a little bit more expensive year over year without adding a lot of features which is a bit of a bummer. Nowadays it'll run $7,899 but it's still well worth that price. We just hope the upward trend starts to stabilize or they'll add some features that justify the rising price.
#7 Aprilia Tuono 660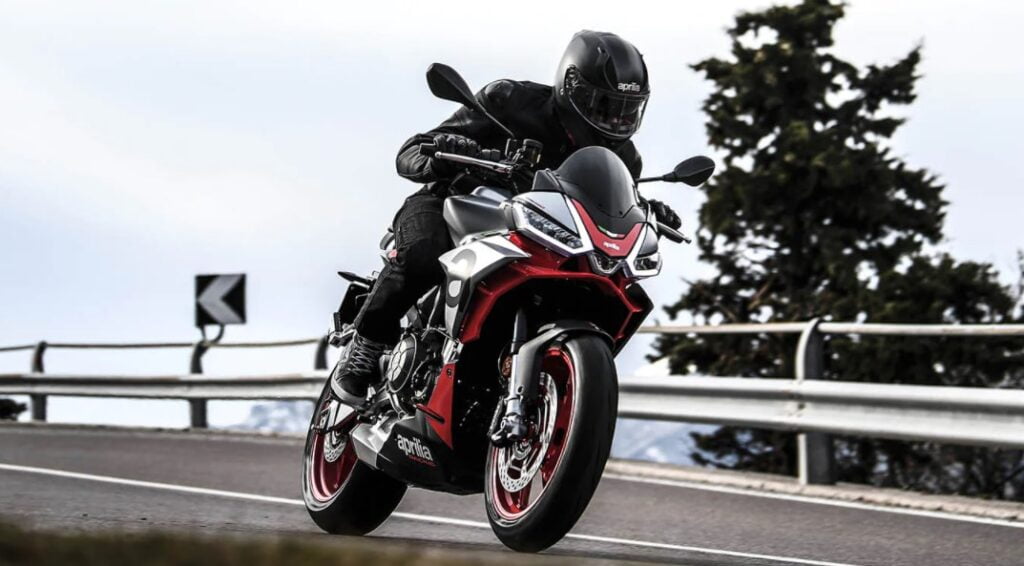 Number seven is a bike that is solidly in the second motorcycle a returning rider category more so than the beginner bike land. It's the Aprilia Tuono 660 Factory. It's a bike with the name that literally translates to thunder and it looks like it. This one technically is a new model for 2022. This one's putting down the same hundred horsepower and 49 foot-pounds of Torque out of the RS 660's 659cc parallel-twin engine. Another upgrade over the base model is you get fully adjustable suspension which is a nice feature when you're comparing bikes with your spec sheet or your friends. Aprilia is not known for reinventing the wheel which means the Tuono 660 is gonna have all the goodies in a handlebar just in case the RS 660 ergos weren't amenable enough for you. This is just about a perfect street motorcycle. It sounds awesome by the way like seriously awesome.
But if 100 horsepower just isn't enough for you where you're looking at the next stronger hit you can really feel what life is like on a big bike. Well, then you'll be wanting a middleweight. The first one we want to talk about is the Triumph Street Triple RS.
#6 Triumph Street Tripple RS
Read Also: 2021 Triumph New Speed Triple 1200 RS specs, features & review
It is the king Street Triple. It's amazing. First of all, it handles like it's on rails because guess what it's got the Daytona's frame. They made it in 2013 and nobody's made a better frame since then. You get the Triumph intake honk and that juicy triple-cylinder exhaust note 765cc three-cylinder 121 horsepower and 58 foot-pounds of torques, tech pedigree, and a lifetime of semperi that can be yours for the low low price of $12,850. No, don't think about the price tag. Don't think about that it's just a few bucks off of MT10 money that's not relevant. It's like a Daytona but you can live with it on a daily. Have you tried Triumph before? There's literally nothing in the world that is better.
#5 KTM Duke 890 R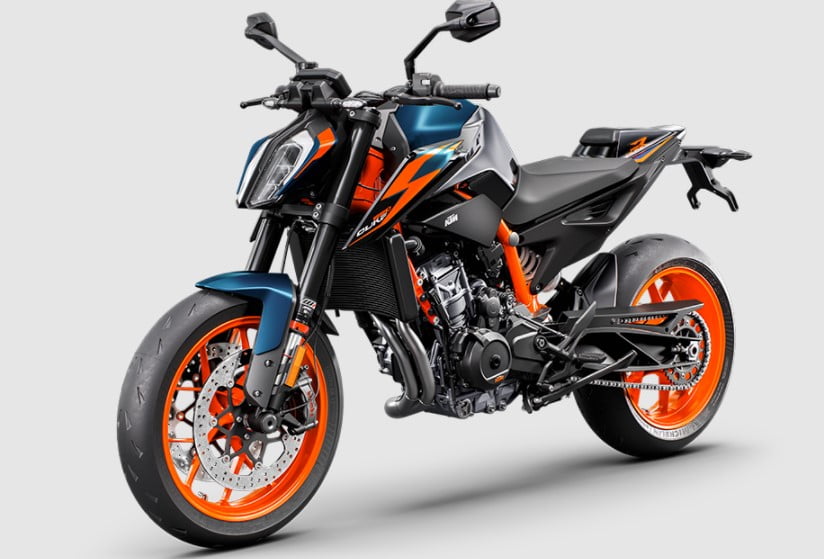 The bike that the Street Triple kind of wishes it was. With a throaty 889 cc parallel-twin that does 121 horsepower and 73 foot-pounds of torques. All while making the same noises as a bigger KTM Vtwin. This is the bike that will make you very very happy. It's 366 pounds of goodness wrapped in a fine layer of orange and tasteful. The KTM is the best euro brand out there and waits a minute the Duke only cost $11,999 that's cheaper than the Street Triple. That's weird. You need to buy all the extra orange parts to make it go faster. That's right. The Duke 890 R is supposed to be one of the world's best handling naked bikes with every piece of tech you'd want for the price. Seriously 366 pounds is crazy light for a naked bike with this much power. So if it's anywhere close to that, it should be a really really good ride. But let's be real here 121 horsepower is not going to make your dad love you. You need real power numbers. For that, you're going to need a hyper naked
Let's spend the rest of the list of Top 10 naked sportbikes in 2022 talking about big bikes. It means who doesn't go to sleep at night and fantasize about putting some coked-out hyper-naked bike in their garage.
#4 Suzuki GSX-S750
Let's start out with the tamest one but also the cheapest one, the 2022 Suzuki GSX-S750 though the humble GSX-S750 has been quietly winning people over for a long time. Before we go any further let's set one thing straight. The engine in this motorcycle is 100%, not the k5 motor that Suzuki boys love to hold up as motorcycling's magic bullet. It's a modern version of it with all the modern emission stuff going on but it's kind of a k5. Aside from that, the bike is putting down 150 horsepower and 80-foot pounds of torque and it's sitting inside a true superbike frame. They almost doubled the price but they finally added some tech to the bike. You've got a bi-directional quick-shifter, rider modes, five levels of traction control, and an updated dash. It's not a TFT but that's like asking Suzuki to release the gen 4 booster with the factory turbo. It is just too much. Personally, if it were me I'd just find a lightly used gen because they can be had for like eight grand. But then you don't get the bold new graphics in tech. So it's a bit of a toss-up now.
#3 Ducati Streetfighter V2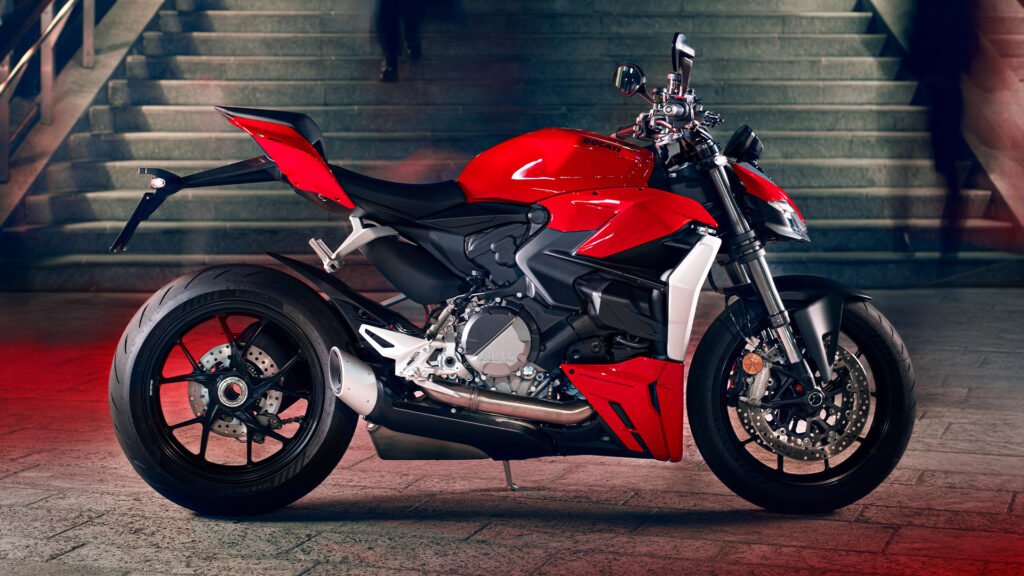 Read Alos: Ducati Panigale V series; power bike series with racing DNA
What about something a bit more esoteric, something that will tell your friends that you're better than them. So you don't actually have to say it out loud. Well, you're gonna need a Ducati to do that. A Streetfighter perhaps. But you're not looking to drop a down payment on a house for it. So that leaves you with the V2. This one's new for this year. But let's be real. We knew it was coming. It's a stripped-back version of the Ducati Panigale V2 with all the goodies and none of the back problems. A 955cc twin putting down 153 horsepower and 75 foot-pounds of torques. It's cheaper than the Suzuki at only $16995.
#2 Yamaha MT-10
You can't make a list of naked bikes and not talk about the ugliest one out there. With the best sound, you could put in a bike except for a V4. Yes, it's true that the 2022 Yamaha MT-10 has a face that only a mother could love but it's packing a detuned R1 engine in an R1 frame giving you true superbike handling and soundtrack and a head-turning package. Though seriously they're probably just pointing and laughing at the front end. This ugly beast delivers 160 horsepower, 82-foot pounds of torque. That's a hyper naked all right. The espgives you olins the full suite of r1tech a six axis imu an r1m colorway that serves only to polish the turret alittle bit but hey when you're riding it you're not looking at it. You're just popping wheelies and listening to the delicious sound of the crossplane inline four.
Read Also: Yamaha MT-09 The Naked Motard
#1 Kawasaki ZH2
but what if you want abike so swole that no one would darecall it ugly to its face the zh2 is the true chad motorcycle. It is too busy taking every other motorcycle's lunch money to look at itself in the mirror. Kawasaki saw Suzuki being afraid to turbocharge the new Hayabusa and told them to hold their protein shake. They took the supercharged inline four from the H2 and put it in a naked bike frame that literally feels like it's about to rip itself apart. But when you roll off the throttle and the front wheel touches the ground for the first time in a quarter mile and you hear that supercharger flutter away. There is no better feeling out there. The best part is that with 197 horsepower and 101 foot-pounds of torque you're only three horsepower away from your dad's love.