Perfect car for busy streets and long journeys.
First-ever hatchback car offered by Audi.
Filled with additional goodies.
The first-generation model was available with a 3 and 5 door option, while the new Audi A1 will be offered in a single 5 door version. The Audi A1 suits very well the urban environment as well as the off-road and difficult terrains.
2021 Audi A1: Engine, Transmission & performance
2021 Audi A1 is powered by a 1.5-litre petrol engine. This will deliver a maximum power of 115 PS. The Audi A1 Sportback is powered by one of the 3 turbocharged TFSI, 95hp, 1.0 litre 3 cylinder engine and 1.5L and 2.0 litre 4 cylinder units which churn up to 200hp. As an option, a 6-speed manual gearbox with a 7 speed astronics automatic box is offered. The 200 HP model and the 40 TFSI has 6 speed 5 Tronic transmission as standard. While the Audi A1 Citycarver has 2 petrol engines and they are the 115.5 HP, 1.0 litre, 3 cylinders turbocharged, 30 TFSI engine and the 150HP, 1.5L, 35 TFSI engine.
Also Read: Audi Q4 Sportback e-tron concept
Handling
The electromechanical power steering with speech sensitivity, gives a very thrilling and adventurous experience of driving. For a more wonderful driving experience stability control system and drive mode selection is offered. These features enable the driver to keep up with a good fuel economy and sports performance. Very comfortable seats are offered to the passengers to have a very delightful journey.
Audi A1 Exterior
The exterior of Audi A1 looks very classy and elegant. It features new LED headlights with daytime running lights. The vertical chromes are surrounded by the radiator grille giving the Audi A1 exclusive new design. The bumper is also crafted with stylish contours. Audi A1 offers electrically adjustable ORVMs with LED indicators to its side profile. To give the car a more dynamic look body color door handles and new set of alloy wheels are offered. Coming on to the rear part of the car, very newly designed LED tail lamps, broad bumpers with cladding and the tailgate with the beautiful Audi logo makes the car look very distinctive.
Interior – Infotainment & Luxury
The interiors of Audi A1 have a very exotic and premium design and features. The driver and Co passenger seats and the rear seats with armrest and cup holders are electrically adjustable. To give more comfort to the rear seat passengers, cup holders and armrests are offered. Information display instrument cluster is provided. It displays average fuel economy, the key status of the vehicle, and driver alerts for safe driving. To make your journeys more comfortable automatic climate control system, air-cooled glove box, power windows, bottle, and cup holders are offered.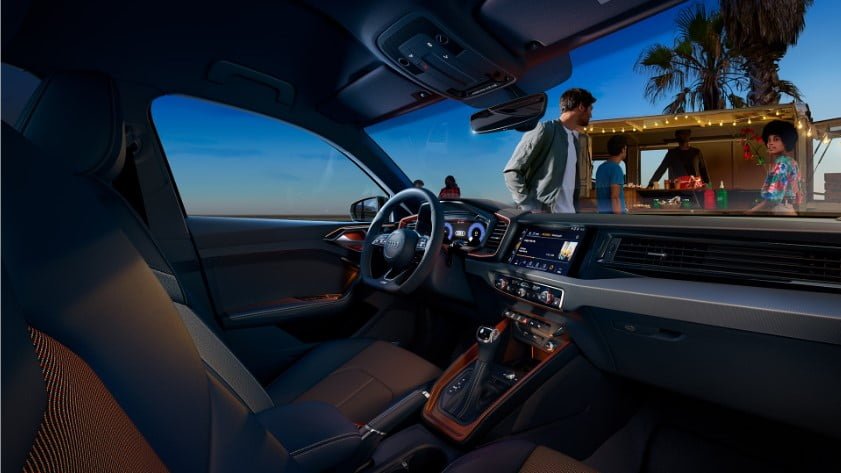 A newly designed infotainment system is fitted surrounding the sound system. It has a touch screen display with Apple CarPlay and Android Auto smartphone integration and navigation features.
2021 Audi A1 safety features
The Audi A1 includes many safety features in its safety net. It has got disc brakes on all the wheels with dual circuits and an anti-breaking system (ABS) with electronic brakeforce distribution (EBS) and brake assist (BA) for enabling breaking overall conditions. Other safety features are- front airbags for driver and Co passenger, side and curtain airbags for driver and Co passenger, seat belts with pre-tensioners, park assistance system which is surrounded by view camera, audio and visual alert, and driver alert system.
The Audi A1 has got a very sleek design with high-performance features. The premium exotic interior features and design allow all the passengers in the car to have a comfortable journey. The equipment used is of very superior quality. This premium hatchback car will have to go against BMW X1 and few models of Mini Cooper.