The Ford Mustang Shelby GT500 is one of the most powerful street-legal cars by Ford. It comes not only with amazing performance, but also huge price. The car has a very athletic character. It was unveiled at the Detroit Motor Show.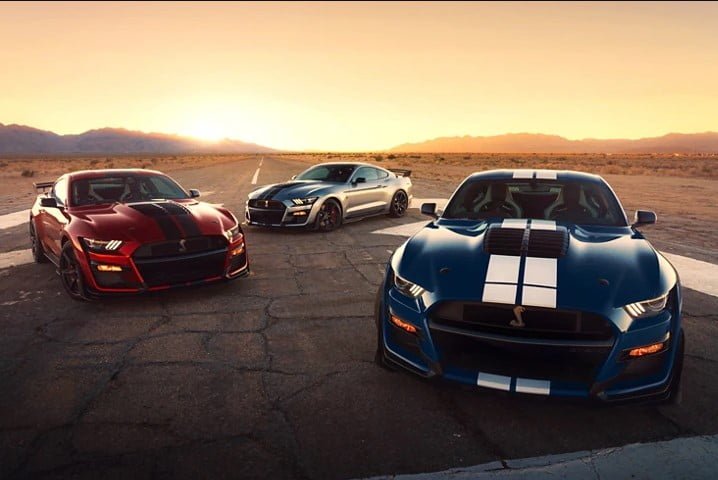 Exterior
The Mustang Shelby GT500 has huge front grilles and bonnet. This creates 50 percent more airflow and creates more downforce as compared to other mustang productions. It looks like a bulged muscle car. The LED sequential taillights and the daytime running lights, look very modern. The HID with LED signature lighting keeps up the tradition of the Ford Mustang. Other elements like the mirrors, gloss black caps, integrated blind spot, manual-folding, and power glass gives a very unique character to the car. The hood vents and capless fuel filler are very distinctive in their ways. Ford Mustang Shelby GT500 features, the iconic Cobra logo of the firm.
Read Also: Lamborghini Huracan All models – can really create a storm on the track?
Read Also: Lykan HyperSport – Specs, features, and popularity.
Read Also: Top Muscle Cars of 2021 – TAB Report
Special Carbon Fiber Handling Package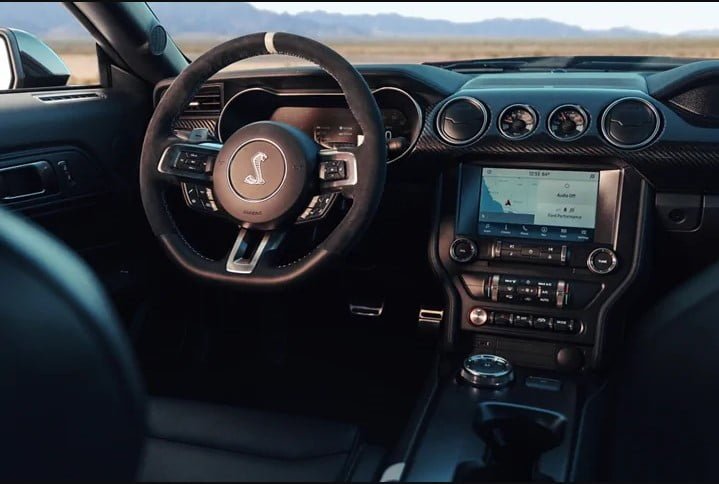 The 2021 Mustang Shelby GT500, provides an option for Carbon Fiber Handling Package. This package offers some amazing modification elements to the car. This includes – black finished 20-inch carbon fiber wheels, GT 4 track wing, custom Michelin Pilot Sport Cup 2 tires, wheel locking kit, an oil catch can, splitter wickers, adjustable strut top mounts, and many aero elements.
Coloring options
Customers of the Mustang Shelby GT500 are provided with a very bold and strong color scheme. This color scheme includes Fighter Jet Grey, Iconic Silver, Shadow Black, Oxford White, Velocity Blue, Twister Orange, Race Red, and Grabber Yellow. The carbon fiber handling package adds more color options to the list. Antimatter Blue, Carbonised Gray, and Grabber Yellow are other additional colors.
There is very good visibility from the driver's seat. But the wing mirrors could have been a bit larger. Ebony Recaro leather-trimmed sports seats are provided. The race-inspired seats give amazing support and comfort as well as make you feel like drving on the race track. This seat could easily accommodate a 6 feet tall person. The Ebony Recaro leather-trimmed sport seats with green accent stitch are available on EcoBoost Premium and GT Premium.
As compared to its mainstream counterpart it almost has a similar interior, design, passenger, and cargo space. It has many desirable standard features. It has a 12 inch fully digital screen, dual-zone climate control, heated and cooled cushions leather-trimmed front seats, and a 6-way power driver seat. You can also swap the aluminum dashboard trim with the carbon fiber dashboard. If you want to remove your rear seats, then you can choose the carbon fiber track package which is really very expensive.
2021 Ford Mustang Shelby GT500 – Its Power House
As compared to all other cars produced by Ford, the Ford Mustang Shelby GT500 has the most powerful engine. The 5.2L V8 engine supercharges the car with a whopping power of 760 horsepower and 625-pound feet of torque, which is more than the first-ever V8 Mustang of 1967. This rear wheel-driven supercar transmits its power to the wheels through a Clairvoyant 7-speed dual-clutch automatic transmission. 760 Hp under its hood, the Shelby GT500 can accelerate from 0 to 100 Kph in just 3 seconds. Well, you cannot expect a supercar with the size of engine and power to be fuel-efficient. However, This Mustang still managed to give a fuel efficiency of 12 mpg in cities and 18 mpg on highways which is quite good for this car.
For infotainment and connectivity purposes, a 12-inch digital instrument cluster and 8-inch sync 3 infotainment are included. To make your journey more musical and fun on 12 speaker B&O play audio system is offered by the Ford Mustang Shelby GT500.
Its unique design, bumper, and hood make the car very valuable and attractive. The Ford Mustang cars have made appearances in many Hollywood movies, so this acts as a brand value for the Shelby GT500. The 5.2L V8 engine makes it a very powerful car and provides outstanding performance at its price.