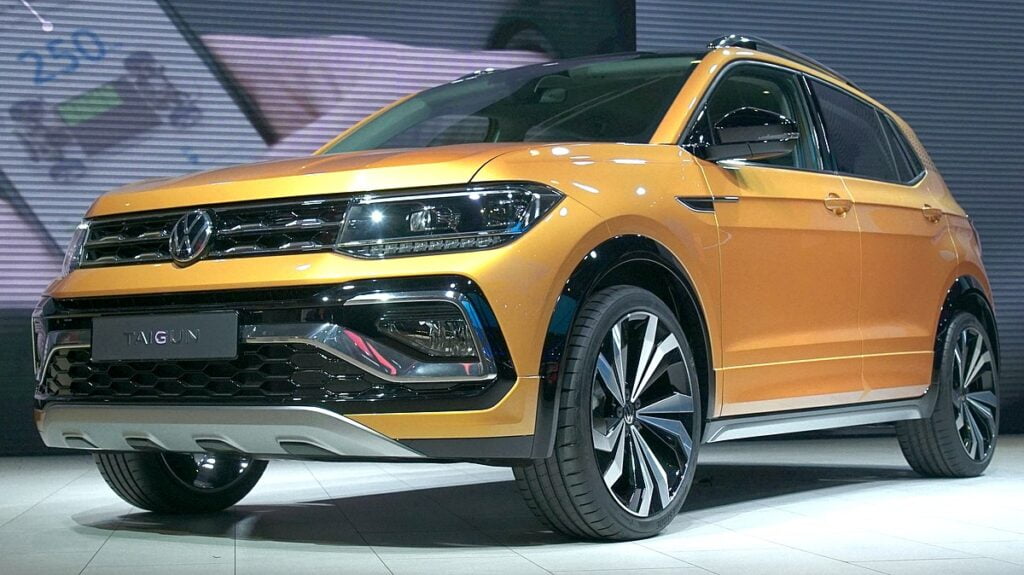 If you are in the market for a new mid-size SUV here's a fresh new option from the house of Volkswagen The 2021 Volkswagen Taigun is the cousin to the Skoda Kushaq. This engineered SUV has been tailor-made to cater to the needs and preferences of Indian car buyers.
Volkswagen Taigun Design
Exterior
This Volkswagen comes across as a rather handsome well proportioned car with clean lines and it seems to have borrowed certain styling cues like the front grille and headlamp design as well as the sculpted bonnet from the more premium Tiguan. For India, Volkswagen has garnished its exteriors with heavy dollops of chrome which might divide opinions. Some might like it some won't. What do you think of it let us know in the comment section down below. The Taigun has a clean-cut silhouette with a long wheelbase of 2651mm and a short overhang stance.
The Taigun and Kushaq are closely related and are more evident at the sides. That's because the two share their doors, fenders, mirrors, body cladding as well as roof rails. Interestingly the GT automatic version gets smarter-looking 17-inch wheels and red front brake calipers whereas the manual version get a rather bland 16inches. The most distinctive detail about the Taigun is undeniably it's rear styling with attractive LED tail lamps connected by a light bar wrapped in a very interesting bezel-like design feature. The India-specific chrome treatment that the rear continues on the bumper and it mimics twin exhaust housings. However, as fresh and as stylish as it is, the Taigun will not appeal to those looking for a hulking SUV with loads of road presence. It is 79mm shorter in length, and 23mm shorter in height. The body is 30mm narrower than the Hyundai Creta.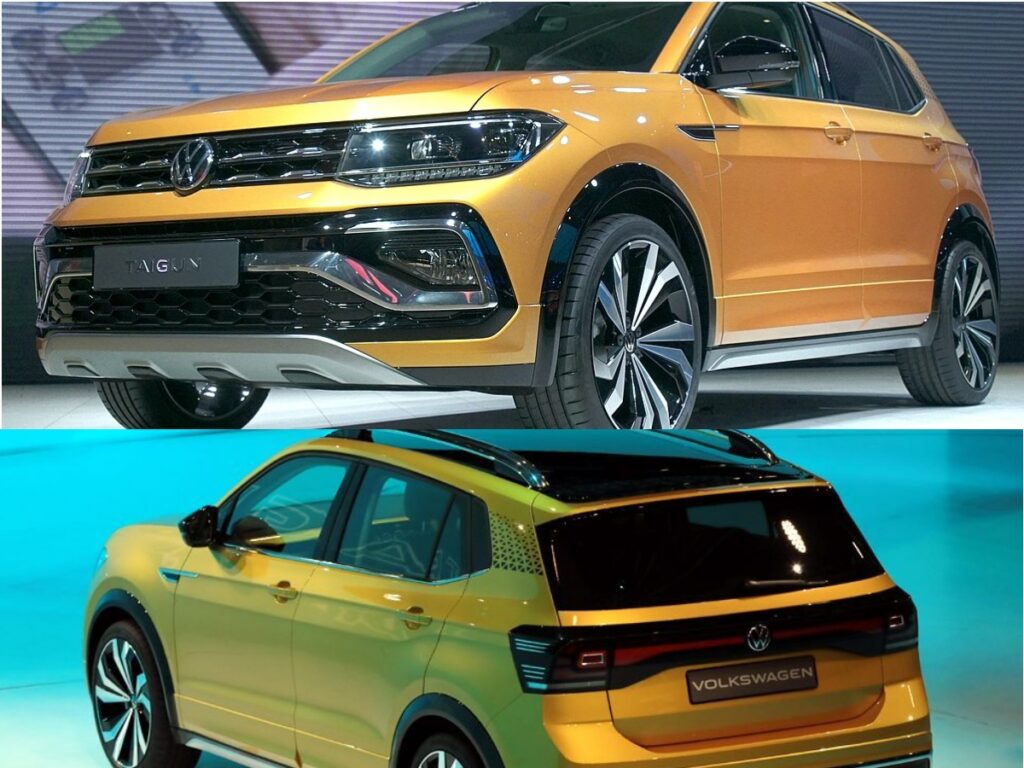 Interiors
The dash is clean-cut and very Volkswagen in its design. The fit finish and quality of materials on the inside are actually pretty nice. Now the plastics aren't textured or aren't soft touch either. But these feel solid and built to last. What's also nice is the colored panel that has a nice ceramic-like feel to it. The ceramic-like panel is red with certain body colors and while it may look cool and youthful to some. It may not have a universal appeal. the touchscreen is seamlessly integrated into the dashboard. The 10inch touchscreen is slick and the wireless Android Auto and Apple CarPlay are a welcome inclusion. It also has pre-loaded apps which work using your smartphone's internet.
The climate control functions are shared with the Skoda Kushaq and it is touch-operable. Once you're used to it, it's pretty nice and easy to operate. While most of the parts are similar to Kushaq but there is a big difference in the inclusion of a digital instrument cluster on the top-spec Taigun. Once you enter the cabin almost immediately your eyes gravitate to the large colored digital instrument cluster and what's nice is that the display and the colors are very nice and easy on the eyes. It's not the best executed digital instrument cluster though as the display options are limited and only the central screen is configurable while the ones on the side are dummy screens.
There are some other highlights to talk about as well. Not only does the flat bottom steering wheel look very sporty it also feels great to hold. There's plenty of adjustment on offer. The driving position is good. The front seats are comfortable. You're seated higher up and there is good visibility all around. There are plenty of storage areas including large door bins, a wireless phone charging pad, and cup holders too. In addition, there are small things that dampen the cabin experience. As an example, the roof lining feels cheap.
What's missing are ventilated front seats and there's no option of a panoramic sunroof either.
In terms of safety, the fully loaded Taigun does quite well for itself with 6 airbags over and above. Stability control that's standard across the range. The Taigun complies with the latest Indian crash test norms but hasn't been rated by Global Ncap as yet.
Shifting the focus to the rear seat, there's plenty to talk about. The rear seat of the Volkswagen Taigun is pretty nice. You get a good amount of thigh support. The backrest is nicely angled and there's a bit of contouring. So it will hold you in place. When the driver upfront is getting enthusiastic the window line is quite low. The middle passenger gets an individual headrest as well as a proper three-point seat belt. So in terms of safety that's a big thumbs-up. However, a middle passenger will not be as comfortable as compared to its Korean rivals. Of course, that's because of the narrow width of this car.
Now for both these cars the Volkswagen Taigun as well as the Skoda Kushaq, the Volkswagen group has intentionally reduced the size of the central hump. Now, most people think that this is a transmission tunnel but actually it's a structure that gives the entire bodyshell a greater degree of torsional rigidity. Other finer points at the back are that passengers get nice big door pockets. They have seatback pockets to store additional items. There are two USB-C charging slots as well as rear AC vents for the rear passengers.
The seats also fold 60:40 but even with all the seats up luggage space is actually good. It has a luggage space of 385litres which can be expanded to 1405litres. The floor is low so you can fit in large suitcases.
As mentioned the Taigun is very closely linked to the Skoda Kushaq that's just gone on sale and these two cars also get the same engine and gearbox options. That includes a 1.0L turbo petrol with either a 6-speed manual or automatic transmission and a 1.5 L 150horsepower turbo petrol with a 6-speed manual or a 7-speed dual-clutch automatic. There is no diesel engine on offer.
The power delivery of this 1.5L engine is quite strong and it will pull forward in a very enthusiastic manner. Although you don't get that sudden turbo kick or that gush of torque like you'd expect in certain aggressive turbo petrol engines. The 7-speed dual-clutch transmission is the one we're familiar with as it is the same one that did duties in the old Polo GT TSI and the previous gen Skoda Octavia 1.8 TSI.
This gearbox performs smoothly and seamlessly with quick shifts. In D mode it is eager to shift to the highest ratio possible in the interest of fuel efficiency but in sport mode, it holds the gears a bit longer. There are paddle shifters too which offer manual control over the gearbox and on the days when you are driving in a relaxed manner with your family cruising on the highway enjoying the drive, this engine has the option to turn off two out of its four cylinders. Thus reducing your fuel consumption which is essential in today's day and age when fuel prices are skyrocketing. When the two cylinders are off you won't even realize it unless you look at the prompt on the mid.
The ride quality is pretty good and it absorbs the bad roads and it rides very nicely on the highway. On wavy surfaces, there's very little body movement and this car feels flat and composed at all times. This is despite the automatic riding on 17-inch wheels. Just like the Kushaq, this Volkswagen Taigun is really enjoyable to drive. It tackles corners really nicely in a very balanced and composed manner. The Taigun's platform is set to be 30% stiffer than the outgoing Polo and Vento and the result is pretty evident. You would be surprised with the amount of grip this car has around corners and it doesn't roll as much as you would have expected for a car that sits so high above the ground and is so tall in height.
This car feels enthusiastic, energetic, and eager to make an impression. Interestingly, the manual doesn't feel as boomy as the automatic at higher revs and the power delivery feels a bit livelier too. The manual feels extremely eager to rev and you will often find yourself revving to 4500 rpm which is not how you drive on a day-to-day basis. This engine is so potent it begs you to push harder and rowing through this smooth-shifting six-speed manual is a joy and the connected feel that it offers just makes a big smile on your face. Like the automatic, even this engine gets cylinder deactivation. Two cylinders can be cut off when driving with a light foot in order to save fuel.
In terms of ride comfort, the GT manual rides on 16inch wheels with slightly higher profile tyres compared to the automatic. However, the ride quality is as good if not better than the automatic. Volkswagen however, is penalizing the enthusiasts by not offering features in even this top-spec GT line 1.5 manual version. You don't get kits like LED headlamps. You get 16-inch wheels instead of the 17 on the automatic. You don't get auto headlamps, no auto-dimming mirror, and you don't even get a sunroof or ventilated seats. So what do you get for your money then?
In terms of safety while ESP is standard right from the base variant. Even this GT manual version gets only two airbags. Volkswagen aims to make the GT manual a lot more accessible by stripping it off features translating to aggressive pricing.
The Taigun is a comfy four-seater and it does look chic both inside and out. It's not as well equipped as its Korean rivals. There are some signs cutting too but on the plus side, it feels as tough as you'd expect a German SUV to be. The Taigun really appeals in the driving department. The 1.5-liter engine is strong and coupled with a comfy ride and crisp handling. This is a fun-to-drive SUV. The small-hearted Taigun 1-liter TSI also promises to be a good bang for your buck.