A standard full hybrid and small pick-up vehicle.
The Ford Maverick is the cheapest in its serial.
It is an easy, comfortable, and well-structured machine.
The 2022 Ford Maverick is a standard full hybrid machine. It is also a small pickup vehicle. It is considered to be the cheapest among its serial. The pickup truck is much easy and comfortable to ride as well as to experience. The compact space offered by the Ford Maverick could easily accommodate all your stuff and could carry your bike easily. On the other hand, the inside space has a seat of 5 and is very spacious.
2022 Ford Maverick Performance & Engine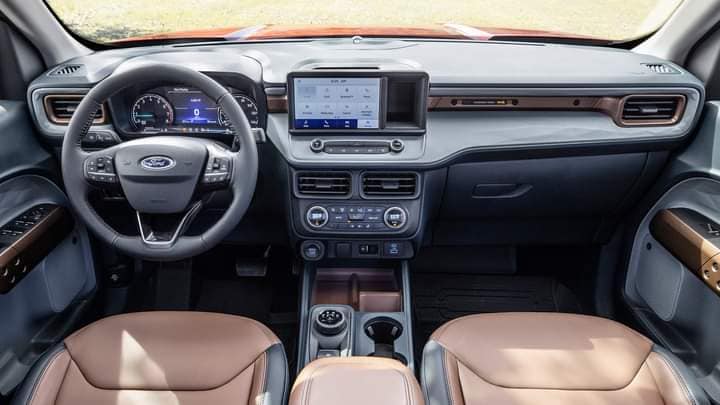 The Ford Maverick climbs up the stage with a standard 2.5L full hybrid engine. Ford offers a 2.0 liter EcoBoost engine as an alternative to a hybrid engine. It has variable transmission CVT for smooth gear shifts. In America, the Ford Maveric is the first-ever standard full hybrid pickup vehicle. If you choose to upgrade to the 2.0 liter EcoBoost engine and the 4000lb trailer tow package, then this amazing vehicle will generate 250hp and a maximum torque of 277 lb-ft. This punching power will make you and your family and friends have a very exciting and thrilling driving experience.
2022 Ford Maverick Line up
Maverick XL
The Maverick XL is the base model. The brand new Maverick XL is powered by a first-ever standard 2.5 liter, full hybrid engine. It has got an eight-speed automatic transmission. The base variant also has got many appealing features at a very low price. It has steel wheels, which look very simple. The front section of the car also looks very dull and simple with plain grilles and basic LED headlamps. It is offered in 3 basic colors. Cactus Gray Paint, Bland Black, and White hues are offered in the base model.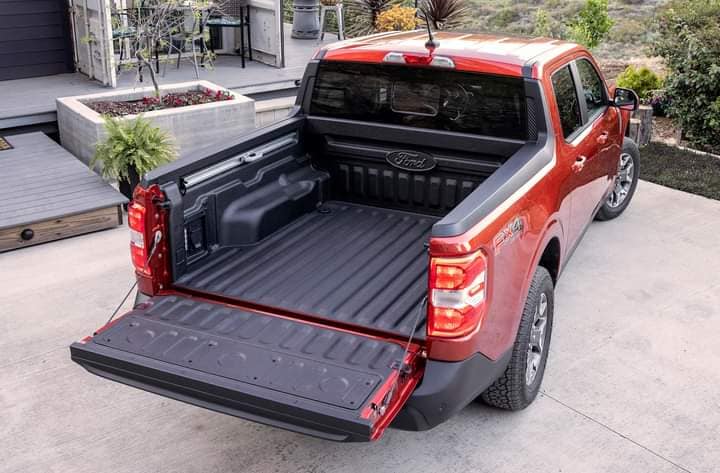 It has a 4G LTE Wi-Fi hotspot. For infotainment purposes, an 8-inch touchscreen is offered. To have connectivity, Ford Pass connectivity is provided with Android Auto & Apple CarPlay compatibility. 2 USB ports are provided to connect or charge your phones. Basic other features like- the flex bed capability are offered with two 12 V wires. It shows that a lot of good features are offered in the entry-level trim.
Maverick XLT
The upgraded XLT trim is powered by a 2.0 liter EcoBoost engine. In this trim, the steel wheels are replaced by the dark 17 inch painted aluminum wheels. These wheels look very eye-catching and pop out of the white color car. The XLT luxury package is offered in this trim. This package includes heated seats, heated steering wheels, a spray-in bed liner, and bed rails with two locking brackets. It also includes a touch link truck bed lighting system and all-weather floor mats but you have to pay extra for these two things.
This trim has cubby storage in the bed along with 10 tie-down spots. As compared to the base model, this model has upgraded its interior. It provides a Navy pier and a medium slate interior. It has a simple power-locking tailgate. The wiper-activated headlamps which are offered look very basic.
Maverick Lariat
Comfort is the most important ingredient in this trim. Heated front seats, heated steering wheel, and four-way adjustable headrests are offered to have a very comfortable ride. These all are included in the luxury package. The interior looks very classy with brown leather, which is painted alto blue. The 18-inch machined aluminum wheels with painted pockets look very classy and give a very sporty look to the car. If you don't choose the luxury package, then the Maverick Lariat offers Desert Brown Active X seats with leather-wrapped steering wheels.
In the interiors it provides windshields to protect the passengers from direct sunlight, ambient lighting makes it look very classy, dual-zone electronic automatic temperature controls, and a 6.5-inch productive screen. Intelligent access with a push-button start for seamless entry and ignition is offered. This feature will make everything very easy for the driver as well as other passengers.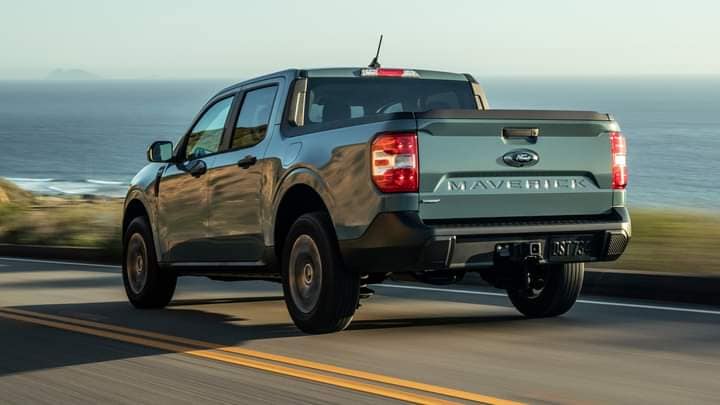 Read also: Isuzu Hi-Lander, space, luxury and lot more
Maverick Lariat First Edition
The Maverick Lariat first edition looks phenomenal with magnificent crafting, designing, styling, and coloring. It has a black roof, a power moonroof, and a distinct hood. This makes it look very bold and attractive. The lower door graphics and the gloss Black Mirror give a very sharp and aggressive look to the car. This trim also comes up with the standard full hybrid engine. It has 18-inch black alloy wheels giving a very aggressive look to the car.
Ford will launch the Maverick to the market very soon. It will be available at the starting ex-showroom price of $21490. If you want to add other packages and features then you have to pay extra. According to the EPA, it manages to give 40 mpg in cities. It has a very purposeful cabin with a simple exterior. It is available in 3 trims- XL, XLT, and Lariat at a very low figure.
What is the new Ford Maverick?
2022 New Ford Maverick is the upcoming pickup truck. It is being offered in three variants Maverick XL, Maverick XLT, and Maverick Lariat. The pickup truck will be powered by either a 2.5L full hybrid engine or a 2.0L Ecoboost engine. It is the first pickup truck in America with a full hybrid engine.
Will the Ford Maverick be electric?
Currently, Ford has announced that Maverick will be offered in a 2.5L full hybrid and a 2.0L EcoBoost engine. However in near future it is possible that Ford comes up with the electric version of Maverick.
How much can the Ford Maverick tow?
The all new 2022 Ford Maverick has a standard pay load capacity of 1500-lb with a standard towing capacity of 2000-lb. However, with certain packages offered from Ford, the max towing capacity can be increased to 4000-lb.