Nearly 60 years ago, Jeep introduced the Wagoneer nameplate to the states. Back then, it was designed to be a more premium offering in the family-friendly SUV segment. Over the years, the Wagoneer got bigger. It got more luxurious. Eventually, Jeep introduced a Grand Wagoneer in the 80s and a lot of you probably remember that vehicle for its woods panel siding was something that the vehicle was very popular. However, for 2022 the Wagoneer and Grand Wagoneer are back and they are back with a vengeance. After nearly 30 years, of being off the market, Jeep has finally brought the nameplate back. The all-new 2022 Jeep Grand Wagoneer is Jeep's new full-size truck-based luxury SUV. Designed to go head-to-head with vehicles like the Chevrolet Tahoe, GMC Yukon, and even the Cadillac Escalade.
So after nearly three long decades of being absent Jeep completely reinvented the segment with the all-new grand Wagoneer. Keep reading to find out.
So in case, you guys are confused about the Wagoneer and Grand Wagoneer. This is not the difference between a caravan and a grand caravan. The Wagoneer models are technically the lower end of the Wagoneer family. You can even get these with an off-road package but these are designed to be like a suburban or a Tahoe. The Grand Wagoneer is the one that's designed to go head-to-head with a Lincoln Navigator and Cadillac Escalade. There are some subtle differences in the styling but the two vehicles are of the same size.
2022 Jeep Grand Wagoneer – Looks & appearances
The Exterior
So let's start, of course, with the front fascia of the Grand Wagoneer.
The front fascia is very reminiscent of the Wagoneer concept that Jeep showed a couple of years ago. It's practically a carbon copy. You have the usual seven-slot grille. The functional openings. The Grand Wagoneer actually places the Wagoneer badging from the hood into the actual grill. There are a lot of silver and chrome bits. The inner slats of the grill also have more chrome on the Grand Wagoneer. That's how you're going to know that this is the more luxury-oriented model. All of them come standard with Jeep's full premium performance LED headlights. The headlights are swiveling adaptive. You have LED DRLs, LED turn signals. The LED turn signals are even sequential which gives it a nice premium look especially when you see this vehicle on the road with the turn signal running. You have got the premium LED fog lights with their triple LEDs and some more chrome trim.

2022 Jeep Grand Wagoneer Dimensions
Overall, we think the design looks pretty similar to the Grand Cherokee. Some of you may like it. Some of you may think it looks a little bit boring. Both of them are of the same size. They both stretch at just under 215 inches long. For reference, both Wagoneer and Grand Wagoneer are 10 inches longer than the new Grand Cherokee and roughly about five inches longer than Lincoln Navigator and a GMC Yukon. Now keep in mind, there's an XL version of the Yukon and a longer version of the Navigator. Those are another 10 inches longer than this vehicle. So Jeep has kind of positioned the size to be right in between. When you stand next to this vehicle you can see just how massive it is. This is based on the Ram 1500 pickup truck. So it's a body-on-frame design with a fully independent air suspension.
On the wheels, Jeep will offer a choice between an 18-inch wheel on the base end for a Wagoneer all the way up to a 22-inch wheel on Grand Wagoneer. You cannot get an 18-inch on the Grand Wagoneer. The standard tires on Grand Wagoneer are not off-road capable tires. In fact, the entire Wagoneer lineup is not trail rated. Although you can get an off-road package. Jeep says the vehicle is just too big to be considered trail rated. But with the 22-inch wheels, you will be riding on 285 with Goodyear tires. The air suspension allows Grand Wagoneer to rise up to 3.6 inches. So the base end will give you 8 inches of ground clearance and all the way up to around 10 inches in Grand Wagoneer. So in typical Jeep fashion, you can take it off-road but it's a little bit of a big vehicle.
The side Profile
You'll notice the Grand Wagoneer has a two-tone roof. This is standard on the Grand Wagoneer. So you're going to be able to distinguish it on the side from a regular Wagoneer because of the two-tone. We actually like it with this bright white exterior. Although We do think that Jeep should have painted the pillars. The A-pillar and the B-pillar and the C-pillar, they should have painted this black and kind of cut it off because it looks a little bit odd. The chrome on the pillars and around the windows is pretty bright. The Obsidian model will black out the chrome and that should make it look a little bit nicer for those of you who don't like all the chrome.
Power-retractable running boards are included in the Grand Wagoneer while they are optional on the Wagoneer. That's going to help you get into the vehicle.
Grand Wagoneer has a very boxy shape. The massive rear window does not open and it doesn't slide down like you would find on some Toyota products. There's a lot of chrome. There's a massive Grand Wagoneer badge on the back. There are in fact no Jeep badges on this vehicle. There's not a single Jeep badge even on the wheels. Instead, you would find an American flag by the Wagoneer badge on the side. There are no visible exhaust tips. However, on the 2022 Jeep Grand Wagoneer, you do have dual exhausts which are pointed down. The exhausts sound like American muscle. We kind of wish Jeep had made it like a chrome outlet tip to make the exhaust appear a little bit more performance-oriented.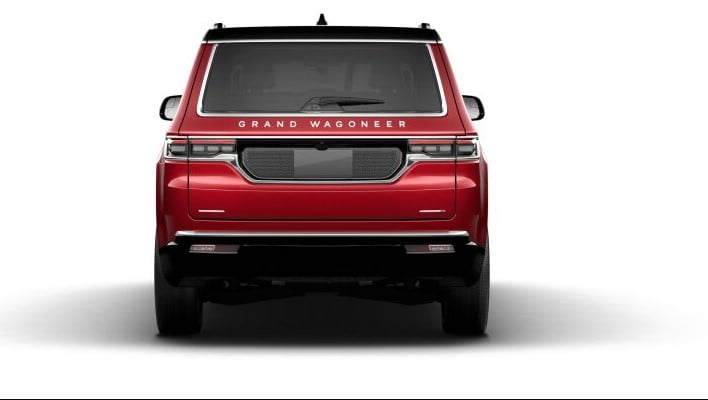 Now the taillights. They're skinny. They're full LED. You also get sequential LED turn signals at the back. This is kind of where we think it looks like this car has a big forehead. Jeep says you have the best in class in terms of cargo-carrying abilities.
The space inside
Eight passenger seating is standard. It's available on the Grand Wagoneer because seven passengers are standard when you get the captain's chairs but with the third-row seat up you get around 27 and a half cubic feet of space. 27 and a half is massive. The carry-on roller bag fits just quite nicely. You could fit a few of them back there. There's actually a little bit of underfloor storage. If you lift up the carpet in the trunk and pull it up, you can see there's a little bit of underfloor storage. But some competitors offer a little bit more.
If you want to fold down the third row, all you have to do is just push a button and it's one touch. When you fold down the third row Jeep says you get around 71 cubic feet of space which is huge for the segment. If you fold down everything the Grand Wagoneer will give you a maximum of 91 cubic feet of space. That is not quite as impressive as some of its competitors. However, that's because of the center console in the second row that takes up space and the tri-pane three-panel sunroof. The Wagoneer without the sunroof will have a maximum of 116 cubic feet of space which is class-leading. But you should also know that something like the Chevrolet Suburban will give you more space. But that's also because it's about a foot longer.
2022 Jeep Grand Wagoneer – Premium luxury and comfort
Jeep Grand Wagoneer – The interiors features
So bringing back the Wagoneer and Grand Wagoneer is a really big deal. However, the interior is an area where a lot of consumers are going to focus at because this is supposed to be a premium vehicle. Jeep wants you to think of them as more of a luxury brand with this car. So obviously let's talk about the interior of the Grand Wagoneer.
It has very unique features and it's going to be a long part because there's a lot of new features that they're offering on the Grand Wagoneer.
Now, first of all, the key fob.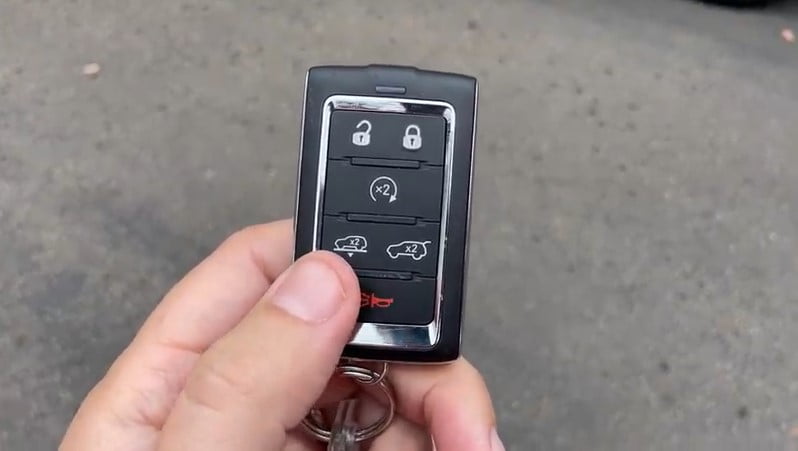 It is a slightly unique key fob for the 2022 Jeep Grand Wagoneer. It actually has some pretty nice materials. It's a good size. It also includes remote start on the fob. Jeep for some reason however is not offering a phone as a key feature that probably could come at a later time with an over-the-air update. But as you approach the vehicle, the Grand Wagoneer is spelled out and it actually has a proximity sensor. You will see the side running board pop out because it knows you are coming toward it with the key. If you open the door you can see it's got a sensor on the back that opens up or unlocks the door for you.
The bright white exterior color is complemented very nicely with the blue agave interior. Like we mentioned earlier it reminds you constantly that this is a 2022 Jeep Grand Wagoneer because this is where the seat controls would go instead. It's a really nice detail. It has upgraded Palermo leather seats. Although it doesn't have the full diamond-quilted quilting that you get on series three. It even reminds you of series two.
We love the flat bottom two-spoke steering wheel that plays a homage to the original. Aluminum trim that replaces all the American walnut wood. It looks good with the blue agave interior. Even the carpet has the same blue agave. It's actually a plush carpet. So Jeep really sweated the details herein. The interior definitely feels nice. It feels very much on par with the last Cadillac Escalade.
The nice step rail and the grab handle which is wrapped in leather. As you get into the vehicle, you will really get a sense that this vehicle is massive. It has so much room on the inside. It's so incredibly wide that you can't even reach to the other side. This reminds us a lot of the RAM 1500 truck on which this vehicle is based.
Now the one thing it is missing is soft closed doors. So when you slam the door, the door has a relatively solid sounding thud.
The button to start the engine is in the usual spot. However, the button is actually raised and it's actually stitched in leather. It's got some aluminum look. The Jeep says it's aluminum. Now, once you turn the vehicle on, you are greeted with a wall of screens.
The infotainment system
In this vehicle, there are a total of four screens in the front row. You've got a 12-inch display in the digital instrument cluster. Another 12-inch display is at the center of the dashboard. A 10-inch display on the passenger side. A 7-inch display below the center console.
So all this of course is going to give you a really really impressive-looking interior. It also has an option of a rearview camera mirror but is not available on the Wagoneer. In terms of the materials, you have a lot of beautiful leather and wood. you have genuine leather with some contrasting stitching on the dashboard. You have leather on the door panels with more of that aluminum trim. The front seats are 24-way adjustable with a massage feature. You can adjust the massage function from the display screens at the center of the front row. So all of it again gives you a really nice place too. The central screen acts as a huge command center that allows you to do a lot of things.
The steering wheel is a power tilt and telescoping wheel which is nice. The door panel has beautiful leather and aluminum grade trim and piano black that makes the door panel even feel special. It's even soft touch down. The 23-speaker Macintosh stereo also sounds really good. This is the upgraded stereo that you get for three grand that's part of an option package. The seats adjust in 24 different ways and they offer a massage that's standard on the Grand Wagoneer and optional on the Wagoneer. The Palermo leather is one of the softest material seats. The seats themselves are cushy and comfortable. You can even squeeze the bolsters and the seat bolsters down to give you a little bit more of a tighter fit.
When you put the vehicle into reverse it gives you obviously a full 360 camera with great resolution and graphics. This vehicle also has the ability to parallel park itself for you with the automatic park feature. That's all basically what you expect and then down here you can see cupholders. A great place to put your phone. There's also lockable touchpad storage available on the higher series 3 model. The little hidden storage with your USB and USB-C near the drive knob at the center of the front row. It also got a nice cooler which is an option that can really keep your drinks ice cold. It does eat into the center console space but the drink cooler is nice for families on a road trip. The wireless phone charging pad is hidden which comes out with a push of a little button. You can basically just put your phone and it'll start charging it. There are also more USB-C and USB cables and a power outlet, an HDMI port.
The connectivity
The 2021 Jeep Grand Wagoneer has U-Connect 5. This is their latest system and it's up to five times faster than the old U-Connect 4 system. It also includes wireless over-the-air updates. It also includes wireless Apple Car Play and wireless Android Auto which is all great features to have in terms of going back to the regular system.

It has an embedded factory GPS. If you touch the NAV system, it takes a second for it to load but once it loads up it's pretty quick. It's pretty responsive. It's snappy. The map display is pretty nice. It's nothing as really cool as Audi's Google Earth system. But it's pretty much a little bit nicer than the last on Grand Cherokee. This screen is 12 inches. So it's a little bit larger on the Grand Wagoneer versus the Wagoneer. if you'd like, this screen right is also customizable.
There are some traditional hard buttons for quick air conditioning controls. You have like quad-zone climate control in this vehicle. It gives you five different types of massage with three different levels of intensity. It all works really well. These are some of the nicest massaging seats pretty much on par with the Mercedes or BMW or Audi.
The drive mode offers between a sport also offer auto, snow, sand and mud, and a rock mode. That's of course going to be linked to the air suspension which you can control from the little separate dial. There is a low-range transfer case in this vehicle that's part of the off-road package. The upgraded four-wheel-drive system and everything is all controlled from the central console. It can be a little overwhelming at times especially.
All these different sources and widgets that you can kind of readjust. You can add as favorites and you can even look at categories and it'll kind of organize it for you. You have a dedicated volume knob and a tuning knob which is nice. On the passenger screen, there's a little button that you can push that turns the screen on and off. You have to actually be sitting on the passenger side which allows you to access the amazon fire tv, and the cameras. You can send GPS over to the separate screen. That's all really cool to have for the passenger screen. It's about a 1200up charge to get that.
The glove box is actually a little bit small but it is damp in line. There could be a little bit more storage. Some competitors offer a little bit more storage versus what Jeep has in the Grand Wagoneer. But overall it's a pretty nice place to spend time.
There is a massive tri-pane sunroof which is part of an option package for four grand. That really lets in a lot of light into this cabin. Of course, as you expect there's plenty of LED lighting in here. You can also open and close the shades. A big mirror or sun visor of course with actual LED lighting but overall the cabin definitely impresses us.
The Second Row
There is a huge wall of screens a total of 45 inches of screen. So that kind of ups the Escalade which only offers a mere 38 inches of curved OLED displays. So as the largest and most opulent vehicle that Jeep makes. You better believe the second row is going to cuddle you with luxury and technology that essentially rivals the front seats. Now first of all these captain's chairs are standard which means seven-passenger seating is standard. Jeep says there are 42 inches of legroom in the second row. 42 inches of legroom makes it roomier versus the front seats. So this might be the best seat in the house and you can even move these seats forward and back. If you slide it all the way back you can also recline the seat pretty far back. You also have heated and ventilated seats in the second row.
You can see the actual seat controls are controlled from a little touch control. This is 10 inches back here and you also have these 10-inch monitors. So there's a total of 30 inches of screens back here which Jeep again says if you add up all the screens that this particular one has there's a total of 75. Yes, 75 inches of total screen real estate. Now, of course, there's not a big 75-inch screen in here but it's kind of how they get to that number which is twice the amount of screens that you can find in the Cadillac Escalade.
The back seat here this particular one has the rear-seat entertainment package for two thousand dollars.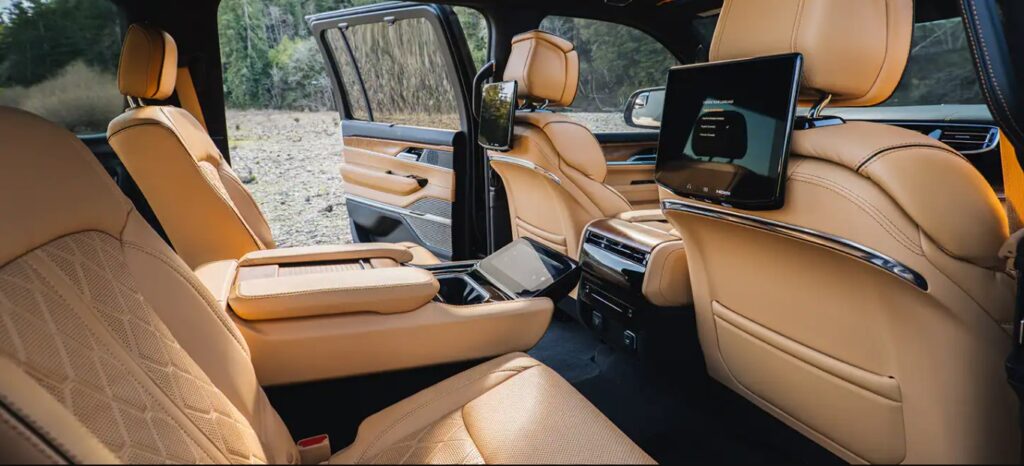 It includes the first-ever application of Amazon fire tv so you can see it here. You have your streaming services like YouTube, Hulu, Prime Video, and Netflix. It's all built into the vehicle which is a great thing to have. So I know a lot of you probably have kids that have tablets and such. It's great to have it built-in here. You have separate wireless headphone connections and you can also connect it to an HDMI too. You can connect an external thing to the screen and if you want you can. The whole family can watch a movie and they can essentially play it through the 23 speaker Macintosh stereo system. It all works really well and this is something that a lot of families of course are going to like. We also love the massive center console which mimics the front seats.
You have a little bit of storage at the center console. It has the remote control for the screens if you guys think it's too troublesome to actually use the touch screen interface.
There are two USB ports and a USB-C. So a total of four USB ports and an actual 115-volt power outlet and a 12 volt which is nice.
When you open it up you can see big deep center console storage. The refrigerator from the front is not back here. But this is a nice area where you could store the wireless headphones and whatnot. Overall, We love the materials back here also. You have same high-quality materials the Alcantara headliner soft leather all over the doors, metal speaker covers and you can see manual rear window sunshades. Although we are surprised these aren't powered. Some competitors do a power rear sunshade but there are just a lot of premium materials back here. So the second row is pretty much as nice if not nicer than the front row. But what about the third row.
When you get into the third row this is where things are pretty cool. There is a total of 36 and a half inches of legroom back here. 36.5 inches of legroom is comparable to something like a Honda civic. This has as much legroom in this in the third row as the Honda civic does in its back seat. The floor is nice and low. The bench is pretty high up. It's nice and wide so you can fit three people across. You can literally get comfortable. This is with the seat pretty much all the way back in the second row.
The Third Row
Now of course Jeep didn't also skimp in terms of materials back here. Short of just putting a nice folding armrest. The seats are also covered in beautifully soft Palermo leather. You also have padded stitching whereas your elbows are dressed in a cup holder. You can also make the seat power recline. There are two USB charging ports on the rear seat. Your own little sunroof back there from the tri-pane center. This is great for people who get car sick who need that light and you also have the massive windows that let in a lot of light. So the third row is definitely no penalty box. You could easily fit adults back here and you could even fit three people across. So if you're looking for one of the largest back seats. This is even more spacious than the last Cadillac Escalade and Lincoln Navigator.
2022 Jeep Grand Wagoneer Specs
Engine and Transmission
The vehicle is massive and capable as the Wagoneer and Grand Wagoneer.
You're probably wondering what's powering these big trucks.
Well, the Wagoneer will come standard with the company's 5.7 liters HEMI V8 with their multi-displacement system cylinder deactivation. Their e-torque mild hybrid system should improve the fuel economy. That makes 392 horsepower and 404 pound-feet of torque. It all goes out through an eight-speed automatic rear or four-wheel drive. They're pretty simple you come with just one engine. There is the upgraded 6.4liter naturally aspirated HEMI V8. So this is technically the same motor that you find in a Durango SRT or the Jeep Wrangler Rubicon 392. This motor is an SRT tuned motor but of course, they've returned it for luxury car duty. It makes 471 horsepower which Jeep will say is the most in the segment. This is more powerful than the twin-turbo Navigator and the 6.2 Escalade. You also get 455 pound-feet of torque. The torque figure is actually the lowest by five-pound feet compared to an Escalade with 6.2L.
It all goes out through an eight-speed automatic. For now, all Grand Wagoneers will be standard with four-wheel drive. Jeep says at a later date they will introduce a rear-drive version of the Grand Wagoneer but right now you can only get four-wheel drive. The big thing about the Grand Wagoneer and Wagoneer is, that it'll tow a maximum of ten thousand pounds. That's the most in the segment.
Fuel economy, this is where the Wagoneer and Grand Wagoneer is a little bit lagging. Although the Wagoner with the 5.7 will get up to 16 and 22 mpg. The 6.2L is a little bit thirstier because it doesn't have a mild hybrid system. It's rated at 13 in the city 18 on the highway which is pretty thirsty. Even by big SUV standards as this one sits the Wagoneer and Grand Wagoneer are heavy. They start at around 5900 pounds but the Grand Wagoneer weighs in at around 6420 pounds.
The suspension system
The Quadra lift air suspension will lower about 0.6 inches to put you into like an air remote. This is of course designed to get better gas mileage. There's also an active front splitter at the front which will lower itself to kind of again improve the aerodynamics of this truck. This is a 6400-pound beast so it's not going to get the best gas mileage. But it's nice that Jeep is at least including that. Keep in mind you guys should go for the regular Wagoneer with the 5.7-mile hybrid e-torque system.
When the suspension hunkers down a little bit. The steering gets a little bit heavier. You have a fully independent suspension which is something they designed exclusively for the Wagoneer because we have the RAM 1500 S frame with that independent multi-link suspension and double wishbones in the front.
Driver assistance features
The other thing that also this vehicle has is its full active suite of driver assistance tech. So you can put on the adaptive cruise control. It doesn't actually change lanes. Though like some of the vehicles that will change lanes for you but this one does not. But Jeep says a completely hands-free driving assist function is coming at a later date that's going to be similar to Cadillac Supercruise and Ford's blue crew system. But for now, you just have the adaptive cruise control with full speed range. You have active lane keep assist, automatic emergency braking, and Blindspot collision assist. All that stuff that is mostly standard. Although on the very base ends of the Wagoneer. It is part of a package to get like the rear cross-traffic collision assist but it's nice that Jeep makes it standard. Some of the other brands like Cadillac still make you pay extra on the Escalade to get their adaptive cruise.
The two spoke wheel with a flat bottom is playing a homage to the original Wagoneer and Grand Wagoneer. There's a really great spot where you can rest your hand when you're just cruising along. This is designed to be a cruiser. It's got an amazing ride quality. It's really comfortable even in sports. It's really quiet in the cabin and the visibility is also nice. There's an interesting noise when it shifts almost like noise like a turbo but it's naturally aspirated but the transmission is quick and snappy. Although the shifts are a little harsh in sports mode. There is a manual mode also.
2022 Jeep Grand Wagoneer – The conclusion
The All-new 2022 Jeep Grand Wagoneer is supposed to be the more luxury origin model. It's not any bigger so don't think caravan versus Grand Caravan. This vehicle is 83.6 inches wide. It's about five inches wider than the Grand Cherokee. Because it's built off of the RAM 1500 platform you feel like you're driving a truck. It definitely feels big. You sit up nice and high. You have this commanding view of the road. But what jeep has done here with the new Wagoneer and Grand Wagoneer is delivered a car that also gives you all the creature comforts and luxury. The price for the Grand Wagoneer starts at $88,440 for series I and goes all the way up to $104,845 for series III.