Overview
The 2023 Porsche Taycan sedan is an electric sports car with four doors, known for its impressive performance and stunning design. It is offered in five different versions: Taycan RWD, 4S, GTS, Turbo, and Turbo S. Depending on the specific variant2, the price of the Porsche Taycan ranges from $90,900 to $194,900 in the US Market.
2023 Porsche Taycan sedan: Dimensions
The Porsche Taycan boasts impressive dimensions and specifications that contribute to its overall performance and functionality. It measures 4963 mm in length, 2144 mm in width, and 1395 mm in height, with a wheelbase of 2900 mm. The ground clearance stands at 127 mm, providing a sleek and low-profile appearance. In terms of practicality, the Taycan offers a spacious boot space of 446 litres.
The weight of the Taycan varies depending on the specific variant, ranging from 2140 kg to 2305 kg. This weight distribution is carefully managed to ensure optimal handling and stability during driving.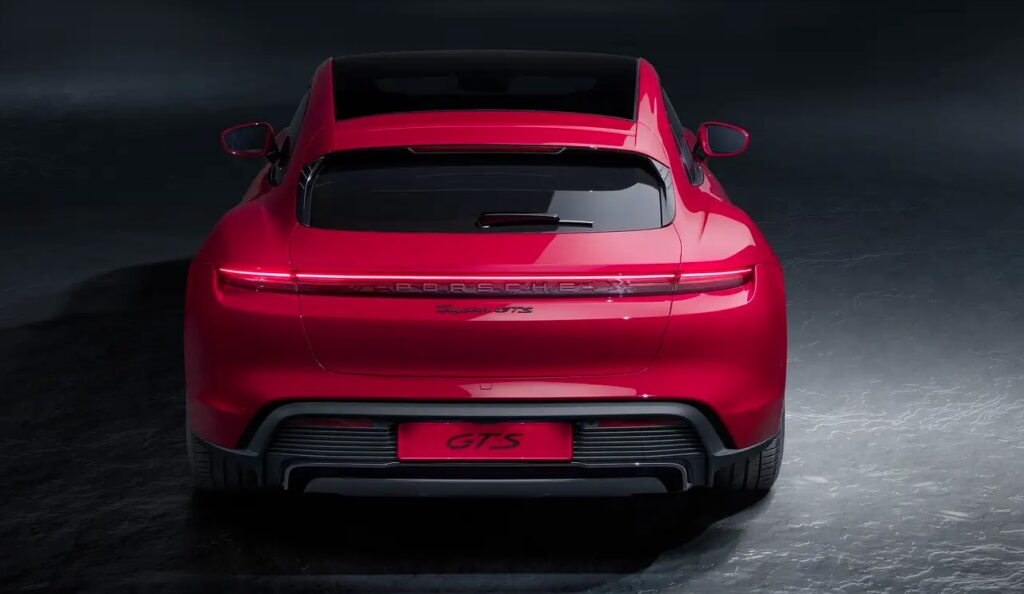 2023 Porsche Taycan Sedan Power, Transmission and Performance
Under the hood, the Taycan is equipped with a permanent magnet synchronous motor, a powerful and efficient motor type that contributes to its impressive performance. When it comes to powering the Taycan, it offers two battery options: 79.2 kWh and 93.4 kWh. The battery capacity varies depending on the chosen variant, allowing drivers to select the option that best suits their needs. The transmission type is a 2-speed automatic, providing smooth and seamless gear shifts. Additionally, the Taycan offers flexibility in its drive type, with options for rear-wheel drive or all-wheel drive depending on the chosen variant. This adaptability ensures that drivers can customize their driving experience to their preferences and requirements. Top of Form
The power output and driving range vary depending on the variant and battery size. The Turbo S, the most powerful model, can generate up to 750 hp and go from 0 to 100 km/h in just 2.8 seconds13. Additionally, the Taycan supports fast charging up to 270kW, enabling shorter charging times and extended range12.
Interior: design and features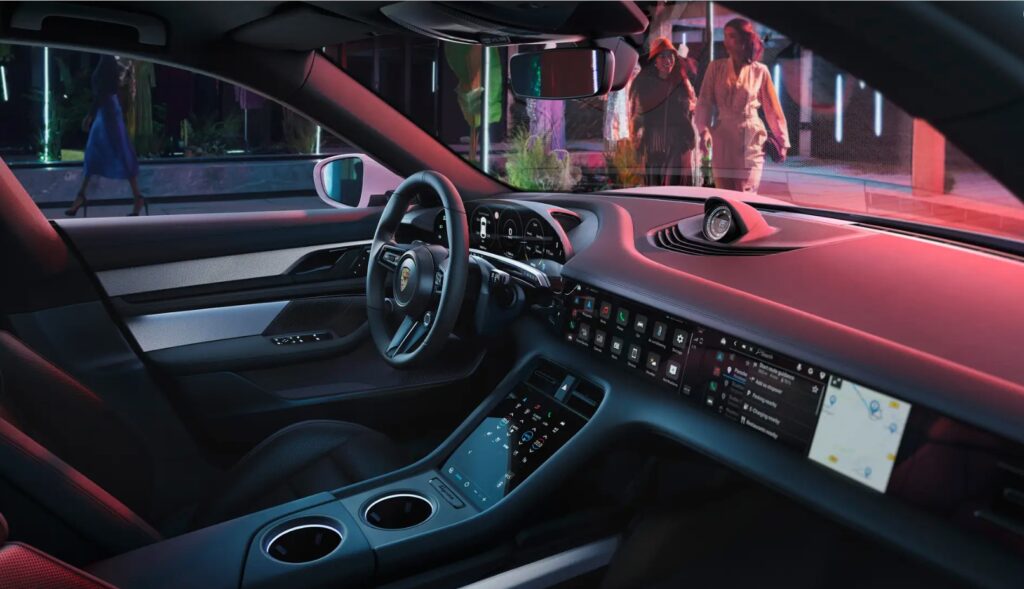 The 2023 Porsche Taycan sedan has a dashboard design that is modern and minimalist, with a focus on digital displays and touch-sensitive controls. The Taycan has a curved, 16.8-inch instrument cluster behind the steering wheel, which can be customized to show different information and modes. The dashboard also houses a 10.9-inch infotainment touchscreen, which can be paired with another 10.9-inch screen on the passenger side for extra convenience. The infotainment system supports wireless phone charging, Apple CarPlay, Android Auto, and navigation. Below the infotainment screen is an 8.4-inch climate control touchscreen, which also has haptic feedback and handwriting recognition.
The only physical buttons on the dashboard are on the steering wheel and the doors, which operate functions like the headlights and the chassis options. The dashboard is finished with high-quality materials and has various color choices available. The Taycan's dashboard design is a blend of futuristic technology and traditional Porsche elegance.
The upholstery is made using sustainable materials, and there are various color options to choose from2. The Taycan also offers a range of features such as adaptive air suspension, rear-axle steering, torque vectoring plus, active suspension management, ADAS, and night vision assist.
Safety Features
The Porsche Taycan prioritizes safety across its various models, including the Taycan RWD. This particular variant offers an extensive range of safety features to safeguard passengers. With a total of 10 strategically placed airbags, including curtain, knee, and side airbags, occupants are well protected. Advanced safety technologies like forward collision warning and automatic emergency braking help prevent accidents. Other safety measures include high-beam assist, seat belt warning indicators, child lock functionality, and anchor points for child seats. The Taycan RWD also incorporates overspeed warning, speed sensing door locks, anti-theft engine immobilizer, flashing emergency brake light, lane departure warning, and central locking to ensure a secure and safe driving experience.
Variants and Price
The variants of the 2023 Porsche Taycan sedan are:
Taycan RWD: The base model with a single rear motor and a 79.2kWh battery. It has a power output of 402 hp and a range of 225 miles. It starts at $88,150.
Taycan 4S: The entry-level all-wheel drive model with a dual motor and a choice of 79.2kWh or 93.4kWh battery. It has a power output of 522 hp or 562 hp and a range of 199 miles or 227 miles. It starts at $106,150.
Taycan GTS: The sporty model with a dual motor and a 93.4kWh battery. It has a power output of 590 hp or 631 hp and a range of 215 miles. It starts at $131,650.
Taycan Turbo: The high-performance model with a dual motor and a 93.4kWh battery. It has a power output of 670 hp or 750 hp and a range of 212 miles. It starts at $154,850.
Taycan Turbo S: The top-of-the-line model with a dual motor and a 93.4kWh battery. It has a power output of 750 hp or 761 hp and a range of 201 miles. It starts at $188,950.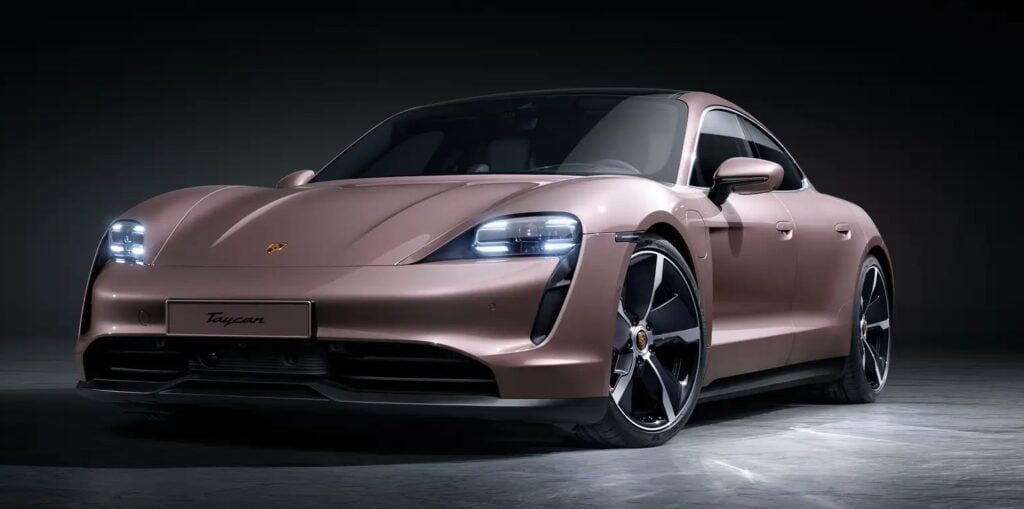 Overall, the Taycan is an extraordinary electric car that combines Porsche's rich heritage with state-of-the-art technology. It appeals to both car enthusiasts and those passionate about the environment. However, it faces some tough competitions from Tesla Model S, Lucid Air and Audi e-Tron GT.