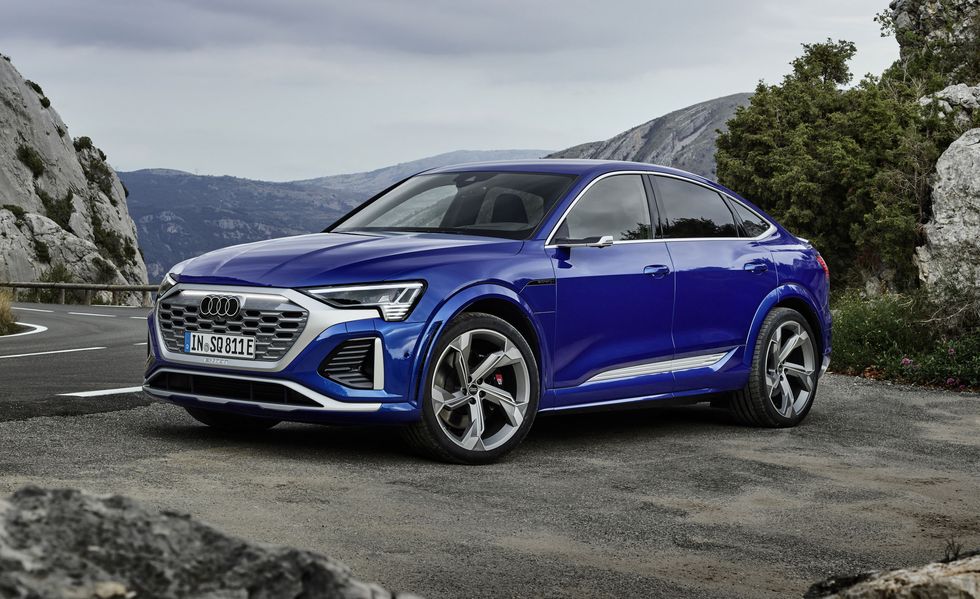 Overview
The quirky Tesla Model X and the much smaller Jaguar I-Pace were the closest alternatives when the Q8 e-Tron SUV came out in the spring of 2019. The redesigned 2024 Audi Q8 e-Tron is positioned as a sensible mid-market entry alongside the BMW iX, Cadillac Lyriq, Mercedes EQS SUV, and Rivian R1S.
It is available in two body styles, just like its predecessor and the smaller Q4 e-Tron lineup: SUV and Sportback. From the front grille to the front seats, they're the same. But the Sportback has a roofline that looks like a coupe and is tapered. It limits cargo space and headroom in the rear seats in favor of a design that sets it apart from other SUVs.
Two electric engines give all-wheel drive and up to 402hp. Regardless of the body style you choose, the Q8 e-Tron comes equipped with a battery pack that provides a usable real-world driving range that promises to be competitive with that of other luxury EV SUVs. The acceleration is strong, but it is not as rapid as it is in rivals like the BMW iX, Jaguar I-Pace, or Tesla Model X.
What's new in the Audi Q8 e-Tron for 2024?
Revision of the original e-Tron EV;
Three powertrain options and two battery sizes;
Improved aerodynamics;
The Sportback has a drag coefficient of just 0.24;
Digital Matrix LED headlights are available;
2024 Q8 e-Tron Exterior: Design and dimensions
The 2024 Q8 e-Tron looks like its predecessor, but its face and styling have been updated. The new Audi four-ring logo and inverted grille are added to it. An LED light bar accents, redesigned headlights, and updated wheels designs. Four different rim designs and eight exterior colors are available to choose from. Audi has also added new front spoilers to improve airflow. Air suspension is standard, allowing the vehicle's ride height to be adjusted by up to 3 inches. The overall appearance is similar to that of the Q4 e-Tron.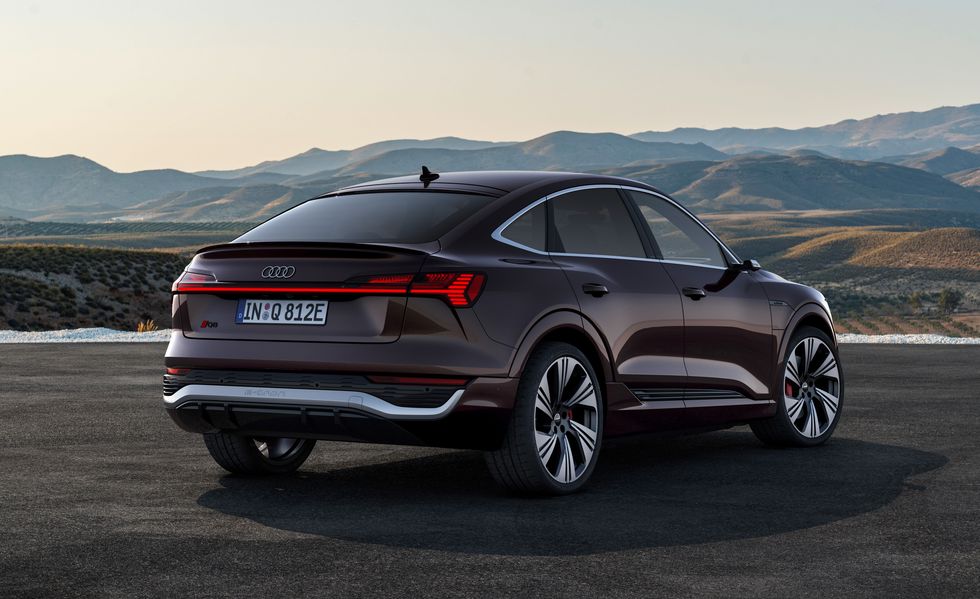 Audi has not declared its dimensions yet. The only external measurement available is the coefficient of drag which is 0.29 and the wheel size of 20-inch which is standard. Also, there are options for 21-inch wheels to select from.
2024 Q8 e-Tron Interior: Comfort, Infotainment, and Cargo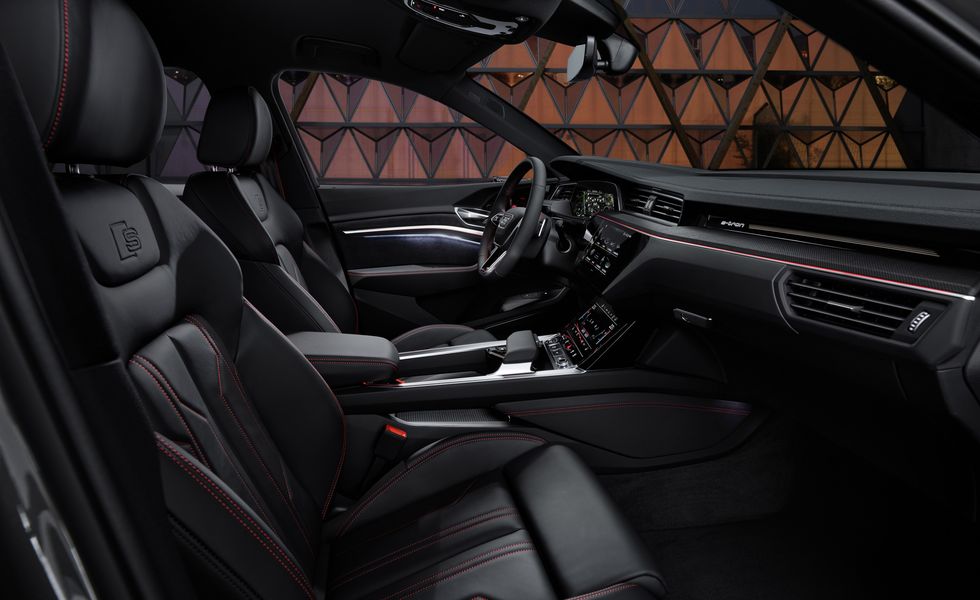 Comfort
The Q8 e-tron's electrified systems are its most impressive technology, but the five-seat crossover also has a cutting-edge and useful cabin. Multiple high-resolution screens fill the dashboard, including two flush-mounted touchscreens in the middle and Audi's digital gauge cluster, called Virtual Cockpit.
The interior is fully leather wrapped up with front seats being ventilated and 18-way adjustable. The Q8 e-Tron's refined interior is further enhanced by a number of high-end options, including a head-up display and massaging front seats.
Infotainment
There are two high-resolution displays on each Q8 e-Tron model. The upper touchscreen measures 10.1 inches, and the base screen is 8.6 inches. The two touchscreens completely replace the vehicle's physical controls and knobs. The excellent digital cockpit system offered by the manufacturer comes standard with a high-definition, programmable display that can display maps, audio, and other data. Additionally, there is navigation, Bluetooth, an LTE Wi-Fi hotspot, and more aboard. The interior is equipped with Bang & Olufson sound system with 3D sound.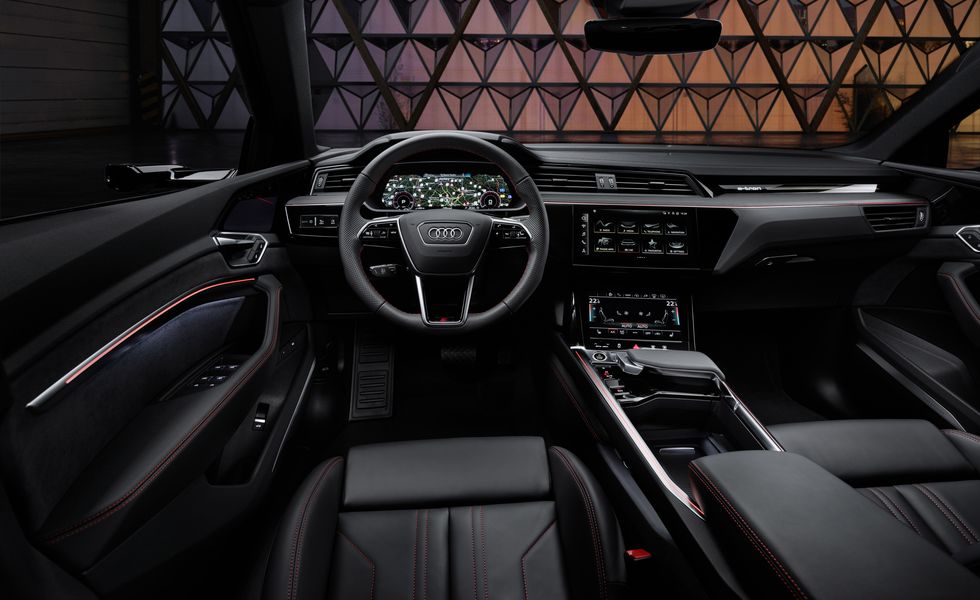 Cargo
The vehicle's underfloor battery pack, which is neatly packaged, allows for a flat floor. This contributes to the regular Q8 e-Tron's spacious cargo area. The cargo area measures 29 cubic feet behind the back row and increases up to 57 cubic feet when the back seats are folded flat. Due to its sloping rooflines, Q8 e-Tron Sportback has a little less cargo area.
2024 Q8 e-Tron EV power, transmission, and performance
Two electric motors produce 335 horsepower each in the base Q8 e-Tron. On the WLTP standard, the SUV has a range of 305 miles and the Sportback has a range of 314 miles. The power of the upgraded models rises to 402 horsepower despite still having two motors. The SUV has a range of 361 miles, while the Sportback has a range of 373. The top-of-the-line SQ8 models have three motors that produce a total of 496 horsepower. They have a range of 307 miles for the SUV and 318 miles for the Sportback.
With a capacity of up to 114 kWh, the Q8's batteries are larger than those of its predecessor. According to Audi, the standard Q8 e-Trom model can be charged at up to 150 kW with a capable charger, and the upgraded powertrains can charge at up to 170 kW, allowing it to recharge from 0 to 80% in 31 minutes. According to Audi, the base model Q8 e-Tron can be charged in nine hours and fifteen minutes with a wall box or home charging station.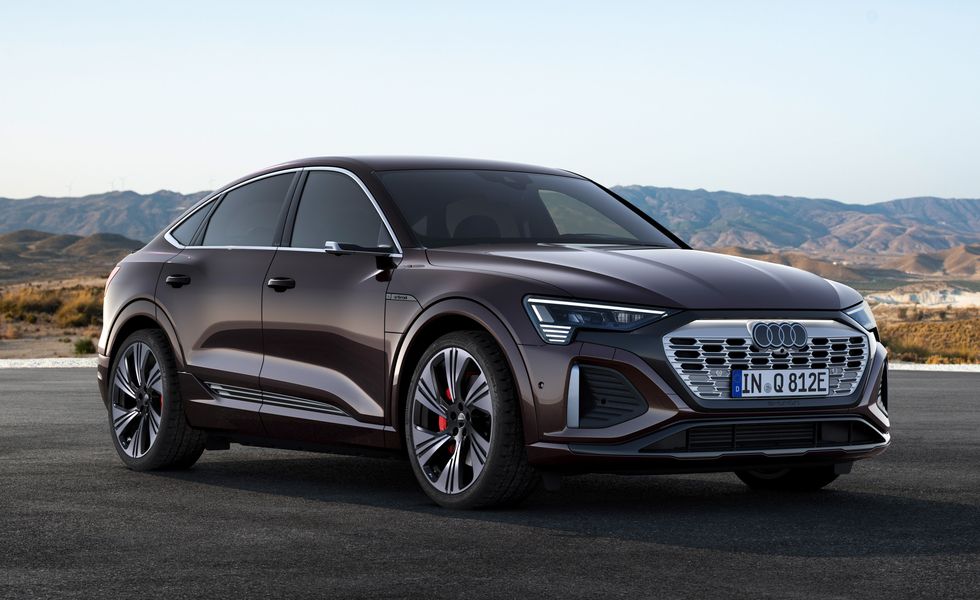 2024 Q8 e-Tron Safety Features
The standard safety features on Q8 e-Tron include lane departure warning, automatic emergency braking, blind spot warning with a rear cross-traffic warning, parking sensors, and other similar features. Active parking assistance can be enabled, according to Audi, by equipping the Q8 e-Tron with up to five cameras, five radar sensors, and 12 ultrasonic sensors. The system lets the driver park in tight spots by controlling the car with their smartphone.
2024 Audi Q8 e-Tron colors, trims, and price
The 2024 Audi Q8 e-Tron is available in eight exterior color options. This includes Magnet Gray, Glacier White Metallic, Mythos Black Metallic, Madeira Brown Metallic, Plasma Blue Metallic, Chronos Gray Metallic, and Daytona Gray Pearl Effect.
The 2024 Q8 e-Tron model is available in two trims called Q8 e-Tron and Q8 e-Tron Sportback. There is also a limited edition is being currently offered called Launch Edition. The Launch edition includes features such as the S line exterior, 21-inch Audi sports wheels in a black finish, a 3-spoke heated steering wheel, and high-tech anthracite mesh inlays.
The price for the base model 2024 Q8 e-Tron starts from $74,400 and $77,800 for the 2024 Q8 e-Tron Sportback model.