One of the most luxurious sedan
Looks very sleek and elegant
Interior looks exclusive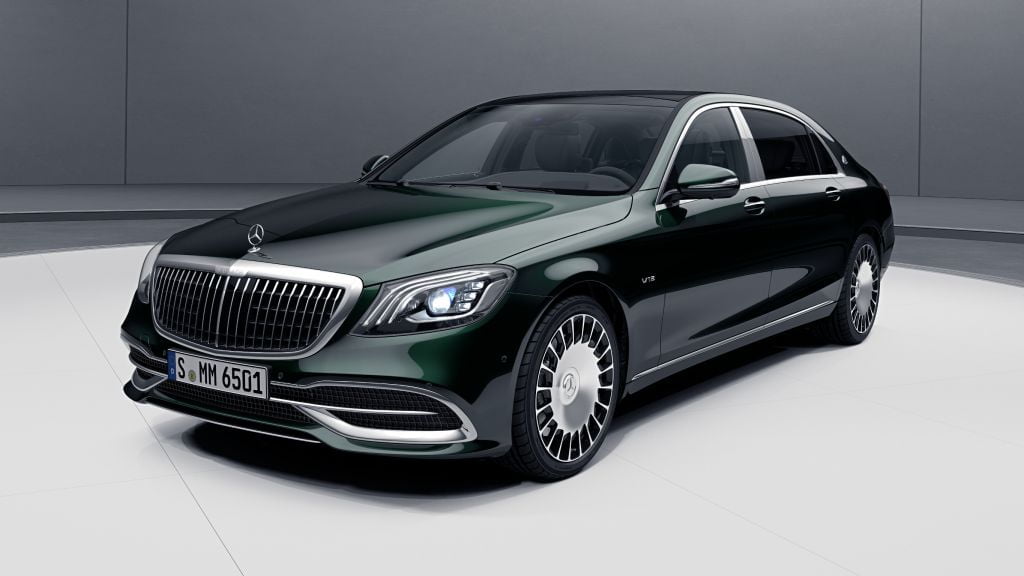 The 2021 Mercedes Maybach S Class is an ultra-luxurious sedan. It has a very high-end appearance. Mercedes Maybach is known for making ultra-luxurious cars competing with Bentley and Rolls Royce. Mercedes added the S Class to the Maybach category in 2021. It is proving to have a very exclusive interior and sleek exterior design. It has added many premium features and materials to make it more luxurious and comfortable for the passengers.
The features included in the Maybach S class has a very long list. Unfortunately, we cannot cover all the features here, but we have tried to make a list of most appealing luxury features of this sedan. Read till end to know more of it.
2021 Mercedes Maybach S Class
Engine transmission and Performance
Maybach S CLass comes in two variants – S 560 and S 650. Mercedes Maybach S 560 is powered by a 4.0L twin-turbocharged V8 petrol engine. The engine supplies a max power of 345kw (469hp). The 345kw engine offers a great amount of torque of 700Nm and can make 0-100kph in just 4.9seconds. Well, it is not the world's fastest sedan but it is still very fast for its size and weight. If you are looking for the world's fastest sedan then go for Bentley Flying Spur. 2021 Bentley Flying Spur can make 0-100kph in 3.9s which is only 1s less than S 580.
The other variant S 650 draws its power from a 6.0L Biturbo V12 engine. The 6L V12 engine supplies a max power of 463kw (630hp) that makes S 650 attain 100kmph from standstill in just 4.7s. The 463kw engine supplies a peak torque of 1000Nm.
Both the variants has a fixed top speed of 250kmph.
The Maybach S 560 comes mated to a 9G-TRONIC while the S 650 is mated to a 7G-TRONIC PLUS automatic transmission system. Both transmission system offers a smooth transition of gear which reduces fuel consumption and offers fast and responsive driving experience.
The driving experience
When it comes to the driving experience, the suspension system is a key element in providing a smooth and effortless driving experience. Also, the luxurious experience of a sedan or a limousine depends on the suspensions of the car to a greater extent. Maybach is known for making luxurious cars. The S Class has the most dynamic air suspension system to provide the best riding experience to the passengers on all terrains.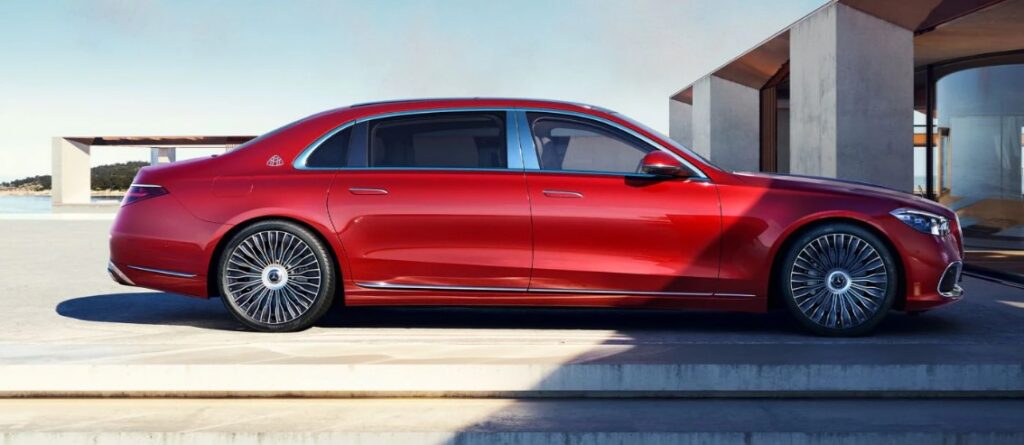 The S 560 uses AIRMATIC air suspension. AIRMATIC uses a continuously variable damping system. According to the condition and situation of the road, AIRMATIC changes the damping power at every wheel. Also. it keeps the ground clearance constant.
The Mercedes Maybach S 650 uses a more advanced version of AIRMATIC called Magic Body Control. While the AIRMATIC adjusts the damping on every wheel automatically, according to the mode set by the driver, the Magic Body Control gives freedom to the driver. The driver can set the suspension to comfort and sport setting to get comfortable or firmer suspension according to his choice.
Highlights of Magic Body Control
While moving off, cornering or braking controls the pitching and body roll.
Damping response changes with speed.
a constant level of ground clearance is maintained irrespective of payload.
The suspension level can be raised up to 40 mm to further increase the ground clearance.
Suspension level reduced by 15 mm automatically at higher speeds to reduce drag and increases handling stability
all helps in crosswind stabilization.
2021 Mercedes Maybach S Class – design and appearance
The Exterior
The Mercedes Maybach S Class has astounding design and styling. It has a very high-end design. The two-tone paintwork looks exclusive. The sleek-looking grille enhances the looks of the car. It also gives a feel of the classic Mercedes Sedan. The radiator grille has vertical slates on it which gives Maybach S Class a very classy look from the front part. It has a long wheelbase which boosts the car. It offers 9 tyre options which look very sporty. The hood has a chromed fin. All the creases and lines give a very distinctive look to the car. 
The Interiors – Luxury and comfort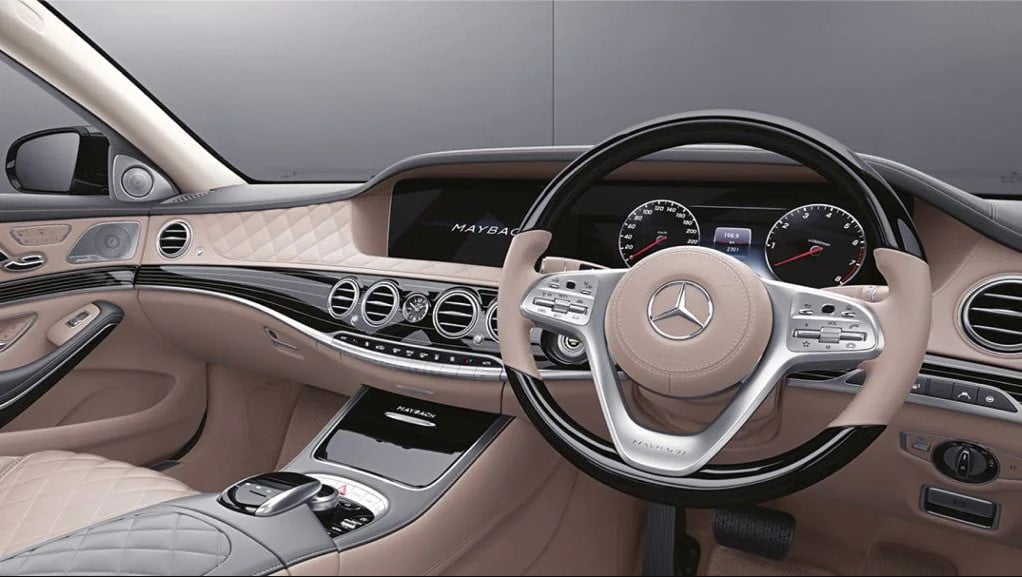 Many premium elements and features are offered in the Maybach S Class interior. It offers a Rear Seat Comfort package. This package includes multi-contour seats, massage function options, and heated seats. These seats are very luxurious and offers tremendous comfort.
The steering wheel has multiple functions buttons and is wrapped with either leather or wood. It offers a Burmester 3D sound system along with 26 speakers, which provides a musical and pleasant ride. The limousine provides a 31.2 cm HD infotainment touchscreen system, which has COMAND Online control. It includes navigation, Bluetooth interface, audio, and video options.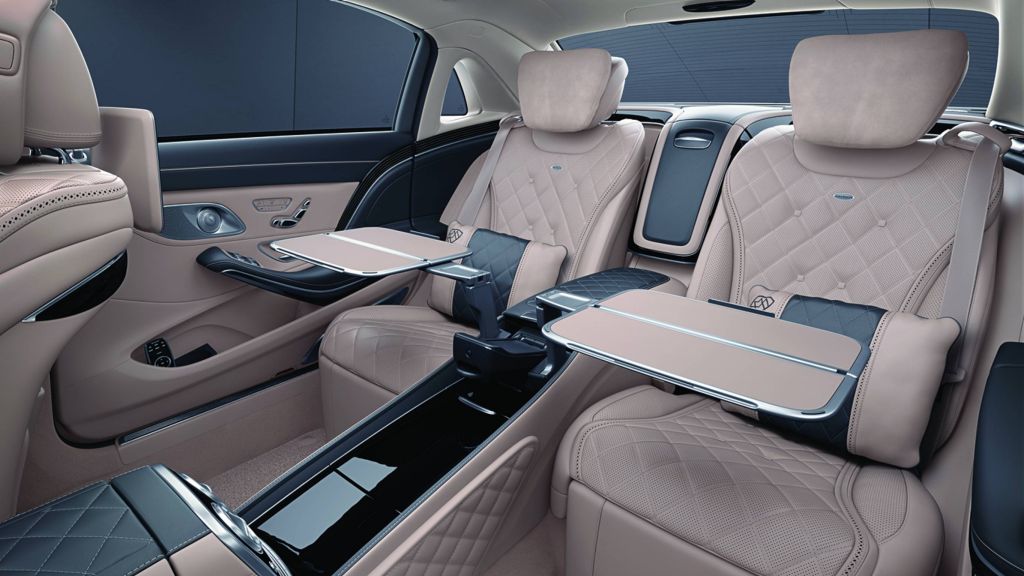 The wireless charging system helps the passengers charge their smart phones seamlessly. Chauffer package is offered, which provides super spacious rear space. The ambient lighting with 64 colors helps in relaxing and changing moods. The exclusive trim package gives a bit more classy feeling. The sun protection package protects all the passengers from direct sunlight. The sill panels have illuminating MAYBACH lettering. 2 wireless headphones are offered to provide a more personalized feeling to its customers.
The Safety features  
Mercedes Maybach S Class offers a lot of safety features and a few of them are- tyre pressure monitoring system, active brake assist, parking assist, and blind-spot assist as standard.
2021 Mercedes Maybach S Class variants, colors, and price
2021 Mercedes Maybach S Class has two variants – S 560 and S 650. The two variants are almost similar in design and looks. The main difference comes in engine, transmission and suspension system. There are certain premium features that are not available on S 560 but the list is very small.
Mercedes offers a variety of color options in designo paints and metallic paints. The Designo paints include
Allanite Grey Magno
Cashmere White Magno
Diamond White Bright
Mocha Black Metallic.
The metallic paints has 8 options.
Anthracite Blue
Diamond Silver
Cavansite Blue
Magnetite Black
Emerald Green
Obsidian Black
Ruby Black
Selenite Grey
The price for the two variants starts at INR 2.24 crores and INR 2.79 crores. Mercedes Maybach S Class has a long list of premium features. The only sedans that can match this premium quality of luxury and driving features are Rolls Royce Phantom Extended and Ghost Extended.