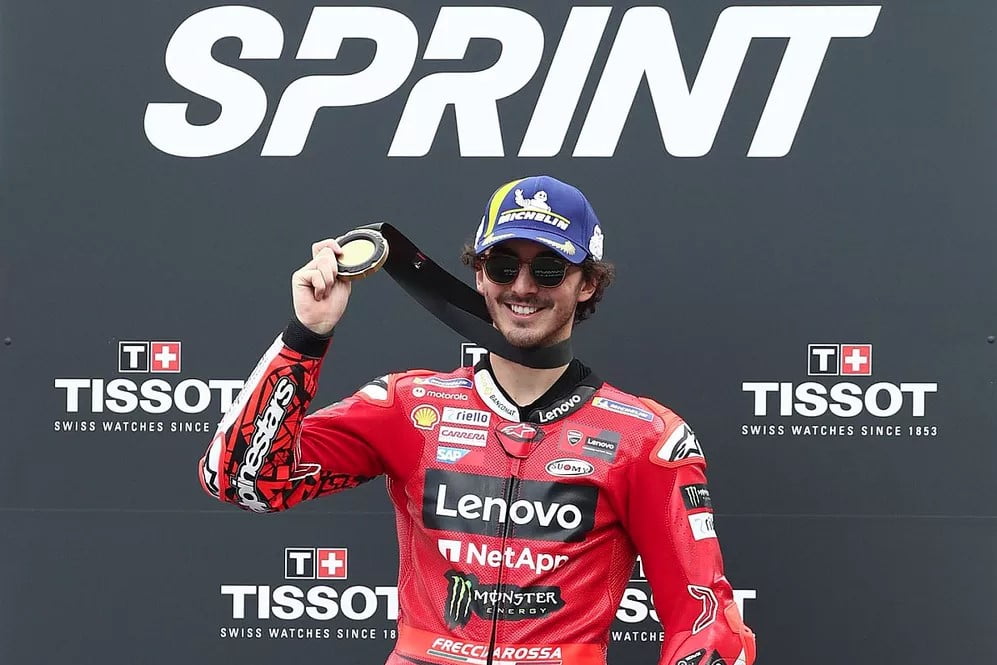 Francesco Bagnaia, the reigning world champion, has won MotoGP's first-ever Sprint race, which took place on a bright Saturday afternoon at the Portimao season opener.
As the first-ever winner of a MotoGP sprint race, Bagnaia capitalized on Jorge Martin's error on the penultimate lap while starting from second on the starting grid.
For the un-versed, MotoGP has started a Sprint race alongside with main race. The sprint races will be held on Saturday of every grand prix main event.
The Sprint lived up to its reputation as a barroom battle, with action and overtakes throughout the 12-lap race. Bagnaia eventually overtook Jorge Martin for the lead on the penultimate lap, while local hero Miguel Oliveira went wide and gave third place to Marc Marquez.
Marquez, the unexpected pole-sitter, initially maintained his lead as VR46 rivals Luca Marini and Marco Bezzecchi suffered early losses. In turn 5, Marini also collided with new factory Ducati rider Enea Bastianini.
That wasn't the only incident, with Repsol Honda's Joan Mir falling out after colliding with Fabio Quartararo at turn 13, sending Yamaha's 2021 world champion to the back of the pack.
After the dust settled, Martin was ahead of Bagnaia and Marquez, but KTM was headed by Friday leader Jack Miller!
The Australian passed Marquez, then stole second from former teammate Bagnaia, putting the RC16 in front of Martin by half a lap!
Enea Bastianini has suffered a fracture to his shoulder.
Yet the rest of the lead group's seven riders were still lurking in his wheel tracks.
Martin quickly exploited the force of his Desmosedici to retake the lead from Miller, then took defensive lines to stop a counter-attack from the #43.