Ducati has been producing sport motorcycles since 1946. Its motorcycles are known for it's performance, engine, and looks. Ducati Panigale is manufactured since 2011. Till now there are 5 variants of Ducati panigale and they are – Panigale V2, Panigale V4, Panigale V4 S, Panigale V4 SP, and Panigale V4 R.
Ducati Panigale V2
Ducati Panigale V2 consists of 2 colours. One is Ducati's traditional, classic, monochrome red with black 5 spoke rims and the other is the new White Rosso livery. In the front, there are 2 large air intakes and the upper parts are dominated by the full-LED headlight. These changes merge via newly designed ducts, boosting its intake efficiency. The full LED headlight consists of a daytime running light and 2 compact high beam LED modules. The fairing has a double layer configuration the main layer merges into the tank and the second layer acts as an air vent.
It has a 955 CC twin cylinder super quadra engine which complies with euro 5 standards. It features a new compact exhaust silencer underneath the engine. The motorcycle is powered by 155 HP at 10,750rpm and torque of 104 Nm at 9000rpm. This gives a very smooth and enjoyable ride.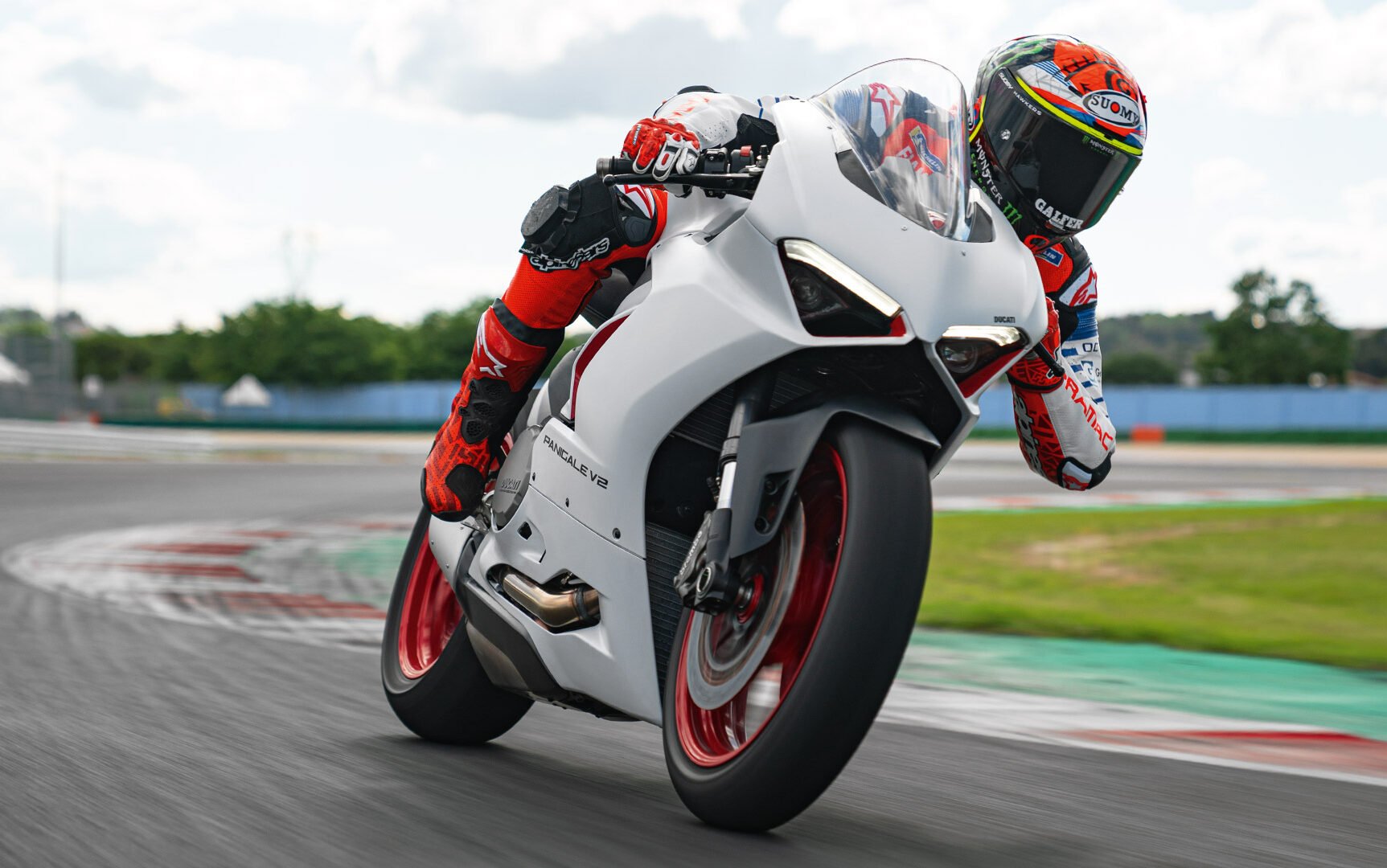 Read Also : Kawasaki Ninja 1000SX
Ducati Panigale V4 and V4 S
The Ducati Panigale 4 is renewed every year to make it more faster and exciting. The aerodynamics package is involved in the new series of Ducati Panigale V4. This includes large lateral firing. noise firing, Plexiglas screen, efficient lateral vents, and aerofoils.
Panigale V4 and V4S' 1103 CC engine is the same as Desmosedici Stradale, counter-rotating crankshaft, a Moto GP derived 90 degrees V4 with Desmodromic timing and twin pulse firing order. The engine gives 214 HP at 13000 rpm and a torque of 12.6 KGM at 10000rpm.
It features the latest-generation electronics packages like the ABS Cornering EVO, Ducati slide control, Ducati Power Launch, Engine Brake Control EVO, Ducati Electronic Suspension EVO, and Ducati Wheelie Control EVO. Ducati's new riding mode strategy offers its customers 3 different pre-set riding styles. The styles include Race Riding Mode, Sport Riding Mode, and Street Riding Mode.
So, what does these riding modes actually do? Lets find out.
Race riding mode has two sub-levels. one is Race A Riding Mode and anotther one is Race B Riding Mode. In Race A mode, the rider gets full access to the power of the engine. There is no limitation or control over the performance of the bike. Keeping in mind that the safety features are not compromised in this mode. This mode is for experienced racers or riders. While in Race B mode. the delivers its maximum power but the amount of torque is limited in the 1st, 2nd, and 3rd gears. This makes bikes easy to manage at the corners of the track for the less experienced riders.
The sports mode gives a full 214 HP to the rider with a direct sport style ride-by-wire throttle response. with this riding mode turned on, a less experienced rider car also experiences an effective and spectacular ride. In sports mode, slide by brake, rear-wheel lift detection, and cornering ABS function remains active with a full response to maximize cornering performance.
The street mode is designed to ride this powerful motorbike in the city streets. With street mode on, the rider received a progressive ride by wire throttle response. It also features a suspension set-up to ride swiftly through the road bumps and pits. It also ensures maximum safety with electronic-controlled grip and stability.
The Panigale V4 and Panigale V4 S models are equipped with self bleeding brake and clutch pumps. The feature of chain guard fin, is added as a safety precaution which allows the rider to avoid dangerous Contacts with the chain and Crown in the event of slide. The provision for heated grips are added and the ignition key has a new modern and elegant grip.
Ducati Panigale V4 SP
Ducati Panigale V4 SP is the perfect bike for amateur riders who wants to hit the track and be fast. It has a 1103 CC, V4 engine which gives 214 HP. It has got a stealth black paint work which makes the bike look different from other Ducati motorcycles. The Ducati Panigale V4 SP, has the same body panels as the other Panigale V4s. It has add adjustable aluminium food pegs and an aluminum steering stem.
Its engine develops 214 HP at 13,000 rpm and 124 nm at 9500 rpm. It is equipped with 6 speed gearbox and a dry clutch. It also has the latest generation electronic packages this includes cornering ABS, slide control, Wheely control, launch control, engine brake control and bi- directional quicks shifter.
Ducati Panigale is surely designed to dominate the racing tracks. It got enough power, effective torque, and all the advanced electronics to provide a racing experience along with all safety measures.