Premium luxury sports sedan
comes in three variants: Luxury, Premium Luxury, Sports, and V series
2021 Cadillac CT5
The 2021 Cadillac CT5 is a luxury sports sedan, the handsome styling helps it stand out from the crowd. A turbocharged four-cylinder comes standard, but buyers can upgrade to a twin-turbo V-6 with up to 360 horsepower. The Caddy's cabin is more spacious than many of its rivals, making it a convenient family car.
Also Read: 2021 Cadillac Escalade specs, features, variants and price
And all models come with touch-screen infotainment, basic driver-assistance technologies, and plenty of convenience features. The CT5 has a new diamond sky metallic edition which gives a unique exterior and interior design including distinct wheels.
Engine and Transmission
The 2021 Cadillac CT5 comes with a 2.0L twin-scroll turbocharged four-cylinder gasoline engine. The engine comes mated to a 10-speed automatic transmission with final drive to rear wheels. The engine is capable of producing 237hp of max power and a max torque of 258 lb-ft. You must use premium gasoline to get this power and torque. 2021 CT5 is available with both rear (RWD) and all-wheel-drive (AWD) systems while RWD is standard.
Cadillac offers another engine option which is a 3.0L twin-turbocharged V6 engine. However, You can upgrade to this engine only with Premium Luxury and V-series trim levels. The 3.0L twin-turbocharged V6 engine supplies a max power of 335hp to the wheels and generates peak torque of 405 lb-ft.
The V-series uses a more refined version of this 3.0L twin-turbocharged engine that has a capacity to produce 360hp while the torque is the same as earlier.
Cadillac CT5 is much faster with RWD. It takes only 6.6s to reach 0-60mph with 2.0L engine and with a 3.0L engine, the time reduces further to 4.9s and 4.6s for Premium Luxury trim and V-series respectively.
2.0L twin-scroll turbocharged | 237hp and 258 lb-ft | 0-60mph – 6.6s |
3.0L twin-turbocharged V6 | 335hp and 405 lb-ft | 0-60mph – 4.9s |
3.0L twin-turbocharged V6 refined engine | 360hp and 405 lb-ft | 0-60mph – 4.6s |
2021 Cadillac CT5 design and comfort
Exterior
The intense design of the car takes the attention of the people. The upgraded aerodynamics blow the past competition in the style. The curved corner of the car makes the car a more stylish and premium sedan. The exterior of the sedan is optimized for better aerodynamics. This sedan has both power and luxury for being a true American luxury sedan.
The led lighting of the car makes the car more bold attractive styling.  10-spokes alloy wheels are a perfect match for its style. The Alloy wheels are perfectly marked to give a good impression and the passing style. The dual exhausts on either side of the car give this sedan a sporty touch.
The rear spoiler definitely improves the presence on the road but its seamless integration into the trunk gate gives CT5 a more premium look. The inverted L-shaped tail lights follow the edges of the car and improve the look from behind.
Interior
The interior of the car is wonderfully crafted with premium quality materials. The steering wheel of the car is comfortable with a thick rim. Magnesium paddle shifters give you the best zone and control your desire. The CT5 has the latest version of the CUE infotainment system, shown on a 10-inch touch screen in the center of the dashboard. Desirable available features include a head-up display, wireless device charging, and an eight-speaker Bose audio system.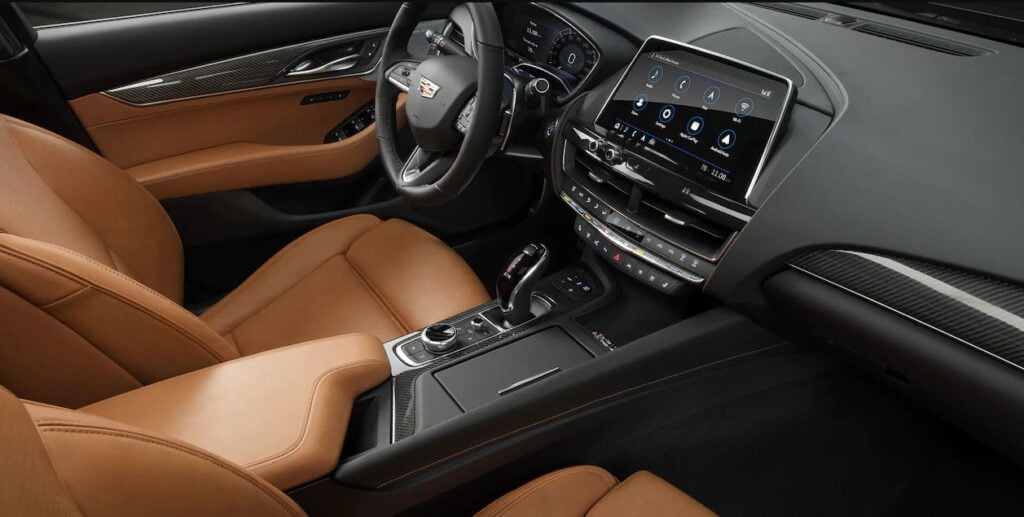 The trunks of the car have more space you can also expand the trunk by folding the rear seat. This feature is mostly not available in Luxury premium sedans. It gives features such as interior ambient lighting, a wireless Smartphone-charging pad, illuminated exterior door handles, blind-spot monitoring, driver-seat memory settings, rear parking sensors, and power support for the driver and front-seat passenger.
2021 Cadillac CT5 Safety features
The CT5 has a five-star rating in safety measures. A host of driver assistance technology is available, including adaptive cruise control and lane-keeping assist. A supercruise driving feature help to manage the vehicle's steering, acceleration, and braking without the driver needing to keep his or her hands on the wheel. The key safety includes standard automated emergency braking with pedestrian detection, lane departure warning with the lane-keeping assist, adaptive cruise control.
CT5 Variants, colors, and price
Cadillac CT5 comes in 4 variants luxury, premium luxury, sport, and V. The variants are not much different in appearance rather they have different features installed.
All these have different ranges in the market. The luxury variant comes from $36,995 to $37,620 and premium luxury variant vary in between from $40,795 to $61,870 and last sport variant comes in from $41,795 to $56,370.
Cadillac offers one more variant which is called Cadillac CT5-V. CT5-V comes with a refined 3.0L twin-turbocharged V6 engine as standard. It has all the features of Sport trim level and includes additional features like.
Performance suspension with magnetic ride control
Electronic limited-slip rear differential
Performance Traction Management and Launch Control.
The CT5-V trim starts at the price of $47,795.
These all variants come in different colors like Summit white, black raven, crystal white tricot, satin steel metallic, evergreen metallic, shadow metallic, wave metallic, garnet metallic, dark moon metallic, infrared tint coat.
At this price range and being a luxury car makes 2021 Cadillac CT5 competes with Kia K9 and Lexus.