All-new mid-size SUV.
A perfect blend of style, convenience, comfort, and performance.
KIA Sorento Hybrid – Design and looks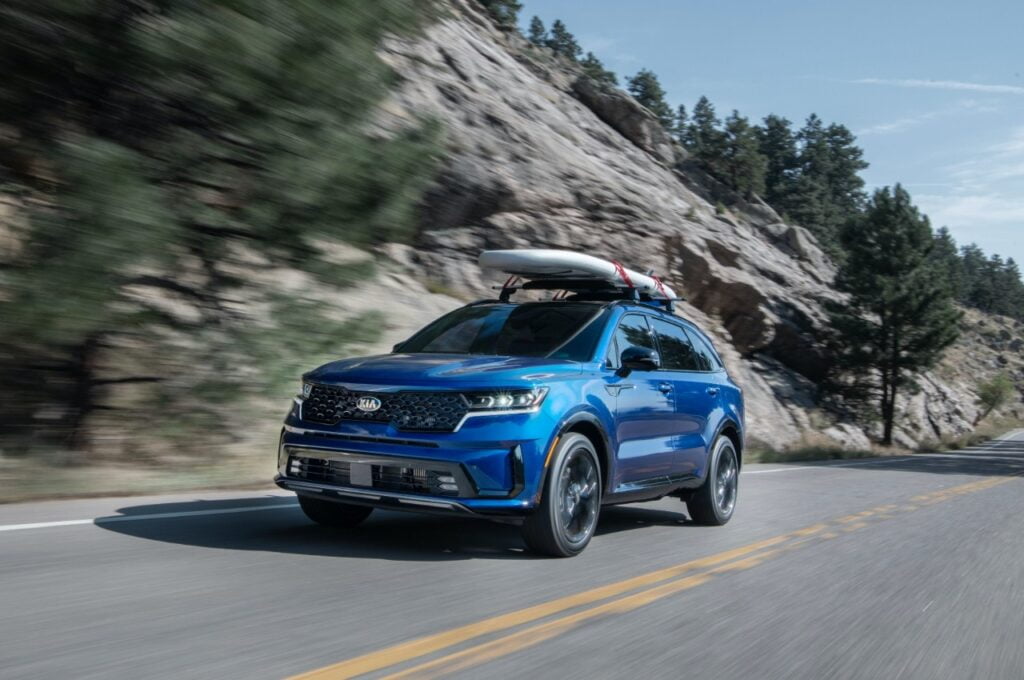 The 2021 Kia Sorento Hybrid is the first electrical version of KIA's mid-size crossover. It has a very intriguing design and style. This comes in hybrid and plug-in models. The 2021 KIA Sorento has got a new shape and design. It has got an electric razor grille, metallic flags and a very exotic cabin. It has now become more bigger and stylish. The turbocharged engine is offered for the first time by Kia, in the US market.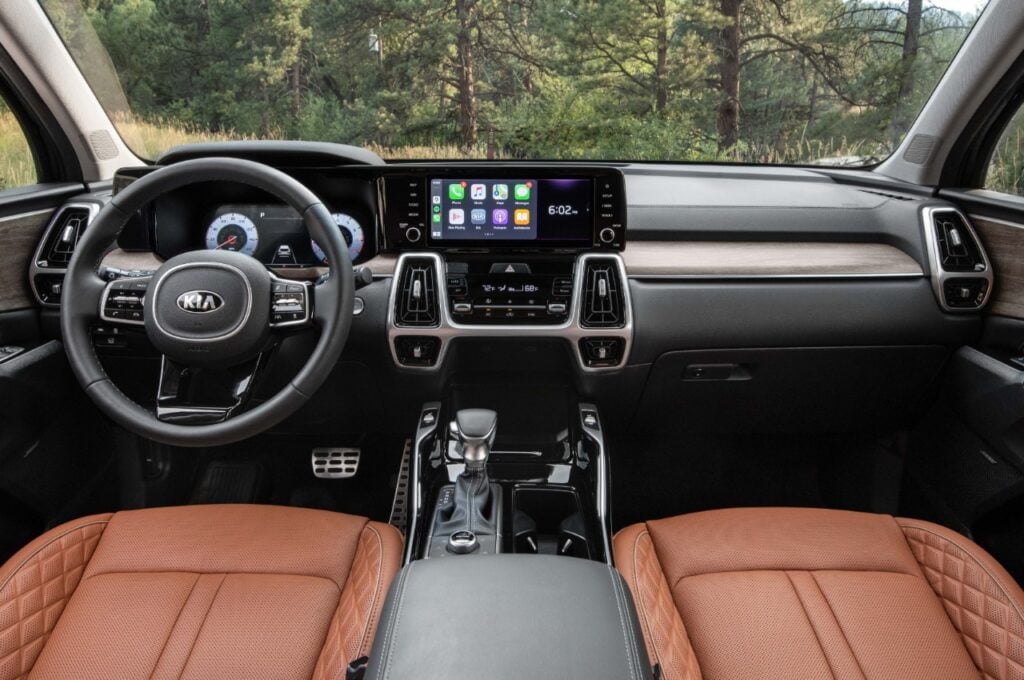 On either end of the Tiger nose grille, there are LED headlights. The top trims have DRLs and LED taillights. The 17-inch alloy wheels which are standard provides a very fresh and dynamic look to the car. The top trims also have the option of 18 or 20-inch alloy wheels to choose from. Panoramic sunroofs are offered in some cases. An X Line Package is offered by the top SX Prestige trim. This includes a very unique bumper, grey wheels, a very special Fender badging, a roof rack, and there is a one-inch increase in the ride height. The base trim which is the LX version is a bit shorter than the rest of the trims. The car has got a very edgy design.
Comfort and Luxury
All the trims of Sorento are well equipped with air-conditioning, cruise control, and tilt steering wheel as standard. The top models have features like keyless ignition, backup sensors, automatic headlights, sunroof, leather seating, and a power driver s seat. The seats are durable syntax seat trim and heated front seats. The second-row captain's chair is easily foldable to get more cargo space. And the 3rd row is also the standard 50/50 split-folding seats, to expand the cargo space. The smart power liftgate automatically opens when the smart key is detected, this becomes easy when you are loaded with things. It has a standard 8-inch touch screen with Apple CarPlay and Android Auto.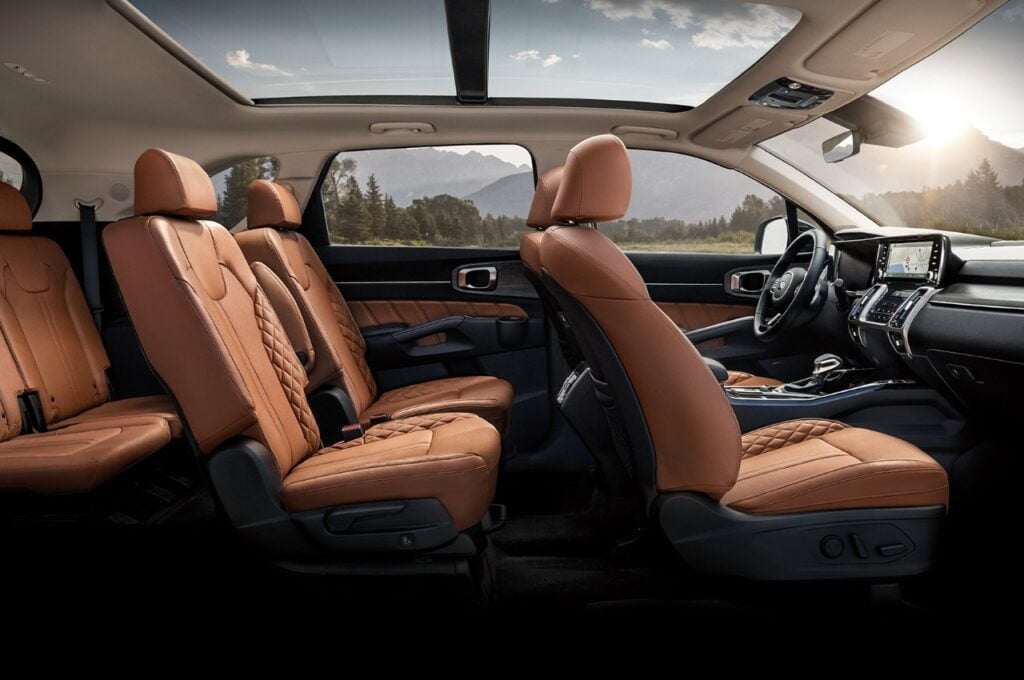 Power and Performance
The 2021 KIA Sorento Hybrid offers 3 engine choices. The base engine is 2.5 liter, 4 cylinder which gives 191 horsepower and 182 lb-ft of torque. It is directed via an 8-speed automatic transmission. The EX and higher trims have 2.5 liters turbocharged available. This grinds up to 281 horsepower and 311 lb-ft. This is directed via an 8-speed dual-clutch. If you opt for hybrid trim it comes with a 4 cylinder 1.6 litre engine. It generates up to 177 horsepower and 195 lb-ft of torque. This is directed via a 6-speed auto. A 261 horsepower is promised by a plug-in hybrid trim. The base models could pull up to 2000 lbs and the turbocharged trims can tow up to 3500 lbs.
2021 KIA Sorento Hybrid Variants, Colors, and Price
The KIA offers a wide variety of color options. It is offered in Passion Red Tintcoat, Sapphire Blue, Sparkling Silver, Gravity Grey, Aruba Green, Glacier White Pearl, Everlasting Silver, Crystal Beige, and Ebony black. The availability of color options varies with the choice of trim. The 2021 Kia Sorento is offered in 5 trims. These are Kia Sorento LX, Kia Sorento S, Kia Sorento EX, Kia Sorento SX and Kia Sorento SX Prestige.
The Kia Sorento offers smart airbags, the LATCH system in the second and 3rd row of the sitting area, Blind Spot Collision Avoidance Rear (BCA- R), and Rear Cross-Traffic Collision-Avoidance Assist (RCCA).
The base LX trim is priced at $29,390. The regular S trim carries a price of $ 31,890 followed by the EX trim at $ 34,990. The top SX Prestige trim costs $ 40,590. The prices vary if you want to add more features and specifications to your car. The availability of features like hybrid powertrains and bigger cabin and cargo space makes the car more market-worthy.
Keep Visiting TAB – The Auto Blogs for more from the world of Automobiles.