Do you want to buy a sporty compact car?
Then you are at the right place. Honda Civic is one of the most recognizable and affordable cars sold in the global car market by Honda. The first Honda Civic was launched in 1972 and many more variants and models are being launched to date. Honda will turn 50 in 2022 and more exceptional cars are expected from Honda.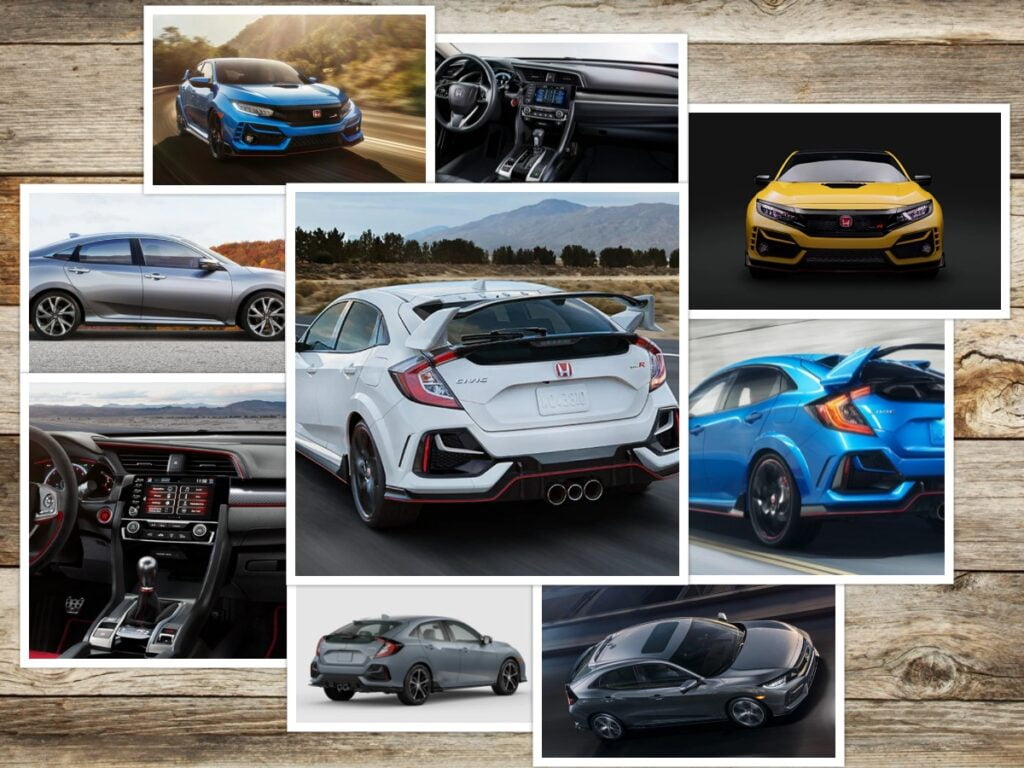 Honda is a leading manufacturer of premium cars in India. Its commitment to providing Honda's latest passenger car models and technologies. The company is a subsidiary of Honda Motor Co. Ltd. Japan.
The 2021 Honda Civic is ranked number 1 based on its score within the compact cars category. It is one of the most recognizable cars in the global car market. The prototype of new models reveals new exteriors, interior, best technology, and more safety features, and a variety of color options. It is a good compact car that offers many fun driving dynamics without sacrificing comfort. It delivers good acceleration and great fuel economy. The prototype of the new Honda Civic is said to be an amalgamation of an all-new sedan, hatchback, Si, and Type R model. These cars will have plenty of passenger space and cargo room. It will have the amalgamation of new tech, safety, features and offer sporty charm for many enthusiasts.
The new model is claimed to offer multiple Civic first new technologies, which includes all digital driver's meter cluster and a new 9 inch full HD free-standing touchscreen information and entertainment system. It has a solid combination of quality and value.
2021 Honda Civic Sedan
The 2021 Civic Sedan features aggressive lines and refined features that make it stand out from the crowd and also make it remarkably popular. A sleek profile and a bold sport trim add to its fierce personality.
It's actually a lot of fun to drive, despite its continuously variable transmission. This provides a 1.5 liter 4 cylinder and produces 174 hp and 162 lb-ft of torque. A fully independent suspension and paddle shifters are also available.
The civic touring Sedan features LED headlights with auto on and off that are perfect for lighting up the road. Every angle of the Civic Sedan exterior is the right angle. It has a very bold, aggressive face and sharp body lines throughout. It has a long wheelbase, that gives the car a more sporty look.
It has 18-inch alloy wheels gives it a cleaner and contemporary look, center outlet exhaust, fog lights, and many more. The Civic Sedan has a spacious interior, with a five-seater. It also offers plenty of cargo space. An instrument display and an available 60/40 split fold-down rear seatback just make you settle in and relax. It has smart tech details throughout the car.
2021 Honda Civic Hatchback
The new 2021 Civic Hatchback shows attitude and diligence from each and every angle. It ranges features from projector beam halogen headlights to sport ranging set of LED units.
It has 18-inch alloy wheels on the sport touring. The bright C-shaped LED taillight design gives it a better sloped back end. It is a five-seater car, which gives plenty of space for your friends and families to go on long drives.
It has a turbocharged engine that produces 174 hp and a dual exhaust that does not only enhances the performance-oriented look but also boosts horsepower, for a total of 180 hp. It is equipped with a 6 Speed Manual Transmission, which comes standard on Sport and Sport touring. The Driver Information Interface makes it easy to read for the driver. There is a variety of colors ranging from Crystal Black Pearl, Polished Metal Metallic, and for an additional $395, you can get Platinum White Pearl. The Sport trim adds Lunar Silver Metallic, Rallye Red, and for an extra $395, Sonic Gray Pearl or Platinum White Pearl. In addition to these hues, the EX is also offered with attractive Aegean Blue Metallic. Finally, the Sport Touring can only be had with Crystal Black Pearl, Platinum White Pearl, or Sonic Gray Pearl, the last two costing $395.
It has 4 civic models, each with a distinct personality. The base model is the LX, which shares its turbocharged 1.5-liter turbocharged engine with the rest of the range, and sends its power to the front wheels via a CVT auto transmission. Going up is the Sport, which receives a 6-speed manual transmission and a slight power bump under the hood. Next up is the EX model. And the range-topping Sport Touring adds an automatic dimming rearview mirror, voice recognition, Homelink, and a four-way power-adjustable front passenger seat.
The 2021 Honda Civic Hatchback is a truly impressive performer, even if in its base model.
2021 Honda Civic Type R
The 2021 Civic Type R has glorious bodywork which provides an amazing driving experience, huge acceleration, and totally practical for daily use. It was designed to make powerful style statements, inside out. It is light-weighted, aerodynamic, and an absolute blast on both track and roads.
For 2021, Honda offers a limited edition Type R that lives up to its name, as only 100 copies total will be built, out of which 600 were exclusively designated for U.S. customers.
There was a limited edition exterior that was available exclusively in Phoenix Yellow, the Type R Limited Edition. This adds more modern details like gloss black roof and glosses black accents all around. The BBS wheels on the Type R limited Edition reach a high degree of material density and weight reduction, for a perfect mixture of agility and speed.
It has 22-inch gloss black alloy wheels which keep the high-performance rubber on the road with style. A 306-hp turbocharged four-cylinder and a six-speed manual transmission feeding the front wheels make the Type R the quickest Hinda Civic and also one of the quickest Sport Compacts.
This is a rare type of car, which has amazing trackability and amicable road manners. The Type R sets the bar even higher with its astounding emergency braking distance of 142 feet. It has a Driver Information Interface which displays boost pressure, G- force, lap times, rev limit, and throttle and brake input in real-time. It boosts above-average EPA fuel economy and a fuel capacity of 12.4 gallons. It has Brembo brakes that stand ready when charged hard into an apex. The triple outlet exhaust bellows a throat sound that broadcasts your coming. The limited-slip differential helps minimize front-wheel slippage for more perfect steering when accelerating and cornering.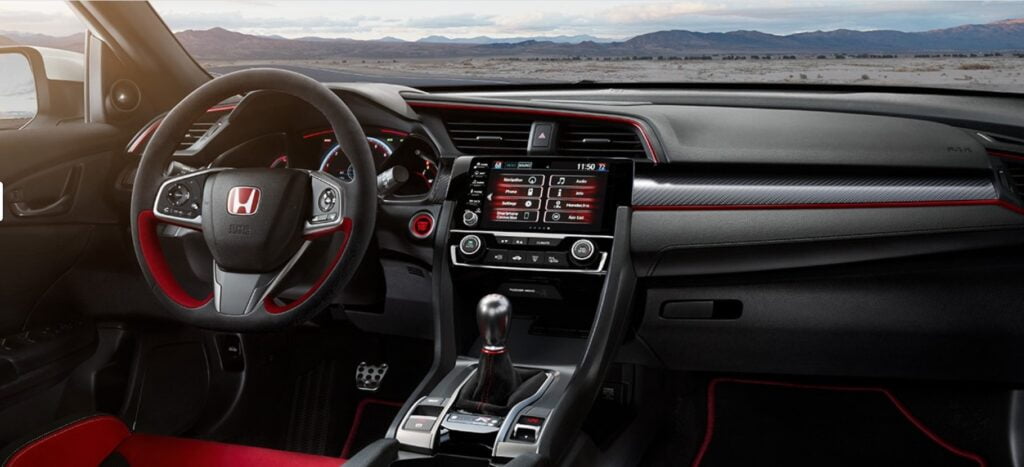 Honda has always managed to deliver premium passenger cars, packed with the latest technologies. By then, the brand is enjoying success. The 2021 Honda Civic Sedan is- entertaining to drive, has a spacious interior, plenty of standard safety equipment, and also numerous trim levels. But the base model is very basic and the warranty coverages is not much good. The 2021 Honda Civic Hatchback has adaptive cruise control. It offers an excellent driving experience and covers most of the bases in terms of standard features from the base model right up to the sport touring. It is affordable and provides the most powerful engine options, a six-speed manual box, quicker steering, and the larger 7inch infotainment display.