Indian car buyers are more conscious about their road safety than ever. There was a time when people mostly bought cars based on their design, looks, features, and mileage. That is why Maruti Suzuki remained the most selling car brand in India for the last two decades. In the last few years, there were incidents where people survived brutal car accidents due to safety features and mostly due to better build car quality. And in these accidents, an SUV was found to be the safest car option. In the year 2018, Tata became the first Indian car manufacturer to provide the safest car to Indian passengers. After this, some more cars were launched with high safety ratings. Here, we present you with a list of the safest SUVs in India currently available to buy.
5 Star rating SUV in India
Tata Nexon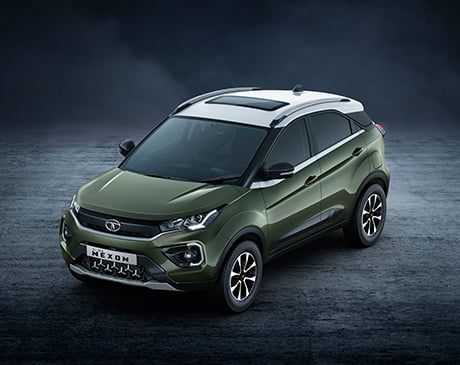 When it comes to India's safest SUV, the first name that comes to mind is Tata Nexon. Tata Nexon is the first Indian car to achieve a 5-star safety rating in the Global Ncap safety test. It has a 5-Star rating for adult occupancy and a 3-star rating for child occupancy.
One of India's safest SUVs, Nexon comes at a price range of Rs. 7.59 lakh for the base variant XE. One important thing about the Nexon is that you do not need to buy the higher variant to get safety features. All the safety features that Tata offers in Nexon are already provided as standard in the base variant. Due to its lowest price and highest safety rating, Nexon is generally considered India's safest SUV. Read more about Nexon's features.
Mahindra XUV300
The second entry in the list of safest SUVs in India is Mahindra XUV300. This sports utility vehicle from Mahindra is the second Indian car that has a 5-star safety rating. Mahindra's sophisticated sub-four-meter compact SUV iUV300 is a scaled-down and re-engineered version of Mahindra subsidiary SsangYong's Tivoli. XUV300 comes with some of the first-in-segment features like a cooled glove box, and dual AC in the front row. Seat comfort and cabin space are adequate but not exceptional, yet the XUV300's width makes it a better five-seater than most competitors.
Tata Punch
The Tata Punch fits several of the characteristics you'd expect from an SUV into such a small package. It is smaller in size but it gives a complete feeling of a compact SUV with its higher seating position, plenty of ground clearance, and a pretty sturdy structure. It even received five stars in the Global NCAP crash test. The current engine option, on the other hand, is a letdown, feeling weak for a car with SUV ambitions. Its AMT gearbox also doesn't shift intuitively. The advantage of this SUV is that people can have the 5-star safety and feel of SUV at a price range of INR 5.49 lakh.
4-star rating SUVs
Maruti Suzuki Brezza
Brezza is not the safest compact SUV in the Indian market. However, it is the safest car offered by the Maruti Suzuki in India. The Brezza is built on the Global C platform, which was created in collaboration with Fiat. When tested in 2018, the Brezza received a 4-star rating for adult occupant protection and a 2-star rating for child occupant protection. There are numerous new amenities, including a 9-inch touchscreen, 360-degree camera, heads-up display, six airbags, and wireless charging, but only in the top-tier ZXi+, which is somewhat pricey. Those expecting a strong SUV feel may be disappointed by the engine's poor performance. But that doesn't imply that Brezza is without value. It's a well-equipped vehicle with plenty of space and a smooth ride.
Toyota Urban Cruiser
The Maruti Suzuki Vitara Brezza, which is a very popular Maruti Suzuki model, was rebadged for the Toyota Urban Cruiser, the second model in the Japanese manufacturer's lineup. It's Toyota's entry into the competitive compact SUV market, and in contrast to the Glanza that came before it, it stands out more visually from its Maruti rival. The only difference between the two vehicles, mechanically and in terms of equipment, is that Toyota began its line-up at a higher trim level and does not provide a basic "base" model like Maruti does. Additionally, Toyota provides a more alluring warranty than Maruti.