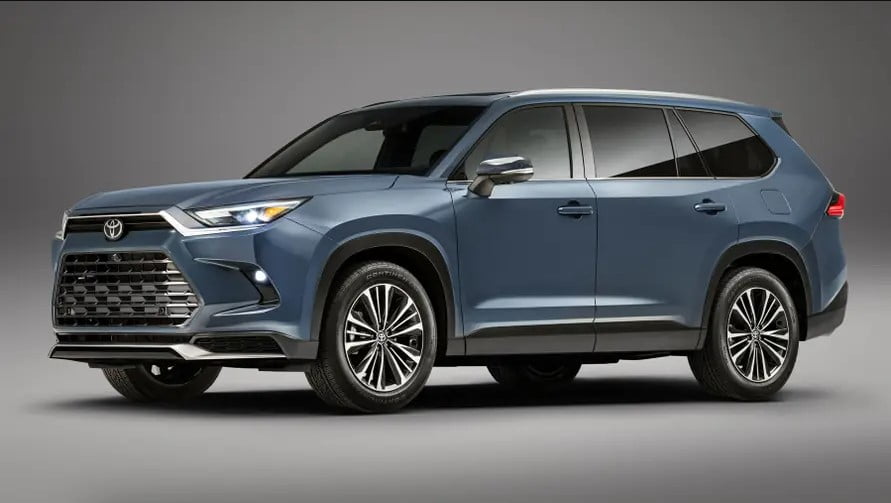 The USA-bound upcoming Grand Highlander is the big brother of the Highlander. It is specifically designed to keep the American lifestyle in mind. The eight-seat American SUV is very large. In fact, it is 16 cm longer, 5cm wider, and 5cm taller than the regular one. It is almost as big as the Land Rover Discovery 5.
While presenting this SUV to the US citizens, the vice-president of Toyota Marketing Lisa Materazzo said "There is definitely a need in the market for a midsize SUV that prioritizes interior comfort in all three rows and Grand Highlander is the ultimate option". The funny thing is that Toyota still calls it a mid-size SUV, seriously!
So, what makes the 2024 Grand Highlander different from the standard Highlander?
The first thing is that it looks bossy and grand. As the name suggests, it is obviously Grand in Size, Grand in looks, and grand in power and features as well. It looks completely new. It has more edges than curves on its body, which makes it look boxier than its sibling.
The Grand Highlander will be available with three powertrain options. The two powertrains, a 2.4-litre petrol and 2.5-liter hybrid, are being carried over from the regular Highlander. There will be a third powertrain option called "Hybrid MAX" with 362 hp max power and 400lb-ft of torque. The first two powertrains will be available in both front- and all-wheel-drive configurations. However, the "Hybrid MAX" will come with only an all-wheel-drive option.
Toyota says the SUV has the capacity to tow a maximum of 5000 lbs.
Another Grand thing about the 2024 Grand Highlander is the interior space. As you might expect, there is a ton of room inside, along with no less than 13 cupholders and seven USB-C charging outlets. The 12.3-inch main infotainment screen is standard, and a wireless phone connection is also provided. Now the third row of the SUV is also adult sized. All the extra inches in the length, width, and height of the vehicle have added space in the third row. Also, there is much more space in the cargo. With all seats up, the Grand Highlander has 21 cu.-ft. of cargo space. And with all seats folded down, the space will extend up to 97.5 cu.-ft.
Toyota has not declared its price yet, but it is expected to be priced around $40,000 to start.