There was a time in India where fuel-efficient 100cc bikes like Bajaj CT-100, TVS Max 100, Hero Honda Splendor were dominating the road. The roads were full of these boring commuters. The only sports bike available were of premium brands. Kawasaki Ninja, Honda CBR, and Suzuki Hayabusa were out of reach of middle-class youngsters. Most Indian youngsters, dream of riding a sports bike, and that is where Bajaj Pulsar came into the big picture. Bajaj came with a rounded headlamp, bulky fuel tank naked sportbike called "Pulsar". For its muscular size, they used the tagline "definitely male" to separate it from other thin motorcycles. It was an instant hit and became India's favorite sportbike. Bajaj Pulsar has come a very long way since then and the evolution of Bajaj Pulsar never left its motive of being a muscular motorcycle.
The Bajaj Pulsar traces back its root to the early '20s and since then there has been the addition of numerous models and variants. It not only evolved in its appearance but also in technology. The brand is growing stronger and popular day by day.
Bajaj Pulsar – The Evolution
To date, Bajaj has given 9 models of Pulsar to the Indian Market. The Pulsar range comes with multiple features that were very astounding to the Indians and made them fall in love with their brand. It gave bikes ranging from 125cc to 220cc to date. Bajaj sold over 1.2 crore Pulsars in the last 18 years.
Bajaj Pulsar 150
This is the first model launched by the Bajaj Company as a sportbike in Indian Market.
Engine- 149CC
Kerb Weight- 150 kg
Fuel tank capacity- 15 liters
Max. power- 14 PS @ 8500 RPM
Fuel type- Petrol
Gear Box- 5 Speed
Tyre Type- Tubeless
Bajaj Pulsar 180
After 150 Pulsar, in the very same year, Bajaj launched a more powerful 180cc Pulsar. Specifications of 180 Pulsar are:
Engine- 178.6cc
Engine Type- 4 stroke, SOHC 2 Valve, Air Cooled, BSVI Compliant DTS-I Fi Engine
Max. Power- 17.02 PS @ 8500 RPM
Max. Torque- 14.52 NM @ 6500 RPM
Fuel Capacity- 15L
Gear Box- 5 Speed
Bajaj Pulsar UG 1
In this variant, round retro headlamps were replaced by twin headlamps. It was also accompanied by the DTSi technology to make the bike more fuel-efficient.
Engine Displacement- 149.1 CC
Engine Type- Air-cooled, 4 stroke
Max. power- 13.0 PS @ 8500 RPM
Max. Torque- 11.0 NM @6500 RPM
Fuel type- Petrol
Starter- Electric Kick
Pulsar UG 2
This model of pulsar got all the all-black theme and became the dream bike of a lot of youngsters. 17-inch alloy wheels were also added to make the bike look more attractive.
Engine Displacement- 178.6 CC
Engine Type: Air-cooled, 4Stroke
Fuel Type- Petrol
Max. Power- 16.5 PS @8500 RPM
Max. Torque- 14.7 Nm @ 6500
Starter- Electric kick
Pulsar 200 DTS-I and Pulsar 220 DTS-Fi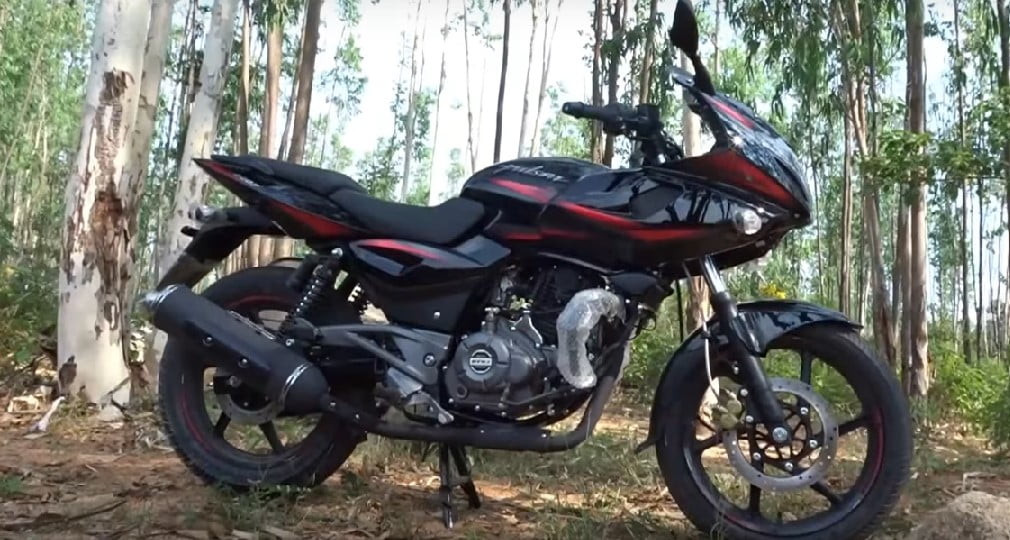 These two models have a more muscular and sportiest look. These two bikes looked more appealing and eye-catching. They had rear disc breaks too.
135 LS
This model was launched, for people who want to ride daily and do their day-to-day work. This model has a small engine and gives the feel of riding a sports bike.
NS200
At this time Bajaj Collaborated with KTM and gave birth to a naked sports bike. The engine produced 23hp of power. With the launch of the Pulsar 200 NS, Bajaj gave a tough competition to Suzuki Gixxer and Yamaha FZ series.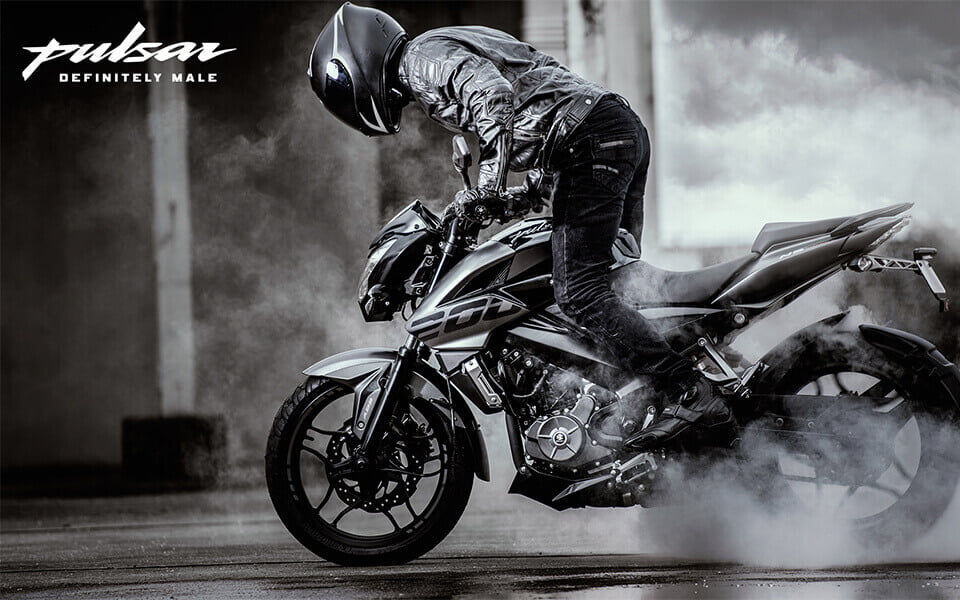 Engine Displacement- 199.5 CC
Engine Type- 4 stroke, SOHC 4 Valve, Liquid-cooled, Triple spark, BSVI compliant Fl DTS-I Engine
Max. Power- 18 KW@ 9750 RPM
Max. Torque- 18.5 @ 8000
Fuel Tank- 12 L
Body Type- Sports Naked, Sports Bike
RS200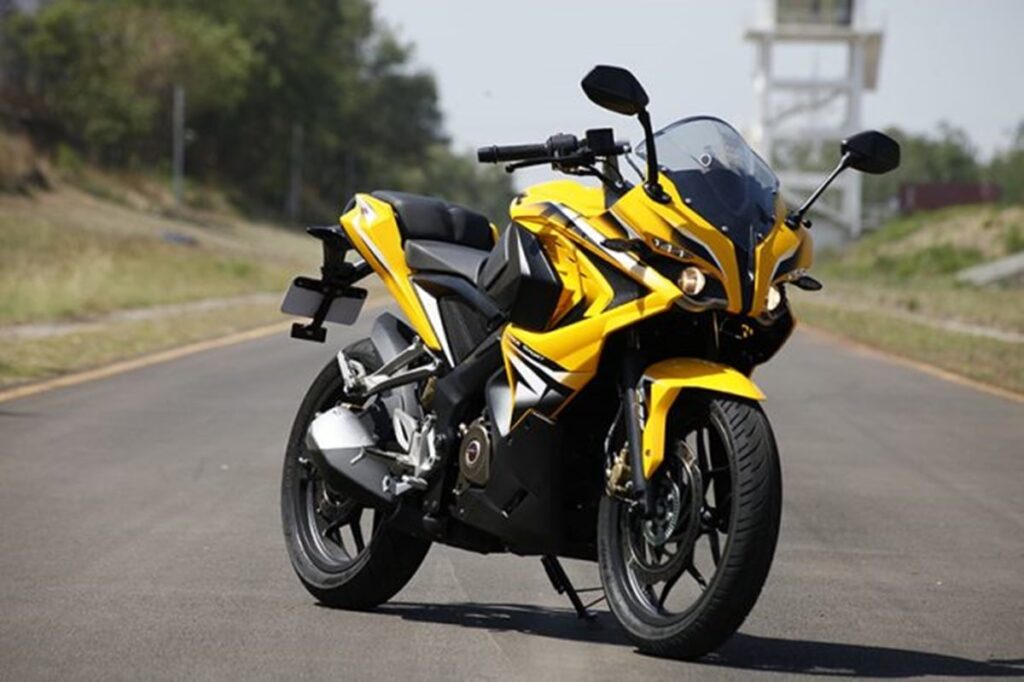 This is a major model, with the Race Sports edition of the Pulsar. It had 24hp power output.
Engine Displacement- 199.5 CC
Engine Type- Fuel injection system, Triple spark 4 Valve 200 CC BSVI, DTS-I FL Engine, Liquid Cooled
Fuel Capacity- 13 L
Body Type- Sports Bike
Starter- Self Start only
Bajaj Pulsar 125 Neon
It the smallest in size Pulsar to date and many parts are borrowed from the Pulsar 150. It has neon color highlights for a more visually appealing look.
Apart from these models available in the market, Bajaj also unveiled the 400 version of Pulsar NS and RS. But they have not witnessed the light of market yet. Let's see what happens in the future.
Bajaj Pulsar has not only been popular in India but also abroad. It has been an awe-inspiring brand and also a style statement for many. The huge makeovers over time had a major impact on many of us and became the best-selling sportbike. The Evolution of Bajaj Pulsar has not stopped yet. With the rate, it is improving every year, we can say that the best Bajaj Puslar is yet to come.
Keep Visiting TAB – The Auto Blogs for more from the world of Automobiles.