Many people are bored of riding normal bikes and are getting inclined towards sports bikes. So many premium brands like Ducati, BMW, Kawasaki, Aprilia, Yamaha, Honda, MV Agusta, and many others have started manufacturing sports bikes. The companies optimize the sports bike for pick-up, acceleration, speed, braking, agility, and look. It sets the bar very high on looks, power, agility, weight, and speed. But these facilities come at the cost of comfort and fuel efficiency. They have the least comfort and fuel efficiency as compared to other motorcycles. These brands have a very high demand in the consumer market as well as the racing tracks.  Its thrilling acceleration, braking power, speed, and its cornering abilities are the best part of these sports bike. So everything comes with a price, most sports bikes are costly and are potentially dangerous vehicles. so let's find out what are the top 5 sports bikes in the world in 2021.
History of sports bike
In 1969, Honda CB750 was introduced with a increase in the power and speed of bike. And it was available at a very affordable or reasonable price to the general public. Following to that, many improvements in suspension and braking was done and many sports bike were launched. Many variations like the naked bike, streetfighter with new looks were added. This is how, the era of sports bike started.
Top 5 sports bike in the world
The momentum, agility, acceleration, looks, and braking are very mystifying. The true potential of sports bikes could be seen in the racing tracks. Remain attached to the screen and satisfy your hunger for the top 5 sports bike in the world.
5. BMW S1000RR
The BMW has got its racing and speed features from its parental corporation, which the BMW. Recently the BMW Motorrad has updated S1000RR to meet its Euro 5 emission norms. It is entirely restructured as compared to its previous version.
Its top speed is 303 kph, making it the fastest BMW ever. The acceleration is 0-60 mph. It is available in 3 variants- Standard, Pro, and Pro M Sport. The main attractions of the BMW S1000RR are – its new black paint scheme, twin LED headlamp setup, Bluetooth enables 6.5-inch color TFT instrument console, and a four-cylinder piston inline 999 CC engine. The engine produces 13,500 RPM, 204 HP, and 113 nm of torque at 11000 RPM. It is equipped with double disc brakes and tubeless tyres. It has smaller engine parts and exhaust systems, in the new model of BMW S1000RR.
4. Suzuki Hayabusa
After this bike was launched the bars for sports bikes were really set high and the Suzuki Hayabusa retained the number one position for the past two decades. It also had the fastest production for many years. Hayabusa was framed with high agility, power, acceleration, and dynamic looks. It was named 'The big daddy Hayabusa' and became the most popular bike in the world.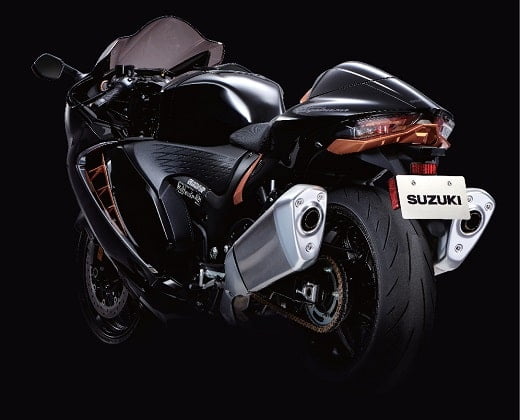 The top speed of Hayabusa is 312 km/h, and acceleration is 0-60 mph. It has a 1299 CC, liquid cooled 4- Stroke, 4 cylinder, DOHC engine.
But it is not the fastest car anymore. Many brands have now launched new models of sports bike, which is much more fast than Hayabusa. Sadly, the company now is also thinking to discontinue the production of this bike because of some emission norm restrictions.
3. Kawasaki Ninja ZX-14R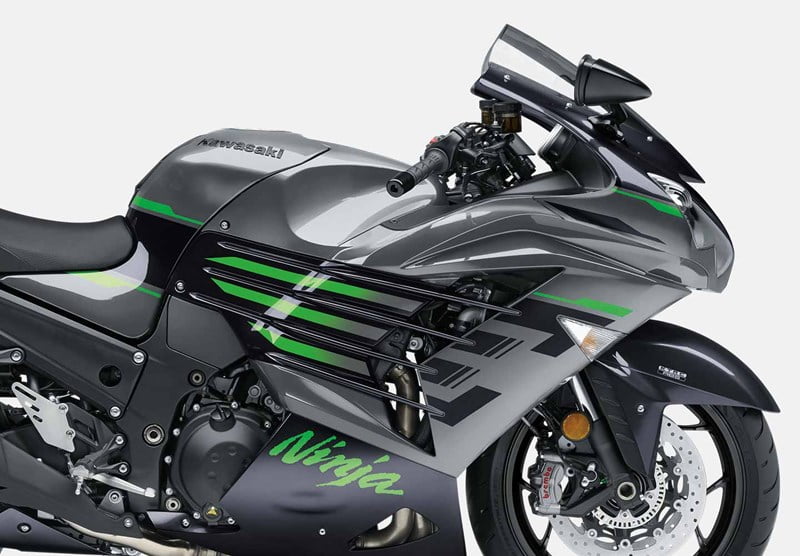 ZX-14R has a broad fan base all around the world. it got last updated in 2016, which is expected to be a lot better version. The updated version looks more stylish and premium in terms of appearance. It has a broad V-shaped front cowl which gives the bike a very aggressive look and makes it look very advanced. It has a top speed of 335 km/h. This super vehicle could travel 0 to 100 k/h. It is also powered by 1441 CC liquid-cooled, 4 strokes, 16 valve DOHC, incline four-cylinder engine. The engine produces 200 bhp and 210 bhp with RAM air and maximum torque of 158 Nm.
The multi chamber lights at the front gives it a very unique look. The tinted visor also complements the style language. For its modern technology and research it became the best street bike. It has consistently been, among the best street bikes. It is rumored to compete with Suzuki Hayabusa.
2- Lightning LS- 218
Lightning LS- 218, a fully functioning motorcycle was launched by the Silicon Valley brand. LS-218 the fastest electric motorcycle and also the fastest street bike. The bike has pushed all boundaries, to make what is possible for an electric superbike. It has given its consumers the best product, with the highest performance and best quality. Lightning LS-218 has become the fastest production electric motorcycle. It boosts track-friendly performance combined with the practicality of a daily commuter.
The electric sportbike has a top speed of 351 km/h and acceleration is 0-60 mph. It is powered by IPM liquid cooled 150 kw+ ; 380V 20 KWH battery price motor, a torque of 228 NM and 203 PS power. It is available in three trims- Standard, Mild range and Carbon Edition. There are several other aerodynamics elements used in the article. The bodywork is made of carbon fibre and this makes the body lighter. The charging in the 3 models of Lightning LS 218 varies. The 3.3 kw charger will charge the battery overnight, the 6.6 kw charger will charge the battery in 2-3 hours and the DC Fast charger will charge in 35 minutes.
Well this bike is the first to start the electric revolution.
1. Kawasaki Ninja H2R
The Kawasaki Ninja H2R was first unveiled at the EICMA Motorcycle Show in 2015. It is the fastest motorcycle in the world in 2021, holding a speed record of 400 kmph. It has enormous power, so its liter-class model purely tracks only. The motorcycle is not legal on public roads.
Ninja H2R has high-speed stability and light handling. It has original Kawasaki silver mirror paint. It has a 998.0 CC engine capacity, maximum power is 322.00 bhp @ 14000 rpm, and 15 km/l mileage. it is powered by liquid-cooled, 4-stroke in-line 4 cylinders with supercharger, DOHC, 16 Valves engine. H2R's devilish engine produces over 310 hp, making it one of the most powerful motorcycles.
Read more about this beast here Kawasaki Ninja H2R
In the interest of keeping the engine compact and simple, a single lubrication system provides cooling oil for the engine. A pair of massive 330 mm Brembo semi-floating discs with a thickness of t5.5 mm deliver superb braking force. Kawasaki's fully electronic throttle actuation system enables the ECU to control the volume of both the fuel and the air delivered to the engine. Its body is aerodynamically designed. The Ninja H2R is also equipped with an in-house designed supercharger.
Most of us prefer sports bikes because they provide high performance and speed records. Generally, these bikes are preferred to ride in race tracks and if you want to travel in a short distance, then the road has to be hassle-free. These bikes have very high power, torque, amazing colors, and lustrous designs. They offer great performance, cornering, and enormous power. However, they are not much comfortable traveling long distances because of their uncomfortable sitting position. Sports bikes often require better suspension, safety, and other equipments for regular travels.