In the 106 year history of British carmakers, Aston Martin has first time made an SUV apart from a coupe or a racing car.
2021 Aston Martin DBX.
2021 Aston Martin DBX is an alternative to the Bentley Bentayga and Lamborghini Urus.
While it is an SUV it's quite clearly an Aston Martin SUV. The grille is very much similar to the DB11. The only difference is it's bigger. It's the biggest grille ever fitted to an Aston Martin. Also, the badge that's the biggest badge ever fitted to an Aston Martin. When you look at the Bonnet you've got the strikes in the air vents. They're just like on the V12 version of the DB11 the way the lines point all the way to the Aston Martin badge. Down the sides 22-inch alloys are standard.
There you can get different designs. There's a vent here to help airflow down the side of the car. The side strikes yet again like the DB 11. You can have those strikes, windows surround, roof bars, and door handles in black color if you want. The windows are frameless. Moving down the back this roof does taper off quite a lot and then the haunch is really stuck out. It accentuated as a result.
The spoiler provides a bit of downforce but also the way it's been designed is that it sends air over the rear screen so you don't need an unsightly rear windscreen wiper. It should clear it. It also got the ducktail spoiler just like on the Vantage. It's great to see it here on an SUV. The rear bumper is really deep. The low section looks sporty. The SUV got two exhaust pipes and these are surrounded by carbon fiber which is an optional extra. These are not fake exhausts. All vents on this car are real.
This is the first-ever SUV to genuinely look like a sports car. Aston Martin has been able to do that because they've built it on an all-new platform which was designed with this car's eventual look in mind. When you compare that to things like the Bentley Bentayga, Lamborghini Urus, and the Porsche Cayenne, they all share the same platform and chassis. So they're constrained by what they can do. They can change interior bits and body panels to give them a little bit of a different feel or look. However, they all pretty much have the same dimensions. You can sort of think of those causes being like a house then you redecorate or renovate. You know you can make it look different but it's still pretty much the same shape or size.
This 2021 Aston Martin DBX is more like a plot of land and then built a house from scratch from the ground up. To look exactly the way they want it. Well, that's our opinion and some will definitely disagree with it. That's okay.
You must read about the 2021 Bentley Bentayga that can make 0-60mph in just 4 seconds.
The only way you really identify a car when you're driving at night is by its exterior lighting design.
Aston has tried to keep it very minimalist but you should be able to recognize it mainly by the DRL which is actually surrounding the cooling duct for the brakes. The indicators are integrated into the DRL. You don't have an animation without it but it's still pretty cool.
The lighting design at the back is actually more distinctive but I guess that's sort of appropriate because that's the view you're gonna be seeing at this car once it overtakes you. Some people may confuse it as being a Vantage that's hovering. The lightboard at the back did actually extend all the way across the booth when you break-in.
2021 Aston Martin DBX Interiors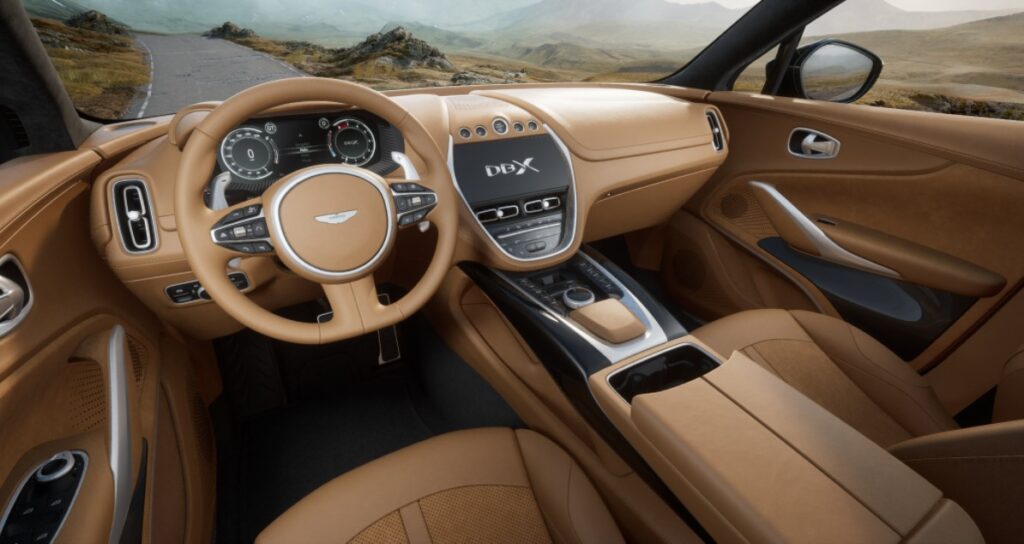 Stu Martin spent six months consulting customers to see what they wanted from the interior of an Aston Martin SUV. This is what they've come up with a car that does feel sport in terms of its design with a center console in the cockpit. But loads and loads of space and loads of headroom, loads of legroom. Making it easy for people where they're really small and really tall to get comfy. That's why a breadth of people can drive this car which hasn't always been the case with Aston Martins in the past. So it is easy to like jack up your seat and get a good view out if you're short and then put it all the way back if you're very big.
It is a nice-looking car. The sweeping dash is pretty cool. You will like the way all the instruments are placed. They're on the center console, very simple to use. You might find this a little bit familiar. It is the same Mercedes' latest MB UX infotainment system that you will find in 2021 Mercedes Maybach GLS 600 which is a very very good thing.
I think that is now the best infotainment system. The steering wheel and we've got all the controls for the entertainment on there. This is the first Aston Martin to get automatic cruise control, lane-keeping assist. So you can basically drive it with your hands off the wheel although you shouldn't have to keep your hands off the wheel otherwise or disengage. But that's good that it finally got that fitted.
There are some very traditional Aston Martin features such as the gear selectors up here and the starter button. Also, things like the metal handle just like in the new Vantage all of the gear selectors solid metal yet again feels super expensive like this as well not just one big visor but a second one here for fall some protection the one not sure about is this just how small the vanity mirror is. It's so narrow you can just about check out your eyebrows well but it just feels lovely.
If you're a vegan and are offended by a car that's trimmed in leather. So, don't worry you can get the 2021 Aston Martin DBX's interior in a microfiber cloth. You get a decent storage area in the door, central armrest, and one unique feature of the front central armrest is that it split open. If a co-passenger puts a bottle in the armrest, the driver can still use the armrest to rest his arm while driving.
In the armrest, you also get lots of storage space with your connectivity with USB connections and a 12volt socket. For storage, you also get a massive glovebox.
Under the central console, there's actually the wireless charging pad for your mobile phone and it's big enough to fit even a large phone. Now, this particular area under the gear selector or the central console came out of the customer critics because female customers said they don't like leaving their handbags on the side. You know when they're stuck in traffic some watch, smash a window, and take their belongings. So you can actually fit a handbag under there.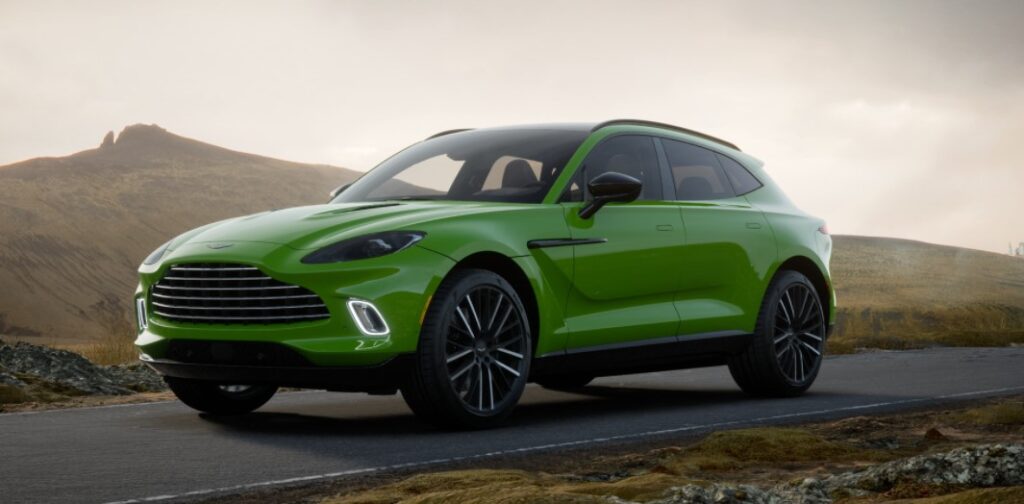 once again Aston Martin listening to its customer and it customs things like massage seats. Customers asked for ambient lighting and you get 64 different colors. Strangely it's just like on a Mercedes.
There's no metallic speaker covers in this car just perforated leather because that looks cooler. I do like the interior design of this car so far so good but what's it like in the backseat.
2021 Aston Martin DBX – Comfort and luxury at the back seat
The first thing I want to change is this there is no intrusive wheel arch so it's dead easy to get in. There is plenty of space back here. Never before as an Aston Martin felt so practical. It's more spacious in the back seats because it's got a larger distance between the front and rear wheels. Experts say that this is shorter than the Bentayga. I have no reason to disbelieve the other experts because there's a lot of knee room, loads of it. The headroom is good as well. I especially like the panoramic glass roof which is standard on all models.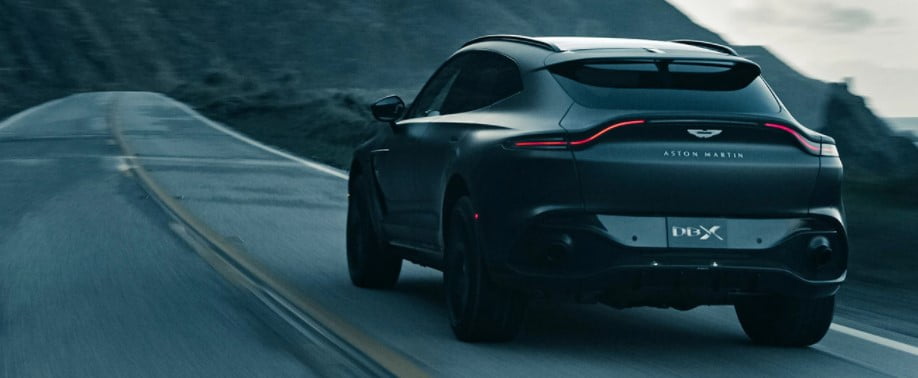 My only complaint is the fact that you can't recline these seats or slide them like you can in some other SUVs. But it's still fairly practical. You've got some decent door bins and got climate control so four-zone. You've got USB connectivity as well. You fold down the armrest, you've got your cupholders. You can fold the central part of the seat down as well for thorough loading. If you need to carry three people, there's a huge hump on the floor but because the footwells are so large, there is not going to be a problem. There's gonna be plenty of space for everyone's feet.
The boot Space
The DBX also has a very big boot. 632 liters of space with the seats in place which is bigger than a Range Rover, Bentayga, Lamborghini Urus, and Porsche Cayenne Coupe. It's a nice square shape though and you've got things like posh tethering points, a scuff plate. The seats can be folded down with just a press of a button.
There are plenty of options to personalize the interiors of the 2021 Aston Martin DBX with various interior colors. You can go for a monotone or duotone color setting for your SUV. A good range of colors are available and believe me they are all exotic. You can also customize the color of the steering wheel, seat belt, carpet, and also type of stitching on the seats.
Aston Martin has created 11 different accessory packs to go with the DBX such as a 6-piece color-coded luggage set, rear seat saddlebags, adventure package, touring package, and a lot more. My favorite accessory is the Pet pack. That includes
Dog Partition
Portable Washer
Rear Bumper Protector
Dog Accessory Holder
There's also a special doggy shower here so you could hose off your dogs. It does make a mess of the interior and Aston Martin branded gate there to stop it dribbling all over the back seats. You are very plush bit for it as well and the important rear bumper cover which you just fall down so it doesn't scratch your car's paintwork.
You're probably wondering how much the DBX costs. Well, it starts from one hundred and fifty-five thousand pounds in the UK. But after a few choice options, you're gonna be getting on for 200 grand really though. It's gonna be similar money to a Bentley Bentayga.
Now the first 500 customers who buy a DBX will get a special bill book on the car which is signed by Aston's creative director Merrick Reitman and the guy who actually designed the car. Also, they get invited to a special cocktail party. It's a ward off Astoria Hotel lovely.
2021 Aston Martin DBX – Engine and performance
What we have here under the hood that powers this luxurious SUV is a Mercedes AMG 4 liter twin-turbo V8. I may say Aston Martin on the engine but it was built in Germany, not in England, we all know that anyway, don't we? Still, you can't argue with the choice because it's a great engine. So you have a hot turbo so there in the V. You get really good responses and this thing in the DBX puts out 550 horsepower and 700 Nm of torque good for 0 to 60mph in just 4.5s. This car will top out at 181miles an hour run. You must listen to its sound because Aston Martin has done a lot of work tuning the exhaust. So it sounds superb.
Aston Martin is very keen for this SUV to still feel very sporty to drive and so they put it through the same 5,000miles of enthusiastic development driving what they do for the Vantage and the DBS to make sure they've got it set up just right. The DBX uses bonded aluminum chassis just like sports cars use. That makes it nice and stiff yet helps keep the weight down. Though to be fair this thing does still weigh 2245 kilos. So about the same as its main rivals.
The DBX has a 9-speed automatic gearbox just like you seem to get in Mercedes. For some reason now it's in spatter all four wheels and it uses an electronically controlled center differential and that can send almost 50 percent of the engine power to the front wheels if it needs the extra grip. Also, you can send a hundred percent of the power if it wants to, to the rear wheel.
So for sporty driving, you've also got an electronically controlled limited-slip differential on the back axle. It can move power between the rear wheels whichever once again has the most grip to improve cornering and has also torque vectoring by braking. So it should be good fun to drive. Also, they fitted the car with a carbon fiber prop shaft so you have less inertia that should make it a bit more responsive to throttle inputs. The car has different driving modes so you change them by pressing the buttons at the central console. You have GT, Sport and Sport Plus. They alter the throttle response and the weight of the steering and all that kind of stuff also.
The car is fitted with active anti-roll bars and basically what that does is use the adaptive dampers to stiffen up the corner of the car when it starts to lean at the turn. Keep it nice and flat as well as the three on-road driving modes. There are two off-road ones terrain and terrain plus. If it's really tricky you also have stuff like hill descent control. This car is actually designed to be taken off-road occasionally. Though no one ever will you could if you wanted to.
The car gets a three-chamber air suspension and you can raise it up by forty-five millimeters over the standard-setting If you need to go off-road. You can also lower it by 50 millimeters below the standard-setting if you want to make it look sporty or easier to get in and out of. You can do it at the boot as well by pressing a button making it easier for loading.
Aston has worked with Pirelli to create three specific tires for the DBX. They've also fitted it with some big-ass brake so you've got six pop calipers upfront and they go at forty-one-centimeter discs. At the back, you've got 39-centimeter discs. Now, this is a little bit unusual a to which setup on an Aston Martin. This car can definitely tow actually as the mighty did a lot of testing towing this car with a trailer with various cars on the back including a DBS.
It's a good-looking SUV. It's luxurious inside and practical. DBX is easily gonna be Aston's best-selling car ever.