Kia is a relatively new brand in the Indian market but they have seen a substantial amount of success with their products like the Celtos and the Sonnet. They have seen a lot of love from Indian consumers. Well, they have a plan for a fourth product and it is finally here. It is the Kia Carens.
Let's dive right into this product and see their latest offering. Now, this is a three-row car but Kia is not calling it an MPV and when you do look at it, it is a nice blend between an MPV and an SUV. It has a good amount of ground clearance and a really long wheelbase which Kia claim is the longest wheelbase in the class. So it should be a very roomy car on the inside. We do not have the list of its full features but will give you some insights.
2022 Kia Carens -Exteriors
First, let's dive right in and talk about the looks of the car and how it is from the outside. At the front, it's a very clean-looking design but of course, there are a lot of Kia elements that always jazz it up like the 3D effect on the piano black that runs right across the top. There are chrome garnishes that cut right through the front as well. Of course, you have distinctive DRLs which Kia claims are from the constellation of the stars as well. You also have a three-cube headlamp underneath and that triple layer follows through with the fog lamps at the bottom around the bottom much like the Kia Celtos that we see. The chrome with the 3D design effect as well. So yes there's a lot of chrome around this car which is something that Indian consumers love. Kia really knows that.
Let's come around the side. You see that the lamps do wrap around the side. You have16 inch tires with a really nice set of alloys. Alloys are important to Indian consumers, Kia knows that also. So this looks like quite a stylish set of alloys. The side profile is quite flat and like we told you there is a very long wheelbase and a good amount of ground clearance. So you really don't have to worry about anything. There's a blackened-out portion and once again a chrome garnish that runs right across the bottom.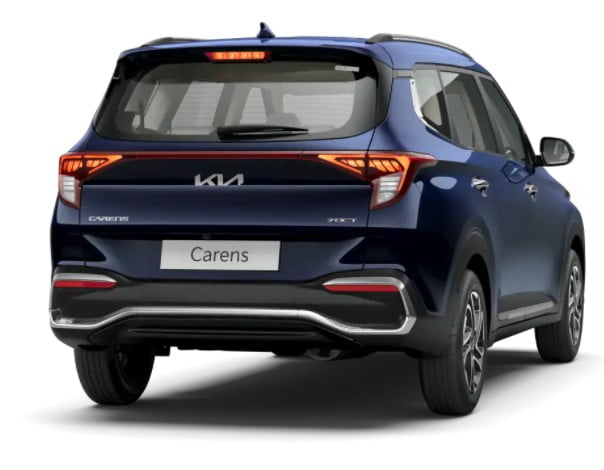 Now on the top, you see quite a flat roofline and that is to ensure that enough space is opened up at the rear for the third row of seats. Now another thing is that there is a sunroof but Kia made it clear that there will never be a panoramic sunroof because they have the roof-mounted aircon which means that the sunroof cannot extend all the way to the rear like it does in other products.
A look at the rear of the car and you will notice it's quite a clean rear apart from that chrome garnish that runs across the bottom again with the 3D elements. There's a very interesting set of tail lamps that kind of wraps itself around the sides. It's connected by a light bar in the middle. It has an interesting graphic and from the side, there is a sharp crease that runs over to the rear door handle and from the front headlamps to the front door handle. Now, this is an interesting-looking car, and like we said it's a nice blend between SUV and MPV. We expect it to be launched in the first quarter of next year and that's something to look forward to at this time.
Kia Carens – Interior, engine, and safety
About the interior, you will be getting a 10.25-inch touchscreen. You get a fully digital instrument display. There are lots of practical storage areas. There are fold-out tables for the rear row and you get 64 colors of ambient lighting as well on the inside. 2022 Kia Carens will share the same engine as in Kia Seltos. So you'll get the same engine and gearbox combinations as well. On the safety front, you get vehicle stability management, you get ESC, you get ABS, and you get six airbags as well as all-wheel disc brakes. So yes they are offering quite a bit on safety. There are other features too with the class-leading space that Kia promises.
The Carens should be a roomy car. It will come in six and seven-seater options. Now the Kia Carens is coming to you like we said in the first quarter of next year. It will rival directly with Hyundai Alcazar, Mahindra XUV700, and Tata Safari.