Corolla – Is there anything good?
When you're shopping for a small car there's a general rule of thumb that you should follow. If you need space at the rear, skip the sedan and go with the hatchback and that's mostly true of the 2022 Toyota Corolla Hatchback except what this thing gains in cargo room it gives up more than its fair share in the back seat. There aren't many compact cars left on the market these days let alone ones that are available in two body styles. We are happy this Corolla hatchback even exists but on the other, we just don't think it's as practical as it probably should be.
A big reason why is probably that there's a Corolla Wagon that exists in other parts of the world but that's not the case in Canada and other American countries which means there isn't a whole lot of legroom in the back of this thing. There's about five inches less legroom in the back of this than the Corolla sedan which is insane. It's also not the norm if you take a look at the Subaru Impreza, the Honda Civic, or even the Kia Forte, all of them have identical interior dimensions whether you're talking about the sedan or the hatchback. There's even less legroom in the back of this thing than the tiny Mitsubishi Mirage but that thing doesn't have as much cargo room like this. That's where you start to see the difference.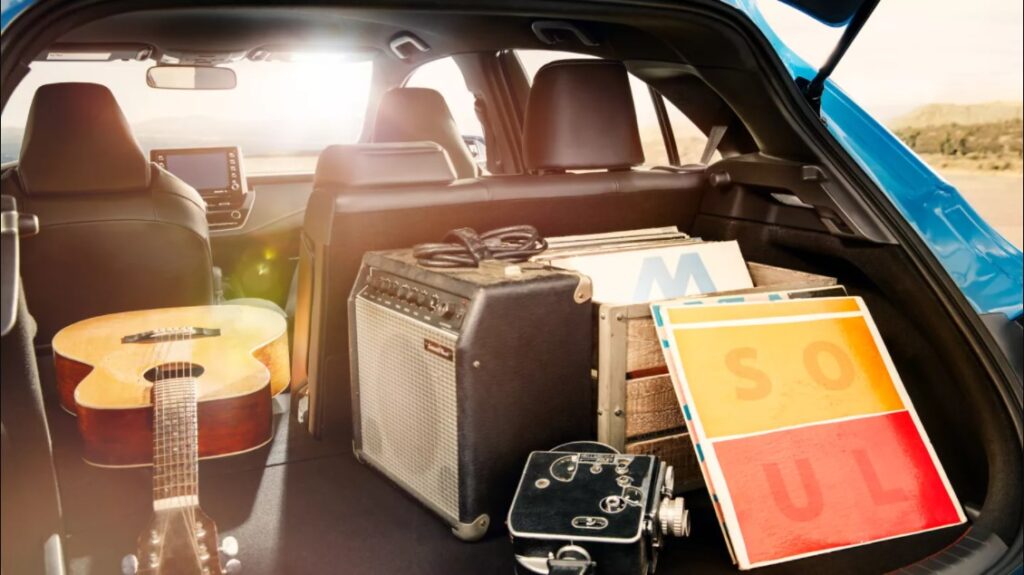 Nowadays, there are about 660liters behind the back seats of this thing which is pretty good. It's not quite as much like the Civic or the Forte. But it is more than the Impreza hatch. There's one downside though because a couple years ago Toyota ditched the spare tire which is great and it gave you a little inflation kit instead. But the problem is when you fold down the backseats they're not flat with the load floor anymore and we really wish they would give you that load floor. You get the adjustable floor in the Hyundai venue. That way when you fold the back seats down you can actually use the whole thing. It's really a handy trick and it makes a car like this way more practical.
2022 Toyota Corolla – interior space
Toyota Corolla Hatchback is identical to the Corolla sedan from the b pillars forward and that's mostly good news. There's a decent amount of space in here especially because there's no sunroof. The seats at the front are very high. If you are quite tall and sit upright, you will catch the edge of the sun visor but it's not bad for a compact car. Overall the bigger issue is, there's not a ton of space for small items like wallets and phones. The door pockets aren't all that big also. You get two cup holders. The bin is not very big either. You get a wireless phone charger. It's great because it keeps your phone from sliding around but it's tucked way up under the dash behind the heated switch toggles. Every time you reach for your phone you turn them on or off.
The heated seats are not standard in the corolla hatchback. If you want them you have to pay about two grand more to get the SE package. This makes this right around $25500 before tax for the manual transmission and a thousand bucks more for the automatic. But it's like the Corolla in the past. If you can drive with the stick or you want to learn how this is a great car to do it in.
The cloth on these seats isn't all that nice. The seats themselves are very comfortable and supportive. They don't wrap around you too much to the point that they're overly constricting. But there's just enough bolstering to keep you from sliding around. It's kind of firm in a good way if you get what it means. Even the back seats, they're not that bad aside from the space itself. you will find there is not anywhere near enough room to sit back there for prolonged periods of time. But the seats themselves are fairly comfortable and then everything else in here. Well, it's easy to use and it's easy to drive.
Now, this gets an 8-inch touchscreen. It's not the best out there but it is responsive and it's got standard Apple CarPlay and Android Auto connections which is great. It's also got a ton of physical controls around it. There are volume and tune knobs and there are a bunch of buttons. Though they're pretty tiny and the labels for them are pretty small too. They're hard to read at a glance but we'd prefer to have them than not.
We really do like some of them like the one that's labeled map. Now that's usually something you'd see when you have built-in navigation. This one doesn't but it does jump to your Google Maps through Apple CarPlay and that is very cool. Because it just takes one step out of the process and that is great. Let's say when you're jumping from audio to maps, if you're out driving around, you don't want to spend too much time moving around the screen to figure out what you want to do. So it's good that that shortcut is there. Then same with the HVAC controls. There are a ton of physical controls. Here again, the labels aren't all that big. But it's nice the way it's all laid out. It's just a very user-friendly easy car to drive.
2022 Toyota Corolla Engine & Performance
Now obviously this is no Yaris GR but it does have some peppiness. It uses a two-liter naturally aspirated four-cylinder engine. It makes 169HP and 151lb-ft of torque. That's not a ton of output but it is more than enough. When you pair it with this six-speed manual there's a ton of guts. When you need to pass or merge on the highway all you got to do is downshift, spike those revs, and off you go. You know it does keep the engine speed a little higher than you might expect.
All three trims of the Corolla Hatchback come with a 2.0L Dynamic Force 16 valve VVT-i engine. The engine comes mated to a Dynamic-shift Continuously Variable Transmission as standard. You can also go for 6-speed Intelligent Manual transmission (IMT), available as an option on Corolla Hatchback SE and XSE.
Talking about the performance of the car, the hatchback uses MacPherson strut front suspension while Multi-link suspension is in the rear. The power-assisted ventilated 11.5-inch discs at the front and solid 10.5-inch discs are standard on all three trims. The brakes are combined with an Anti-lock brake system (ABS), Vehicle stability control (VSC), and an Electronically controlled braking system (ECB). There are many other safety features that you can read in the safety features section below.
The ride quality is good. It's not too stiff. The only problem is it does get a little noisy with these 18-inch wheels that come with the XSE upgrade package is the low-profile tires. Aside from that noise, it is very user-friendly and that extends beyond the drive itself. Everything in here just makes a lot of sense.
Now the clutch travel is a little bit long but it doesn't take too much time to get the hang of it and the other cool thing is, this car is basically impossible to stall. Even with some effort, you are not going to stall this thing and that's going to inspire confidence when you're getting the hang of this gearbox. The other cool thing is it's got auto rev-matching which isn't something you usually see in a compact car. That's usually for proper performance cars like the honda civic type R or the last generation of the Chevy Corvette. So it's kind of cool that it's here that makes you feel like a hero.
Now officially with the six-speed manual, it's rated for 7.6liters per hundred kilometers combined, and with the automatic that drops to 6.7liters per hundred. These fuel economy numbers are in line with the Honda Civic hatchback that uses a slightly smaller turbocharged engine. So it is competitive there but the biggest advantage this hatchback has over the Civic is its relative affordability.
2022 Toyota Corolla Hatchback variants, features & price
2022 Toyota Corolla starts right around at $20815 before tax for SE trim and goes all the up to $23765 for XSE. Well, most of the important features are standard on the Corolla Hatchback SE, the base model. However, in the comparatively cold regions of Canada and the United States, you need heated seats and a heated steering wheel. So spending $20815 will not get you some of the features but it's still a decent package as compared to Honda Civic Hatchback.
What you get with the base variant Corolla Hatcback SE?
16-inch twin-spoke alloy wheels
Automatic climate control
4.2-inch multi-information display
Paddle shifter for CVT
Electric parking brake
8-inch touchscreen and six speakers
Toyota safety sense 2.0
star safety system
Ten airbags
Features in Corolla Hatchback SE Nightshade
SE nightshade has all the features of SE with some additional features and improvements, it stands at a price range of $22815. So what are the additional features in SE Nightshade?
Apart from SE features, you will get
18-inch black alloy wheels
All exterior elements in black
Black front lower grille surround
Black rear spoiler
Black heated power outside mirrors with turn signal indicators
Single exhaust with dual black diffusers
Black rear diffuser surround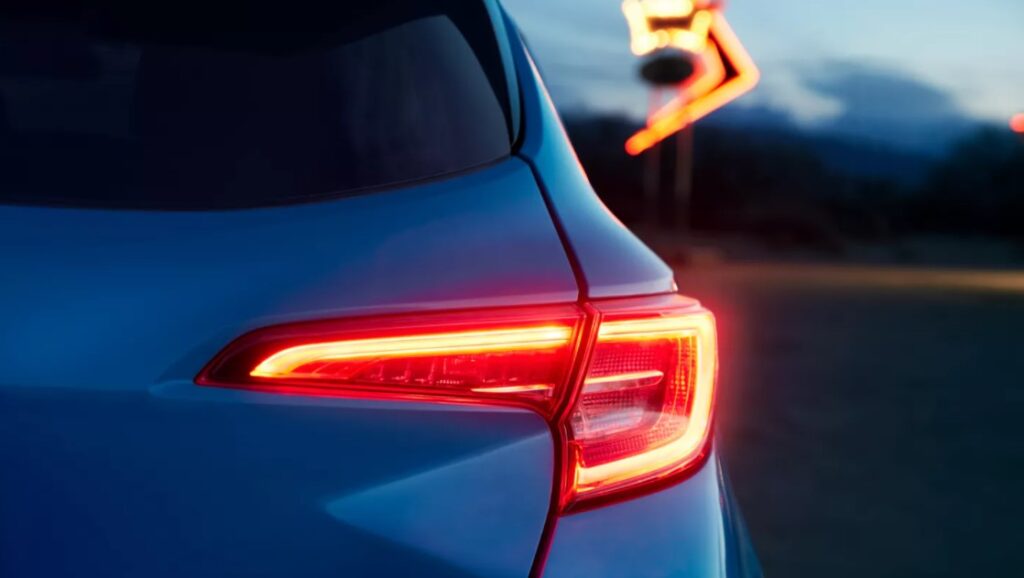 SE Nightshade trim does not add much to the number of features rather it features the exterior elements of SE in black. Also, you get 18-inch Black alloy wheels that are not available in the SE variant not even as an option.
Features of Corolla Hatchback XSE trim
18-inch Machined-finished alloy wheels
Integrated LED fog lights
Front Chrome-colored grille surround
Dual Zone automatic climate control
7-inch Multi-information Display (MID)
Leather-trimmed sport seats with fabric inserts include:
Heated front seats with sport bolsters
Blind Spot Monitor (BSM) with Rear Cross-Traffic Alert (RCTA)
The highlights of the XSE trim are 18-inch machined alloy wheels, 7-inch MID, Heated seats, and a Blind-spot monitoring system.
Go for a detailed features list of Corolla Hatchback here.
Choosing SE trim may get you a feeling of driving a cheap commuter car. But with only $3000 more you can go for the top trim XSE or SE Nightshade Edition for just $2000 more. The SE Nightshade edition upgrade is the sweet spot because it gives you just a little bit more than the base trim.
The two variants of the 2022 Toyota Corolla Hatchback other than SE are SE Nightshade edition and XSE. These two higher variants start at $22815 & $23765 before tax respectively. You can get the heated seats and 18-inch alloy wheels in the XSE by spending $23765 but to get the same thing in Honda Civic Hatchback, you will have to spend $26600 to get Honda Civic EX-L Trim. Spending $23765 on 2022 Toyota Corolla Hatchback XSE will get you alloy wheels, heated seats, a heated steering wheel, blindspot monitoring with rear cross-traffic alert, the wireless charger, and satellite radio. It does make it a competitive package.
The rest of this car feels a little bit downmarket because some of the plastics in here aren't all that nice. The cloth on the seats that's just okay and that's why we think paying about 20 grand before tax for this thing makes a lot of sense because there is an XSE package on top of this.
2022 Toyota Corolla Hatchback safety features
Apart from Blind Spot Monitor (BSM) with Rear Cross-Traffic Alert (RCTA), every other safety feature is standard on the 2022 Toyota Corolla Hatchback. All three trims of Corolla come fitted with Toyota Safety Sense 2.0, Star Safety System, and 10 airbags. Star Safety system is a package that includes Enhanced Vehicle Stability Control (VSC), Traction Control (TRAC), 4-wheel Anti-lock Brake System (ABS), Electronic Brake-force Distribution (EBD), Brake Assist (BA), and Smart Stop Technology (SST).
And the Toyota Safety Sense 2.0 has the following safety features
Pre-Collision System with Pedestrian Detection,
Lane Departure Alert with Steering Assist,
Automatic High Beams (AHB),
Full-Speed Range Dynamic Radar Cruise Control (DRCC),
Road Sign Assist (RSA),
Lane Tracing Assist (LTA).
The hatchback also has the Hill Start Assist Control (HAC), and Anti-theft system with engine immobilizer as standard.
The ten airbags cover the whole passenger cabin. It has Advanced Airbag System with driver and front passenger dual-stage airbags, front side airbags, driver knee airbag, passenger seat cushion airbag, front, and rear side curtain airbags, and seat-mounted side airbags
Now the cool thing about the advanced safety features, blindspot monitoring, that is the only one that isn't standard. You get everything else right up to and including adaptive cruise control. Though understandably it doesn't work in stop-and-go traffic with the manual transmission that's how you stall. But it does work at speeds above 50kmph. If you wanted to work in stop and go you have to get the continuously variable automatic transmission (CVT). The CVT is just nowhere near as enjoyable as the manual.
Overall, we like the size of the cargo area behind the back seats. 2022 Toyota Corolla SE hatchback is fun to drive for a commuter car and the overall on-road comfort it delivers. You wouldn't like that heated seats aren't standard, how cramped the back seats are or that they don't fold flat. It is a little disappointing that how tight the back seats are in this 2022 Corolla hatchback. Again it's not a bad car overall. If you're not concerned about the backspace then don't hesitate to set your sights on this fairly affordable hatchback. But if you do think you'll need just a little more room for people don't forget to check your other options out there too.