When a thought comes to mind about the most expensive cars, the types of cars that come to our mind are generally the luxurious ones. But that's not true. Surely, there is a whole lot of luxurious and premium cars that are very much expensive that only millionaires can afford to buy them. However, the cost of making a car does not reach its peak in the case of luxury. Making a sports car that not only drives faster but is also performance-oriented is very costly. That's in this list of Top 20 most expensive sports cars in the world, all the listed cars are the sports car. You can also call them hypercars because they have characters well beyond that of a sports car.
#20 2021 Bentley Mulliner Bacalar
Price 1.9 million US Dollars
Starting this list of Top 20 most expensive sports cars is the 2021 Bentley Mulliner Bacalar. The Bentley Mulliner Bacalar is a limited-run two-seater grand tourer convertible built as a homage to Bentley's coachbuilding roots. Under the long hood is the heart of a 6liter W12 engine with 650 horsepower and 667 pound-feet of torque. The car streaks from zero to 60 miles per hour in just 3.5 seconds and a top speed of 200 miles per hour. Just 12 examples of this striking limited edition model are being created. Guaranteeing rarity and exclusivity and offering supreme luxury and breathtaking performance.
#19 2021 SSC Tuatara
Price 1.9 million US Dollars
On January 27, 2021, the Tuatara reached a one-way speed of 286.1 miles per hour and a two-way average of 282.9 miles per hour over the course of 2.3 miles in Florida. They are enough for the company to pipe the Koenigsegg Agera RS's 277.9 miles per hour figure from 2017 and make the Tuatara the world's fastest production car. The tuatara is powered by a nelson racing built 5.9-liter twin-turbo V8 with up to 1350 horsepower on 91 octane pump gas and as much as 1750 horsepower on E85. A 7-speed automated manual transmission built in Italy by Sema sends power to the rear wheels. Just 100 examples are planned to be made. If you have not read about this world's fastest car's features, you should visit this page.
#18 2021 Hennessey Venom F5
Price 2.1 million dollars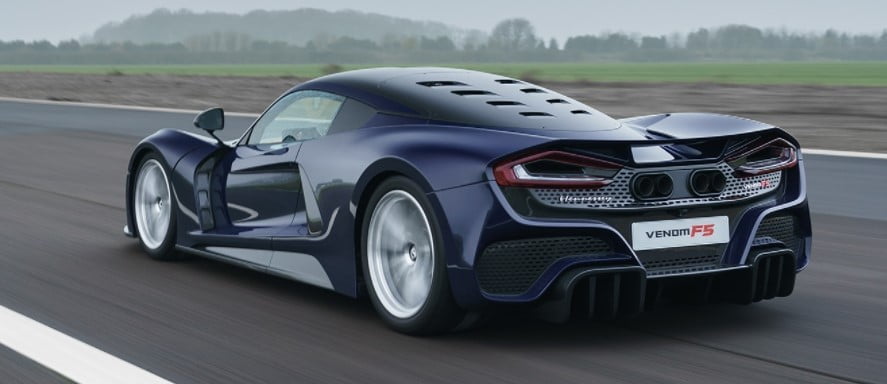 The Hennessey Venom F5 is the world's most powerful road car with performance capabilities that might seem mind-boggling at first. The engine, nicknamed Fury, is a 6.6 liter twin-turbo V8 developed entirely in-house rated at 1817 horsepower and 1193 pound-feet of torque. Hennessey claims a 0 to 62 mile per hour time of fewer than 3 seconds and 0 to 124 miles per hour in just 4.7 seconds. The top speed is 311 miles per hour. Deliveries of the Venom F5 are expected to start this summer. Just 24 will be built. Though any additional variants that will likely add to that figure.
#17 2021 McLaren Speedtail
Price 2.25 million US Dollars
The McLaren Speedtail has a three-seat layout similar to the preceding F-1 which has the driver sitting at the center of the car and slightly forward of the two passenger seats. A twin-turbocharged 4-liter V8 and an electric motor join forces here, producing a total output of 1035 horsepower and 848 pound-feet of torque. The speedtail has a top speed of 250 miles per hour and can accelerate from zero to 186 miles per hour in 12.8 seconds. Only 106 examples of the 2021 McLaren Speedtail will be built with about a third of them going to owners in the US.
#16 2021 Rimac C2
Price 2.4 million US Dollars
In this list of most expensive sports cars in the world, Rimac C2 entering at the position of 16, is the first electric hypercar on this list. The Rimac C2 is a semi-autonomous all-electric hypercar designed and manufactured by the Croatian automotive manufacturer Rimac Automobili. Unveiled in concept form at the 2018 geneva motor show, the Rimac C2 boasts 1914 horsepower which will propel it from zero to 62 miles per hour in just 1.85 seconds and onto a top speed of 258 miles per hour according to Rimac. Rimac plans to produce 150 vehicles and is currently in the process of homologation for the global market. The first deliveries were expected to take place in 2021.
#15 Pininfarina Battista
Price 2.5 million US Dollars.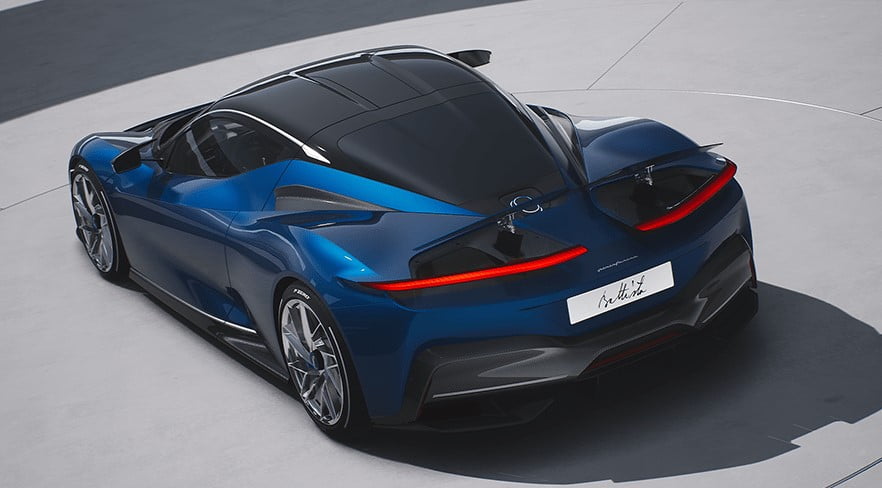 At number 15, the Pininfarina Battista is the second most expensive EV in this list. This is an electric hypercar manufactured by Pininfarina Automobili which is headquartered in Munich, Germany. The Battista is said to get up to 1900 horsepower and 1697 pound-feet of torque. It promises zero to 62 miles per hour in less than two seconds. Zero to 124 miles per hour in under six seconds. Zero to 186 miles per hour in less than12 seconds and a top speed of around 217 miles per hour. Production of the Battista has begun in mid-2021. Only 150 units will ever be made and each of them is individually hand-crafted at the automaker's facility in Turin, Italy.
#14 2022 Mercedes AMG Project One
Price 2.7 million US Dollars
The 2022 Mercedes AMG one is an upcoming hybrid hypercar powered by a 1.6 liter V6 hybrid engine with 8-speed semi-automatic transmission. Mercedes has designed this car to bring formula 1 hybrid technology to the street from the track. The car will have 1021 horsepower all-wheel drive. The upcoming 2022 Mercedes AMG Project One is able to achieve zero to 60 miles per hour in a time of 2.7 seconds which is slightly slower than the Bugatti Chiron but faster than the McLaren Senna. The AMG One's top speed is said to be 217 miles per hour. Just 275 examples will be built and all build slots are sold.
#13 2021 Lotus Evija
Price 2.8 million US Dollars
The Lotus Evija is said to be one of the coolest new cars of 2021. It's an all-electric, all-wheel-drive hypercar, making 1973 horsepower and 1254 pound-feet of torque from its four independent motors packed into a stunning carbon fiber body. Lotus claims that the Avija will be able to accelerate from 0 to 62 miles per hour in under 3 seconds, from 0 to 186 miles per hour in under 9 seconds, and achieve a top speed of over 200miles per hour. Production starts in 2021. Just 130 examples will be built.
#12 2022 Aston Martin Valkyrie
Price 3 million US Dollars
The Valkyrie's hybrid powertrain consists of a naturally aspirated 6.5 liter V12 and an electric motor. The V12 delivers a thousand horsepower while the battery-electric system designed by Rimac and integral powertrain contribute an additional 160 horsepower combined. The power sources produce a total output of 1160 horsepower and 663pound-feet of torque. Only 150 models of the standard Valkyrie will be offered as the Valkyrie AMR pro production is limited to 25 cars. Read more about this hyper car here.
#11 2021 Koenigsegg Jesko
Price 3 million US Dollars
Koenigsegg's Jesko hypercar was named after his father who helped him start the company. Claims over 300 miles per hour as its top speed, the car comes with a 5-liter twin-turbo V8. The company worked on the engine to make it more powerful and lighter than any other V8 it has produced. It will make 1600 horsepower on E85 biofuel and 1280 on regular gasoline. Another variant of Jesko Absolut was first released in 2020. The Jesko Absolut is claimed by the manufacturer to have a top speed in excess of 300 miles per hour in the right conditions and even 330 to 350 miles per hour claim. Just 125 examples will be built and all build slots are sold.
#10 2022 Pagani Huayra R
Priced 3.1 million US Dollars.
In March 2021, Pagani introduced the Huayra R a track-only version of the Huayra. The new Huayra R is powered by a new 6-liter naturally aspirated V12 engine. Pushing out 850 horses and 553pound-feet of torque. The 2022 Pagani Huayra R will be limited to a tiny number of units 30 to be exact. With the price range of 3.1 million US dollars, in 2022 Pagani Huayra R makes the spot at 10th position in this list of the top 20 most expensive sports cars in the world.
#9 2022 Gordon Murray T-50s Niki Lauda
Price 3.4 million US Dollars
This is the Gordon Murray T-50s Niki Lauda the hardcore track-only version of the T-50 supercar named after legendary three-time F1 world champion and Gordon Murray's former broadband teammate Niki Lauda. The car's 725 horsepower naturally aspirated 3.9 liters V12 revs to 12100 rpm in a car slated to only weigh1878 pounds. Just 25 examples will be produced once the production run of the regular t-50 is concluded and some 15 have already been spoken for.
#8 2021 Mclaren Sabre priced 3.5 million dollars
In December 2020 Mclaren unveiled the Sabre a McLaren model exclusively made for the US market. The Sabre will be a hardcore track weapon with extreme aerodynamics whose overall styling is inspired by the Vision Gran Turismo concept and Senna. The car makes 824 horses and pound-feet of torque. McLaren says the car can reach 218 miles per hour which would make it the fastest two-seat Mclaren ever. The Sabre was developed by MSO and only 15 cars will be produced.
#7 2021 Pagani Huayra bc Roadster
Price 3.5 million US Dollars
Introduced in June 2019 on the CSR racing 2 apps. The Huayra BC Roadster is an open-top variant of the Huayra bc. The Huayra BC Roadster has a special AMG-developed 6 liter twin-turbo V12 making 789 horsepower and 774 pound-feet of torque. Production of the BC Roadster will be limited to 40 units only.
#6 2021 Lamborghini SIAN FKP 37
Price 3.6 million dollars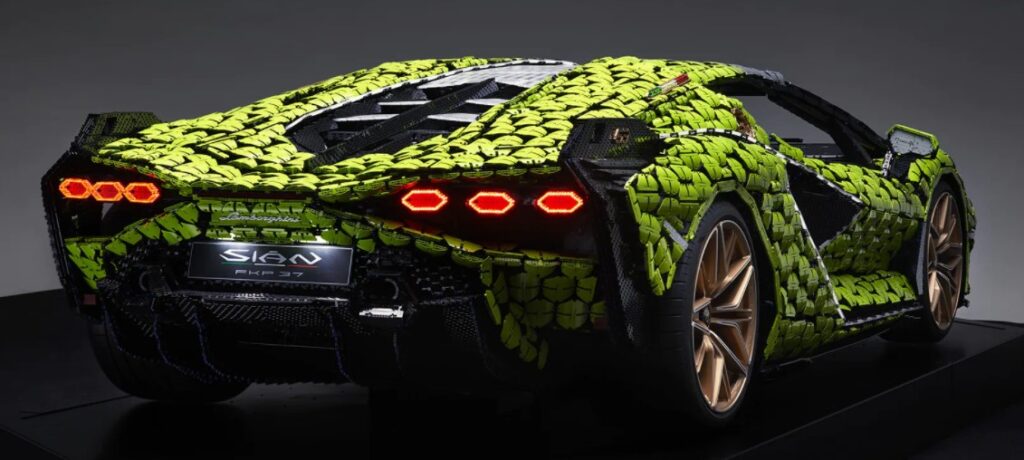 The car is known as the SIAN FKP 37 in recognition of the late Ferdinand Carl peach who was born in 1937. Lamborghini says SIAN translates to flash of lightning in its homeland's Bolognese dialect. The SIAN is built around a naturally aspirated V12 that develops 774 horsepower on its own. An electric motor integrated into the car's gearbox kicks in another 34 horses bringing the total system output to 808 horses. Production of the SIAN FKP 37 will be limited to 63 units of the coop and 19 units of the roadster and all have already been sold.
#5 2021 Bugatti Chiron Pur Sport
Price 3.6 million US Dollars
On March 3rd, 2020, Bugatti introduced the Chiron Pur Sport a handling focus model which will be limited to 60 units. Bugatti has increased the red line for its quad-turbo 8liter W16 engine by 200rpm to 6900 rpm though output remains the same at 1500 horsepower and 1180 pound-feet of torque. According to Bugatti, the Chiron Pur Sport is a full 110 pounds lighter than the normal Chiron because of all of these aero and gearbox changes. The top speed for the Pur Sport has been reduced to just 217 miles per hour. Impressive for most cars but noticeably slower than the normal Chiron's 261 miles per hour top speed.
#4 2021 Bugatti Chiron Super Sport 300 plus
Price 3.9 million US Dollars
On August 2nd, 2019, Bugatti presented a limited-production high-performance variant of the Chiron called the Chiron Supersport 300 plus to owners taking part in the company's 110th-anniversary tour in Europe. The Chiron Supersport 300 plus bodywork has been extended and aerodynamically optimized for extremely high-speed performance. The perfect balance between low drag and downforce improves performance and stability even at speeds over 420 kilometers an hour. The variant is limited to 30 examples and closely resembles the prototype performing the top speed record run 304.7 miles per hour.
#3 2021 Pagani Imola
Price 5.4 million US dollars

Coming on the third in this list of the top 20 most expensive sports cars in the world is the 2021 Pagani Imola. The Imola is the most powerful variant of the Huayra to date named after the historic Italian circuit at which it was developed and which has previously hosted both the san Marino and Italian grand Prix. Power comes from an uprated version of the standard wires twin-turbocharged 6liter Mercedes V12 producing 816 horsepower and 811pound-feet of torque production will consist of a total of five cars built and all have already been sold.
#2 2021 Bugatti Divo
Price 5.8 million US dollars
Bugatti has declared that the Divo is made for corners. The Divo is 77 pounds lighter than the Chiron. The Divo is powered by the same 8-liter quad turbo-charged W16 as the Chiron. It makes 479 horses and 1180 pound-feet of torque. The hyper-car takes 2.4 seconds to 60miles per hour from a standstill and has a top speed of 236 miles per hour. The production of the Divo is limited to 40 units and all have already been sold.
#1 2022 Bugatti Centodieci
Priced 8.9 million US Dollars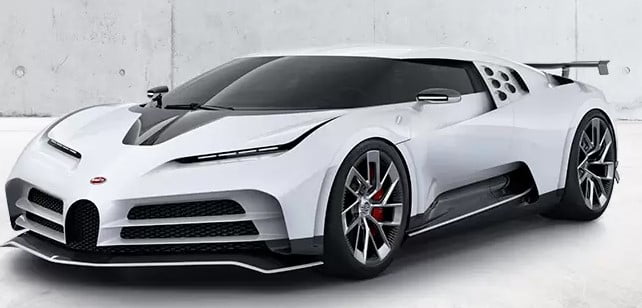 At the top of the list of the top 20 most expensive sports cars in the world is the Bugatti Centodieci with a price tag of 8.9 million US dollars. The Bugatti Centodieci is a homage to the Bugatti EB-110 and a celebration of the Bugatti Marks is the 110th birthday. The power train is largely the same as the one found in a Chiron too but has been faded by Bugatti's engineers to produce 1578 horsepower at 7000rpm. Performance figures are typically impressive. The car reaches 62 miles per hour in 2.4 seconds, 124 miles per hour in 6.1 seconds, and 186 miles per hour in 13.1 seconds. The Centodieci's top speed has been limited to 235 miles per hour. Only 10 units of the Centidieci will be produced. The car will be hand-built in Bugatti's most shine factory and deliveries to customers will start in 2022.