On 10th October 2020, SSC Tuatara became the world's fastest production supercar. Tuatara grabbed this crown after beating the world record of 304mph set by Bugatti Chiron Super Sport 300+ in 2019. Well if you haven't heard this news yet then you must read this complete story of history creation. Shelby Supercars, also known as SSC North America is an American hypercar manufacturer. They have become a very reliant name in producing some of the fastest cars in the world.
SSC started its journey by tuning up the performance of sports cars. Ultimate Aero XT was the first car fully developed by Shelby SuperCars. Founded in 1998, in just 20 years SSC has become the top manufacturer of supercars.
This fast growth of SSC inspired the name of Tuatara. SSC named Tuatara after a lizard found in New Zealand. The Tuatara lizard has the fastest developing DNA in the world.
SSC Tuatara 2020 Specifications and performance
Engine and Transmission
Engine 5.9L Bespoke V8 Twin Turbo
Max Power 1350 HP with 91 Octane
Coefficient of drag 0.279
Engine weight 194.12kg
Car weight 1347kg
7-Speed Robotic Manual Transmission
Tuatara is powered by a 5.9L bespoke V8 Twin Turbo engine which delivers a maximum of 1350 HP. The supercar weighs only 1347kg which means you get more than 1HP for 1kg. And if you choose E85 fuel, the engine power get increased to 1750 HP which means you get more than 1 HP for every kg and that is huge. SSC developed this engine in collaboration with Nelson racing engines. Nelson designed this engine specially for Tuatara and reduced the lag we often found in turbo engines.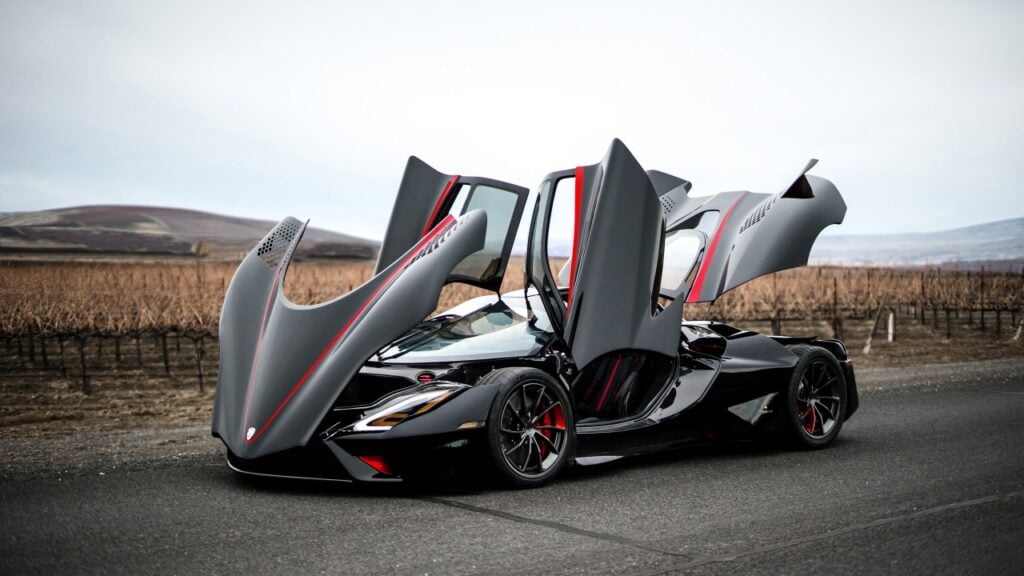 This world's fastest supercar uses 7-speed robotic manual transmission and shifts gear in less than 100 microseconds.
Drive Modes
SSC offers three drive modes in Tuatara.
Sport mode
Track mode
Front lift mode
In sport mode, the car adjusts its front and rear height to 4″ and 4.5″ to easily swift through the city roads and highways. Robotic manual transmission becomes docile for easy operation.
In track mode, the 2020 SSC Tuatara unleashes the inside beast and showcases its true abilities. The car adjusts its front and rear height to 2.74″ and 3.25″ to offer extreme track level handling. The transmission system becomes more aggressive and performs the gear shifting in 50 milliseconds.
The Front lift mode provides an extra lift of 40mm to the front suspension which helps in difficult situations like speed bumper.
2020 SSC Tuatara Design and interior
Every inch of this car contributes to achieving better aerodynamics. This is the reason that SSC was able to reduce the coefficient of drag to 0.279 and which is again minimum among the supercars.
The interior of the Tuatara is simplistic yet futuristic. The digital instrument cluster behind the driving wheel gives useful information to the driver about the car. Tuatara does not have any control buttons inside the cabin. Instead, we get a touch screen at the central console to operate everything from Air conditioner, navigation to windows.
SSC Tuatara 2020 Price
Tuatara has been designed for both city and track driving. It offers great handling for track and great visibility to drive through city traffic. You can add this supercar to your collection at a price of $1.6m.
It is the introductory price and SSC offers a wide range of customization options to make your car unique from the rest of SSC Tuatara. But you have to hurry because SSC will be manufacturing only 100 examples of Tuatara.
Keep visiting TAB – The Auto Blogs for more from the world of Automobiles