When it comes to the fastest motorcycles, it's very difficult to decide because almost every bigger motorcycle makers have a high number with them and in racing sports, the top speed of the bike also depends on the rider. But in the case of the fastest production motorcycles, we can surely rate and sort the bike according to their maximum horsepower and rated top speed. So, here we have assembled the top 10 fastest production motorcycles in the world that you can buy in 2022.
First, let us give you a quick list of these top 10 fastest motorcycles in the world with their price and speed and when you really want to know how do these bikes burn their fuels, you can go down and read and know it. So, here is the list first.
Top 10 fastest production motorcycles in the world – The List
Kawasaki Ninja H2R 400+km/h

MTT 420 RR 400km/h

Ducati Panigale V4R 306km/h

Honda CBR1000RR-R Fireblade SP 305+km/h

Aprilia RSV4 1100 Factory 305km/h

MV Agusta Brutale 1000 Serie Oro 302+km/h

BMW S1000RR 301+km/h

Suzuki GSX-R1000R 300+km/h

Kawasaki ZX-10RR 300+km/h

Yamaha YZF-R1M 299km/h
#10 Yamaha YZF-R1M
Top speed – 299 km/h
Legendary sports bikes really don't come much bigger than the Yamaha R1. Yamaha has taken the wraps off its latest-generation flagship sportbikes, the 2021 YZF-R1M, featuring refinements to the CP4 cross-plane crankshaft engine,  an augmented electronic rider aids package, enhanced suspension, and redesigned bodywork. The R1 was the only machine to take the crown of Honda's all-conquering 'Blade. This bike is equipped with Ӧhlins NPX gas-charged fork with optimized Electronic Racing Suspension function—the first-ever used on a production motorcycle. Its 998cc, liquid-cooled in line 4 engine provides an estimated 200 horsepower at the redline. It just takes 2.7 seconds to reach 100 km/h from a standstill while the top speed is limited to 299 km/h electronically. Its price is price $26,299.
#9 Kawasaki Ninja ZX-10RR
Top speed – 300+km/h
On the track, it's an absolute weapon. Much of the credit goes to its truly excellent Showa-sourced gas-charged suspension. There's no shortage of sweet handling superbikes on the market, however, the front suspension complements the Ninja in a way other manufacturers cannot match. It's easily one of the better handling liter-class bikes you can buy today. As if the ZX-10RR wasn't special enough, Kawasaki is limiting its production run to 500 to ensure exclusivity and a hefty amount of bragging rights. The Kawasaki ZX-10RR is powered by a 998 cc, four-stroke, liquid-cooled, in-line 4 engine capable of producing 203 hp at 11,500rpm. This bike is capable of accelerating from 0 to 100 km/h in under 3 seconds and will continue to reach a top speed of 300 km/h. U can buy this bike for $25.000.
#8 Suzuki GSX-R1000R
Top speed – 300 + km/h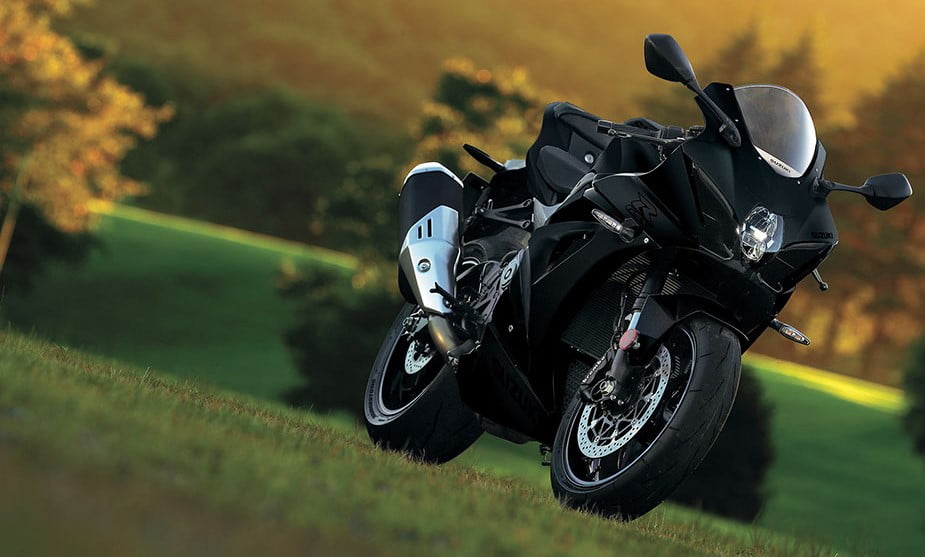 The evolution of the GSX-R1000R has taken a huge step in 2017 with the whole package getting more advanced and more refined than ever before. It has the power, it has the electronics, it has the handling. Long story short, Suzuki is no longer struggling to keep up. Actually, the GSX-R1000R may now be leading the race towards this year's literbike crown. The Japanese manufacturer did a great job blending a powerful engine with a well-balanced frame. The power output brings the model again in line with the top superbikes of the moment. The new 1000cc engine provides 202 hp at 13,200rpm. It can reach 100 km/h in 3 seconds and its top speed is 300 + km/h. Suzuki is calling this bike the most powerful, hardest-accelerating, cleanest-running GSX-R ever built. The price of this motorbike is $29,000.
#7 BMW S1000RR
Top speed – 301+ km/h
The BMW S1000RR is one of the fastest bikes in the market. This bike carries a 999 CC 16-valve motor engine with a new intake cam and lighter inlet valves as compared to its predecessor. The BMW S1000RR is designed for speed, with a really light frame. The weight of the bike is 4kgs lesser than the previous one. It produces a maximum power of 207 hp at 13,500rpm. The engine comes with a six-speed gearbox with an anti-hopping clutch. The bike is designed with a sleek and aerodynamic body to create less drag. This is paired with a host of electronic rider aids, which includes ABS pro, traction control, riding modes, dynamic damping control, and more. All these features aid the BMW S1000RR to reach from 0 to 100 km/h in 3.1 seconds and continue to reach a top speed of 301+ km/h. Its price is price: $25,000.
#6 MV Agusta Brutale 1000 Serie Oro
Top speed – 302 + km/h
MV Agusta could be considered the two-wheeled version of Lamborghini: dreamy, with a financially troubled past, and so-Italian. Limited to 300 units worldwide, the Brutale 1000 Serie Oro is powered by a 998 cc inline four-cylinder motor, that borrows heavily from the company's World Superbike Championship F4 RC racer. The Experience accumulated from the World Superbike Championship has been poured into the engine of the Brutale 1000 Serie Oro. The four-cylinder engine does not betray MV Agusta's tradition in terms of technological choice, but it does open a new chapter for materials, design, and electronics. According to MV Agusta, the bike has a top speed of over 302+km/h and an incredible 212hp at 13,450rpm. The riders' smartphone can be connected via Bluetooth to the dashboard to manage incoming calls, texts, and music. For this vehicle, you have to spend $46,000.
#5 Aprilia RSV4 1100 Factory
Top speed – 305 km/h
In its 10 years of life, the Aprilia RSV4 has become one of the all-time great superbikes. A near-perfect ratio of crushing power via that V4 motor, one of the sweetest chassis ever fitted to a production motorcycle. In 2019, that's all changed, as Aprilia modified the flagship model—the RSV4 Factory with a 1078cc V4 engine that pumps out 217hp. This new machine sits alongside the base-model RSV4 RR. It's difficult not to fall in love with the motor and gearbox on the RSV4. Easily the best RSV4, the 1100 model will make you feel like a riding god. The combination of the motor, chassis, suspension, wings, brakes, and electronics make for a bike that will take some serious beating. The Aprilia RSV4 Factory 1100 is a stunning machine. Engine power and gear ratios deliver a top speed of almost 305 km/h. The price of this exclusive vehicle is $25000.
#4 Honda CBR1000RR-R Fireblade SP
Top speed – 305+km/h
The CBR1000RR Fireblade is Honda's flagship sports bike for the masses, bringing racetrack technology to the road. The motorcycle has now improved in terms of power and innovation with the 2019 version. It receives a range of latest elements including Wheelie Control, Rear Lift Control, Engine Braking, Riding Mode Select System, Power Selection, and a new ABS gyroscopic mechanism. The Fireblade is powered by a reengineered and more compact 999cc inline-four engine producing 214 hp at 14,500rpm. The physical dimensions of the Fireblade's engine have been decreased. A more compact layout between the crankshaft, countershaft, and main transmission shafts shortens the overall length of the engine. Its been a long-time since the Fireblade has retained its position both in MotoGP & market with the new 1000RR as one of the finest & best bikes in the world Honda can offer. The Honda CBR1000RR is capable of accelerating from 0 to 100 km/h in 2.9 seconds and carries on to register a top speed of 305+ km/h. You have to spend $34,000 to bring it home
#3 Ducati Panigale V4R
Top speed – 306+ km/h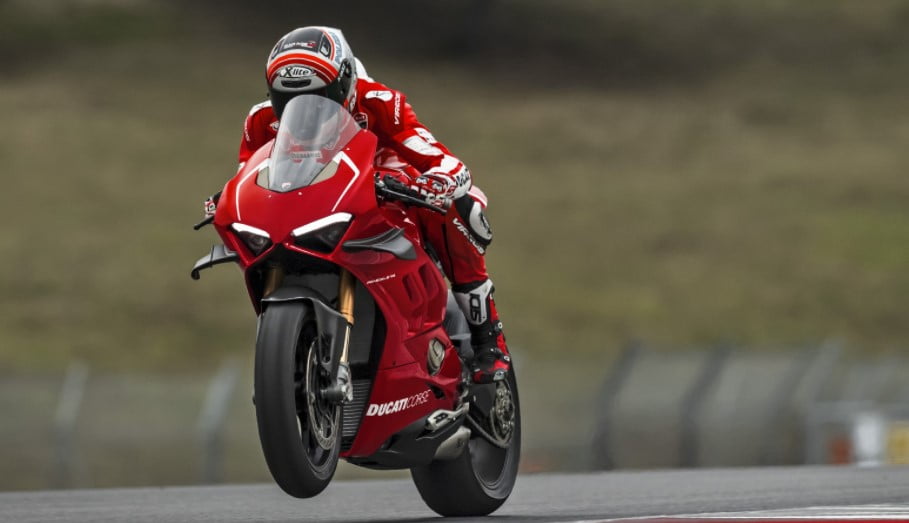 The Ducati Panigale V4 is the latest superbike from the Italian company. Ducati has built the Panigale V4 R to win the World Superbike championship and nothing else. The Panigale V4 R feels nothing like a road bike when you take it on track. It accelerates so brutally, turns so fast, and pummels your body with so much force, it makes previous sports bikes feel like a soft, fluffy touring bike. The prominent highlight of the Panigale V4 is the all-new V4 engine which is derived from the MotoGP bike. The motorcycle also gets fully adjustable Showa suspension at the front and a Sachs unit at the rear. The motorcycle also comes with a host of riding modes and aids. The Ducati Panigale V4 draws power from an all-new Desmosedici Stradale 998cc, 90 degrees V4 engine producing 221 hp and 124Nm of torque. The engine is mated to a 6-speed gearbox. It just takes 2.7 seconds to reach 100 km/h from a standstill while the top speed is 306+km/h. Be ready to pay $40,000 for this beast.
#2 MTT 420 RR
top speed – 400km/h
Marine Turbine Technologies has delivered great bikes to the customer with a 100 percent customization option. A power output of 420 hp is usually the preserve of sportscars and premium SUVs. But what if we told you, Marine Turbine Technologies MTT, a mad company, that believes in making even madder bikes, recently unveiled a superbike that will have a peak power output that matches a car. The new age motorcycle comes with a Rolls Royce Allison – 250 – C20 Gas Turbine producing 52,000rpm and 678Nm of torque at just 2,000 rpm. Yes, it can literally compete with anything and win without much effort. The long wheelbase and carbon fiber parts make it really a stable machine. The top speed of this bike is a whopping 400 km/h and the motorcycle can run on either diesel or kerosene. Well, be ready to pay $225000 for this vehicle.
#1 Kawasaki Ninja H2R
Top speed – 400+ km/h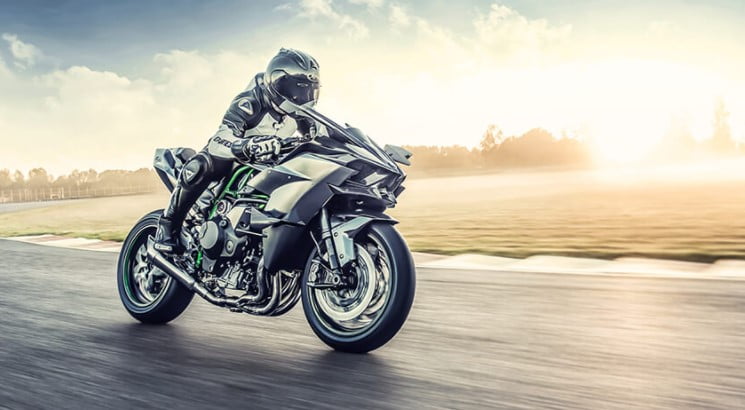 The term 'fast motorcycle' has been taken to a new level by Kawasaki, with the introduction of the Ninja H2R – a supercharged liter-class motorcycle, which is the fastest production motorcycle currently. The Kawasaki Ninja H2R has set its own category as a 'supercharged race bike' capable of pushing to 400+km/h. This tag came out right after it engaged in a series of outrageous sprint runs, challenging an F-16 fighter jet, a Formula 1 car, a Bugatti Veyron, and a Tesla Model S racer. The H2R is the most powerful production motorcycle ever made with a staggering 310 hp. How? – Supercharging. The power comes from a supercharged 998cc in-line four-cylinder engine. The supercharger is built completely in-house by Kawasaki. Kawasaki promised it would be nothing short of epic, and they delivered. What more is there to say? It's the ultimate top trump card; the fastest, most powerful production bike ever, and it works. Beautifully and to get this bad boy you have to spend a price of $56500.
Read also: Kawasaki Ninja H2R