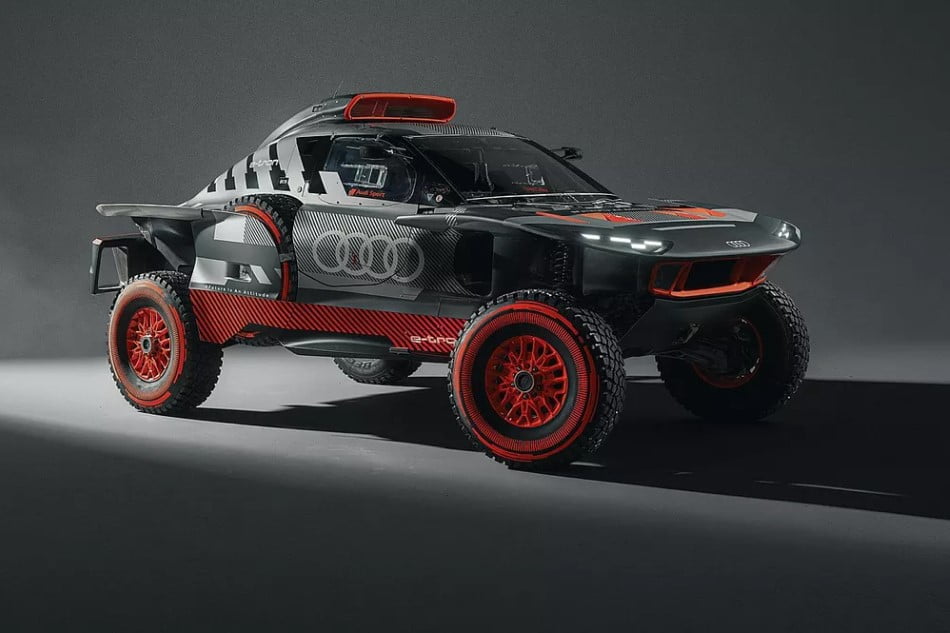 The E2 abbreviation, which was previously present on the storied Audi Quattro in its Group B origin in the 1980s, is now part of the moniker Audi RS Q E-Tron E2.
Since it made its premiere at this year's Dakar Rally in Saudi Arabia, the vehicle's whole body has been completely overhauled. According to lead designer Axel Loffler, "not a single body item from its predecessor" has been carried over to the new model.
The original Audi RS Q E-Tron was overweight due to its incredibly complex hybrid powertrain system, and several weight-saving measures have been implemented. The German manufacturer admitted that it had to remove several kilograms from the vehicle even though the minimum weight has increased from 2,000kg to 2,100kg.
Another important area of focus was aerodynamics, with designers managing to minimize drag by 15% while needing to increase cockpit width to comply with rules.
The RS Q e-tron E2's powertrain fundamentally remains a hybrid, with two electric motors supplemented by a DTM-derived engine that only serves to charge the batteries, not to drive the car itself.
An increase in power was noticed when the wheels made less contact with the ground while jumping or on uneven terrain. Several changes have been made to make the powertrain more efficient as well as address some of the problems that surfaced upon its introduction.
To reduce energy consumption during phases, the servo pump, the cooling pump for the air conditioner, and the fans have also been optimized.
Additionally, a number of adjustments have been made to the truck to make it simpler for the crew to operate. To save time repairing punctured tyres, flat and simple-to-remove body components have taken the role of the spare wheels' prior cumbersome covers.
The center console's control buttons have also been rearranged, and a new rotary switch has been introduced to enable the driver and co-driver to easily switch between the four system areas—stage, road, error, and settings.
Under Arnau Niubo Bosch's direction, the Audi RS Q E-Tron E2's first run was successfully completed. The vehicle is now prepared to head to Morocco for the Rally du Maroc, which will take place from October 1–6.
Read Also: Top 7 fastest Audi cars in 2022
Stephane Peterhansel, a 14-time Dakar champion, Carlos Sainz, another legendary rally driver, and Mattias Ekstrom, a two-time DTM champion, will all be operating Audi's whole fleet of three vehicles in Morocco.
The modified vehicle will compete in the 2023 Dakar Rally, which gets underway in Saudi Arabia on January 1st.
"We've managed a good debut at the Dakar with the Audi RS Q E-Tron and even our first stage victories in a motorsport discipline that is new to us," says new Audi Sport managing director Rolf Michl, who has replaced Julius Seebach.
"The entire team is working excellently together and pulling in the same direction.
"As is usual at such an early stage, the drivers, co-drivers, and technicians quickly agreed on the next development targets. We have summarised the result in a new evolution package – the RS Q E-Tron E2."