Audi is one of the leading high-performance car makers in the world. The German automaker has really upped its game in recent times with the introduction of newer & faster models. These faster models are sure to leave you astounded. Here, we will take a look at the top 7 fastest Audi models or cars in 2022.
Top 7 Fastest Audi Models or Cars in 2022
Audi RS 3 – $58,000
Audi RS 5 Sportback – $75,000
Audi TT RS – $73,000
Audi RS Q8 – $115,000
Audi RS 7 Sportback – $114,000
Audi RS 6 Avant – $110,000
Audi R8 V10 $148,000
#7 Audi RS 3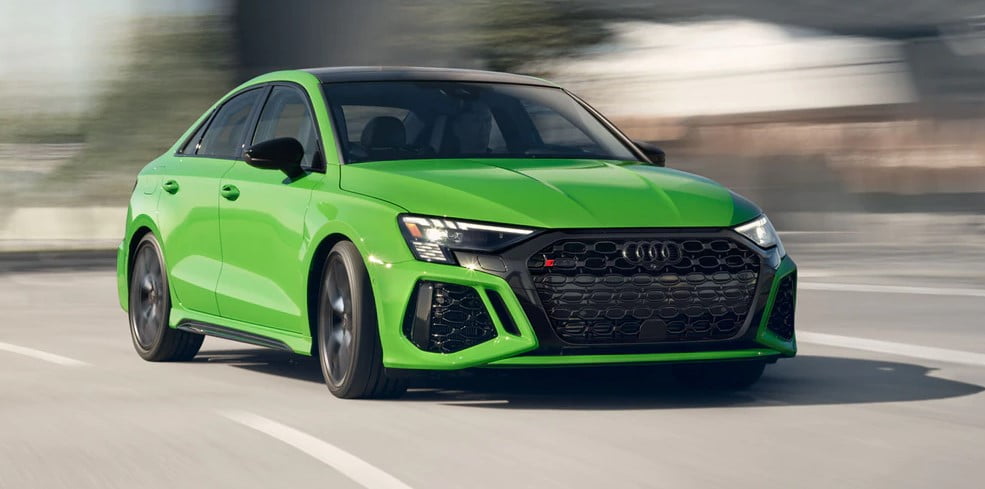 The Audi RS3 is a baby RS variant that is aimed at competing in the hot hatch segment.  However, it would be a mistake to underestimate the performance it can deliver just because of its rather small size. It packs the ability to clock 0-100 km/h in just 4.1 seconds. If this is not enough for you then consider its top speed of 280 km/h. Combining of these figures make the  2022 Audi RS 3 the seventh fastest Audi model to this date. You can thank the rather unique 2.5L five-cylinder engine for pushing out 400hp which forms the basis for delivering such an outstanding performance. 
The Audi RS 3 isn't all about performance figures. Both the interior, exterior, and driving dynamics have been designed to match the overall character of the car.  Though, a surprising level of performance comes at a surprisingly high price tag of $58,000.
Read Also: Audi Q4 Sportback e-tron concept unveiled
#6  Audi RS 5 Sportback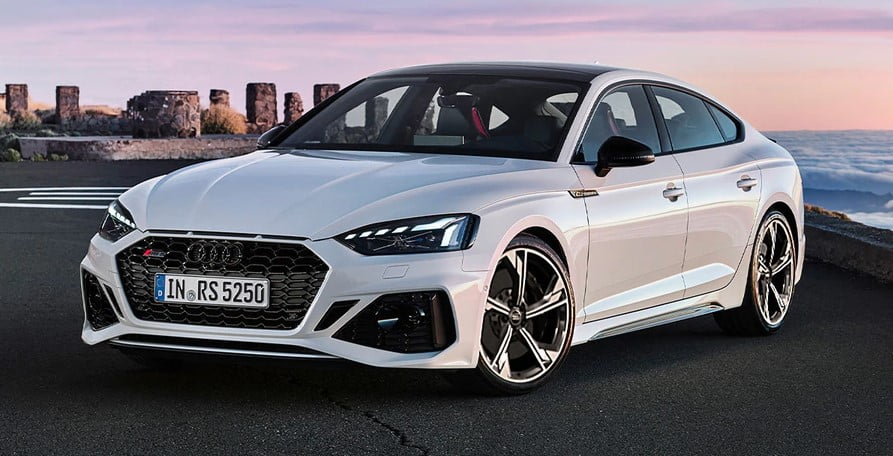 The Audi RS 5 Sportback is a sportier and beefier version of the S 5. It is a bit hard to understand as the standard S 5 has plenty of punch to quench the thirst of the majority of enthusiasts.  The RS version takes the level of grunt to the next level and makes the RS 5 the  6th fastest Audi model or car ever made. Its 2.9L  V6 engine effortlessly unleashes 450hp. It allows the sporty saloon to reach  100km/h from a standstill in just 3.8 seconds.  
Like many other Audi's performance-oriented cars,  the RS 5's top speed is limited to 280km/h. It is enough, since you won't be able to reach it. Because it is far beyond the legal top speed limit in many regions. Audi's mid-level performance sedan adds several bells & whistles on top of the already feature-rich S 5 sedan. This makes 2022 Audi RS 5 Sportback a great option at a base price of $75,000.
Read Also
#5 Audi TT RS
At the 5th spot on this list of the top 7 fastest Audi models lies the Audi TT RS 2021. 2021 Audi TT RS is a tiny two-door special version car. It is equally capable of outperforming several other sporty cars in its league.  The car may look small from the outside and cramped from the inside. Its compact size helps it to keep the weight down which in turn also assists in achieving better aerodynamics which is a crucial factor in improving the performance.  This is especially a true claim when you consider that it has less power (394hp) than its bigger siblings. Despite of less power, it still delivers a better 0-100  km/h figure of 3.6 seconds. The top speed, though, is still restricted to 280 km/h.
Another main advantage of the small size of the TT RS  is that it can navigate through corners much more easily which enables you to get the most out of it. The 2021 model of the small sporty coupe starts at around $73,000.
#4 Audi RS Q8
SUVs are high in demand and so are their sporty variants. As expected, Audi has covered this segment too, thanks to the RSQ8. The 2022 Audi RS Q8  with its equally comfortable & adrenaline-filled driving dynamics ranks at the fourth spot despite being a gigantic vehicle.  At its heart lies Lamborghini Urus's 4L  V8 that pumps out an astounding 591hp  which helps the beast reach 100km/h  from a stop in just 3.7 seconds.  
This is, by any measure, not an easy achievement when you factor in its curb weight of almost 2.5 tons. The RS Q8 crosses the barrier of 300km/h  and "gives up" at 304 km/h which to be honest is only achievable at a closed track or Autobahn.  Its starting price of $115,000  is really a bargain when you consider what you are getting in return for $115,000.
#3 Audi RS 7 Sportback
The 2021 Audi RS 7 Sportback is your best bet if you are looking for a full-size ultra-fast German luxury saloon. Its sharp body lines and character combined with mesmerizing LED front & backlights make it a perfect package aesthetically.  Though, its characteristics, of course,  do not just end there. It is what lies under its sharp body that makes it the third liveliest car on this list. The V8 powerplant packed under the hood produces an impressive 600hp that catapults it to 100 km/h in just 3.6 seconds. The top speed is electronically limited to 305km/h. 
A host of driver-assistive functions integrated into the car allows the driver to safely put all the power to the ground.  For a performance-oriented car, the RS 7 is reasonably comfortable for day-to-day usage,  though, you will need to set aside $114,000 to enjoy the spritely character of the 2021 RS 7.
#2 Audi RS 6 Avant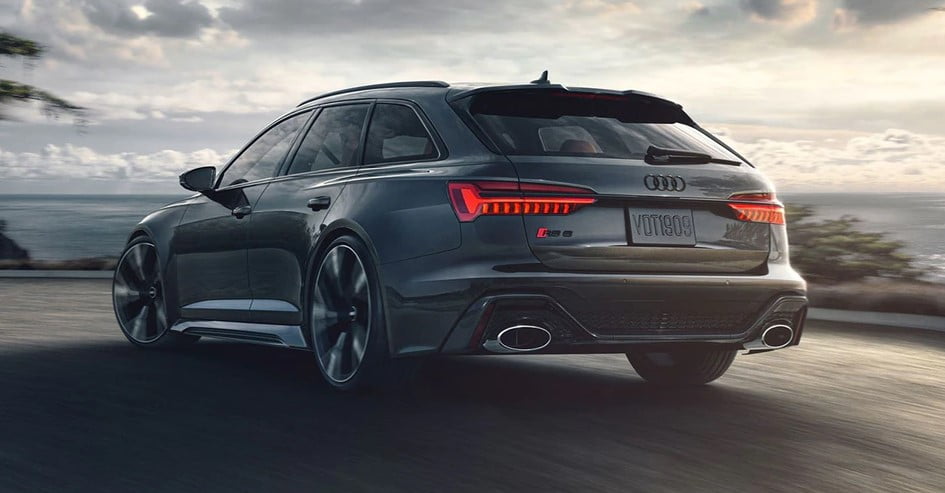 Station wagons traditionally were used as people haulers;  however, their character has been radically changed in the past few years. Modern station wagons such as the Audi RS6 are a comprehensive redesign of their predecessors and boast unbelievable performance figures.  The spacious cabin and the bold design language of RS 6 Avant have what has made it a popular sensation among auto enthusiasts.  One main reason behind both its popularity and ranking at the #2 spot in the list of speediest  Audis or the fastest Audi models ever made is the V8 motor that churns out  600hp, plenty enough to clock 0-100km/h in just  3.5 seconds and allowing the long four-wheeler to touch the mark of 306km/h with ease. 
The excellent combination of an attractive design language with an equally matched performance of  RS 6 has made people rethink their mental image of station wagons. All the quirks and features don't come cheap though, so expect to pay above $110,000 to own this one-of-a-kind beauty.
#1 Audi R8 V10 – One of the Fastest Audi Models
Audi R8 is undoubtedly the brand's most prestigious and fastest car ever made and it still carries on its legacy of giving tough competition to its rival despite remaining pretty much the same apart from a few enhancements.  The V10 version is its high-end and most notable version mainly due to its impressive sound note and respectable power output.  The interesting fact is that it is the same engine that powers the Lamborghini Huracan, but for the R8 it punches out 602hp which helps it to attain 100 km/h from a complete stop in just 3.1  seconds and an unbelievable top speed of 331 km/h.
The enhancements and slight changes that the R8  received over the years have allowed it to remain contemporary in an ultra-competitive segment.  It also bestows you with such precise driving dynamics that you will be left in awe. The in-demand Audi R8 is available in two variants R8 Coupe and R8 Spyder. The base price for Coupe starts at $148,000 while the Spyder variant starts at $160,900.