Small cars are often mocked for their inability to move out of their own place, but thankfully their performance versions also called hot hatchbacks, have plenty of power to not only move out of their own place but also to conquer tracks & roads. In this post, we will discuss the top 10 fastest hatchbacks in the world in 2022 or you can say small cars of the modern era that also happen to have a relatively affordable price tag.
Top 10 fastest hatchbacks – The list
Let's first, give you a list of these 10 fastest hatchbacks that are currently leading this list in the year 2022. The cars included in this list have high performance engines under their hood that makes them driving experience more appealing than the other hatchbacks in the market. Along with their engines, other things in their favour is their price tag. These fastest hatchbacks offers not only performance but also less price tags.
Opel Corsa GSi
Peugeot 208 GT Line
Suzuki Swift Sport Hybrid
Fiat Abarth F595 T-Jet
Hyundai i20 N
Ford Fiesta ST
Toyota GR Yaris
Volkswagen Polo GTI
Audi A1 Sportback S-Line
MINI John Cooper Works GP
Explore our other top 10 lists
Top 10 Fastest Hatchbacks in the World
#10 Opel Corsa GSi
Coming on the tenth spot in the list of top 10 fastest hatchbacks in the world is the Opel Corsa GSi. It may not be the most attractive small car on the market,  but it is what is under its hood that makes up for its rather unusual styling.  Opel has made some visual changes to make the  GSi version distinctive from the regular Corsa,  some major changes include bigger wheels, a more pronounced front end, and contrasting trims that give away the unique identity of the GSi version. The Corsa GSi has been on the market for quite some time so its performance numbers may look a bit underwhelming to you,  nevertheless, its tiny 1.4L engine produces 150hp which is enough to take the car from a standstill to 100km/h in just 8.9 seconds. Priced at €23,500  the GSi Corsa's top speed is limited to 207 km/h.
#9 Peugeot 208 GT Line
Peugeot is mainly known for its stylish crossovers, but its 208 GT Line has also surprised many enthusiasts. Not only is the 208 GT Line an affordable aggressive little hot hatch but it also comes with the looks & goodies that you don't normally see or expect from a €25,000 French car. The GT line version retains Peugeot's traditional styling clues, but certain blacked-out parts and the overall feel of the interior are enough to let you know that you are driving a power-packed hatchback. The puny 1.2L turbocharged engine churns out 130 hp which is enough to achieve 0-100 km/h in 8.7 seconds. The hot hatch's ability to touch 208 km/h would also come in handy in case you are in the mood to explore its limits.
#8 Suzuki Swift Sport Hybrid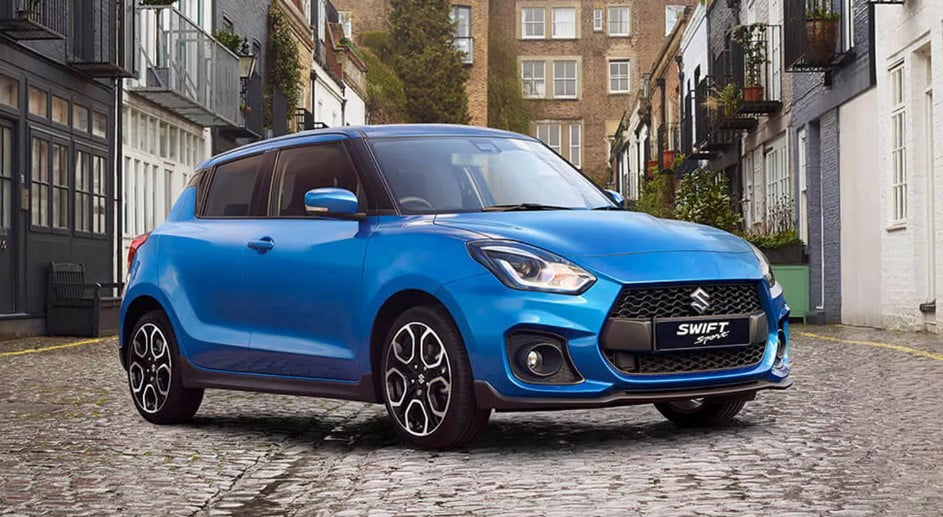 Suzuki Swift isn't the #1 choice of users who want a peppy small car, but the sports hybrid version has been particularly made to satisfy the thirst of young & energetic drivers. Just like any other hot hatch of its league, the compact Swift Sport is equipped with several sporty trims that give away its original character. However, unlike many European & German hot hatches, the Swift sports is conceived as a very reliable car that is both practical & fun to drive daily. The €24,000 Japanese hot hatchback is equipped with a 1.4L turbocharged motor that puts out 129 hp, which is enough to cover 0-100 km/h in under 8 seconds and to achieve a top speed of 210 km/h which is quite a respectable figure.
#7 Fiat Abarth F595 T-Jet
The Abarth F595 T-jet is based on the famous tiny Fiat 500 that has been around us for several years. The Fiat 500 isn't known for its performance, but it is its cute looks that have made it famous throughout the entire world. The Abarth F595 combines the best of both worlds and provides the Fiat 500's iconic looks and punchy performance that gets quite enticing since the overall weight & dimensions of the car are quite confined. The Italian hot hatch is fitted with a rear-mounted 1.4L engine delivering 180 hp that is ample to clock 0-100 km/h in just 7.3 seconds and to hit 218 km/h . However, the striking combo of looks & power comes at a rather steep cost of €35,000.
#6 Hyundai i20 N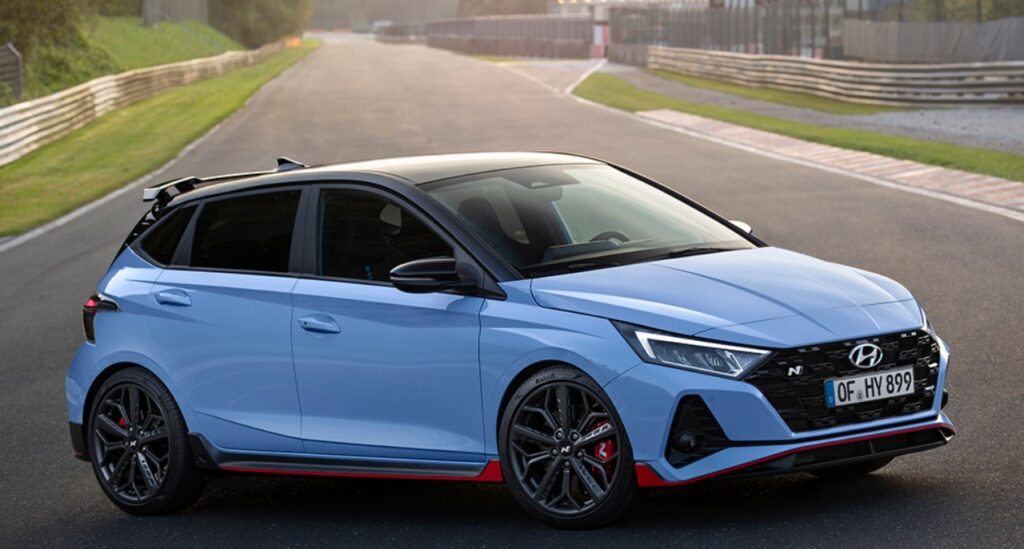 The South Korean automaker has also caught up to the competition in almost every category and the i20N is one of the latest examples. The Hyundai i20N is armed to the teeth with features that aren't a common sight in a car priced at €25,000. Moreover, the looks and the overall feel of the small power-packed hot hatch just allow it to mark a separate territory for itself in a world that is full of performance-oriented cars. The i20N does not only have 204hp thanks to its 1.6L turbocharged engine but it also allows you to explore it to the fullest thanks to its manual gearbox. Despite being a front-wheel-drive car, the i20N can reach 100 km/h from a stop in just 6.2 seconds and is electronically limited to 230 km/h which is nothing short of amazing for a car that hasn't had a major presence some years back.
#5 Ford Fiesta ST
Ford isn't known for its SUVs & crossovers outside of the U.S, it is mainly its small cars such as the Fiesta that have allowed it to have a footprint outside its local region. The Fiesta ST is a souped-up version of an average Fiesta that may look rather simple on the outside, but it has got serious performance parts under its skin to qualify it as a capable hot hatchback. The 3-cylinder 1.5L engine may sound like a disappointment, but the reality is far from it. Not only does the engine produces 200 hp but it is also capable of pulling the car from a standstill to 100 km/h in just 6.5 seconds. The ST version costing €28,000 can reach a top speed of 230 km/h which solidifies its 5th place in this ranking.
#4 Toyota GR Yaris
Toyota has peeled off the stigma of making boring cars by releasing some exciting & highly anticipated cars such as the GR Yaris. The GR Yaris shares very few parts with the normal Yaris and is a rally-based car that is powered by a unique turbocharged 1.6L 3-cylinder engine producing 261 hp. The 261 horses produced are sufficient to mark 0-100 km/h in 5.5 seconds and to gain a maximum speed of 232 km/h in-stock conditions. The GR version of the Yaris is a limited-edition compact hatch and is, therefore, a highly sought-after car since both its looks & performance numbers are astonishing. Also, the AWD GR Yaris is being built in a Lexus factory which partly explains the €35,000 price tag that it bears.
#3 Volkswagen Polo GTI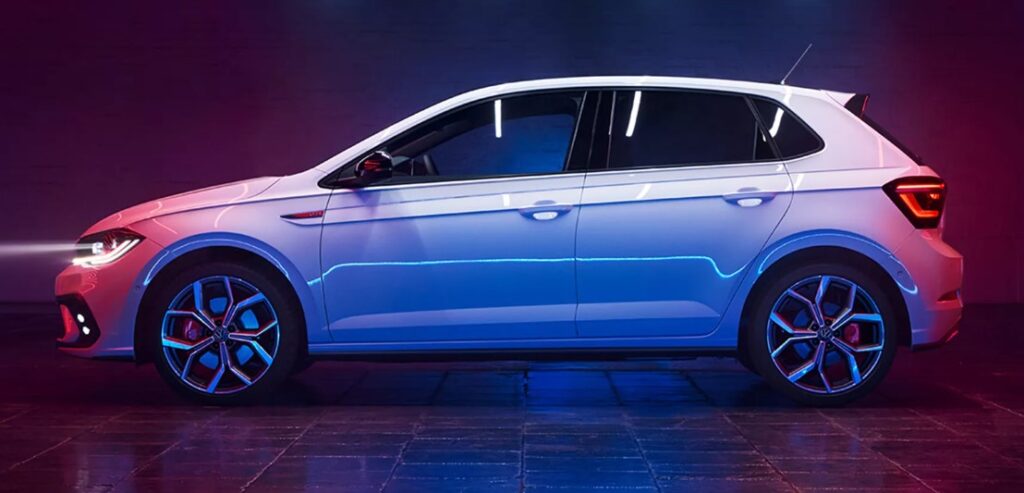 The VW Polo is a household name in different regions around the world and its new GTI version has emerged as a success shortly after its debut. Just like other special versions, the Polo GTI features subtle cosmetic changes that are complemented by some significant performance & handling characteristics to make it a potent hot hatchback. Overall, the Polo GTI is as modern inside out as any other competitor in the market. Despite being one of the smallest Volkswagens, the Polo GTI has been equipped with a proper 2.0L turbocharged engine that not only delivers 200 hp but also has enough punch to help the car claim the 0-100 km/h mark in 6.7 seconds and a top speed of 235 km/h. Germany's star hot hatch is priced at €30,000 which is acceptable considering the performance & equipment level.
#2 Audi A1 Sportback S-Line
On the second position of this list of top 10 fastest hatchbacks is Audi A1. It is the brand's entry-level car that isn't known for anything special, however, its Sportback S-line version is just on another level. Not only does it look incredibly aggressive, but it also delivers you the charm of a much pricier Audi which makes the hot hatch a great buy for anyone who wants a good road & track machine. In short, the A1 Sportback is a miniature version of a beefed-up S-line edition, Audi. Audi's hot hatch shares many parts with its Volkswagen cousin the Polo GTI and its 2.0L engine also produces 200 hp. The 0-100 km/h and top speed figures are also exactly the same and are claimed at 6.5 seconds and 236 km/h respectively. The luxurious yet performance-oriented A1 Sportback is priced at €41,000.
#1 MINI John Cooper Works GP
MINI cars are known for their unique styling and razor-sharp handling around the bends but there's always room for improvement. This is precisely what the brand's performance division  John Cooper Works (JCW) believed and has thus made several changes to a stock MINI Cooper.  Some visual changes include red body accents,  lowered height, and a giant wing at the rear that increases the downforce and helps the hatch put all its power to the ground more adequately. Britain's €40,000 compact hot hatch has been packed with a 2.0L turbocharged engine that produces an impressive 306 hp. The result is a 0-100 km/h time of almost  5 seconds and a top speed of 265 km/h which is sufficient to beat any of the rivals. Price wise Mini Cooper is €1000 cheaper than Audi A1 but its top speed of 265km/h and a 0-100 acceleration of 5 seconds makes it one of the Fastest hatchbacks in the world in 2022.