2022 Yamaha XSR900 has an immense change from the previous model. It is almost 90% new for this year. The XSR's previous model had a very 70s vibe, flat top line, rounded curves and it was very retro. Now, they've moved into the 80s.
This is more looking like an 80s race bike. It's a new vibe for the XSR900 but not too far removed. It's still for the riders that want the performance of an MT-09 with the style that those bikes don't have. This is not sharp and edgy. It's a throwback and it's wrapped.
Read Also: Top Retro Motorcycles you can buy in 2022
2022 Yamaha XSR900 Specifications
Engine, Power, Torque, and transmission
The engine for the 2022 XSR900 is now even bigger and more powerful than the previous one. The displacement has been increased from 860cc to 890cc which results in a little bit more torque and a little bit more power.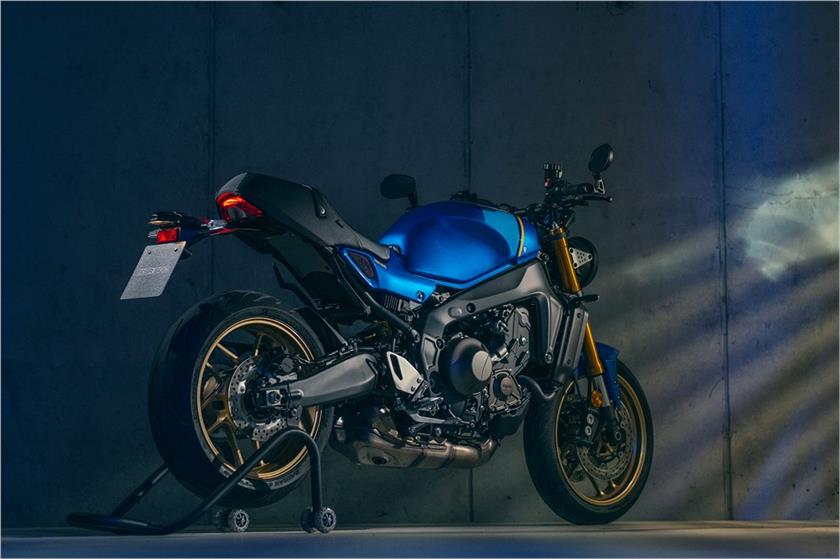 It's got a three-millimeter longer stroke and that is on the crankshaft gives it a longer stroke. It's got shorter connecting rods. It's got a bunch of changes to the cylinder head mostly for emissions stuff to keep that power coming and still be Euro 5 compliant.
The XSR900 benefits from the platform borrowed from the sister MT-09 with an 890cc liquid-cooled DOHC inline 3-cylinder 4-stroke, 12 valves CP3 engine that offers greater power of 117BHP at 10000rpm plus greater torque of 93Nm at 7000rpm.
Designed in the spirit of Yamaha's fabled faster sun's philosophy but a true definition of this perhaps depends on your interpretation of it.
Yamaha has redesigned almost every component of the engine to make it lighter. It is reflected in the overall weight of the motorbike. The 2022 version of the Yamaha XSR900 is now 5 pounds lighter than the 2021 version.
There are a lot of other internal changes also. Yamaha has made some changes to camshafts. The cam chain tensioner is no longer a mechanical tensioner. It's hydraulic. Overall, they just really refined the engine and it shows on the road.
The updated and advanced Assist & Slipper clutch now feels lighter due to the modified cam angle which reduces force on the springs.
2022 Yamaha XSR900 Chassis and dimensions
On the chassis, it's an all-new frame. It's a new swing arm. It's a new subframe, new forks, new shock-like everything is new. It all works so much better. Cast Aluminum frame is much stiffer than the old bike and just gives you really good feedback from the bike. What it's doing in terms of twist, it feels much stiffer. Both front and rear suspension are now stiffer which tends to rebound less as compared to the previous generation XSR900. You can say that it is much more balanced and composed.
On the old XSR900 when you grab a handful of front brakes, the thing would dive. It would just stand on its nose and then it would rock back on the rear tire and it really unsettled the chassis. With any type of brake or throttle input, you would do it. Now it's just rock solid. You go into a corner you gas it, it stays steady. You throw off the throttle, and it stays steady. You hit the brakes, and it doesn't dive really bad. It just tracks really straight.
It doesn't want to wheelie as much and that's maybe one of the not-so-cool things. About this all-new chassis is that it's not as lively as the old one. It's much better. There's no doubt it's much better but with that much better comes a little loss of playfulness in terms of like if you like the wheelie or you like to like kind of have this bouncy movement of the bike, this one doesn't do it. Now it is rock solid. So, a lot of that comes from the new swingarm. This swing arm is 59mm longer than the MT-09 currently which also makes it longer than the old XSR
2022 Yamaha XSR900 safety and riding features
With that refinement comes an all-new engine management system. So it's got a six-axis Inertial Measurement Unit (IMU). The IMU uses two sensors to measure angular velocity in three-axis and three-axis acceleration. Using these data the retro bike provides different rider aids.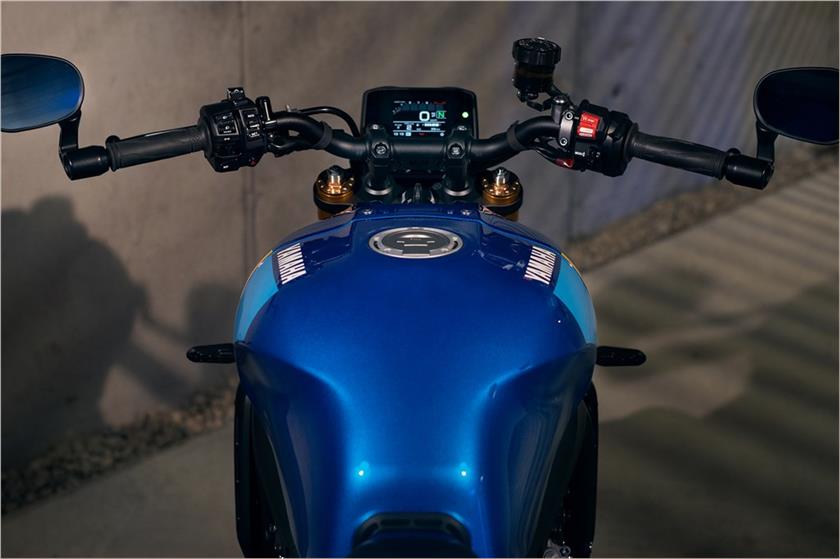 The rider aids in the 2022 Yamaha XSR900 includes
Lean sensitive Traction Control system.
Slide Control System (SCS),
front Wheel Lift Control System (LIF)
Brake Control (BC) System with lean-sensitive ABS
Advanced Ride-by-Wire Throttle with APSG
The rider aids are fully customizable to suit your riding style. It can also be turned off completely to have some raw riding experience.