Selecting a low-budget family car is a very tiresome and tricky job. Generally, a low budget is often the first car in a family. So, there is lots of excitement in the people when they buy their first car. But how to choose the right one. Many options are available in the market and it is sometimes very confusing in selecting the right car for the family. And when it comes to the best low budget automatic cars or the cheapest automatic cars that you can buy the confusion still remains. Because now every car manufacturer is offering automatic transmission. which is again a very good thing that we have so many options to choose from.
A right car – it must have sufficient space for at least 4 adults and one child. It must be safe and should have safety features to keep the occupants safe during any mishap. And last but not the least, it must have good fuel efficiency. So, now keeping these things in mind. We have tried to collect all the automatic cars that are available on a low budget or are cheap and hope that you get some help.
So let's begin.
List of Best Cheapest automatic cars in 2021
Suzuki Celerio
Suzuki WagonR
Renault Kwid 1.0
Hyundai Santro
Datsun GO
Datsun Redi GO
Low budget automatic cars – Maruti Suzuki Wagon R
Wagon R is one of the most used cars in the county. Suzuki is now offering Automatic transmission as well. Wagon R comes with 1.0 L and 1.2L K-series engines. The car offers a spacious cabin which is best at this price range. The automatic transmission is available in VXI and ZXI variants. The price for Maruti Suzuki Wagon R starts at Rs 5.63lakh and goes up to Rs 6.33 lakh for the top variant ZXI AGS with a 1.2L engine.
low budget automatic cars – Maruti Suzuki Celerio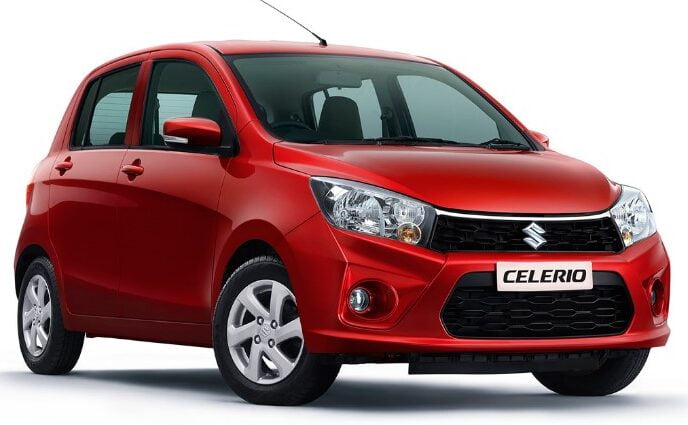 Read Also: Best Diesel Cars Under 10 Lakhs
You can call Celerio – an Alto K10 with a spacious cabin. Celerio comes with a 1.0L K series petrol engine that delivers 68PS (50kW) of max power and 90 Nm of torque. The hatch is sufficiently powerful for your daily commute. Maruti offers the same automatic transmission as in WagonR. The automatic transmission option comes with VXI and ZXI variants. The price for Celerio VXI AGS (Auto Gear Shift) starts at INR 5.55lakh and goes up to INR 5.83 lakh for the top variant.
Low budget automatic cars – Renault Kwid
Read Also: Why Tata Altroz is the best Hatchback?
Renault Kwid also offers an automatic transmission system. Kwid is the only car that has a compact SUV-like appearance and ground clearance. It has the highest ground clearance of 184mm in this segment. Renault offers automatic transmission with a 1.0L engine only. The 1.0L SCe Easy-R petrol engine delivers 68PS of max power and has a peak torque of 91Nm.
Power-wise Kwid is almost similar to Celerio and Wagon R but the real difference comes in driving and interior features. 2021 Renault Kwid comes in 2 variants with automatic transmission RXT (O) and Climber(O). The price for the RXT(O) variant is INR 5.26 Lakh and for the top Climber (O) Variant is INR 5.45 lakh. You can check the complete list of specs, features, and variants of Renault Kwid here.
Low budget automatic cars – Hyundai Santro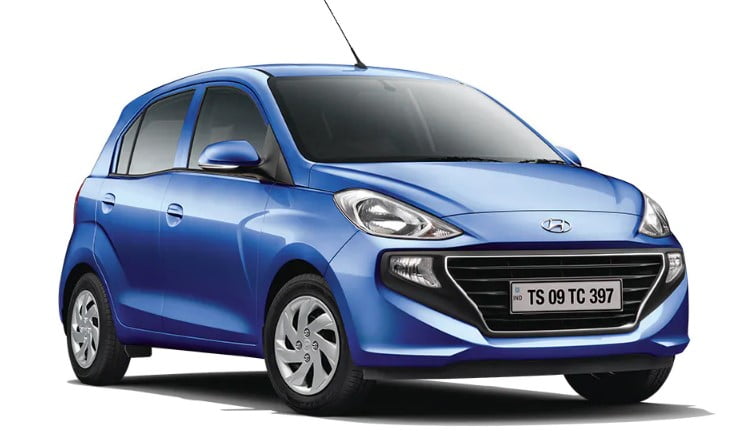 Read Also: Best 150cc touring bikes
Hyundai relaunched its much-loved hatchback again with modern looks and features. Powered by a 1.1L Epsilon MPi petrol engine, Santro also comes with smart automatic transmission. It delivers the same max power of 68PS as other hatchbacks of this segment. However, it produces a slightly higher peak torque of 98Nm. It also has safety features like a driver airbag and antilock braking system with EBD as standard.
The plus point in going for this car is the rear AC vents. It is the only low-budget car that offers separate AC vents for the rear seats. 2021 Hyundai Santro comes in 3 variants that offer Automatic transmission. The price for this hatchback from the Korean carmakers starts at INR 5.69 lakh and goes up to INR 6.41 lakh for the top variant Asta.
Low budget automatic cars – Datsun GO
The Japanese carmaker presents a good alternative to a low-budget family car. But when it comes to an automatic transmission, you will have to spend money slightly more than your budget. Datsun GO starts at the price of INR 4 lakh but its automatic transmission variant Datsun GO T CVT comes at a price tag of INR 6.31 lakh. This price may be the highest in this list but the features it offers are also exclusive for this segment.
The hatchback uses CVT for its automatic transmission system. Datsun GO is powered by a 1.2L petrol engine which delivers a max power of 77PS (57kW) and a peak torque of 104Nm which is again the highest among these cars. In the last, there is also one more plus point in favor of Datsun GO and that is the Vehicle Dynamic Control. If you need space for 7 passengers, you can spend 50K more and opt for Datsun GO+ T CVT.
Low budget automatic cars – Datsun Redi-GO
Datsun Redi-GO has the price range of Suzuki Alto K10 but offers features high range car. Powering this small entry-level hatchback is a peppy 1.0L I-SAT engine. The engine is capable of delivering 68PS (50kW) of max power along with 91Nm of peak torque. Power and torque are similar to other entry-level cars. Talking about its top variant Datsun Redi-GO T(O) Smart Drive Auto (AMT) comes at a price tag of INR 4.95 lakh which is the lowest for an automatic transmission car.
At this price, Redi-GO also offers some features that are not available at this price in other cars. It has ABS with EBD, comes with an integrated 8.0-inch touch screen for the infotainment purpose, voice recognition, rear-view camera, and more. When the priority is only an automatic transmission system, We can say that Datsun Redi-GO is the best low-budget automatic car. Know more about its features and variants.
Best Low Budget Automatic Cars in 2021 – The conclusion
The price for the low-budget automatic cars or cheapest automatic cars that are currently available in the Indian market varies from INR 4.95 lakh to INR 6.5 lakh. Most of the cars offer Auto Gear Shift but Datsun GO is the only hatchback that comes with a CVT. CVT makes a smooth gear shift that makes riding very smooth. Nowadays, almost every car has an option for an automatic transmission.
If you have a higher budget you can also go for Hyundai Grand i10 Nios and i20. However, their prices for an automatic transmission variant go above INR 6.5lakh which we don't consider as a low budget.