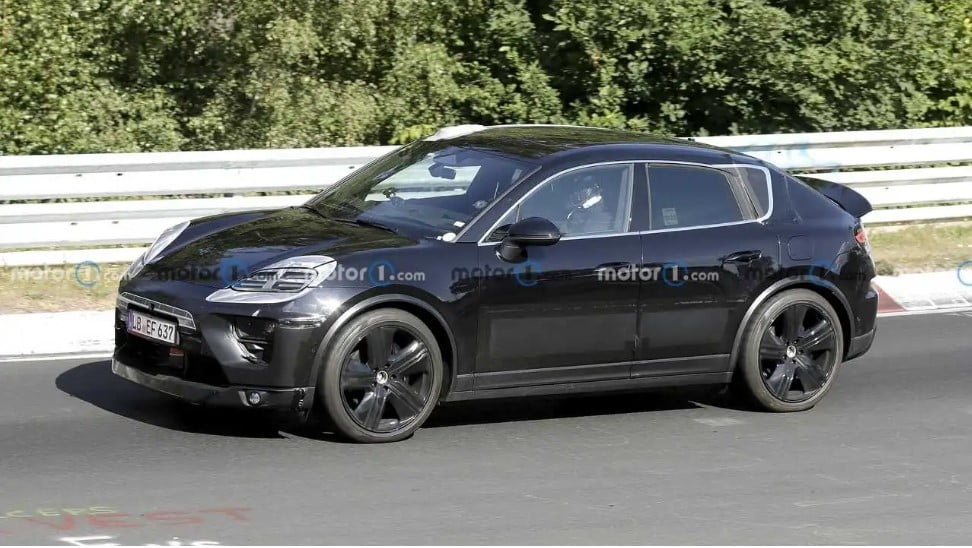 The German sports brand Porsche's newest foray towards electricity is the Macan EV. It should make its debut by the end of 2022 and go on sale the following year. The technical crew is seen in these spy photos lapping the vehicle around the Nürburgring while it is camouflaged.
The body of this Macan EV is heavily camouflaged. The splitter's bottom is taped in the front. A false grille is also included over the license plate. The shape of the headlights is attempted to be hidden by stickers, but the original design is obvious. The Porsche logo on the nose is hidden by the company.
Depending on the amount of cooling air the drivetrain requires, slats on the lower fascia can open.
The team tapes cover the lower sides of each door along the side. A panel that hides the C-form pillars is also present. The actual pattern seems to be sloping down. It is supported by five large, black-finished spoked wheels.
Between the window of the hatchback and the bumper, the entire rear area of this Macan EV is covered by a panel. This also entails hiding the taillights. Porsche keeps installing phony exhaust tips on the test cars. It's not yet apparent if this will be a styling feature in the final product.
Two different front fascia ideas for the Macan EV have been tested. Openings on one of them go all the way down to the splitter. Similar to this design, the other has smaller inlets.
These images don't show the interior of the Macan EV, although earlier pictures did. In the images we have, there is a digital instrument cluster that shows three circular gauges. On top of the centre stack is an infotainment screen with a wide aspect ratio. The console's base appears to have the HVAC controls.
The Macan EV is supported by the Premium Platform Electric (PPE) platform from Volkswagen Group. The technology allows 350 kilowatts of quick charging. A single motor driving the rear wheels or a dual-motor setup giving all-wheel drive is expected to be the powertrain option.
Sources: Automedia, CarPix, Motor1