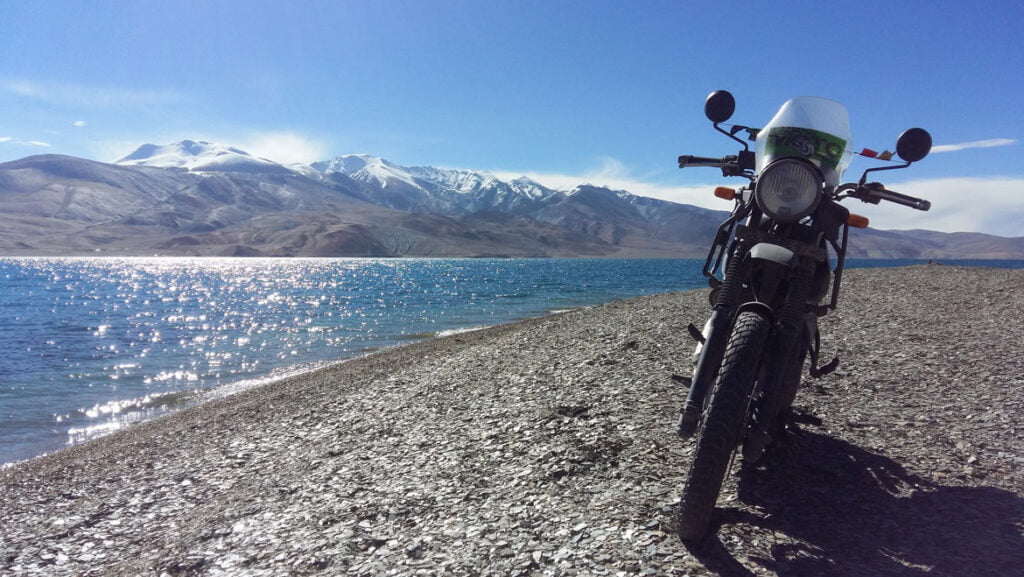 Motorcycle long rides combines the thrill of the open road with the freedom of spending the night under the stars. It's an adventurous and immersive way to explore the great outdoors, allowing you to experience nature up close and create lasting memories. Are you ready to embark on the ultimate motorcycle camping adventure? Look no further! This comprehensive guide will provide you with the ultimate guide to motorcycle long rides, including valuable tips, essential gear recommendations, and fantastic destinations in India and around the world to explore.
Motorcycle camping offers the perfect blend of thrill and freedom. It allows you to hit the open road while experiencing the great outdoors, creating unforgettable memories along the way. Whether you're a seasoned rider or a beginner, this ultimate guide to motorcycle long rides is designed to help you plan an incredible adventure. So, lets first talk about some usefull tips for the motorcycle long rides.
Tips for a Successful Motorcycle long rides:
To ensure a successful trip, here are some essential tips to keep in mind:
Plan Your Route: Before you set off, plan your route carefully. Consider the distance, road conditions, and notable attractions or scenic spots you want to visit along the way. Make sure to include suitable camping sites or accommodations in your itinerary.
Pack Light: Space is limited on a motorcycle, so pack only the essentials. Invest in lightweight and compact camping gear such as a lightweight tent, sleeping bag, cooking equipment, and a first aid kit. Prioritize items that are necessary for your comfort and safety.
Secure Your Load: Properly secure your camping gear to your motorcycle to prevent it from shifting during the ride. Use bungee cords, cargo nets, or purpose-built motorcycle luggage systems to keep your gear firmly in place.
Check Your Motorcycle: Before hitting the road, thoroughly inspect your motorcycle to ensure it is in good working condition. Check the tires, brakes, oil levels, and other critical components. Carry a basic toolkit and spare parts for any unexpected repairs.
Dress Appropriately: Dress for safety and comfort. Wear protective gear, including a helmet, sturdy boots, and appropriate clothing for varying weather conditions. Consider investing in motorcycle camping-specific gear, such as waterproof and breathable clothing.
Campsite Research: Research your campsite options ahead of time. Look for motorcycle-friendly campsites that provide amenities like secure parking, shower facilities, and access to water. If permitted, consider wild camping in areas you plan to visit.
Respect the Environment: Practice Leave No Trace principles when camping. Dispose of waste properly, minimize your impact on the environment, and respect wildlife and other campers. Leave your campsite as you found it or even better.
Read Also: Best 150cc bikes for long rides in India
Essential Gear for Motorcycle long rides:
To make the most of your motorcycle camping experience, make sure to pack the following essential gear:
Tent: Choose a lightweight, compact, and weather-resistant tent that suits your needs. Look for a tent with a small pack size that can be easily strapped to your motorcycle.
Sleeping Bag and Sleeping Pad: opt for a sleeping bag suitable for the expected weather conditions. Consider a lightweight and compressible sleeping pad to enhance your comfort while sleeping on the ground.
Cooking Equipment: Invest in compact camping stoves, lightweight cookware, and utensils. Look for options that are fuel-efficient and easy to pack.
Motorcycle Luggage: Choose motorcycle luggage options specifically designed for carrying gear on a bike. Saddlebags, tank bags, and tail bags are popular choices. Ensure they are waterproof or come with rain covers to protect your belongings.
Multi-tool and Basic Toolkit: Carry a multi-tool that includes essential functions like pliers, screwdrivers, and a knife. Additionally, pack a basic toolkit with tools specific to your motorcycle's make and model.
Lighting: Bring a reliable flashlight or headlamp for navigating in the dark. Consider a lantern for illuminating your campsite.
First Aid Kit: Always carry a well-stocked first aid kit, including bandages, antiseptic, pain relievers, and any personal medications you may need.
Read Also: Best premium touring bikes in India
Great Destinations for Motorcycle long rides:
Now that you're equipped with the right tips and gear, it's time to discover some incredible destinations for motorcycle camping:
Pacific Coast Highway, California, USA: Cruise along this iconic route and enjoy breathtaking coastal views. Camp at picturesque locations like Big Sur or explore the stunning Redwood National and State Parks.
Cabot Trail, Nova Scotia, Canada: Wind your way through the Cape Breton Highlands and witness spectacular views of the Atlantic Ocean. Camp at Cape Breton Highlands National Park and immerse yourself in the beauty of the Canadian Maritimes.
Great Ocean Road, Victoria, Australia: Experience the beauty of Australia's coastline as you ride along this scenic road. Marvel at stunning beaches, cliffs, and rainforests. Discover camping spots in Great Otway National Park or the Twelve Apostles region.
Sardinia, Italy: Explore the rugged beauty of Sardinia as you navigate its twisty mountain roads and picturesque coastal routes. Camp in the scenic Cala Gonone area or venture into the stunning Gennargentu National Park.
Mae Hong Son Loop, Thailand: Embark on a thrilling ride through mountainous terrain, remote villages, and serene lakes. Camp at scenic spots like Pai or Mae Hong Son and immerse yourself in Thai culture.
Remember to research local regulations, road conditions, and travel advisories before embarking on your motorcycle camping adventure. Stay informed and be prepared for any challenges you might encounter on the road.
Great destinations for long rides in India
Ladakh, Jammu and Kashmir: Known as the "Land of High Passes," Ladakh offers breathtaking landscapes and thrilling rides. Camp amidst the majestic Himalayas, visit serene lakes like Pangong Tso and Tso Moriri, and conquer challenging mountain passes such as Khardung La.
Spiti Valley, Himachal Pradesh: Explore the remote and rugged terrains of Spiti Valley. Ride through winding mountain roads, visit ancient monasteries, and camp in scenic locations like Chandratal Lake and Dhankar Village.
Leh-Manali Highway, Himachal Pradesh: This iconic highway connects Leh in Ladakh with Manali in Himachal Pradesh. Ride through stunning mountain vistas, cross high-altitude passes like Rohtang Pass and Baralacha La, and camp in serene valleys along the way.
Rajasthan, India: Discover the vibrant culture and rich heritage of Rajasthan on your motorcycle. Ride through the desert landscapes of Jaisalmer, explore the royal cities of Jaipur and Udaipur, and camp in the Thar Desert under a starry sky.
Western Ghats, Kerala and Karnataka: Experience the lush greenery and scenic beauty of the Western Ghats. Ride through tea and coffee plantations, enjoy the tranquility of hill stations like Munnar and Coorg, and camp in the picturesque valleys of Wayanad.
Arunachal Pradesh, Northeast India: Embark on an adventure through the unexplored beauty of Arunachal Pradesh. Ride through dense forests, visit tribal villages, and camp in stunning locations like Tawang and Dirang.
Conclusion
These destinations offer a mix of breathtaking landscapes, cultural experiences, and thrilling rides. Remember to research local regulations, weather conditions, and road conditions before planning your motorcycle camping trip in India. Enjoy the diverse beauty and rich experiences that await you on your motorcycle camping adventure!
With the ultimate guide to motorcycle camping at your fingertips, you're now equipped to plan an extraordinary adventure. Embrace the freedom of the open road, immerse yourself in nature, and create unforgettable memories along the way. So, pack your gear, hop on your motorcycle, and embark on the ultimate motorcycle camping journey!