Has a very high end appearance.
Has a super spacious cabin for 5 passengers.
Offers a very muscular powertrain.
It is one of the best sports cars or rather muscle cars in the market today. It looks very high-end and premium. This beast has a very unique personality with amazing power. It has exclusive features like a spacious cabin along with capacious trunk space. The 2021 Dodge Challenger has a very powerful engine that blows everyone's mind and its power varies from 303hp to mind-boggling 807hp.
2021 Dodge Challenger Specs and features
Engine Performance
Dodge offers different engine sizes to satisfy individual hunger. From 3.6L 303HP to 6.2L 807HP .
The first option is a 3.6L Pentastar V6 engine which is capable of delivering 303HP to the wheels of the muscle car. This engine is more powerful than most of the muscle cars in the market. Another engine option is the 5.7L HEMI V8 engine that supplied power up to 375HP.
The third option is a 392 HEMI V8 Engine with max power up to 485HP and a peak torque of 475lb-ft. The fourth option, a Supercharged 6.2L HEMI SRT V8 engine can generate with just a touch of a foot on the gas paddle a superpower of 717HP and 656lb-ft.
The second last option is a supercharged 6.2L HEMI High output SRT V8 engine with a power output capacity of 797HP and a peak torque of 707lb-ft.
Read Also: Top Muscle Cars of 2021 -TAB Report
Wait, for the die-hard fans of high-power muscle cars, Dodge still has one last option to satisfy your need to break all the bondage of power and speed. The last option which makes Dodge challenger one of the most powerful muscle car is Supercharged 6.2L HEMI High Output SRT V8 engine. This engine delivers the highest power in any muscle car in the world. It can supplies up to 807HP and 707lb-ft of torque.
Dodge Challenger comes mated to either an 8-speed automatic transmission or 6-speed manual transmission. It provides great stability on road. The Challenger goes very smooth while cornering. It also has great gripping and handling. 
2021 Dodge Challenger design and appearance
Exterior
2021 Dodge Challenger still carries its legacy of muscular and aggressive design. While caring for the bold look, coupe has still managed to get a aerodynamic body. The front bumper and grille offers maximum flow of air which helps Challenger to attain its max acceleration and top speed with less effort.
The twin rounded headlamps are still old school and reminds us of older version of Challenger. The black grille with chrome accent is standard. The front and rear bumper comes with body color.
The Dodge Challenger has a very aggressive design. Different badges are displayed to honor different powers. It has different badges like- HEMI fender badge, R/T Scat pack fender badge, Hellcat SRT badge, and SRT Super Stock badge. The R/T and R/T Scat package offers cold air intake and super elegant white facet gauges. It also offers a Mopar Shaker hood which enhances the looks of the Challenger.
It offers a T/A package that includes a black wrapped roof and 20-inch gloss granite wheels. The R/T Scat package includes carbon black aluminum wheels and air catcher illuminated headlamps. Many different looks are included in different packages.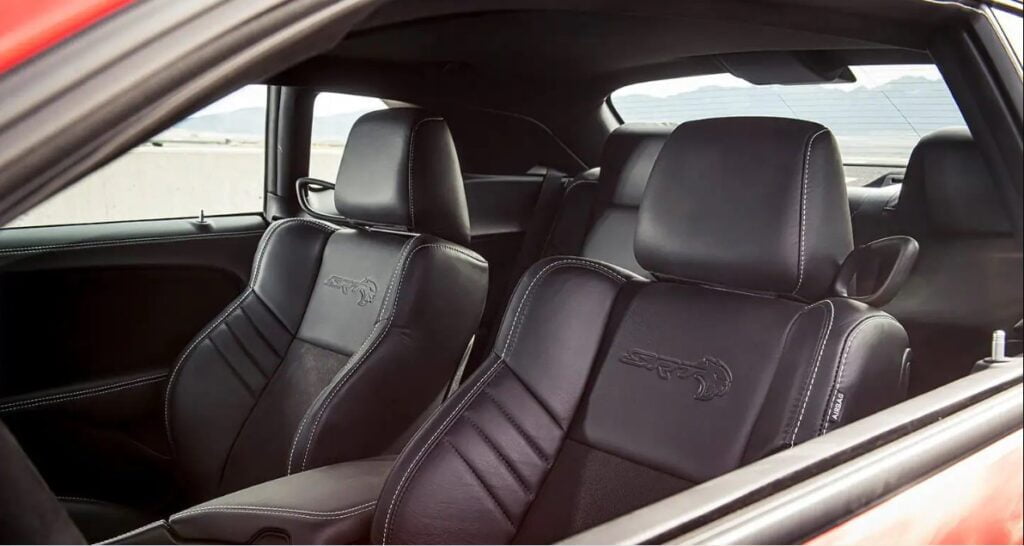 Interior
The Dodge Challenger includes many premium features and equipment in its interior. It has a very simple design with a super spacious cabin. The muscle car is a 2-door coupe but it is still quite spacious for 5 passengers. The SRT models offer unique red seat belts. The interior of the Challenger has a very minute detailing with a real carbon fiber accent. It offers a variety of colour options in every trim.
It offers 19 different interior sitting options which attracts a lot of customers. To make the passengers more comfortable, it offers heated and ventilated seats along with dual-zone automatic temperature control. It has a sleek-looking Troqueflite 8 Speed transmission stick. The steering wheel has paddle shifters which makes it very easy for the driver to ride.
Infotainment & Connectivity
The dodge challenger has a 8.4 inch touchscreen Unconnect infotainment system. It includes Apple CarPlay, Android Auto as standard. To add more pleasure to the ride it offers an optional Alpine audio system with a single subwoofer or the 19 speaker Harman kardon Audio system with 2 subwoofers.
2021 Dodge Challenger Safety
Dodge Challenger includes top notch safety features in its safety net. It includes:
Park view rear camera
High beam headlamp with automatic feature
Blind spot monitoring system
Adaptive cruise control
Collision warning system
5 airbags as standard
Dodge Challenger variants and price
Challenger SXT $28,870
Challenger GT $31,870
Challenger R/T $35,570
Challenger R/T Scat Pack $41,645
Challenger R/T Scat Pack Widebody $47,640
Challenger SRT Hellcat $61,270
Challenger SRT Hellcat Widebody $67,270
Challenger SRT Hellcat Redeye $72,870
Challenger SRT Hellcat Redeye Widebody $79,270
Challenger SRT Super Stock $82,270
Dodge Challenger has very powerful engine options. It includes many features in its upsides such as a super spacious cabin, capacious trunk space, and a high-end technological infotainment system. It goes up against Camaro and Ford Mustang Shelby GT 500.