Ford F-150 Lightning – Key Highlights
A first fully electric pickup truck from Ford
offers a range of up to 300miles
towing capacity up to 10,000lbs.
starts at $39,974
Ford F series pickup trucks are one of the most soled trucks in America. And this year Ford brought its new and updated version F-150 in the market. Keeping in mind the future demand for all-electric vehicles, Ford is going to launch its first full-electric pickup truck F-150 lightning next year. 2022 Ford F-150 lightning is a fully electric pickup truck. The Pickup truck is receiving a good response from the public and has received 100,000 reservations till now while the F-150 lightning is still months away from going down the assembly line. This confirms the popularity and reliability of F-series pickup trucks. You can expect the delivery of the vehicle by spring 2022 not earlier than that.
But what makes the F-150 lightning truck so special. Let's find out.
2022 Ford F-150 Lightning specifications and performance
Power and performance
The electric motors are directly mounted on both axels. F-150 Lightning is a full-time 4×4 pickup truck and gives instant torque to all four wheels almost instantly. With the standard advanced lithium-ion battery, the motors supply an estimated max power of up to 426hp and an estimated peak torque of 775 lb-ft. The extended battery increases the max power further up to 563hp while the torque remains the same. The batteries can charge up to 80% efficiency in 41-44min.
Estimated Range
F-150 is offering a good range of 260 miles and even up to 300 miles with extended batteries. Of course, the actual range in real life will be different. But still, this range is quite high for a pickup truck. The batteries are placed between the frames to keep them safe. This also increases the available space for both cargo and passengers. The F-150 lightning offers a standard crew cabin for 5 passengers in all model line up.
Electric Capability
Another significant feature that caught our attention is "Ford Intelligent backup power". F-150 lightning can supply power to your house when needed. A fully charged battery can power the house for up to 3 days. The intelligent thing about this feature is that the Ford Pass App can control the power output and based on usage it can tell the remaining time until the battery lasts.
In the Pro Power Onboard feature, the electric truck has 11 power outlets. 10 of them are 120V and 1 is 240V. These power outlets can supply a maximum power of 9.6kW though. The outlets are distributed through the body of the truck. Four 120V power outlets are in the front trunk, 2 in the cabin, and 4 in the bed. The bed also features the 11th 240V outlet.
North America has about 100,000 miles of divided highways where hands-free driving or autopilot driving is allowed. F-150 lightning has a semi-auto pilot feature called Blue Cruise. Blue Cruise uses a driver-facing camera and a radar system to allow drivers to go hands-free on the Blue Zones.
F-150 has a 32amp charging port as a standard that can be used to charge the electric truck from any 120V or 240V charging point. It does not require any special charging station. That's a significant feature of this EV.
2022 Ford F-150 Lightning – Cargo and towing capacity
F-150 lightning offers 14 cubic feet of cargo space on the front trunk or you can also call it 'Frunk', thanks to electric motors. The front truck can bear up to 400lbs of load while the rear trunk or bed has the maximum load capacity of 2000lbs with standard batteries. With the extended batteries, the rear load capacity reduces to 1800lbs.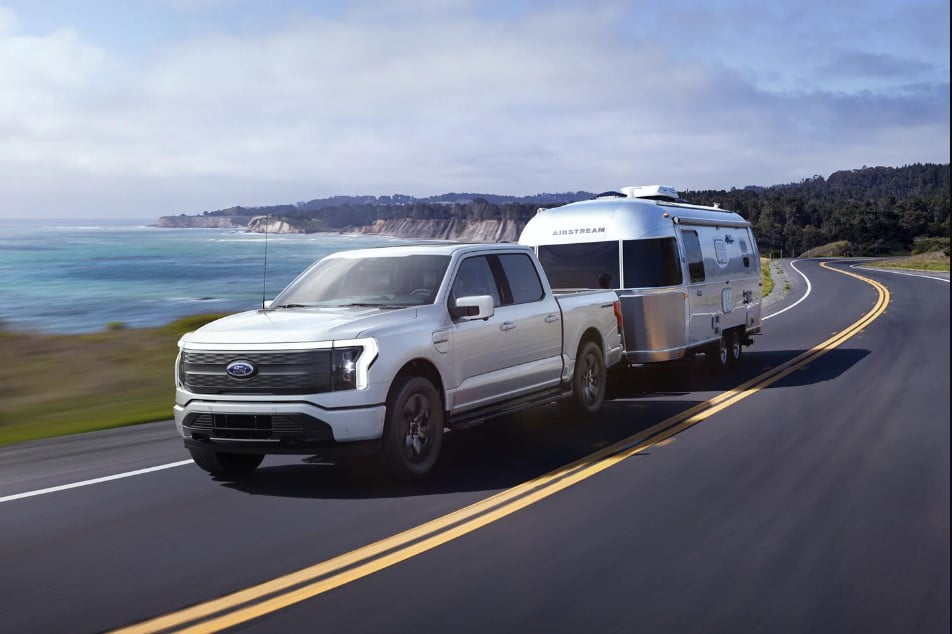 Ford claims a towing capacity of 7700 lbs with standard batteries. The same can be extended to 10000 lbs with the extended batteries. Comparing with the recently launched 2021 F-150 gasoline truck, The EV has a higher minimum towing capacity. The gas engine version offers a minimum of 5000lbs of towing with a 3.3L Ti-VCT V6 engine.
2022 Ford F-150 Lightning – looks and design
Exterior
The truck looks very premium at the first sight. Thanks to the premium elements added to its exterior. The horizontal headlamp that runs through the width of the front grille is exclusive in its design. A similar type of lamp runs through the width of the tail also. F-150 has skid plates in the front but the same is missing at the rear. The truck features a unique badge on the rear fender and tailgate.
Also Explore: 2022 Ford Maverick pickup truck
Interiors – Luxury and comfort inside
From the inside, F-150 really gives the vibes of a future EV. Less with advanced gadgets, it features a 15.5-inch portrait touch screen. It looks like more of a tablet rather than an infotainment system. Tesla also features a similar type of big touch screen to control the car's features. It's a big advantage of an EV that almost everything can be controlled digitally. The dashboard also features a 12-inch DIC which Ford calls "A Digital Productivity Screen". The DIC gives information about mile range to speed and the information of the Trailer as well. You also get the info related to battery temperature and voltage.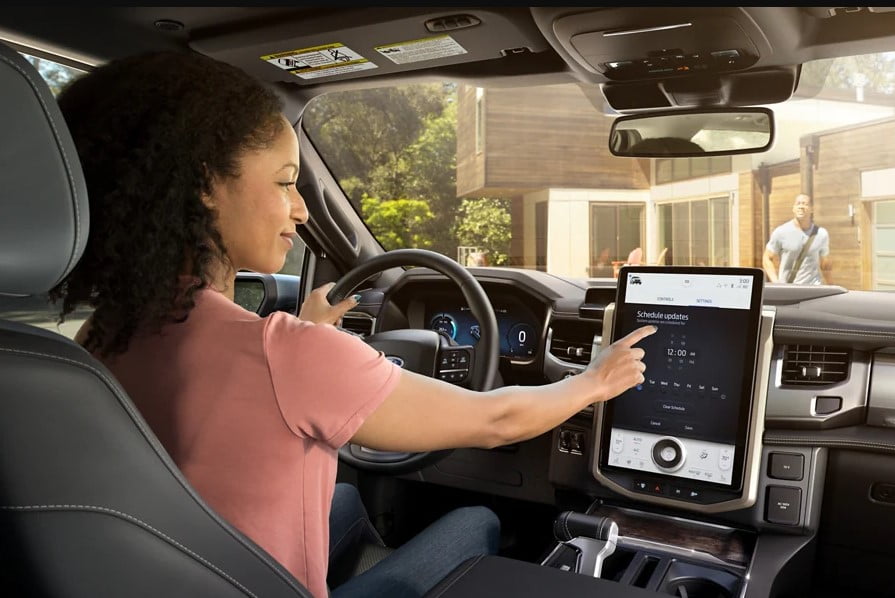 The cabin of the F-150 lightning truck is quite luxurious and has sufficient space for 5 passengers. The crew cabin for 5 is standard on all variants of this upcoming EV truck.
2022 Ford F-150 lightning – Digital features
Ford has introduced some innovative features into the F-150 lightning. There are many charging stations located throughout America. But still, doubt and fear always strike in when planning to purchase an EV that too a pickup truck. F-150 comes with a feature called "Power My Trip". Power my trip find the nearest charging stations that would fall on your planned journey route and also finds whether the vehicle can make up to that destination with payload.
Talking about the payload, the F-150 EV version has scales mounted on the chassis that give the real-time info of the payload in the truck and calculate the estimated range based on it. The truck also calculates the estimated range based on the weather, traffic, grade, payload, towing weight, and more. Also predicts the range for future trips based on the previous data.
2022 Ford F-150 lightning Model lineup or variants
F-150 Lightning has four variants in the model lineup – Pro, XLT, Lariat, and Platinum.
Standard features of variants
F-150 Lightning Pro
2.4kW Pro power onboard
Ford Co-pilot 360 Assist 2.0
EPA – Estimated range of 260 miles
EPA-Estimated range of 300 miles available with extended battery
SYNC 4 with 12-inch touch screen
F-150 Lightning XLT
Gary Ion Satin Metallic Grille
Cloth seating
Extended running boards
Enhanced Zone lighting
a 360-degree camera
Interior work Surface
9.kW Pro Power onboard available with extended-range battery
Ford Co-pilot 360 Assist 2.0
F-150 Lightning Lariat
Premium Geometric Gray-Ion Satin Grille
20-inch dark carbonized Gray Wheels
leather-trimmed heated and ventilated seats
Power tail gate
SYNC4 with 15.5-inch touch screen
9.6kW Pro Power Onboard as Standard
Twin Panel Moonroof Available
Extended Range battery
Ford Co-pilot360 Active 2.0
F-150 Lightning Platinum
Vador Black with tinted chrome grille
22-inch bright machined aluminium wheels
Ebony black painted pockets
heated and ventilated Nirvana leather seating surfaces
Multi contour Front seats with Active motion
Extended range battery
Unleashed sound system by Bang & Olufsen
Ford Co-pilot360 Active 2.0
Twin panel moonroof
Ford has not announced the prices of all models but it has given an insight into how much you have to pay to buy this 2022 Ford F-150 Lightning all-electric Pickup truck. The standard and base model Pro starts at the base price of $39,974 while the more equipped mid-series variant XLT starts at $52974. The price for the top variant with all available features can go up to around $90,474.
Also Read: Isuzu Hi-Lander premium pickup truck