2023 the all-new Kia Sportage has more of everything. It's larger, more capable, more powerful, and more fuel-efficient. The 2023 version of the Kia Sportage has grown to be one of the largest vehicles in its segment.
2023 Kia Sportage – The Design
A bold new design stands out in a crowded segment and redefines its role in the Kia SUV lineup. A detailed interior that makes a powerful first impression and thoughtful features and technologies aimed at making your urban and outdoor adventures easier and more enjoyable.
2023 Kia Sportage – Exterior
There's no better model to show Sportage's lines than the SX trim. It starts with the design inspiration of opposites united which is all about contrast and tension.
Paying tribute to nature in everything on the exterior that's expressed through clean muscular surfaces. Contrasted by edgy lines and aggressive graphics upfront. Sportage stands out much like the all-new Kia EV6. But it still retains a strong SUV personality.
The Front
The signature tiger-nose grille is supported by the bold and technical grille graphic along with standard LED headlamps and boomerang-shaped DRLs. On the side, we again have crisp feature lines cutting across refined body surfaces that bring everything together at the d-pillar. Opposites united comes through in this deconstructed effect.
At the front, we've got some nice large LED daytime running lights, and LED headlights. We've got a set of 18inch wheels on this model. We've got plastic trim going along the bottom of the side. Turn indicators are placed on the ORVMs. We've got no roof on the base model. Blind-spot monitors on here. We've got keyless entry. Talking about keyless, we've got a remote start on the key fob. Here all your buttons are going to be on the side.
The Rear
There is no power liftgate on the base model. So we got a manual liftgate. The roof rails are nicely brushed, and aluminum made. Got a nice chrome band wrapping around here. Rear tail lights beautiful looking vehicle. We've got a backup camera on here. Of course, with the manual liftgate, we've got some rear parking sensors down here too. It's so beautiful, much better looking than the older Sportage.
The rear of the vehicle is defined by powerful broad shoulders that suggest stability and give it a planted stance. Sharp-looking rear lamps are connected by slim horizontal graphics emphasizing stability and giving the vehicle a wide impression. A large black lower graphic connects all of the rear design elements and gives the whole section a sense of lightness.
The X-line gives you a unique front end. A two-tone roof with a raised roof rack for your gear and on the inside an aggressive seat pattern that resembles a rugged tire print. The new Kia Sportage X-Pro model builds on that to give you the gear to really get you off the beaten path including a multi-terrain driving mode and all-new BFGoodrich all-terrain tires. Kia worked hard to make Sportage the kind of vehicle that can get you and all of your gear out to places as fuel efficiently as possible.
2023 Kia Sportage – Dimensions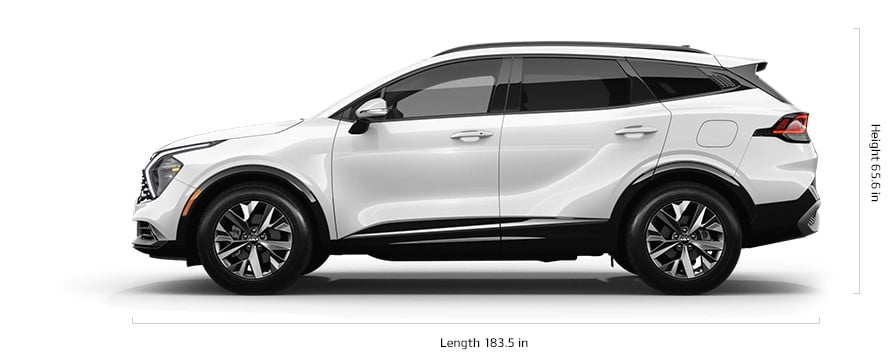 The 2023 version of the Kia Sportage is more than seven inches longer than the 2022 Sportage and the wheelbase is over three inches longer than the previous one. It's also wider and taller by about half an inch each. The length and width of the SUV are 183.5inches and 73.4inches. It has a height of 65.4inches without roof rails for Front-wheel-drive (FWD) and 66.1inches for AWD. With three inches longer wheelbase, Kia Sportage now has a wheelbase of 108.5inches. The new SUV even now has a higher ground clearance of 8.3inches for AWD and 7.1inches for FWD.
Kia is going big with their sub-compact SUV. With the totally redesigned 2023 Kia Sportage if you believe that bigger is better you'll love the fact that this new Sportage is 7.1 inches longer slightly taller and wider. Now sports a wheelbase that's 3.4 inches longer. This additional length in the wheelbase is what allows for more interior room. In fact, Kia claims that this Sportage has class-leading rear legroom with 41.3 inches of space. Cargo capacity is reportedly best in class with 39.6 cubic feet of space. It's all on a platform that's shared with the Sorrento a car we thought was impressive in its own right.
Some of those adjustments in size may seem minor but the interior is really where you notice the difference. In the back, there's 28% more cargo room making it among the largest in the segment. For rear passengers, you have three more inches of rear legroom that's best in class.
2023 Kia Sportage – Interiors
The interior has some highlights too. When you sit in the first row, the first thing that will catch your eyes is the incredible screen. This system gives you a driver-oriented 12-inch digital cluster extending into an infotainment screen. While the base LX trim comes with an 8inch display, the higher trims get the dual panoramic curve display. It's made up of two individual displays, a 12.3inch instrument cluster, and a 12.3inch touchscreen giving you almost 25inches of digital real estate.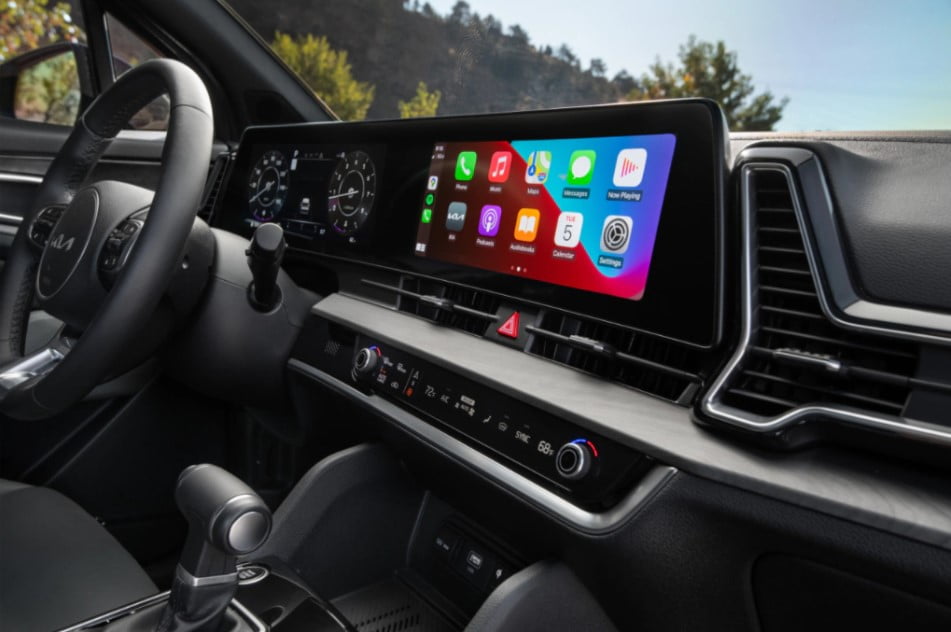 Now UVO becomes Kia Connect for Sportage. This means a wi-fi hotspot, over-the-air updates for maps, and a new stolen vehicle recovery system with immobilization and phone connectivity through Apple CarPlay or Android Auto.
Wireless charging, Wi-Fi plus Android Auto, and Apple CarPlay are standard and while you may not get the big screen in the LX trim but you will get Wireless Apple CarPlay.
Just below the infotainment screen, there's a new touchpad for climate and audio switching. The functions, also change what they do. They're either temperature controls for you and your passenger or volume and tuning for your premium Harman Kardon sound system. The Harman Kardon premium sound system comes integrated with HALOsonic and 400watts 8-speaker system giving an astounding surround sound experience.
The cabin Space
There is a lot of thought put into other conveniences too. There's plenty of storage. You only need cupholders when you have a cup to put in them. So why not make the space useful for other things like a tablet. The seats are bold and strong. There's a sense of width but also a sporty hugging effect when you're in them. Real stitching and detailed patterns create a feeling of luxury as does the animal-free leather. The rear seats are luxurious and well-appointed.
The seats are made of animal-free leather and there are coat hangers integrated into the back of the headrest. Kia has never been stingy with their driver assistance systems either. So you can expect features like lane following assist, lane-keeping assist, rear-view monitor, reverse parking distance warning, and forward collision avoidance to be standard on all trims with even more available as options.
The space inside a vehicle is more important than ever. They're all about contrasting boldness and softness. The integrated curve display and the air vent are bold features. The driver and passengers don't just feel connected to the world but also more connected to the car. That's where the softness comes in the way. The cockpit environment wraps slightly around the driver and presents the integrated touch switches speak to that.
2023 Kia Sportage – Specs
The Engine
So, now underneath the hood, you'll find a 2.5 liter in-line 4-cylinder DOHC 16 valves that have been targeted to make 187 horsepower and 178 lb-ft of torque. The 2.5L engine is paired with an eight-speed automatic transmission. More gears in an automatic transmission allow for better power delivery and fuel economy.
Kia targets an estimated 28 mpg combined down the road. Sportage will offer electrified options giving you exciting performance with increased efficiency and zero range anxiety. Kia is expecting an 8% increase over the last-gen. Even though this new car is larger.
Driving Assist features
Kia Sportage X-Line and Sportage X Pro really redefine what a Sportage can be opening up to customers who may never think about it before. You get lane following and lane-keeping assist and forward collision avoidance with junction turning capability which means Kia Sportage even helps to look out for possible collisions while you're taking turns through an intersection.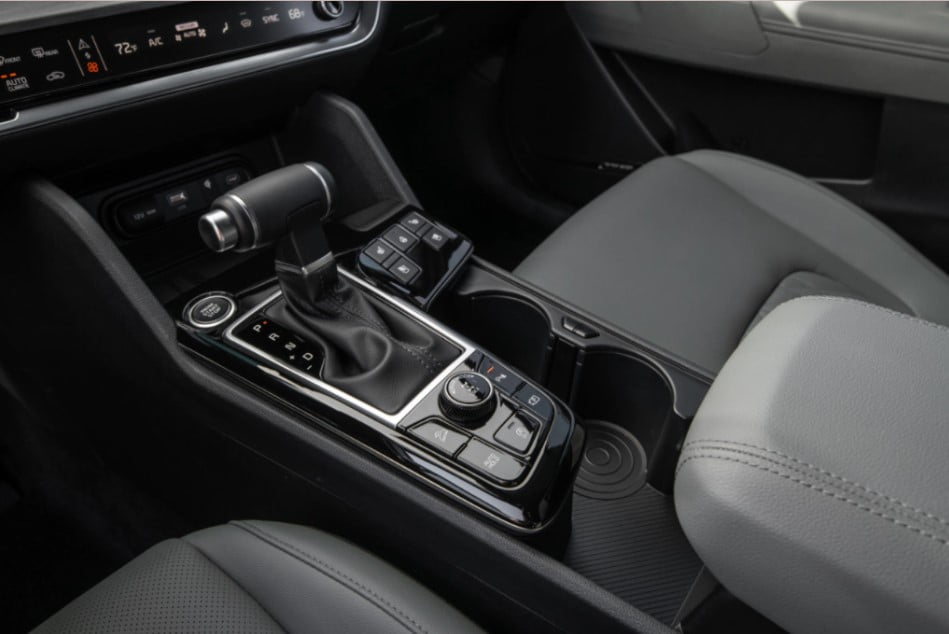 Blindspot collision avoidance assist activates automatically whenever you use your turn signal. If you do get into a situation not only will Sportage give you a warning it will help you break when needed. But the coolest thing is the available blind view monitor on the cluster.
All it takes to change the drive modes and customize throttle response, transmission shift response, and steering, is a twist of a knob. The enhanced drive mode system is perfect for snow, mud, and the sandy surface. 2023 Kia Sportage is more capable in a number of ways. There is now two inches more ground clearance for a total of 8.3 inches essentially making snowy and muddy roads more easily drivable. The X-Line and Sportage X-Pro models take it even further.
Sportage also adds some great new available parking tech there's a 360-degree surround-view monitor which is a big help when parking in tight spaces or you can use remote smart parking assist. Let's say you need to squeeze between two full-size pickups. You can position your vehicle, step out and use your key fob to move your Sportage forward into the space.
2023 Kia Sportage – Models, colors, and price
2023 Kia Sportage is currently coming in LX, EX, SX, SX Prestige, and also the new X-Line AWD, X-Pro AWD, and X-Pro Prestige. The future hybrid models are also in line to be available in near future. All the trims of Sportage feature a single color scheme except X-Pro and X-Pro Prestige which are available in two-tone colors also. Ebony black, Steel Grey, Glacial White Pearl, Snow, White Pearl, Everlasting Silver, Saphire Blue, Dawing Red, and Jungle Green are some of the exotic colors in which you can bring Sportage into your garage.
The Price for 2023 Kia Sportage starts at the US $ 25,990 for the base trim LX and goes all the way up to $36790 for the premium trim X-Pro Prestige.
LX – $25,990
EX – $27,990
X-Line – $30,790
SX- $31,490
SX Prestige – $33,490
X-Pro – $34,990
X-Pro Prestige – $36790
Read Also: 2021 Kia Niro Specs, variants, features and pricing
2023 Kia Sportage – Future Hybrids and EVS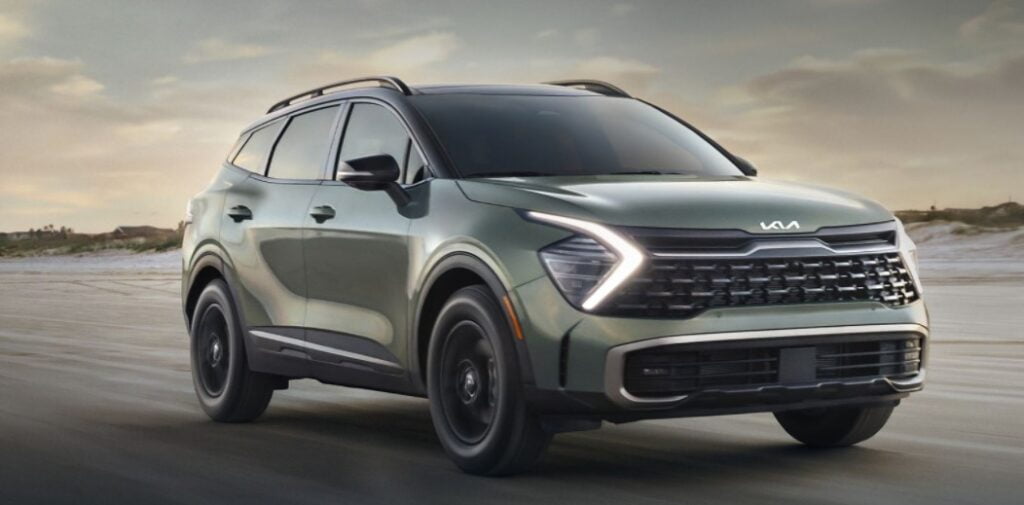 Kia assures us that there will and even hints that a plug-in hybrid might show up too. As expected you'll also have your choice of front or all-wheel drive. There are now two new adventure-focused trims called X-Pro and X-Pro Prestige. What makes them special are the BF Goodrich all-terrain tires, 1.5 inches of additional ground clearance, LED fog lights, a center locking differential, heated windshield and wiper, washer nozzle, and specially calibrated multi-terrain drive modes.