The new MG Astor if you're unfamiliar with it, it's the petrol version of the MG ZS EV. It's here to take on the likes of the Hyundai Creta, Kia Seltos, Volkswagen Taigun, Skoda Kushaq, and the Nissan Kicks. MG is relying on technology to be the key differentiator. In the context of the 4.3 meter long mid-size SUVs, it's about the size of a Hyundai Creta give or take a few millimeters in length, width, and height. The Astor's 2585 millimeter wheelbase is the shortest in the segment. The Astor fits in not only in size but in look as well.
2021 MG Astor Exterior and appearance
It has the same high riding crossover stance and generally pleasant appearance as its EV sibling. But certain styling elements are different and these will eventually be rolled onto the ZS EV facelift as well. Differentiating the Astor is its redone and crisper-looking front where the new grille with its outwardly radiating studs is the focal point. Sharper headlamps with what MG calls hawk eye DRLs flank the grill and the bumper fog lamp enclosures and air dam are redone too.
Look closer and you'll note the radar cameras and proximity sensors on the Astor. At the sides, there's not much to distinguish the Astor from a ZS EV and it's really the distinct design of the alloy wheels that'll help identify the petrol version.
Top-spec versions get 17-inches machined alloy wheels and there are also front and rear disc brakes with calipers. Finished in red around the back the LED tail lamps get a new hawkeye signature like the DRL's upfront and the bumper has been restyled too. This being a combustion engine-powered model. It does sport an exhaust. Though it's hidden from view ironically enough. There are fake exhaust surrounds on the lower portion of the bumper.
2021 MG Astor – Interior
MG is counting on technology to be the differentiator. Well, that impression starts even before you get inside. There's a sim-based connected car tech that allows you to remotely keep in touch with your vehicle and a handy new feature is a keyless entry and go via your phone which effectively does away with the need to carry your car's key. Unlock via your phone and you're good to go. Because it works on Bluetooth and not 4G you aren't reliant on mobile network coverage.
Once you're in you'll like what you see. The MG Astor's cabin is very well turned out and it has a lot of stylish elements. Things like the turbine-like air vents at the sides really uplift the cabin. The steering wheel is really nice to hold and looks like it belongs to a more expensive and almost German car.
Of course, there's also a lot of talking points in terms of quality. You get the leather-like finish on the dashboard. There are soft-touch materials on the dashboard. Generally, the feeling is of being in a fairly premium car. The red on the black interior theme looks much better but if it's still something too gaudy for you MG offers more conventional themes like beige and black with red stitching.
As for the front seats themselves, they're well contoured and supportive. Other things that help the Astor on the inside include the digital dials. The center screen in particular is of very high quality. The graphics are really rich. The center touchscreen is also very well done. It's very well laid out. It's got a nice viewing angle.
MG Astor – The Level 2 AI
The one talking point inside the Astor is the AI assistant. So you can keep occupied on lonely journeys from the office with your AI assistant. Now, apart from telling jokes, it will also give you trivia if you need to ask it. It's hooked up to Wikipedia so you can find a lot of information on board. The assistant does take some time to learn accents and functionality is dependent on the strength of the mobile network. You can also get news updates. But it could have had a broader application if linked to something like google. But on the whole, it's quite a cute and gimmicky feature.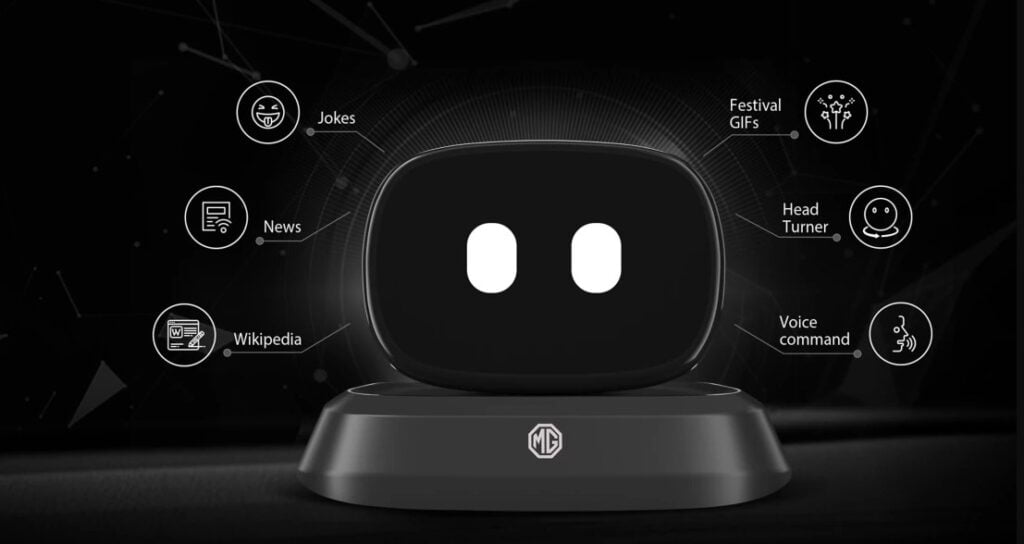 Interior – Comfort and Luxury
In addition to all that's been mentioned, fully loaded Astor also gets a kit including auto headlamps and wipers, an air purifier, and an electronic parking brake. The touchscreen works well enough and also gets features like the Sawan music app. The chunky physical buttons have been kept for commonly used features like temperature and blower settings. However, that being said there are some emissions as well. For instance, while the driver's seat gets six-way power to adjust. There's no front seat ventilation and even telescopic steering adjust has been given a miss. There's no wireless phone charger or auto-dimming rearview mirror either. A 360-degree camera is part of the package but the low-resolution graphics are disappointing.
Shifting the focus to the backspace and comfort at the back of the MG Astor is pretty good. Now the cabin isn't really wide to see three large adults of 6-feet in great comfort. But three average-size adults should be reasonably comfortable at the back. What's also nice is that MG has provided an adjustable headrest for the middle seat passenger and the center hump isn't all that large.
Other amenities at the back include air conditioning vents. You also get two USB slots. The armrest folds down and settles at a nice and comfortable position. You get two cup holders inside it. But the defining feature inside the MG Astor's cabin at least for those seated at the back is the panoramic sunroof which really gives a great view of the world above. Interestingly, the Astor doesn't have a raised floor like the ZS EV does to accommodate its lithium-ion battery pack and what that means is that the seating position is less knee-up, more natural, and generally better than what you get in the all-electric version.
MG hasn't disclosed luggage capacity as yet but there's seemingly a fair amount of space on offer. You can fold the 60:40 split rear seats to make more room too. However, the loading lip is a touch high.
2021 MG Astor – Engine & Transmission
MG Astor is available with two engine options and both are petrol. Like many of its rivals, the Astor will be a petrol-only model. Official fuel economy numbers are yet to be revealed but what we do know is that the range starts with 110hp, 1498cc naturally aspirated unit that can be had with a 5-speed manual gearbox or an 8 step CVT automatic. The other engine on offer is a 3 cylinder 140HP, 1349cc turbo petrol. That's solely on offer with a 6-speed torque converter automatic transmission.
When you're on a racetrack you will be driving hard and when you do so, you will find that this engine is smooth. But it's not the most enthusiastic. It'll rev till about 5900rpm. When you really extend it on hard-driving, the engine also came across as louder than the 4 cylinder turbo units of its rivals. When you're also driving fast you'll notice that there is a mild pause between gear shifts. It's not the snappiest gearbox in the business. There are no paddle shifters on offer but you can take manual control via the gear lever. Again responses aren't what you'd call urgent, though the shifts are smooth. Now a race track is typically not where you drive your mid-size SUV.
This is a pretty softly sprung SUV. There's a lot of body roll in the corners. There's a reasonable amount of grip but push the Astor hard and it's the tires that will protest first and foremost. The overall feeling is that this is not a very enthusiastic or sporty SUV. You can fine-tune the driving experience to an extent with modes for the electric power steering. Though high-speed characteristics don't change all that much. The steering is smooth. It turns direction relatively confidently. There is not much difference between the three power steering settings.
MG Astor – Braking and safety features
At least at the high speed, the Astor's strong braking performance is the biggest real-world takeaway. The braking performance is good. You get disc brakes at the back as well. The strong brakes are your first line of defense in a panic scenario and what's note-worthy is that the list of active and passive safety kits is long. The Astor hasn't been rated on crash safety by Global Ncap but it's reassuring to know the top-spec Astor gets six airbags, electronic stability control, traction control, hill descent control, a tire pressure monitor, and Isofix child seat mounts.
AI Features
But what the Astor truly stands out for is its ADAS or Advanced Driver Assistance Systems with level 2 autonomous features. These functions use cameras and radar tech to read the conditions and alert the driver of hazards. It can modulate speed and can even take over steering duties in certain conditions for limited periods of time.
A very important feature that's part of the safety suite is auto emergency braking.
What that does is when it detects an obstruction on the road say a car that's suddenly slowed down, it'll first flash a warning and if you don't respond it'll automatically apply the brakes which is a lifesaver in India.
There's also pedestrian emergency braking. It's something I hope that neither you nor I have to test in the real world. Also on the list of safety features is a Speed Assist System. Now what this allows the car to do is use the cameras to actually read speed signboards and relay that information onto your screen. You also have the option to take it up a notch by selecting intelligent mode. Now what that will do is it'll read the speed indicated on a signboard. It'll relay that information and it'll also automatically restrict your speed to keep within the speed limit. It's a smart way to prevent overspeeding and Of course, saving your pocket from those really hefty challenges.
Also part of the package is a Lane Assist System which gets you three levels of assistance. The first level of assist is a Lane Departure Warning. So say, you're veering off your lane, you'll get an audible signal to remind you that you need to concentrate a bit more on the driving. The second level of Lane Assist is Lane Departure prevention. So when the car detects that you're veering off your lane, it'll intervene with a steering input of its own and get you back on track.
The third and highest level of Lane Assist is Lane Keep Assist. The car will read the road in front of you and actually do the job of keeping the car aligned with the lane markings. The system works best on a smooth or gently curving road.
It is a bit easy to get your hands off the wheel which you can for up to 20seconds at a time. But any longer than that and you'll get an audible warning and you will be required to put your hands back on the wheel. MG Astor also gets Adaptive Cruise Control that will automatically maintain a preset distance to a vehicle in front doing away with the need to accelerate and brake on a highway cruise.
The system can bring the car to a complete halt as well. What's however missing is a traffic jam assist that could do the job of braking and acceleration in crawling city traffic. Other features include blind-spot detection and lane change assist that flash warning on the wing bearers if the system detects a hazard out of sight. Also included is a rear cross-traffic alert that will warn you if there's a vehicle headed in your path when reversing.
On speed breakers, you can feel a softness to the suspension setup. It is quite supple and takes the bumps well. But you also feel a slight movement up and down. Performance at lower speeds is adequate too. With a pleasant build of speed, the steering modes also come into play. It's a slower speed that you can really feel the benefits of the three different modes for the power steering system. Now dynamic feels the heaviest in town. It's still not heavy per se but compared to normal and urban modes it does require that little bit more effort. Normal mode lightens things up a bit and when you're actually driving in traffic or have had a hard day at the office and just want an easy and effortless cruise home you'll reach out for urban mode which requires the least effort.
2021 MG Astor Price and the verdict
So that's the MG Astor for you. Set to go on sale from 21st October in India. It starts at an introductory price of INR 9.78lakh. The five-seat versions of the larger XUV700 could tempt buyers away though.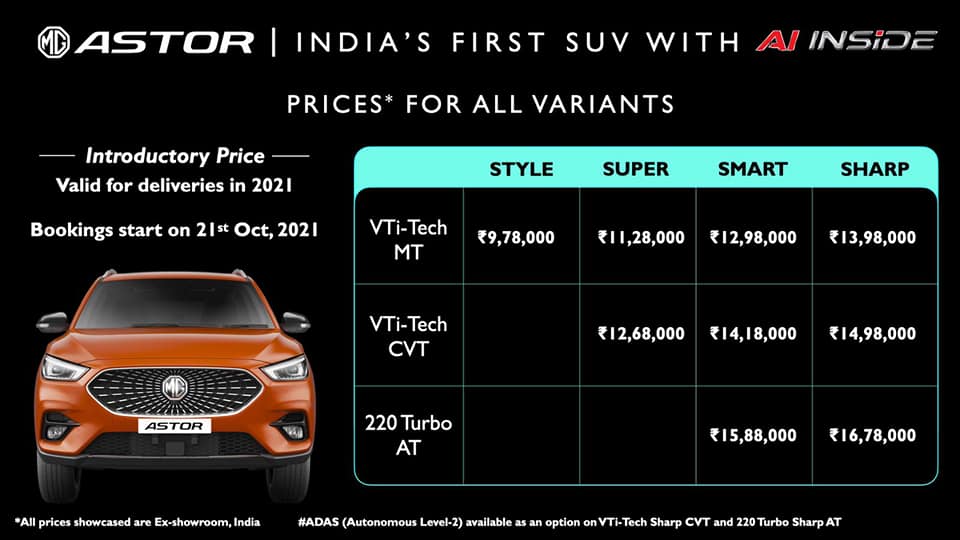 At last, it can be said. The Astor is handsome on the outside, feels upmarket inside, and has a smooth and easy-going nature. It isn't the most exciting of the midsize SUVs to drive and misses some comfort features too. But the 2021 MG Astor will sure appeal to tech enthusiasts with its connected tech ADAS functions and to an extent AI assistant too. It's this novel tech and premium cabin that could help the Astor win itself a fan following in the competitive mid-size SUV segment.