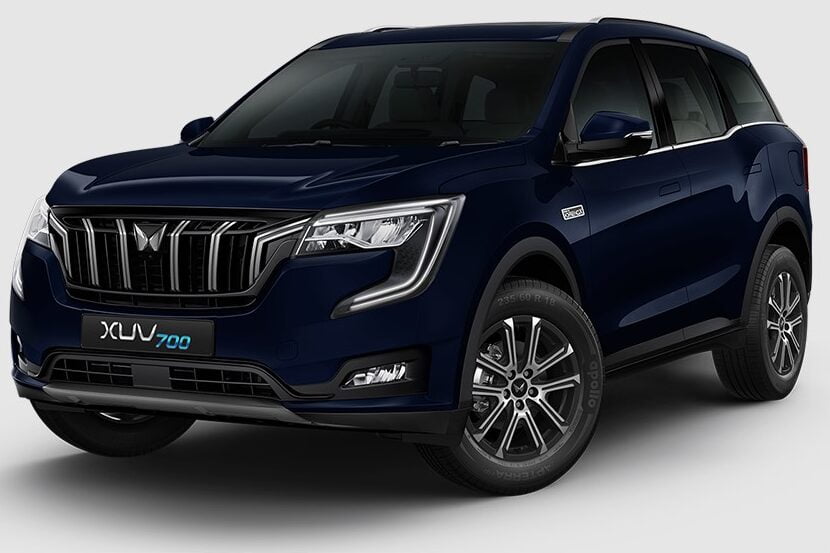 Mahindra has recently unveiled its much-awaited SUV XU700. The SUV comes loaded with a lot of advanced features. These features cover areas of luxury, performance, and safety. The features available in the newly launched Mahindra XUV700 generally come in cars of the premium price segment. But, Mahindra by placing the price in a competitive range, has got an edge in the market now.
Talking about its features of advanced technology, XUV700 has AI-based driving features. These features include
Adaptive Cruise control
High Beam Assit
Traffice sign recognition
Automatic Emergency Braking
Driver drowsiness system
Currently, the price of 4 variants of Mahindra XUV700 is unleashed. The 4-variants available are 5-seater and comes with petrol and diesel engine. The 2.2L diesel engine comes in two power options 155 and 185PS with peak torques of 360 and 420Nm. While the 2.0L petrol engine has a single power option of 200PS with a peak torque of 380Nm. Both the engine options come mated to 6-speed manual and automatic transmission.
The 4-variants unveiled by the Indian SUV makers are 3 petrol variants and 1 diesel variant.
Price of Mahindra XUV700 variants
Mahindra XUV700 MX Gasoline – INR 11.99 lakh
The first variant or the base variant of XUV700 is MX Gasoline with 2.0L Turbo Petrol with Direct Injection (TGDi) engine. The price for this Mahindra XUV700 base variant starts at INR 11.99 lakh. Not many details about the features have been declared till now. But the key highlights of this variant are
20.32 cm (8″) Infotainment
17.78 cm (7″) Cluster
Smart Door handles
Mahindra XUV700 MX Diesel – INR 12.49 Lakh
Currently, there is only one iteration of XUV700 is available with the diesel engine. XUV700 MX Diesel starts at the price of INR 12.49 Lakh. The key features you get in this variant are
20.32 cm (8″) Infotainment
17.78 cm (7″) Cluster
Smart Door handles
Mahindra XUV700 AX3 Gasoline – INR 13.99 lakh
The other petrol variant with built-in connected features starts at INR 13.99 lakh. It has Amazon Alexa and the latest connected app – AdrenoX, developed by Mahindra exclusively for XUV700 and its upcoming SUVs. The key features of this iteration of Mahindra XUV700 are
Dual HD Screen with 26.03 cm (10.25″) Infotainment
26.03 cm (10.25″) Digital Cluster
Amazon Alexa Built-In
AdrenoX Connect with 60+ Connected Features
Mahindra XUV700 AX5 Gasoline – INR 14.99 lakh
The price for the fourth variant of Mahindra XUV700 starts at INR 14.99 lakh. XUV700 AX5 Gasoline will contain all the features up to AX3 Gasoline trim and will have certain additional features like Skyroof and curtain airbags for all 3 rows.
Skyroof
R17 Diamond Cut Alloy Wheels
Curtain Airbags for all 3 rows
The price of Mahindra XUV700 is very competitive in nature. The AI and safety features Mahindra is offering at this price range will make other car manufacturers either drop their prices or update their features. This price range places XUV700 in direct competition with KIA Seltos, MG Hector, Tata Harrier, and Tata Safari. The newly launched 7-seater SUV Hyundai Alcazar will now receive very tough competition as well.
There are many variants that are yet to announce by Mahindra. So bookmark this page to your browser to get updates on the price of Mahindra XUV700 variants.