Now for 2021, Triumph has made the Speed Triple 1200 RS a lot more punchy. They've added about 30 horsepower and made it 22lbs lighter which is a huge boost. It makes for a much more aggressive motorcycle.
So is it still a good bike for the roaders? Is it now too hot to handle? You will get it all answered. So read it to the last.
We will tell you what we thought about it. We had been really looking forward to this one, and there are certainly plenty of things we like about it as well as a few points that might be improved. The newly launched KTM 1290 Super Duke R, the closest competitor of Speed Tripple 1200 RS is also incredible. In the end, we will tell you how they compare. So read till last to decide which one will be good for you.
Triumph speed triple 1200 rs is quite hardcore, pretty focused, fast, and track-oriented naked sportbike. However, it offers you to adjust the settings the way you want. Triumph offers you 5 different riding modes – Rain, Road, Sport, Track, and Rider Configurable. There is also a bunch of settings for track riding, road riding and there's a comfort setting as well.
So here are six of the things that we love about it and a couple we didn't.
Triumph Speed Tripple 1200 RS – Engine & Performance
So we've gotta start by talking about the 1200 in-line three-cylinder engine which is just astonishing. Certainly, the big selling point of this bike is its power. There's so much power at the top end. You're just never ever going to be wanting more for road riding. The 1160cc engine delivers a max power of 180PS that you get in SUVs.
Engine: 1160cc, Liquid-cooled, 12 valve, DOHC, inline 3-cylinder
Max power: 80 PS / 177.5 bhp (132.4 kW) @ 10,750 rpm
Max Torque: 92 lbft (125 Nm) @ 9,000 rpm
Transmission: 6-speed
Clutch: Wet, multi-plate, slip and assist
Though it is compared to something like the MV Augusta Brutale 1000 RR or the Honda CB1000R. Both of these bikes can feel a bit uninspiring, lower in the revs. But the New Speed Triple 1200 RS has that nice creamy torquey feel to it. And there is one naked sport Yamaha MT09 that can also be a competitor to Speed Triple 1200 RS.
Read Also: 2021 BMW S 1000R
It really feels like you can just ride it in third along some broads. It won't get bogged down or become unresponsive lowering the revs. You can just get on the gas from the bottom of the rev range right up to the top. It's just an absolute blast at whatever revs you're riding it. In contrast to the KTM as well, this feels a little bit smoother.
So it has a more refined feel without losing any of that hooliganism that it has. When we say refined, it doesn't mean boring. It just means that when you're cruising along and you know taking in a bit of motorway to get between the good roads. It's a very nice smooth bike to ride. When you do hit the twisties though, the throttle response even in the road let alone sport or track or whatever, It's very very lively on the throttle. You will never be bored riding this bike at whatever speed you're going at. There's power, there's torque, and there's a lot of response.
2021 Triumph Speed Triple – The Exhaust
Of course, a huge part of the riding experience is the soundtrack, and yet again Triumph has done wonders with this stock exhaust. At the moment, they seem to be offering fewer and fewer bikes with an accessory exhaust be that from Vans and Heinz they used to have for the modern classics or arrow for the tiger and the roadsters like on this one.
This is one of the bikes that doesn't have one the trident as well. They don't offer one and we think what they're saying is that euro 5 is so restrictive, the emissions regulations, in terms of both like the sound and the emissions. There's not really a lot they can do with an aftermarket silencer. It doesn't really add anything in terms of performance and therefore it doesn't really give the customer a great value for money.
Most of the stock bikes sound absolutely incredible be that the modern classics, the street twin, and those sorts of bikes. They all sound great right out of the box. The Street Triple RS also has an incredible sounding with stock exhaust with a nice little carbon finisher. Speed Tripple 1200 RS though is the first that they've done with an exhaust control valve. What it does basically is, closes at lower revs adds a bit of torque and efficiency but as you get on the gas it really opens up into like a throaty Triple raw which is exactly what you want from this bike. Combined with the sound that you're getting from the airbox as well. It's absolutely beautiful.
2021 Triumph Speed Triple 1200 RS – Gear Box
On top of that, the gearbox is pretty damn good as well. It likes to be a bit further up in the revs and you've got the quick-shifter as well. Once the speed picks up, it's just perfect. We wouldn't claim it's the best at low revs but for the sort of riding that it's intended for, it performs beautifully. Another plus for this bike is the handling and braking and just the kind of general performance on the road.
You know it's easily good enough for most road riding a decent clip and like we say you do have to back it off a bit to get that comfort on the road. We think if it was in anything firmer than the comfort settings it might become a bit jarring and tiring after a while. But in those settings we found Speed Triple 1200 RS to be just that perfect level of responsive and not kind of wallow. It's what you want from a super naked but there's just enough to stop you from getting fed up with it. You will find it absolutely fine for a full day of riding.
The Brakes
The brakes as well you'd expect anything else from this setup. You know Brembos at the front. There are dilemmas braided hoses, a Brembo radial master cylinder. It's all the good stuff and it breaks just as well as you'd expect. One more subtle thing is it does have linked braking. So it gives you a bit of rear brake when you're on the front brakes. The rear brake is left independent when you use the foot control though. So if you do want to drag it doing low-speed maneuvers and that kind of thing you can do. That's a big positive for this bike. It's not just a linked-braking system. It's proper subtle and well-engineered.
The riding position is pretty amenable as well. It's exactly what you'd expect from a Speed Triple. A bit tall in the seat, nice and wide in the bars, not too hunched over and footpegs sporty but not totally uncompromising. The seats are quite nice in that. It's now at the front you can slide down when you're around town and in traffic and get your feet down easily. But it really pitches up and widens towards the back so that you can shift and get a little bit further forward.
The Technology
At this price point of around $18,000 and being super naked this bike has all the tech that you'd expect it to. So lean-sensitive rider raids plenty of riding modes so rain road sports track rider configurable lots of ability to kind of customize it all. You have got cruise control as well. Phone connectivity where you can get your nav and media on the dash. A 5-inch TFT dash. But really it's not all about comforts like heated grips and stuff. It's focused on performance riding.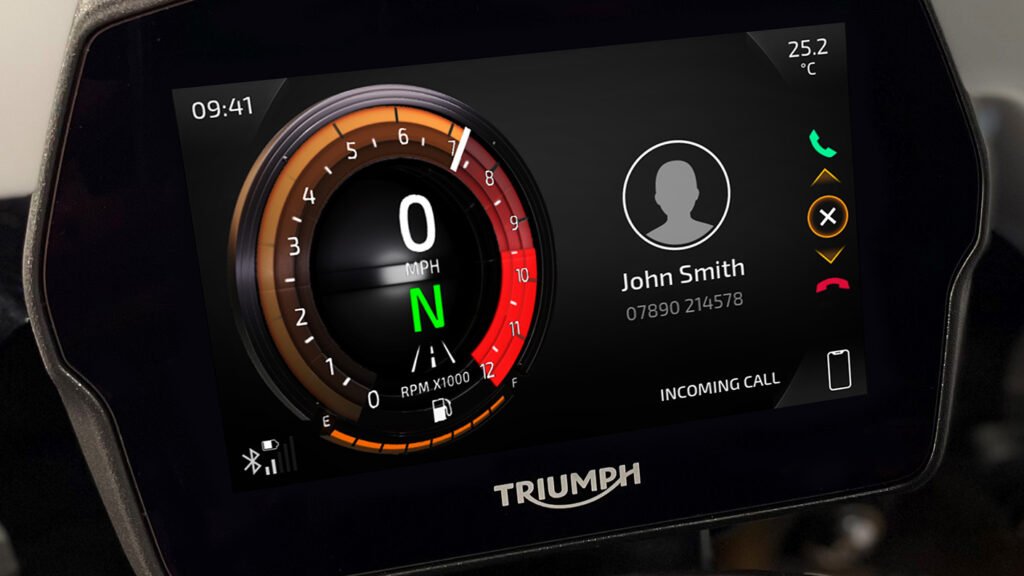 In the tech department the big advantage that other bikes might have over this like the Streetfighter V4, is the semi-active electronically adjustable Ohlins suspension on it. But that bike is significantly more expensive than this and Triumph made the call not to fit that stuff to try and keep the cost of this bike reasonable. They also said not many customers asked for it when they sort of focus-grouped or surveyed them in the development of this bike. So that's fair enough. The semi-active would be a big advantage for motorway miles then twisties then motorway miles then twisties and you want to switch between comfort and firmness on a really frequent basis. But 18 grand is a lot more achievable than 20 for a lot of people. So it is understandable.
Speed Triple 1200 RS – Looks
Last up in the likes column for this bike would be the finish and the looks of it. It's classic Triumph. In terms of the quality of the finish, lots of nice little touches everywhere. There isn't really anything that looks cheap about it or where corners have been cut. Everything is beautifully made, really nicely specked, and finished. I particularly like the paint job on this one. I know it's not the most popping. If you want something really bright and loud and more angular, there's always the KTM. But for me, this is slightly more subdued almost like a sleeper-type vibe. You know it doesn't shout about its performance in a visual way but obviously, underneath it all, it's an absolute weapon.
And in terms of the touches, I like you to know you've got the carbon from mudguard. The headlights that first appeared in that style on the Street Triple have transferred over really nicely here. I actually like it without the flyscreen that used to come as standard. But I like that clean look to the front end. There's a nice choice of sort of brush finish on the footrests and heel guards and the pillion pegs and the subframe. It's got a pointed aggressive-looking tail end with that pillion seat cover. There's also a twin-led tail light.
The stock exhaust has a nice look to it as well. And of course, we are always a big fan of a single-sided swingarm and it all combines for like a beefier looking version of a Street Triple. Essentially, we think it's a big improvement over the previous generation that was starting to look a little bit outdated. It's bang up today very classy looking and beautifully finished.
Triumph Speed Triple 1200 RS – Things we don't like
As for stuff that we didn't like so much about this English bike. The design and layout of the graphics in the TFT dash are not perfect. The physical dash itself has good contrast. It's a decent size. The surround is nicely designed but actually, the sort of visual layout on the screen isn't perfect. It's like a round dial with the speed in the middle and the gear position. It just feels like a lot of wasted space in a rectangle around it.
When you go into the nav or the trip meter it puts them side by side but I like to have a simple view for when you are pushing on a bit where you can see revs speed gear as easily as possible at a quick glance. If you compare it to something like a BMW dash, I just had the 1250 GS for example that makes really good use of the space on the screen there and it's very simple and punchy and clear. The street triple and the tiger have more options in terms of the layout and I think they make better use of a rectangular screen. So hopefully there's a software update or something coming to make it a bit more big and bold.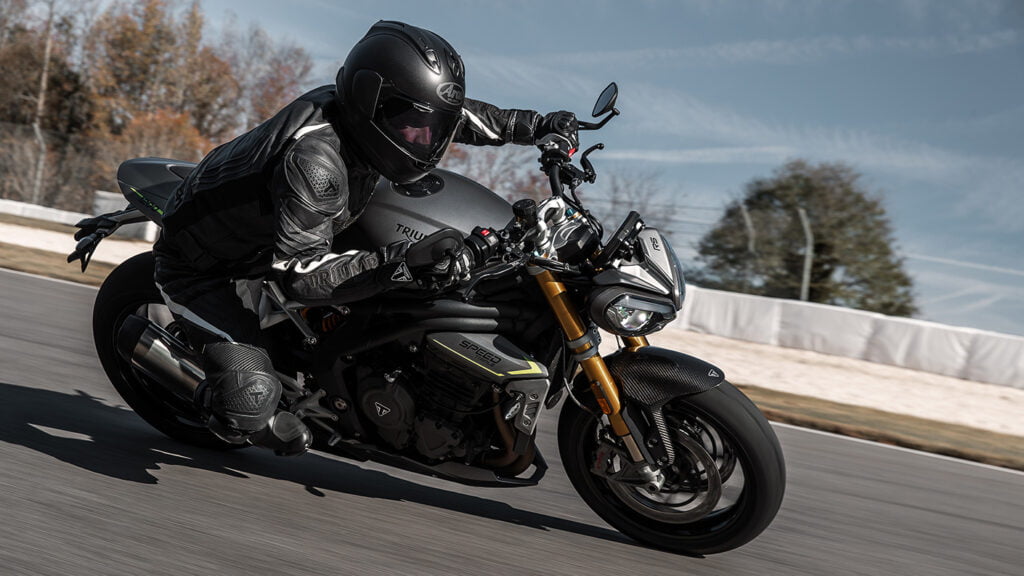 Also, it does lag a little. There are quite a few animations as you go between menus and stuff. It's a bit like when your phone is getting a bit older and slowing down. Perhaps the hardware isn't quite up to the task of doing those animations. Like I say I'm not bothered about fancy animations. I just want simple readable data on that screen as easily as possible. That's definitely the biggest one for me.
There are some other minor things. The clutch lever waggles a bit which can be a bit of a distraction when you're riding. The engine doesn't love being below sort of like 3000 revs. It starts to feel a bit rough. So you do need to slip the clutch a bit if you want to smooth it out. But overall they're definitely things you can live with especially on a performance-orientated bike like this where you're not going to be doing a lot of urban miles on it. I hope not any way it's just that my one big wish would bean update to the dash to something a little simpler even just as an option you know switch between layouts.
2021 Triumph Speed Triple 1200 RS – The Conclusion
But for me, the positives far outweigh the negatives with this bike. With that engine, the lightness, and handling and all in a package that I think is mean-looking yet tastefully done. So if you've got 15 grand in your pocket and a need for speed, it should certainly be on your shortlist.
But what about the KTM, personally we got on with it very well indeed, and in most areas, the two bikes are pretty evenly matched the level of spec, the suite of electronics, the price, and even the power output are all close enough to make it a substantial predicament. The key difference comes down to the way that their respective engines feel. The v-twin in the KTM makes its power and torque a smidge lower down which does give it the edge in terms of gutsiness. But as for this 2021 Triumph Speed Triple 1200 RS if you want a super naked that screams at the top but without that low-end sacrifice that you often get with an in-line engine then look no further.