I will give you my five favorite things and five things I don't like about the 2022 BMW M3 Competition. But before that, let me quickly just give you the stats and figures that make up the BMW M3. The 2022 BMW M3 Competition features a three-liter six-cylinder inline twin-turbocharged petrol engine with 503 horsepower and 650 Nm of torque. It can achieve the 0-60 miles an hour sprint in just 3.4 seconds. The power can be put to the road through two different drive trains. The first one is the traditional rear-wheel-drive setup. And for the first time in an M3, you get an xDrive four-wheel-drive system.
Read Also: Lexus ES 350 F Sport
In the UK, BMW is offering M3 Competition trim only while in the US, we have M3 in three trim levels – BMW M3 Sedan, M3 Competition Sedan, and the BMW M3 Competition xDrive Sedan. Well, we are talking about the M3 Competition xDrive trim here which comes with an 8-speed M Sport Automatic transmission.
2022 BMW M3 Competition xDrive sedan – 5 things We like
The looks
Look-wise M3 Competition looks absolutely brilliant. The grills just work you can't quite grasp the sculpture that you get on this car from pictures or video. It just looks brilliant. So the front end just works in my opinion. You've got the little cutouts here in the bonnet and then the side profile is brilliant. The back end of this car is so imposing and so aggressive. It just works in every single way for me in my opinion. Well, let me know in the comments below what you think of the look of this car.
Laser Lights
Laser lights apart from the fact that lasers are possibly the coolest things in the world. BMW M3 has laser lights as DRLs and side turn indicators. They do a little dance when you unlock the car. So just unlocked it they go from right to left. It just looks so cool and then you've got the blue elements in it which again just adds so much. Given that they are part of the visibility package but come on it's a pack that you absolutely have to have on your 2022 BMW M3.
The technology
This car is absolutely jam-packed with tech so I've got a heads-up display. I've got a digital dash here I've got wireless Android Auto and Apple CarPlay. Such a big big thing because in most cars you have to have the cable plugged in and it's just all over the place. It looks a bit messy. You've got the driving side of things. So you've got the drift control which has so many different settings so from I'm scared mode to I'm going to look like a hero but not a crash mode.
There's just a plethora of technology in this to keep you on the straight and narrow. And then you've got all the creature comforts – heated seats, full reversing camera with sensors, you've got park assist for the coral park itself, you've got reversible assistant so it'll reverse itself back out on the same line that you've just been on. This is an M3 that has 503 horsepower but yet all of the incredible creatures comforts that you want on a daily basis.
Seats
With the M3 and M4, you can have full carbon-backed seats which there's no mistaking they look absolutely glorious. However, I think I would go for these seats. These are the standard seats and here finished in ivory and black. They look absolutely great and they've been so comfortable because well the carbon seats after a while I think would probably be a little bit uncomfortable and these ones don't have the um the lump in the middle which after a while gets a bit uncomfortable on mon the nether regions um but anyway the quality of these soft supple leather is great there's a bit of Alcantara up here as well I think they are just brilliant.
Read Also: Jeep Wrangler Rubicon 392
Everything Else
I have to say that this car is just brilliant. I mean I'm probably going to say brilliant too many times because I have run out of superlatives to use when describing cars. But I love how practical it is. We've got four doors. Four big usable doors here. So you can get the family and the granny and whoever you want in this car. It's practical. It's got a big boot. It can swallow up all of your camera gears, football boots, the football kit everything in there. It's incredibly comfortable. And then you've got all that power and capabilities on the road.
5 things We don't like
The car is absolutely brilliant but that now leads me on to the five things that I don't really like about the 2022 BMW M3 Competition xDrive Sedan. They're uh there isn't any. No there's nothing we don't like about it. The car is loaded with features of a sports car yet it is very much capable of doing your life activities. It is just splendid in every situation that you put it in. it's been so capable in every single task that you can put it into. This feels just as comfortable as other M series cars from BMW. It rides on the road so well. The way it rides and the way it handles all the road terrains is so impressive.
People will look at it everywhere you go. The seats in the car are so comfortable they hug you really well. Now this one's got a comfort pack so we've got lumbar support as well and it just hugs your body in such a great way. We can't find anything wrong with the way that the 2022 BMW M3 Competition xDrive Sedan drives. We are incredibly impressed.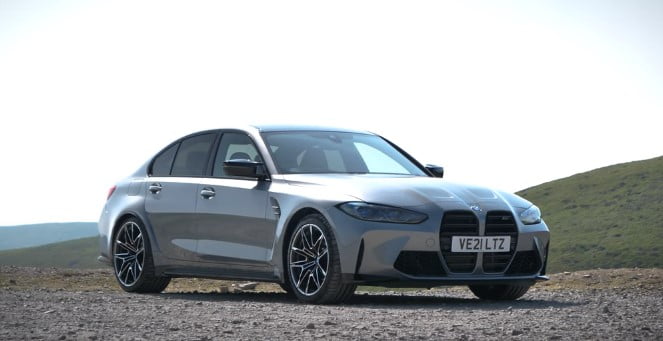 The traction that this car has is amazing. You can not feel the difference between the rear and all-wheel drive in this car. Even the traction on the rear-wheel drive feels like a four-wheel drive. It gives you the confidence to go down. In the setup change your engine into sport plus, hit the gear selector across, take control with these wicked paddles drop it down and experience everything that this car has to offer. What it has to offer is one of the most capable all-around packages on the road. The gear changes are so fast. This car feels so quick on the road. It's so capable. BMW has absolutely built a compelling package. In the US, the 2022 BMW M3 Competition xDrive Sedan starts at a price range of $76,900.