2021 Jeep Wrangler Rubicon 392 is the first-ever off-roader with a 6.4L V8 HEMI engine. Cramming a V8 HEMI engine into a Jeep Wrangler was not an easy task. You should not think that they have simply dropped the engine into this off-roader. There is a lot more Wrangler-specific work that has been done. And you should keep reading to know more about this muscular, powerful, and speedy Jeep Wrangler. It has a starting price of $75000 which is almost $30000 more than a 4-door Wrangler Rubicon without options.
2021 JeepWrangler Rubicon 392 – Engine & Performance
The engine is fundamentally the same one that you'd find under the hood of that Dodge Charger or Dodge Challenger that's always driving way too fast in your neighborhood. On top of 470 horsepower, it also makes 470-pound feet of torque. And it's connected to an eight-speed automatic transmission and a two-speed transfer case. Jeep Wrangler Rubicon 392 V8 has the second-biggest engine under its hood, Ford F-series super Duty being the number one with an optional 7.3L V8.
Can you imagine an SUV faster than many sports cars and sedan cars? Well, that's the case with Jeep Wrangler Rubicon 392. The 470HP and 470 lb-ft of torque combined with 8-speed automatic transmission, can make this four-wheel make 0-60 mph in just 4.5secods. You got Aluminum Paddle shifters as standard to take charge in your hands. The V8 power sounds magical and it sounds magical even more if you press the performance exhaust button and it becomes louder. The sounds coming out from the exhaust can make you forget that you are driving an off-roader and that too a Jeep Wrangler.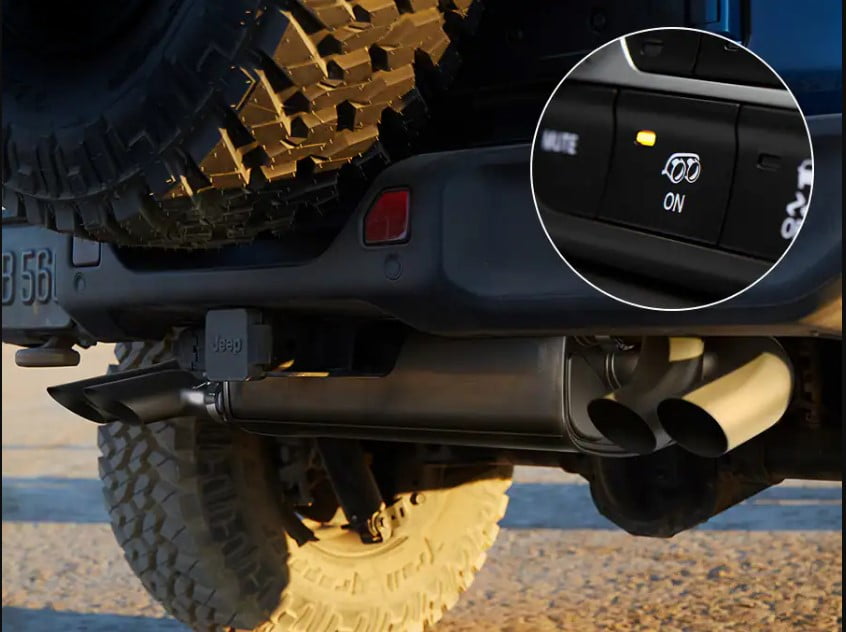 Engine Specs
Engine : 6.4L HEMI V8
Power: 470 HP @6,000rpm
Torque: 470 lb-ft (437Nm)
Drive type: Four Wheel
Transmission: 8-speed Automatic
What's New in 2021 Jeep Wrangler Rubicon 392?
Jeep has made a lot of adjustments and modifications to fit this engine in Wrangler Rubicon 392. For example, the accessory drive system on the front had to be changed. Now, the alternator sits at the top passenger side of the engine. At the bottom, you have got an oil pan that's kind of been flipped around. You have got a new oil filter and exhaust manifolds.
The Wrangler fans who have wanted the V8 forever, their wait is over and it was so much worth it. When there is so much power available under your command, you expect the vehicle to perform under any difficult situation. Rubicon 392 has the features to stay with you on those hard-to-drive terrains. For this, they had to do many changes in Jeep Wrangler to make it Rubicon 392. To have the best ground clearance, approach, and departure angles, they adjusted the front and rear spring rates. They gave it the fox 2.0 aluminum-bodied monotube shocks. Now it rides better than any Jeep Wrangler. There is also a special exclusive feature in Rubicon 392. It has an Electronic Sway Bar Disconnect that allows for massive articulation of the front tires and a Ramp Travel Index of 730. It gives the Rubicon 392 superb off-road capability and suspension travel
Jeep Wrangler Rubicon 392 Exteriors
Design & Appearance
At the front, you still get the Jeep's signature look. You might get confused that this is the Jeep Gladiator from the front but it's not. It borrows a wider slate grille from the Jeep Gladiator to allow more air to flow into that engine. It's a bigger engine so it needs more cooling. It is a little higher with a new bumper with two bronze hooks on both sides.
The rounded Jeep-styled DRLs and Headlamps along with wide fenders, give it a beast look.  The body-colored fenders are standard on Rubicon. On both sides of the hood, Rubicon is written in a big and bold way in grey color with bronze outlines.
It comes in white as standard and you have to pay $295 extra for other colors. The hood scoop is specially designed to separate air from water. It is integrated with a hydra guide system. If there is a deluge of rain or you are wading through some water, you don't have to worry. It will not go into your engine. The hydra guide can handle 15 gallons of water a minute. Even if some mud goes into the hood, it will also be separated and redirected to a completely benign cavity in the engine bay.
The fog lights are integrated into the bumpers. Beneath the bumper, you get a front skid plate of steel.  Because of the size of the engine, the Rubicon 392 is two inches higher than the wrangler sport. The 17-inch wheels are bead-lock capable and run on 33-inch BFGoodrich All-Terrain K02 tires. The ORVMs are classic square mirrors in plastic black. The performance quad exhaust is standard on Rubicon 392 and sounds so good. You can also get a trailer tow package for $350. It gives you the capacity to tow around 3500lbs.
Jeep Wrangler Rubicon 392 – Interiors
Comfort & Convenience
Now talking about the interiors, the first thing to mention here is, the keyless entry is standard on Rubicon 392. But it is only for the front two doors, not the other three. The leather bucket seats with bronze stitching details including bronze embroidery of Rubicon 392 on the front seats are standard. The front seats are heated but operate manually. Bronze stitching is used on the leather everywhere.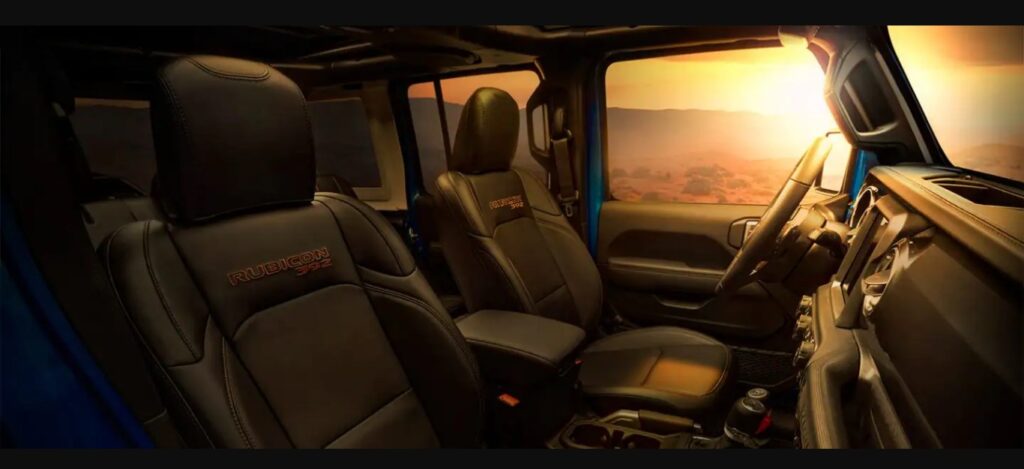 All doors are easy to remove and there is a place even in the trunk to store the hardware when you take off the doors. Like all Wrangler you can fold down the front shield and store the hardware in that spot in the trunk.
On the rear passenger seats, you got AC control, windows buttons, USB slots, and a 120V charging socket at the center. The rear seats are nonreclining type. They can be folded flat but do not recline. You do have an armrest and cup holders in the center of the seat. You got enough headroom and legroom as well. The seats are quite comfortable for a long ride.
The trunk has a two-part door. The lower open sideways with Stephanie mounted and the upper half goes all the way up. The trunk has a cargo capacity of 31.7cu.ft and 72.4cu.ft with the rear seat down. The cargo space is not any different than the regular Wrangler.
Infotainment system
The instrument cluster is part digital and part analog. The analog speedometer and tachometer lying side by side while the 7-inch TFT screen occupies the middle of the instrument cluster. You can view all vehicle-related info and settings on the screen. With a pull of a lever behind the steering wheel, you can adjust the tilt and length of the steering. You can turn on & off the performance exhaust with the touch of a button.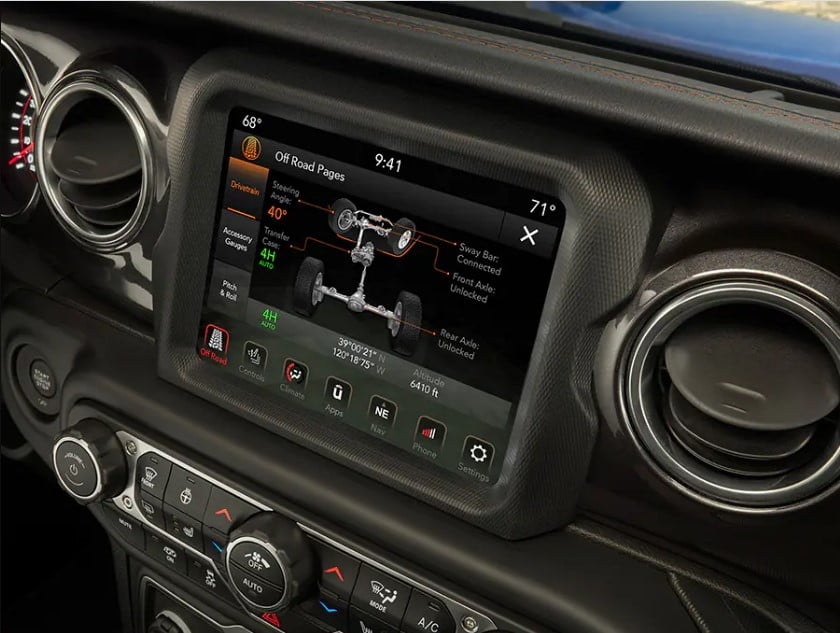 On the Rubicon 392, you get an 8.4-inch Uconnect 4 system while the new Durango has Uconnect 5 system. You get Apple CarPlay and Android Auto but you have got to plugin for it in the media tab. There is no Bluetooth connectivity right now. In the media tab, you got USBC, USB, and AUX but no CD player. But that's not needed nowadays.
Other optional interior features
Two things I will mention here are that you should opt to further enhance your off-roading experience. The first one is all-weather floor mats that you can easily pull out and clean if you are going off-roading and have muddy boots. you can get these at $165. The other thing is a sky one-touch power top that goes all the way to the back with a touch of a button. It's the most convenient option among the full soft top, full hardtop, and this one.
Jeep Wrangler Rubicon 392 Safety features
On the driver and passenger's safety sides, it has front and side-impact airbags for both driver and co-passenger. But it misses out on rear-seat passengers' airbags. You get height-adjustable seat belts along with pre-tensioners. You got ABS on all four wheels with predictive brake assist. The electronic stability control along with anti-roll and blind-spot warning are standard. Adaptive cruise control is standard but lane keep assist and lane departure warning are missing. 2021 Jeep Wrangler Rubicon 392 does not have all the safety features that you will get on other SUVs of this price range. However, it has features that you will need during your off-roading.
It's very exciting to finally have an off-roader that is powerful and speedy enough like a sports car. Right now, the 2021 Jeep Wrangler Rubicon 392 is the only off-roader with a 6.4L V8 HEMI engine. Ford is also planning to launch Bronco with a V8.