The 2024 Lotus Eletre marks an exciting leap into the world of electric SUVs. As the latest offering from the renowned British sports car manufacturer, Lotus Cars, this groundbreaking vehicle promises to redefine the landscape of luxury, performance, and sustainability. Let's dive into the remarkable features and specifications of the 2024 Lotus Eletre.
Exterior Excellence
The 2024 Lotus Eletre presents an electrifying fusion of aesthetics and aerodynamics. Its cab-forward stance not only enhances the vehicle's dynamic profile but also maximizes cabin space and driver visibility. Active aerodynamics, facilitated by strategically placed vents and ducts, boost performance, speed, and handling. Notably, the front grille adapts to cooling needs, optimizing efficiency.
A distinct feature of the 2024 Lotus Eletre is its full-width ribbon light, which not only enhances the vehicle's signature appearance but also improves visibility during nighttime drives. This ribbon light adapts to driving mode, climate variations, app connectivity, and battery levels, ensuring a seamless and futuristic experience. Additionally, the active tailgate spoiler, with three deployment angles, reduces drag and enhances downforce, providing stability at high speeds. Above this spoiler, a split roof spoiler adds a sporty touch.
2024 Lotus Eletre Dimensions That Impress
When it comes to size, Lotus Eletre stands out. With a length of 5103 mm, it surpasses many rivals, including the BMW iX, by over five inches. Its width, including the door mirrors at 2231 mm, is generously spacious. A sleek 1636 mm height on 20-inch wheels further complements its athletic appearance. The vehicle's ample wheelbase of 3019 mm ensures roomy interiors and accommodates the battery pack. With a ground clearance of 194 mm, the Lotus Eletre balances off-road capability and aerodynamics seamlessly.
Lotus Elere – Powertrain, Range, and Variants
Under the hood, the Lotus Eletre features a powerful and efficient all-electric powertrain. With two electric motors, one on each axle, this SUV offers all-wheel drive and torque vectoring, granting each wheel independent power distribution. This enhances traction, stability, and agility.
The Eletre boasts three variants: Eletre, Eletre S, and Eletre R. The Eletre and Eletre S models harness two electric motors, delivering over 600 hp and a 0-100 km/h acceleration in just 4.5 seconds. For the performance aficionados, the Eletre R model packs a rear motor with a two-speed gearbox, producing over 900 hp and a jaw-dropping 0-100 km/h sprint in under 3 seconds.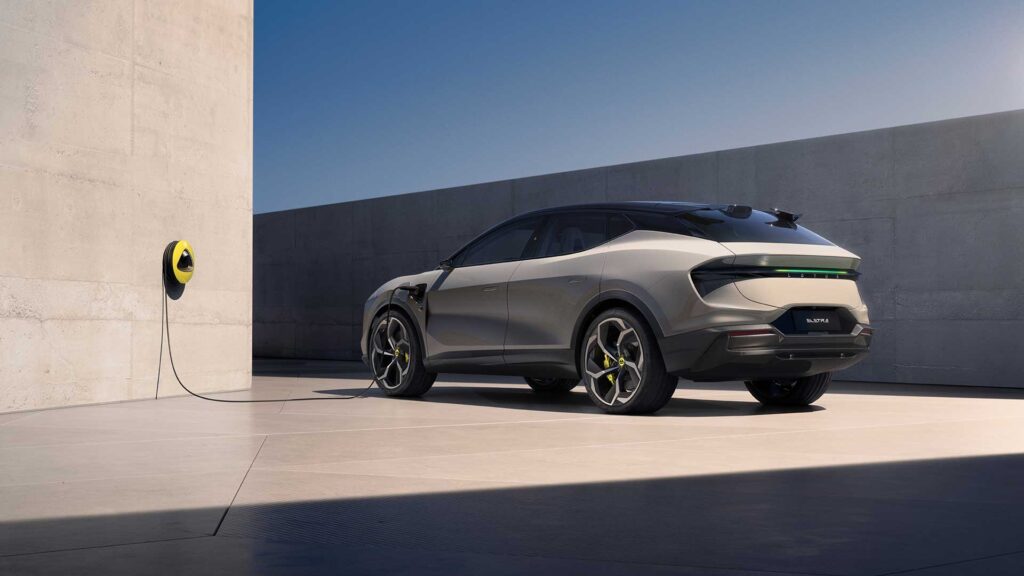 A key highlight is the Eletre's 112 kWh battery, offering an impressive range of up to 600 km. This remarkable battery can be charged to 80% in just 20 minutes using an 800-volt charger. Placed under the vehicle's floor, it optimizes the center of gravity and weight distribution, enhancing performance and efficiency.
In the Eletre and Eletre S variants, a single-speed direct-drive transmission ensures smooth and reliable acceleration. The Eletre R variant features a two-speed direct-drive transmission, catering to high-speed performance needs.
Lotus Eletre Luxurious Interior and Features
Step inside the 2024 Lotus Eletre to experience a world of opulence and cutting-edge technology. The cabin of the Eletre is a testament to luxury and comfort, accommodating up to five passengers with the choice of three or two rear seats. The rear seats can effortlessly fold down, expanding the generous boot space from 688 liters to a cavernous 1532 liters.
The futuristic dashboard of the 2024 Lotus Eletre is both elegant and intuitive. It boasts a 12.6-inch driver information display, a stunning 15.1-inch OLED central touchscreen, a convenient head-up display, and a digital passenger display. Notably, the dashboard features meticulously crafted milled bronze metal rocker switches for functions like air conditioning, adding a touch of sophistication. For control at your fingertips, the steering wheel is equipped with paddles for brake regeneration and selecting driving modes.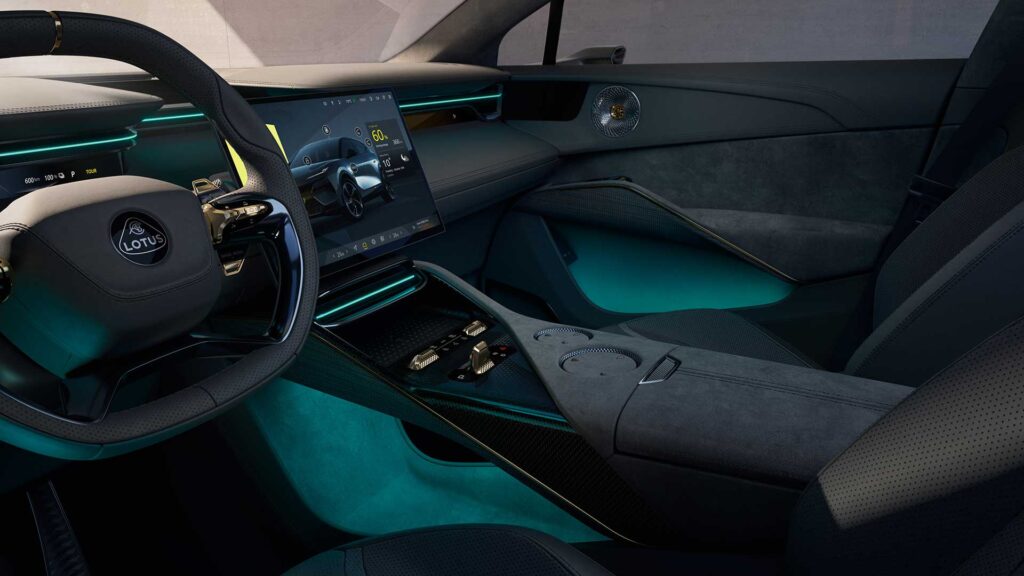 Infotainment
Entertainment and connectivity are taken to the next level with the 2024 Lotus Eletre's state-of-the-art infotainment system. Powered by Lotus Hyper OS, it offers an immersive and user-friendly experience for all occupants. Enjoy features such as wireless charging, responsive voice control, over-the-air updates, and seamless app connectivity. Additionally, the infotainment system comes with a high-end sound system, available in either 15- or 23-speaker configurations, ensuring an unparalleled audio experience.
For a breath of fresh air and an expansive view, the 2024 Lotus Eletre is equipped with a full-length panoramic glass roof. It not only provides a stunning view of the sky but also enhances the feeling of spaciousness and natural light within the cabin. The roof's ambient lighting is dynamic, responding to driving modes, climate changes, app connections, and battery levels for an immersive atmosphere.
Quality is paramount in the 2024 Lotus Eletre, evident in the impeccable fit and finish, choice of materials, and exquisite design. The interior is fully customizable with various color and fabric options, including eco-friendly and lightweight materials like Re-Fibre, UltraFabric, Alcantara, and Econyl. These materials are not only environmentally conscious but also durable and stylish, allowing you to personalize your Eletre to your taste.
Safety features
Safety is a priority, and the 2024 Lotus Eletre doesn't disappoint. It comes equipped with advanced safety and driver assistance features, including adaptive cruise control, lane-keeping assist, blind-spot detection, parking assistance, collision warnings, and emergency braking. The Eletre boasts an array of 34 sensors, including deployable LIDARs, radars, cameras, and ultrasonics, enabling it to achieve Level 4 autonomy. This remarkable capability means the Eletre can navigate most situations without human intervention, setting new standards for safety and convenience
2024 Lotus Eletre Price and Rivals
The 2024 Lotus Eletre gives direct competition to BMW iX, Audi e-Tron, Tesla Model X, Jaguar I-Pace, and Mercedes-Benz EQC. The Lotus Eletre starts at price of €89,500 for Eletre, €104500 for Eletre S, and 120,000 for Eletre R. In conclusion, the 2024 Lotus Eletre is set to revolutionize the electric SUV market. Its impeccable design, impressive dimensions, robust powertrain, and exceptional range make it a formidable contender. As Lotus Cars' first production SUV and its foray into the world of electric Hyper-SUVs, the 2024 Lotus Eletre embodies a visionary approach to luxury and sustainability in the automotive industry.
Sources: