Highlights
Available in Quad-motor and Dual-motor AWD power trains.
Churns out a max of 835 horsepower and 908 ft-lbs of torque.
Can reach 0-60mph in just 3 seconds.
High ground clearance of 14.9 inches
When I first looked at this Rivian R1S, I was totally amazed, and even more when I came to know about its features and specs.
First, let's talk about its design, looks, and body language.
Rivian R1S : The Design
Rivian R1S is huge in size. This is an adventure electric vehicle which is quite visible from its design. It has massive 22-inch wheels, 14.9-inch of ground clearance, and a very high approach and departure angle of 35.6-deg and 33.3-deg respectively.
The vertically stacked headlights at the front improve its unique look and what's more interesting is the light bar in between the headlights. The lightbar at the front starts to glow when you park your SUV for charging.
The charging socket is located at the side of the front grille and its gate opens sideways like the doors of a Lamborghini. There are two towing hooks at the front.
Read Also: Top 10 best Luxury SUVs in the world
Read Also: 2022 Lincoln Navigator: What's new this time?
The Interiors
R1S has flush door handles which open with a touch of a wrist-band-key.
There are multiple keys for this SUV. You can wear a key on your wrist or keep a credit card-like key in your wallet. There is also a third option of a key fob which has a carabiner hook. It can be hooked anywhere like on your bag, or around your waist belt.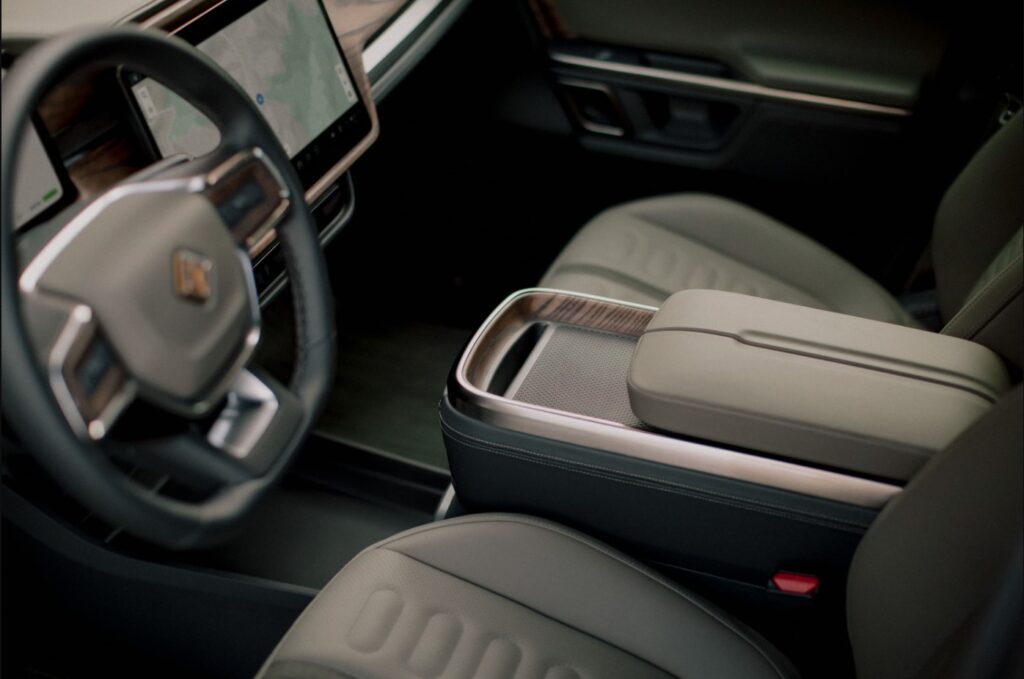 The interior of the R1S is very minimalistic, eco-friendly, and futuristic. The dashboard is designed using reclaimed wood which means the wood is taken from fallen trees. The trees are not cut down. The seats and steering wheel are wrapped in vegan leather also.
There are two screens in the cabin. One, behind the steering wheels, acts as an instrument cluster giving a 360-degree view of the SUV, speedometer, distance, and much more information.
The second screen is located right in the middle of the dashboard. There are no physical buttons on the dashboard. Every feature right from the entertainment to climate control and even the direction of AC vents can be controlled from the infotainment screen in the middle.
Rivian R1S has a 7-seat configuration. Both the two rear rows can be flat fold which increases the cargo area up to 104 cubic feet including front and rear trunk space.
The SUV has independent suspension and ground clearance can be increased up to 14.9 inches.
R1S has some smart features also. It has a hidden flashlight in the door on the driver's side. There is also a portable Bluetooth speaker hidden under the central console.
Read Also: Toyota Innova Hycross is a magnificent MPV with SUV styling
Safety features
The Rivian R1S gives advanced driver assistance and safety features using 11 cameras, 5 radars, and 12 ultrasonic sensors. The driver assistance features include Highway assist, adaptive cruise control, Lane change assist, Lane keep assistance, Lane departure warning, Blind Spot Warning, Automatic High Beams, Rear cross-traffic warning, Park assist, Trailer Assist, Forward collision warning, Automatic emergency braking, and Dynamic Brake Support. These driver assistance features are standard and you don't need to pay anything extra.
Rivian R1S Power and the driving range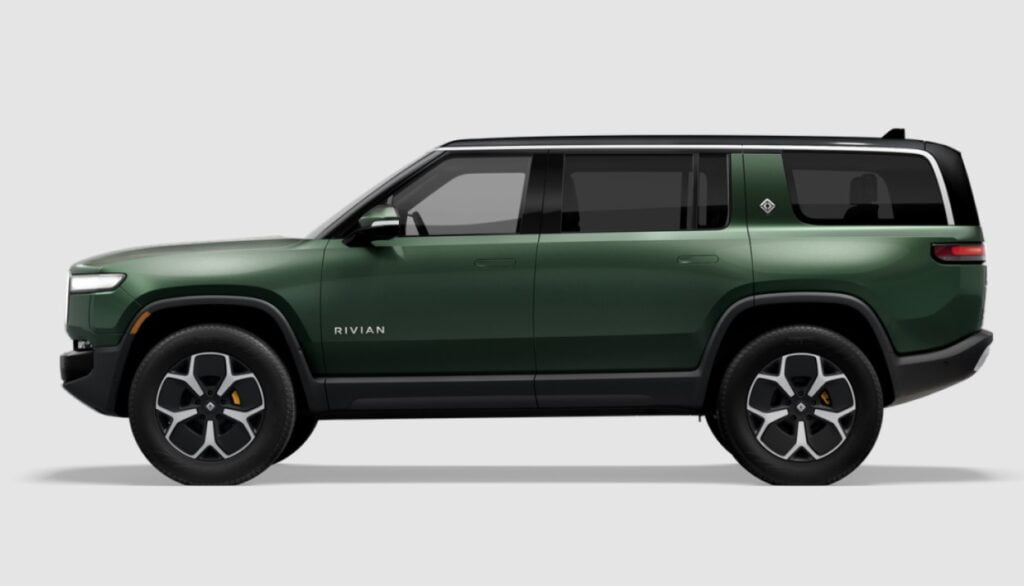 Rivian R1S has two powertrain options. It comes with Quad-motor all-wheel drive setup and a dual-motor all-wheel drive setup. The Quad motor variant delivers a total of 835 HP and 908 ft-lbs of torque. It can go from 0-60 in just 3 seconds. Rivian R1S Dual-motor AWD is not less powered as such. Its dual motors supply 600 HP and 600 ft-lbs of torque which is more than many sports cars. With this amount of power and torque, this massive SUV can still reach 0-60 mph in just 4 seconds.
The electric SUV has a max riding range of 390 miles with a Dual Motor drive system and a Max Pack battery.
Rivian R1S price, colors, and rivals
The 2023 Rivian R1S has a starting price of $78,000 with a Dual-motor AWD system and standard battery package. The price for the Quad-motor AWD trim starts from $92,000. You can choose from 9 exotic colors for the exterior and five color schemes for the interiors.
There are very few three electric SUVs in the market and Rivian R1S competes directly with the Tesla Model X. Due to its off-capabilities, It also rivals Land Rover Range Rover and Jeep Grand Wagoneer apart from electric vehicles.