On Saturday in Seoul, the second-to-last race of the Formula E championship was stopped by an astonishing eight-car collision.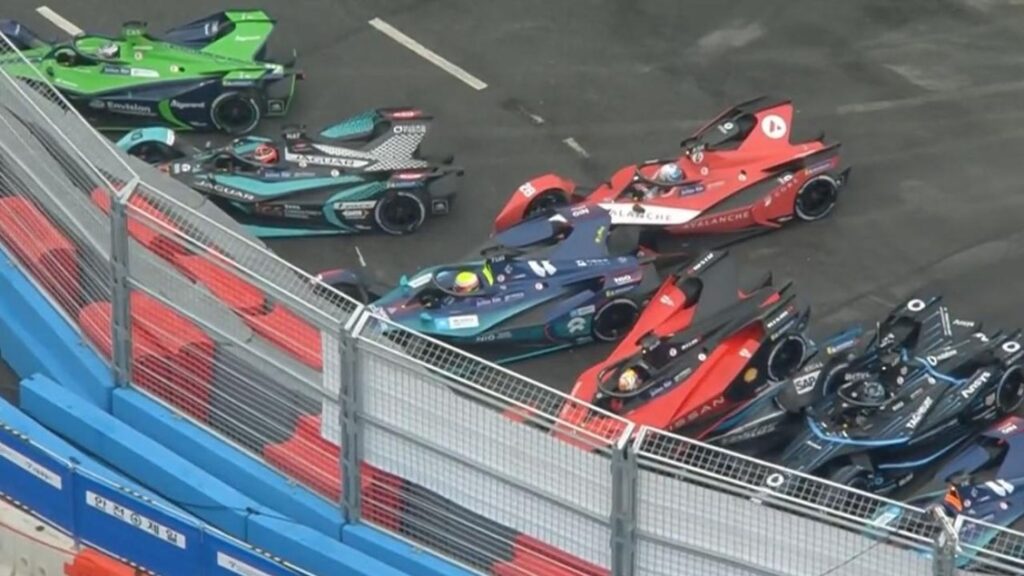 When the field, headed by Jaguar driver Norman Nato, went into the final bend on the first lap of the Seoul E-Prix, mayhem ensued.
Sebastiaen Beumi arrived after Nato, and then Nick Cassidy, Dan Ticktum, Oliver Askew, Andre Lotterer, Nyck De Vries, and Oliver Turvey joined after that.
Only Nato and Cassidy were able to continue their race when they were able to escape the ugly pileup.
Despite the red flag, racing spectators couldn't believe what they saw as a car climbed up onto De Vries' Mercedes, which was shielded by the halo.
"A couple of big hits at the back," the commentator said.
"Everyone piles into the back, a really weird accident that. A very strange incident there."
Motorsport writer Hazel Southwell tweeted: "Buemi, Askew, Lotterer, Ticktum, Turvey, Cassidy, Nato and De Vries in the wall. Buemi also on the Mercedes. simply incredible Formula E stuff (red flag, they all seem to be OK, just no one seemed to be able to brake)."
Much to the enjoyment of the audience, some of the automobiles had to be removed from the track on the back of trucks.
Nato claimed that his failure was caused by the slick surface on the large section of the track that runs through the Olympic Stadium in Seoul.
According to Nato, who was able to resume the race, "In the centre of the pack, the vision in the last sector was pretty terrible."
"There was one man in front of me who was exceedingly careful and braked; to be quite honest, I have no idea who he was.
The two cars in front of me tried to avoid him, but when I came, I was a little taken aback and had to move to the left of the apex to escape them.
"This part's tarmac is extremely unusual, which is why we saw so many automobiles" (in the wall)
"You have no opportunity to turn from the outside. What we anticipated was not six or seven automobiles parked in a corner.
Lotterer said, "Basically, the ground was really slick.
The brakes were just like ice when touched, just like the other men. From that moment forward, nothing is possible.
"I don't think it was the braking too late; it was the paint. Maybe some cars simply happened to be on those areas of paint and locked up, and that was it."
"I was able to find a little gap and avoid colliding with another automobile, but I still did," the driver said.
After the restart, Mitch Evans took the lead and eventually won the race, beating Lucas di Grassi and Oliver Rowland to the checkered flag.
Evans will be attempting to catch up to Stoffel Vandoorne in the last race of the season, which means the title race will end there.