After the bZ4X SUV, Toyota has announced the bZ3, the Corolla-sized sedan. It will be on sale in China the next year. Other markets in Europe and Asia are expected to follow.
It is the second model in the bZ series. The new Toyota bZ3 vehicle uses BYD batteries. It advertises a single charge range of up to 599 kilometres.
The sedan is built on Toyota's e-TNGA platform, just as the bZ4X. It promises a longer wheelbase that will give interior occupants greater space as well as a lower centre of gravity.
The exteriors of the Toyota bZ3 sedan
The new sedan is a collaboration between Japanese Automakers, China's BYD, and Toyota FAW. It borrows its exterior features from its sibling bZ4X crossover.
The borrowed design elements include split headlamps, an LED running through the length of the bonnet, and the rhomboid-shaped just like on the exteriors of the bZ4X crossover.
The bZ3 is around 6 inches shorter than the 2023 Camry and 3.7 inches longer than the Corolla with a total length of 186 inches.
On the outside, the bZ3 sedan has a total length of 4725mm which makes it 94mm longer than the Corolla and 152.4mm shorter than the 2023 Camry. It is 1835mm wide and has an unladen height of 1475mm.
Despite its blunt nose and sharp creases, it manages to achieve a drag coefficient of 0.218Cd which is lower than the Tesla Model 3.
What's inside the bZ3 sedan?
On the inside, the sedan features dashboard elements that are currently in trend in the EV market.
One such element is the portrait-style centre console screen.
The automaker's Digital Island system pairs a tray-style dashboard with a sizable vertical centre display in the interior.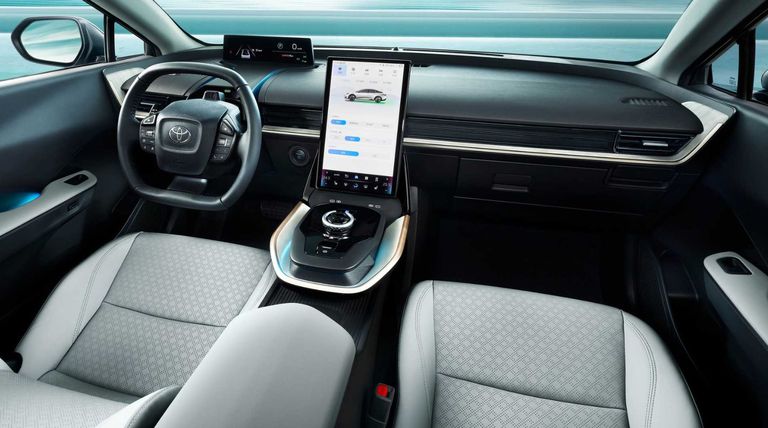 It replaces dials and buttons throughout including those for the stereo and air conditioning. The central console combines with a rotary dial for choosing the drive function.
The flush-fitting door handles are other prominent EV market trends that are instantly apparent.
The steering wheel is nearly hexagonal in shape. The top and bottom sections both are flat as opposed to being perfectly round. However, it still falls short of the yoke that Toyota offers in a different model.
The battery sytem
The eTNGA, also known as the 40PL internally, is the foundation upon which the bZ3 is built. The unique Blade lithium-iron-phosphate battery technology from BYD powers the EV vehicle. It is made to retain 90% of its charging capacity even after 10 years. Toyota has not yet provided detailed information about the bZ3's powertrain, including performance and charging times. However, the automaker claims that it has a range of about 599 kilometres.