The ID Xtreme, a new all-wheel drive, electric vehicle concept from Volkswagen, has been unveiled. This off-road EV is said to be a "rugged-offroader" and is based on the VW ID.4 GTX model with some contemporary performance enhancements.
This German company has been investing in electric vehicles for some time, and Herber Diess, the CEO of Volkswagen, has asserted that VW will surpass Tesla as the market leader in EVs by 2025.
The Volkswagen ID Xtreme adopts elevated rally running gear, 18-inch off-road wheels, a redesigned crash member with an extra front bumper, and wings that are 50 mm bigger and made using 3D printing to give it a realistic off-road appearance. Additionally, it receives an aluminium underbody that is totally enclosed and a roof carrier with extra LED lights. The system power of the concept car is increased by 65 kW to 285 kW, or around 30%, over the ID.4 GTX thanks to a high-performance drive on the rear axle and software modifications in the drive control unit.
At the ID Treffen in Locarno, Volkswagen will publicly unveil the ID Xtreme for the first time.
According to Silke Bagschik, Head of the MEB Product Line, "The modular electric drive matrix (MEB) has immense technical promise." "Vehicles serve many of our consumers as much more than just a mode of transportation. We are bringing VW's electric mobility to a new level of performance with the ID Xtreme. The project's end result is a distinctive off-road vehicle that dazzles with its tough exterior and exceptional power.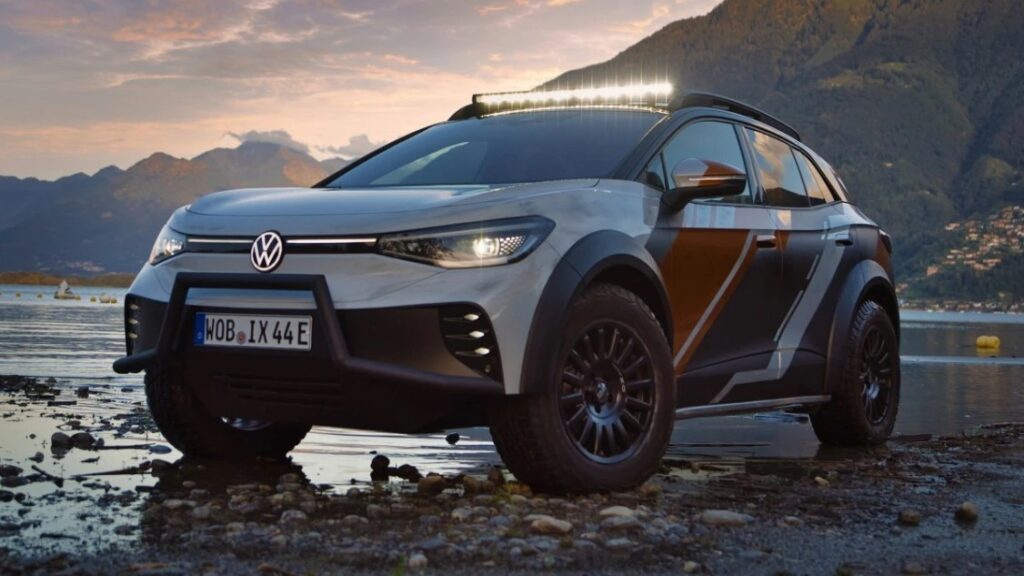 Acoustically, EVs are completely silent. According to Volkswagen, the concept car's driving noise was designed in collaboration with Volkswagen Design and is sent to the exterior via a sound generator in the wheel housing. The ID Xtreme's interior features new seats, Alcantara applications, and accents in the orange hue.
The Volkswagen ID. 4 GTX is equipped with two electric motors, each of which is capable of producing 295 horsepower. In contrast, the ID Xtreme EV concept has a maximum performance drive on the rear axle and software modifications for the drive control unit that increases power by around 30% (65 kW), giving it a total output of 381hp!