Overview
In 2017 Volkswagen launched the Tiguan a 5-seat premium SUV with a 2-liter diesel engine that was meant to rival luxury SUVs like the BMW X1 and the Mercedes GLA at a slightly lower price then. When BS6 norms were about to roll around they replaced this with its seven-seat counterpart the Tiguan All Space which came with a two-liter petrol engine Now at the end of 2021, the five-seat Tiguan is back replacing the all-space but retaining that 2.0L petrol engine but with a shiny new face lifts up.
2021 Volkswagen Tiguan Design
Exterior
Now the big changes are at the front where you'll notice that altogether softer or more emotional design language. There's a lot more chrome up and down in the bumper and everything follows. A bit more of a V-shape than there are the new headlamps. They follow Volkswagen's new style which extends up to the sides like a pair of sunglasses. But more than that there are IQ lights which Volkswagen speaks for as matrix adaptive LEDs. They have a host of functions and a new DRL signature. The wheels are still 18inches in size but they are a new design. Over to the side, it's more of the same very neat. Lots of lines and chrome around the window. Over to the back, again it's a familiar sight. The tail lights are of the same shape more or less but they have new designs inside. There's a lot more chrome in the bumper. Tiguan is now written in the center and you will notice the slightly flatter Volkswagen logo.
Of course, the big panoramic sunroof, three-zone climate control, a USB type C charger, a 12-volt socket, and a new addition a little place to dock your phone.
Interior
In the front of the cabin, there's the new steering wheel with the new Volkswagen logo. Again it's the latest generation from Volkswagen. It looks a lot more modern and contemporary. It's wrapped in leather of course and it's got nice well-crafted buttons that are nice to use. Sitting behind the steering wheel are a pair of paddle shifters as well. There is a new digital instrument cluster 10-inches across. Very crisp and customizable. You can choose one of three different display settings. The conventional dual dials plus a pair of very abstract-looking displays. There's a new way to operate the automatic climate control system. There is now a touch slider for both temperature and fan speed. It requires you to take your eye off the road to find the spot and that's just a bit convenient.
The 8-inch touchscreen uses Volkswagen's new infotainment system and it works really really well. It's got Apple CarPlay and Android Auto as before but it's not wireless.
A minor change is the new gear lever that is illuminated on the lever itself. It shows you which state of drive you're in. It looks very nice and goes well with the rest of the center console. It also includes the rotary drive mode selector. The drive modes include a number of terrain modes as well as driving modes. For the road, eco, normal, sport and individual. Another feature addition is that you can choose the color of the ambient lighting in the cabin where previously you were only stuck with white.
Pieces of equipment that they could have included in a car of this price are a 360degree camera and a wireless phone charger neither of which you get. The whole of the cabin is all black and a little bit dull. The build quality is a superb fit and the finish is just fabulous. Everything is soft touch material right from the dash top to the door tops to the armrests.
Luggage space
Your luggage needs are well catered to as well. Now as before there is a powered tailgate under which you will find a massive 650litres boot. If you want more space still, the seats split and fold. Under the boot, you will find a space saver spare tire. The boot is not the only spacious part of this car. The back seat is a big draw if you're in the market for a spacious car.
Space in the second row
The space in the second row is just tremendous. There's plenty of headroom, knee room, and even great under-thigh sport. The cushioning is really comfortable. Apart from that, there's a little bit of flexibility built into it too. For instance, you can adjust the backrest angle and also slide the second row back and forth to free up more space in the boot.
2021 Volkswagen Tiguan Engine, transmission, and performance
The Volkswagen Tiguan runs on a 2.0L TSI petrol engine which is also used by other cars of the Volkswagen group like Skoda Superb, Skoda Octavia, and the Audi Q2 and A4 as well. A healthy 190 horsepower and 320Nm are what you have to move you along. It comes with a quick-shifting DSG dual-clutch auto gearbox and that lets it shift really quickly through its ratios. At the end of the day, this is a more relaxed vehicle to drive in every sense. Even when you're absolutely flooring it, the powertrain doesn't feel rushed. It goes along smoothly and it builds pace quite quickly but it doesn't feel energetic. Similarly, though the chassis offers good body control, the all-wheel drive system offers a really good grip. This is not a car you want to hustle along with very fast. It's more of a cruiser and less of a corner cover.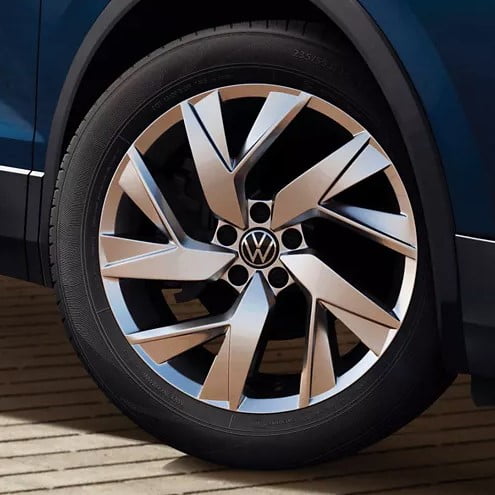 The petrol engine is quieter than the old diesel engine and on top of that road and wind noise are impressively kept out of the cabin. This is complemented almost perfectly by the ride quality which is just superb. The 18inch wheels with their chunky tires really soak up a lot of the bumps and the suspension has been so well set up. You can't hear it working in the background. It just takes everything and anything in its stride.
One thing you might need to keep your eye on is the fuel economy because this 2-liter TSI engine is notorious for changing its tune depending on your driving style. Drive it with a light foot and you could get decent numbers but the moment you start enjoying yourself that number could dip significantly.
2021 Volkswagen Tiguan Price
Despite the shift from a diesel to a petrol engine and the fact that it is locally assembled, this car is still pretty expensive. It costs 32 lakh rupees ex-showroom and that puts it out of the league of the likes of the Jeep Compass and Hyundai Tucson and closer to something like the Citroen C5.
2021 Volkswagen Tiguan Verdict
Moreover, because it shifted from diesel to petrol you can no longer offset the higher purchase cost with lower running costs. So for the small slice of the market that can make their peace with the sticker price and the running costs what they're getting is a premium SUV that does just about everything near perfectly. It's luxurious well made, well equipped, comfortable, refined, spacious, and even pretty decent to drive. In fact, it still delivers on that promise that VW made. It is pretty much everything you want from a luxury SUV at a slightly lower price.