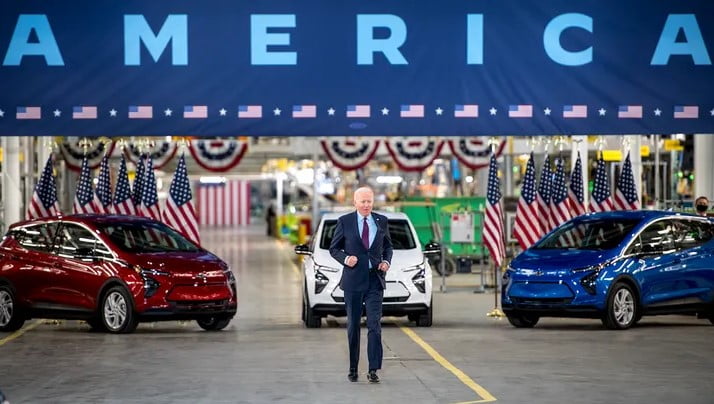 As part of its comprehensive climate agenda and efforts to encourage Americans to purchase electric vehicles (EVs), the Biden administration unveiled the most aggressive tailpipe emissions policy ever devised.
The Environmental Protection Agency (EPA) proposed and the White House announced vehicle pollution standards on Wednesday. These standards will apply to automobile model years 2027 to 2032. By reducing carbon emissions by nearly 10 billion tons by 2055, the regulations, according to the White House, will "protect public health" and save consumers an average of $12,000 over the vehicle's lifetime.
"Cars and truck manufacturers have made clear that the future of transportation is electric," the White House stated in a fact sheet. "The market is moving."
"As a car enthusiast and self-proclaimed car guy, President Biden is seizing the moment," it continued. "His Investing in America agenda is expanding domestic manufacturing and accelerating adoption of zero-emission vehicles, including battery electric, plug-in hybrid electric, and fuel cell electric vehicles."
The organization additionally projected the general measures would "speed up the spotless vehicle change" and decrease oil imports by 20 billion barrels. Traditional gas-powered automobiles, according to critics, would benefit most from stricter tailpipe emissions standards to ensure that they are cost-competitive with more expensive electric alternatives.
The White House predicted that by 2032, 67% of the new sedan, crossover, SUV, and light truck purchases could be electric if the regulations are finalized. Additionally, by then, up to 25% of long-haul freight tractor purchases, 35% of short-haul freight tractor purchases, and up to 50% of bus and garbage truck purchases could be electric.
Biden had previously set the objective of ensuring that fifty percent of new car purchases would be electric by 2030. The regulations would provide a "clear pathway for a continued rise in EV sales," according to the White House.
"The Biden administration is trying to bend every federal rule they can find to force people into buying EVs," said Myron Ebell, the director of the Competitive Enterprise Institute's Center for Energy and Environment. "There is still a market that allows drivers to buy the vehicles of their choice, but government coercion is rapidly limiting those choices."
"If Biden policies are successful, we will soon have a choice between buying an EV and not being able to afford a vehicle at all," Ebell added.
Current status of IC Engine Automobiles in The US
Internal combustion vehicles addressed 93% of all new vehicle deals in 2022, as per a new report from the Coalition for Car Development. Additionally, EVs continue to be much more expensive and inefficient than alternatives.
According to Kelley Blue Book, the average price of an electric vehicle was $64,338 last year, while the average price of a compact gas-powered vehicle was $26,101. In addition, the Department of Energy reported that electric vehicles had a median range of 234 miles, while gasoline vehicles had an average range of 403 miles for the model year 2021.
Republican lawmakers' response
After the rule was first reported by a number of news outlets last week, Republican lawmakers also attacked it.
"Yet another draconian rule from the Biden Admin," Rep. Dan Newhouse, R-Wash., said. "From gas stoves to vehicles, their anti-American energy policies put our nation on a dangerous path. It's time for the government to stop over-regulating our lives and protect our energy independence."
"Biden's radical EPA is trying to regulate your car's engine into OBLIVION. Enough energy fantasies," Rep. Chip Roy, R-Texas, tweeted. "[The House GOP] MUST use the power of the purse to END the weaponization of the federal bureaucracy. Slashing EPA's funding should be at the top of the list.
In August 2021, President Biden marked a chief request, requiring the EPA to present eco-friendliness and outflows guidelines to "tackle the environment emergency." Months after the fact, in a move switching a Trump organization rule, the EPA settled ozone-depleting substance outflows principles for vehicles made somewhere in the range of 2023 and 2026, guidelines the office charged at the time as the "most aggressive" rules of their sort.
Source: FoxNews.com