When it comes to standard gas-powered motorcycles first of all you remember the roar of powerful engines, the smell of hot metal and gasoline as well as the wind which gives you that feeling of freedom. But over the last few years, as it's happening in the automotive industry, the motorcycle industry is increasingly concentrating on the latest technologies primarily on the use of electric motors. This article is dedicated to the most powerful and fastest electric bikes or motorcycles in the world in 2022.
Fastest Electric bikes in the world – The list
Energica Ego RS
Damon Hypersport
Zero SR/S
Lightning LS-218
Lightning Strike
Harley Davidson LiveWire
Arc Vector
Voxan Wattman
Energica Ego RS
Italian manufacturers have always been famous for their ability to combine elegant and attractive design and advanced technology with the desire for maximum performance. For several years now Energica Ego born in the same Italian city as the famous Vespa scooters has been at the forefront of the ranking of the most powerful and sophisticated electric motorcycles on the streets all over the world. The company has already achieved 62percent more battery capacity for a combined riding range of 143 miles. Now offers the RS version of its high-power Ego Plus model. Underlining even more racing-derived performance.
The RS version features drive train updates and new mapping and parameterization improvements of the vehicle control unit to deliver an impressive 0 to 60miles per hour acceleration time of 2.6 seconds. The fully electric oil-cooled motor with the power of 107 kilowatts helps achieve a top speed of 150 miles per hour. The Ego Plus RS will be available in the US for $25000.
Damon Hypersport
Read Also: Top 10 naked sportbikes in the world
What the Canadian electric startup Damon motorcycles offers is not a simple bike but a whole riding system with a unique user experience. The Damon Hypersport is equipped with distinguished LED headlights as well as 3d printed body details, Brembo brakes, and Ohlin's suspension. All their motorcycles are provided with a unique AI-enhanced warning system that can detect dozens of objects in 360 degrees around the motorcycle. It will also alert the rider by visual and tactile signals if any threat is found.
The overall performance of Damon Hypersport motorcycles could be described by three 200s. They are coming with an electric motor of 200 horsepower that allows acceleration in less than three seconds at a top speed of 200 miles per hour. A full single charge could provide an astonishing up to 200 miles of combined riding range. The base Damon Hypersport HS is priced at $25000 while the Premier version costs $40,000.
Zero SR/S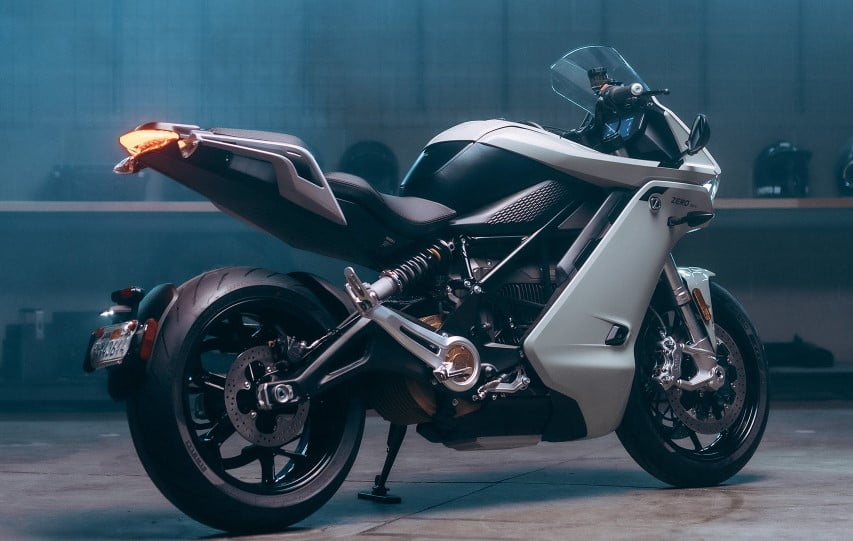 The impressive appearance of the Zero SR/S is completely inspired by the modern aerospace design and reflects the core spirit of electric motorcycles. A dedicated app comes to connect the rider with its two-wheel horse. Offering wide access to the most important data about the motor, the battery, and the overall performance of the motorbike. Like its sibling bike, the Zero SR/F, the SR/S is powered by the known ZForce75-10 motor, delivering 82 kilowatts output to reach a top speed of 124 miles per hour. With a 14.4kilowatt hour battery pack, it can achieve a combined riding range of 123 miles. Besides an optional power tank can provide an additional 30 miles in the mixed mode.
Due to its aerodynamic design and riding geometry, the company refers to the SR/S as the most comfortable sports bike on the road. Unfortunately, there is no exact acceleration data unveiled yet. But Zero SR/S seems to be even more impressive than the SR/F which can hit 60 miles per hour in around three seconds. The selling price depends mostly on the charging system available either with a 3kilowatt or a 6kilowatt option and starts at $20,000 while the premium variant costs $22,000.
Lightning LS-218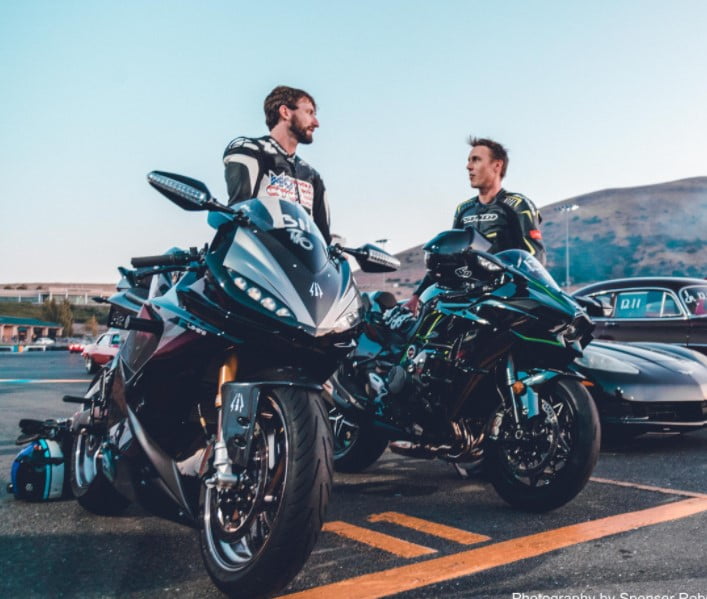 True excitement and a whirl of speed. These are the feelings that catch you when riding a Lightning LS 218. It's the first electric bike that managed to reach an incredible top speed of 218 miles per hour. The result that Lightning has achieved for many years is provided mostly by the150 kilowatts liquid-cooled permanent magnet electric motor with 168pound-feet of torque. The top-end version is offered with a 380volt, 20kilowatt-hour battery pack for a combined average riding range of 170miles. Such a combination of the top-notch technical specs allows the LS-218 to accelerate from 0 to 60 miles per hour in just 2.2 seconds. It can also jump from 0 to 100 miles per hour in 5.5 seconds. However, in order to settle this premium two-wheel electric horse, it will be necessary to pay around $39,000. This price is comparable to the price of mass-market electric vehicles.
Lightning Strike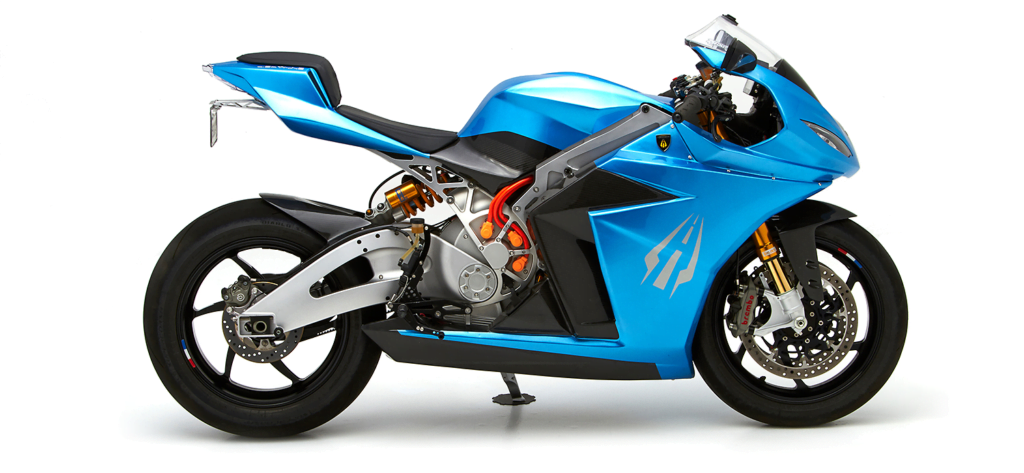 There is no place for disappointment as Lightning motorcycles has started reservations for another electric model named Lightning Strike. This much more affordable motorcycle promises impressive specs and comes in a handful of attractive colors. Although it's less powerful than the LS-218. The Strike enters the market with a much friendlier price range of $13,000 to $19,900. Along with a combined riding range of 150 miles, it could attract many new riders.
Harley Davidson LiveWire
The Harley Davidson LiveWire sports bike is designed to establish the legendary Harley-Davidson as one of the main actors in the market of electrified two-wheel vehicles. This all-electric motorcycle comes to maintain brand awareness among young riders as well as to enlarge the market share. The Powertrain is enough for Livewire to boost from 0 to 60 miles per hour in about three seconds. The battery pack provides a single charge combined riding range of approximately 100 miles. With around 250 kilograms weight the maneuvering is a little bit challenging. But overall the bike performs great and provides an emotional riding experience. Harley-Davidson Livewire is available for about $30,000. It could be fair enough for a well-made premium sports bike with a bunch of features that go far beyond expectations.
Arc Vector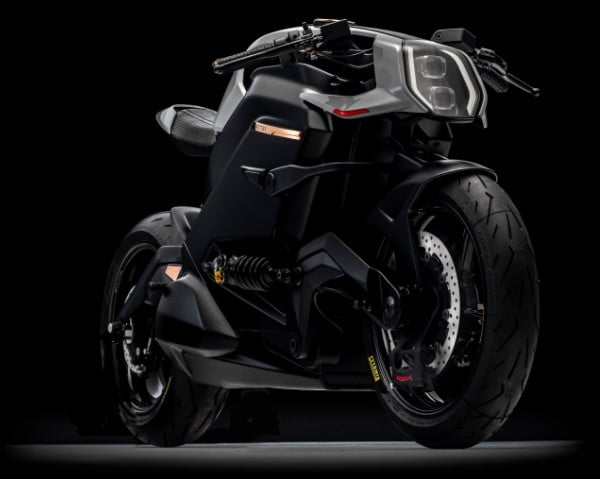 Since its unveiling back in 2018 the Arc Vector has got continuous improvement. It is characterized by an innovative approach to both design and technical specifications. Arc Vector is built on a distinctive carbon fiber monocoque. It has an all-new hub center steering due to the front swing arm suspension in place of traditional telescopic forks. All these solutions are aimed at increasing the overall performance. Though the Arc Vector is not the fastest electric motorcycle in the world. In addition to these solutions, the company offers a truly unprecedented information system, a human-machine interface. The human-machine interface includes a special projection-based heads-up display helmet similar to fighter pilot systems. It also offers a tech-embedded jacket to provide haptic feedback and warnings.
As to the technical specs, the Arc Vector comes with a 95kilowatts electric motor. The motor is enough to accelerate from 0 to 60 miles per hour in 3.2seconds. It can reach an electronically limited top speed of 125 miles per hour. It's expected to achieve a riding range of up to 200 miles depending on use. The Arc Vector is positioned as a high premium product that may be unique of its sort. So you will need about $123,000 to enjoy its exclusiveness.
Voxan Wattman – Fastest Electric Bike in the world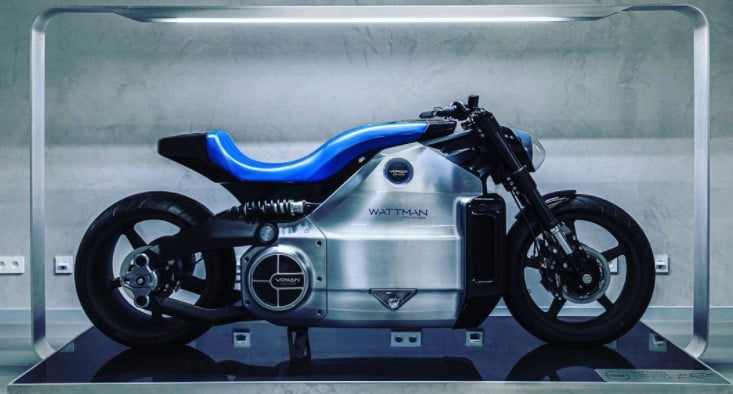 The French iconic brand Voxan motors has refocused on developing electric motorcycles. After being acquired by high-performance electric vehicle developer Venturi. The company has unveiled the specially designed Wattman superbike which is coming actually in three forms. It has already set 11 new world records ridden by six-time motorcycle racing world champion Max Biaggi. The on-road version delivers 150 kilowatts of power output generating an instant 148 pound-feet of torque. The result is 0 to 60 miles per hour acceleration time of 3.4 seconds. Instead of a frame, it has an ultra-rigid aluminum exoskeleton. It integrates all of the powertrain components to unleash the bike's capabilities.
The company has also designed a special high-performance version of the Wattman. It has already claimed the title of the fastest electric bike or motorcycle in the world. The high-performance version of the Wattman has hit a speed of 254 miles per hour. It uses a dry ice cooling system and is equipped with a 270 kilowatts Mercedes formula e race car motor. Powered by a 15.9-kilowatt-hour battery. But the adventure doesn't end here. After all the purpose-built tyres can withstand a speed of 450 kilometers per hour. The company has plans to produce a limited number of units for sale but the time is not yet clear.
Well, these are the current fastest electric bikes or motorcycles in the world in 2022. The world of electric motorcycles is continuously growing. So we can wait for new astonishing models in the nearest future. let us know what your favorite e-motorbike is.