Choosing the right bike becomes quite confusing sometimes. With so many options out there. Each bike is outfitted with the latest traits and technology. When I look at the bikes available in the Indian market, I wanted to buy them all. Well, that's not possible obviously. So, we have to choose the right bike for us which serves its purpose very well. What is the purpose? Right now, I am looking at the best sports tourer bikes in India under 3 lakhs in 2020. So, If you are planning to buy a bike to live your dream of long rides or a riding trip to hilly areas, You must read this report before purchasing your dream bike.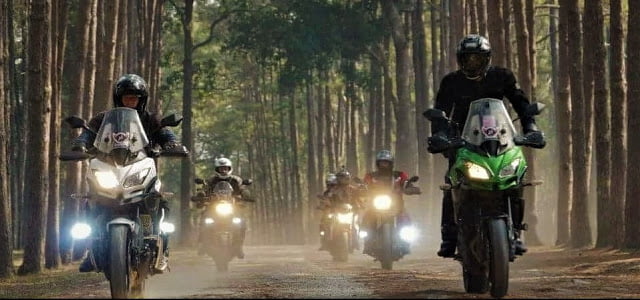 Best sports tourer bikes in India under 3 lakh – TAB Report
Read Also: New 2021 Yamaha MT-09: Hyper Naked Motard
Read Also: TVS Apache RR 310: The Racing DNA
Best sports tourer bikes: The decision criterion
In long rides or on tour, we have to drive hundreds of kilometres in a single run. We have to ride through different terrains and also the road is not good everywhere. Sometimes we are on highways and sometimes on single roads. Sometimes we cruise our bikes at higher speeds and sometimes we have to crawl through heavy traffic. we also have to carry a huge amount of luggage on our tours and long rides.
These situations test our and our vehicle's limits as well. But if you choose the right bike, these harsh conditions will pass easily and you will enjoy the ride.
How should you decide which is the best sports tourer bike for you if you have a budget of 3 lakh rupees? These things must be kept in mind before making the decision.
Riding Position is very important. The aggressive riding position or forward lean position is very tiring in longer rides of 500-600 kms. You will have backache and fatigue. So, must choose a bike with a more upright position. You must keep in mind that riding position may vary depending on your height.
Weight of bike: well, It's not rocket science that a lighter bike will be easier to take to off-roading like Ladakh or any other wild locations. The bike must be strong enough to carry you and your luggage and still ride through the uneven road smoothly.
Power The Engine must be powerful enough to run at high speeds at highways and must provide sufficient torque at a low engine speed to pull you out on any harsh road.
cooling system Air-cooled engines heat up very quickly and are not reliable for very long rides. There is a huge risk of engine seizure. Even if you think that you are using a good quality of engine oil still, wear and tear inside the engine cylinder will be more than usual because of running the engine at higher temperatures for a long duration.

Mileage

Price
Best Sports tourer bikes available in the Indian market
KTM Duke 390
KTM Duke 390 The most powerful bike in the segment
There is no second opinion and it is a fact that KTM Duke 390 is the most powerful bike under INR 3 Lakh category. Duke 390 has a 373 cc engine which produces 42.9 BHP highest in this price range. Despite its size, it is very lighter in weight and weighs only 167 kg which is almost equal to a 250 cc bike. It produces a torque of 37 Nm @ 7000 rpm which is again enough to pull you out from every corner of the urban jungle and rough terrains of Ladakh. If you are willing to spend around INR 2.57 Lakh, this bike is surely a good sports tourer bike.
Bajaj Dominar 400
Bajaj Dominar 400 The most featured 400cc bike made for touring
This naked tourer from Bajaj competes with all bikes in this segment. It has an engine of 373 cc like Duke 390 and produces 39.4 BHP. It has a maximum torque output of 35 Nm @6500 rpm. This bike is equipped with the latest electronic safety features in the segment. 2020 Bajaj Dominor 400 also comes equipped with ABS as standard. The best thing about this bike is it comes at a price range of INR 1.94 lakh.
Royal Enfield Himalayan
2021 Royal Enfield Himalayan: custom Colour
Another bike in 400 cc category is Royal Enfield Himalayan. With 411 cc engine, this bike produces only 24.3 BHP and has a maximum torque output of 32 Nm @ 4500 rpm. With this size of the engine, this bike produces power equivalent to 250 cc bikes but produces a good amount of torque at comparatively lower rpm. It has the highest weight of 199 kg in this bike list. The ex-showroom price of INR 1.89 lakh adds another negative point to its bucket.
Yamaha FZ25
Yamaha FZ25 with more power and thrill
Moving on to 250cc category, Yamaha FZ25 has the most positive points in its favour to be in this list of Best sports tourer bikes. FZ25 produces 20.5 BHP and 20.1 Nm of torque @ 6000 rpm. It has a minimum weight of 153 kg in this list which makes it the most convenient bike at uneven terrains. It also has the lowest price of INR 1.52 Lakh.
Suzuki Gixxer 250
Suzuki Gixxer 250
Next bike in this list of best sports tourer bikes in India under 3 lakh rupees is Suzuki Gixxer 250. It produces a good amount of 26.1 BHP and 22.2 Nm of torque @ 7300 rpm. It weighs 156 kg. This bike is almost similar to FZ25 in terms of performance. Suzuki Gixxer 250 is the only bike in this list with an oil-cooled engine which makes it ideal for longer rides. Gixxer 250 comes at an ex-showroom price of INR 1.66 Lakh.
Bajaj Dominar 250
Bajaj Dominar 250: Best Sports tourer bike in 250 cc segment
Bajaj Dominar 250 does not as firm as its 400 cc variant does. This 180 kg bike is heavier than other 250 cc sports tourers. Dominar 250 produces 26.1 BHP and 23.5 Nm of torque @ 6500 rpm with its 248.8 cc engine. The bike comes equipped with bungee straps under the seats to mount a tall bag on the motorcycle. The ex-showroom price of this bike is INR 1.6 lakh.
KTM Duke 250
KTM Duke 250: Most Powerful bike in 250 cc category
Like its 400 cc sibling, KTM Duke 250 is also the most powerful bike in 250 cc segment in the market. Duke bike series from KTM is definitely meant for longer rides. Duke 250 with its 248.8 cc engine produces 29.6 BHP and 24 Nm of torque @ 7500 rpm. This 169 kg bike is built on a steel trellis frame which makes it stronger and lighter at the same time. Engine, power, torque and weight everything goes in favour of Duke 250 to be the best sports tourer bike in 250 cc but the price of INR 2.06 spoils all the mood.
These are the best sports tourer bikes in India under 3 Lakhs rupees. With slight variations, each of these bikes will prove to be a good companion. But Bajaj Dominar 400 is the best sports tourer bike in India under 3 Lakh rupees, I can surely conclude this. It has power and torque similar to Duke 390. It has 20 kg more weight than Duke 390 but it is almost rupees 60 thousand cheaper than Duke which is a huge amount.
These are my personal opinions and please do your own research before making any decision.
Feel free to join the conversation and tell me what's your opinion and also what is your favourite sports tourer bike.
Read Also: 2020 Kawasaki Ninja 300; is it worth to buy?
Read Also: Toyota Fortuner 2020; Specs Features and Price
Keep visiting TAB – The Auto Blogs for more content on automobiles and the motorsports world.